Duterte's war on drugs was always going to be against the poor
The proof is in a statement he made during the 2016 SONA
Jul 23, 2018
It's been two years since Rodrigo Duterte was elected into the highest executive position in national government. Looking back on his ascent to presidency, we remember his claim to fame as a champion of change; his gangster-like character and seemingly resolute stance on condemning criminals seemed like a breath of fresh air amid years of ineffective leadership and decades of corruption. In a country suffering from political fatigue, he seemed promising: here was a political figure who wasn't afraid to call things out as it is—or so we thought.
Upon beginning his term, Duterte imposed a three- to six-month deadline on his war against crime and corruption, even going as far as to give an ultimatum should he fail, saying, "If I succeed [in resolving crime and corruption] perhaps that would be my greatest contribution to the country, but if I fail, kill me." A bloody six-months followed. It was one killing after the next, with gunshot corpses on the streets, and a plethora of drug users scared to their core handing themselves in to the police. To many of his supporters, this seemed like progress.
"We will not stop until the last drug lord, the last financier, and the last pusher have surrendered or put behind bars or below the ground, if they so wish," said the president in the State of the Nation Address last 2016.
Many of those who voted in favor of Duterte come from underprivileged backgrounds, believing that his war against crime and corruption would improve their standard of living. Two years into his term, however, and there has been a considerable decline in Duterte's satisfaction rating, partly due to his administration's anti-poor policies, and partly from the realization that the war on drugs has predominantly targeted people on the streets—pedlars and pawns of much larger entities, those at the lowest tier of the drug trade, despite having stated that his "administration shall be sensitive to the State's obligations to promote, and protect, fulfill the human rights of our citizens, especially the poor, the marginalized and the vulnerable and social justice will be pursued, even as the rule of law shall at all times prevail."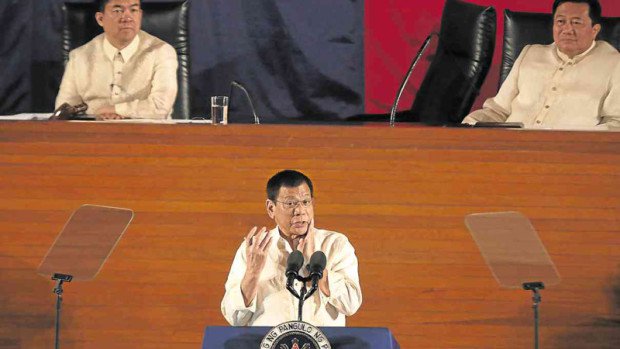 If he's so concerned about the country's drug problem, why isn't he targeting those at the helm of it? Well, the truth is Duterte never had any plans of targeting them.
In a statement from the 2016 SONA, Duterte admits, "the drug lords that you desperately want to strangle are not here. Wala mga bilyonaryo dito. The ones that you caught, running after, are just the lieutenants. They do it with technology. They're cooking it in the international waters."
They're not even here. The drug lords that Duterte is so vehemently set on punishing aren't even in the country, yet he is waging the war here, in our country, and our countrymen are paying for it with their lives.
Read more:
RECAP: What has Duterte done since his last SONA?
This creature called the people's initiative
Voting for Duterte was a mistake
TAGS: Duterte nolisoli nolisoli.ph rodrigo duterte Sona State of the Nation Address War on Drugs