Exclusive club dress codes: Formality or discrimination?
Manila House's brand of exclusivity should come with manners
Oct 8, 2018
Manila House's dress code is clear enough.
On weekdays, "we ask members and their guests not to wear shorts and open-toed rubber sandals since many (other members and guests, we assume) might be wearing office attire," the exclusive club's website indicated.
The yaya who went with Mrs. Jane Honasan and her granddaughter wore "heeled sandals."
We figured they were there on a weekday because Inquirer Lifestyle contributing editor Alya Honasan, who narrated sister-in-law Jane's ordeal in a Facebook post, said child and yaya were picked up from school somewhere in BGC.
Jane is the wife of Sen. Gringo Honasan, now on his fourth term as a lawmaker.
Jane was invited to a bridal shower held in Manila House for the future Mrs. Koko Pimentel. The hosts said Jane was welcome to bring her granddaughter and yaya.
Alya said "people at the entrance" stopped the group and pointed to the yaya's footwear. They feared the pair she wore might cause offense to "the business people who dine" at the exclusive club.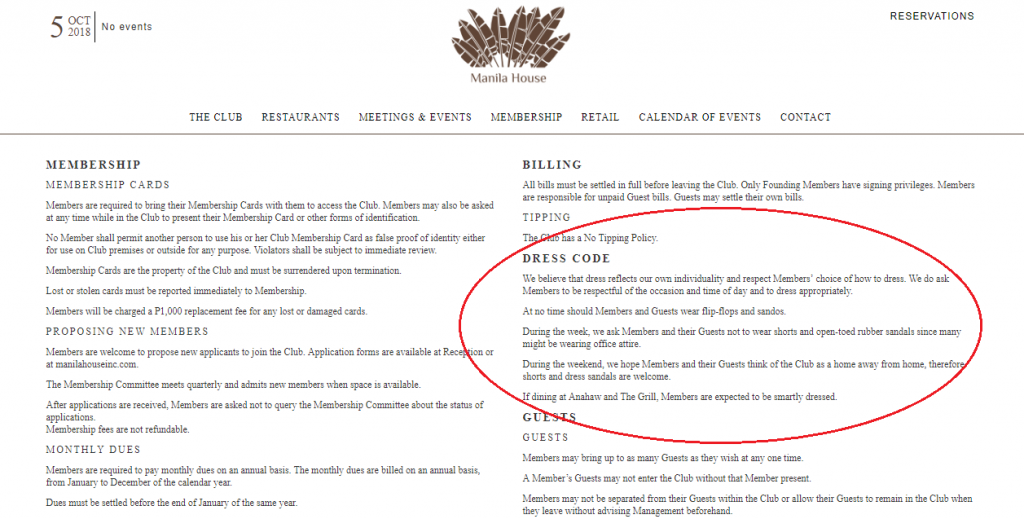 There were no dress code signs indicating any violation on the yaya's part, Jane noted.
She was not offered a seat and was told to stay put as the gatekeepers cleared with management whether the yaya would be allowed to grace Manila House's hallowed halls.
Perhaps the last straw was when one of the keepers asked Jane what her business was.  Instead of causing a scene (like a party-list congressman), she simply left.
Manila House management may have done a bit of sleuthing afterward because people panicked upon learning Jane was a senator's wife and a legit guest invited to a fellow senator's fiancee's bridal shower.
Somebody from the hallowed halls asked for Jane's address so they can send a cake and a letter of apology.
Strike two!
Alya's post recalls the guffaws over dinner as the story was told to other family members. But levity aside, who can blame a sister-in-law for feeling "pretty pissed" at the undeserved embarrassment her brother's wife was subjected to?
We can only imagine what's happening behind Manila House's color-saturated walls at the moment.  After all, it has only been a couple of weeks since the video of its (erstwhile?) general manager Ricco Ocampo screaming his lungs off and lunging at the cellphone of a guest sponsored by an insurance company executive went viral.
People are now doubly curious about Manila House.  For the wrong reasons, though.
What's so offensive about heeled sandals anyway? Or more forthrightly, did the heeled sandals not pass muster because of the person wearing them?
We have been to Manila House on numerous occasions.  The place prides itself in being a purveyor of taste, for having movers and shakers as regulars and for membership fees equivalent to annual salaries of rank-and-file plebeians.
The atmosphere of exclusion is deliberate. Not anyone can be a member and as Jane Honasan's experience showed, even a guest who conforms to its dress code can be turned away.
So what's with creating rules and bending them at will? At this point, we are pretty sure Jane's yaya was not the first victim of the arbitrariness of Manila House's guardians at the gate (obviously under instruction to behave like so by management).
We know of a frequent female guest who has been there "many times" wearing sandals and who has never been questioned for her footwear of choice.
View this post on Instagram
One time a female member hosted several male guests in bottoms that will definitely offend those "wearing office attire." They were politely asked to finish their meal before the prime time lunch crowd arrived. Which proves the rules CAN be bent at will. (Ocampo was in Manila House for an interview then.)
Or how about the time a lifestyle reporter hosted by a fashion designer was trailed by an employee who watched like a hawk as she pumped Jo Malone liquid hand soap after using the bathroom? Maybe because she did not look like "one of us?"
Birds of a feather
Looking at the same picture from a wider lens, other exclusive clubs around Metro Manila also impose dress codes. Some clubs list very specific attire. Others need a little figuring out or maybe a call to a club regular for tips.
Tower Club in Makati for example, has different sets of rules for weekdays and Saturdays.
Monday to Friday call for "smart business casual" and "dress denims" are allowed. Weekday evenings starting 6:30 p.m require "smart casual attire" that still allows jeans.
Saturday smart casual calls for sports shirts, denims, shorts and rubber shoes worn with socks allowed but no torn jeans, slippers or tank tops.
Manila Golf and Country Club requests "members, spouses, dependents and guests" to arrive "properly attired in the club premises," especially on the fairway.
Understandably, men cannot play golf in open-toed slippers or wear "shirts with printed words or images considered indecent."  Women's wear is trickier. They can wear collared shirts with sleeves, or collarless shirts "but with sleeves" or "sleeveless shirts but with collars."
Wack Wack Golf and Country Club is strict about "smart casual wears" for those in the clubhouse.  Absolutely no jeans, sleeveless shirts or slippers.
Alabang Country Club requires guests at the main dining area to don threads reflecting "casual elegance" meaning no rubber slippers for everyone. "No halter tops and tank tops" for women and "no shorts" for men.
The Palms Club in Alabang has a handbook requiring all members and guests to observe "a respectable standard of dress and…not…anything that may be offensive to others."
This means "swimwear, sandos and soiled or sweaty sports clothing are not allowed in the restaurant. Footwear must be worn at all times "except in the swimming area, locker rooms and children's indoor play area."
There is a specific provision for nursemaids "attending to young children and the elderly."
They are expected "be in their proper uniforms" during all visits. And they are "not permitted to use the recreational facilities of the club."  Nannies changing nappies must do so only in the locker rooms.
Clubs + clothes equal class?
Going back to Jane Honasan's Manila House experience, let's be clear we do not object to dress codes. They provide a sense of order. Clothes by themselves convey messages and dress codes are part of visual cues that dictate behavior in specific spaces.
People join clubs not only to be with others they believe to be their kind. The exclusivity needs to be stressed with the right clothes and accessories because these are a measure of how far one has gone up.
Dress codes, as Alya acknowledged in her Facebook post, are a prerogative of exclusive clubs.
But while they should be honored, dress codes are also not a license to maltreat, marginalize or alienate. Especially when a person makes an effort to conform.
The yaya's heeled sandals, as per current standards, are markedly different from "open-toed rubber sandals" not allowed by Manila House during weekdays. Hence we do not understand why she should be banned.
Bending dress codes at will to exclude somebody perceived as not "one of us" is cruel.
When Nolisoli.ph asked Alya for permission to use her story, she said Manila House should also, "Just ACT like an exclusive club, in a good way.  Have impeccable, respectful service."
We agree. After all, isn't exclusivity also about class?
Header photo courtesy of Manila House Facebook Page
Get more stories like this by subscribing to our weekly newsletter here.
Read more:
Health over utility: A case against coal-fired power plants
Enrile and his ever-changing concept of reality under the Marcoses
How does Senator Mocha Uson sound to you?
TAGS: alabang country club dress code exclusive clubs Manila House the palms club tower club wack wack golf and country club