Want to discover UP Diliman's secret spots? Take these free walking tours
Free up even just a weekday!
Feb 14, 2019
The University of the Philippines Diliman has almost 500 hectares of land rich in flora and fauna, historical buildings and markers, and public arts and architecture. However, most of these aren't obvious and recognizable from the eyes of an outsider (or even a student, unless they're taught about them).
But thanks to UP Lakad Gunita, a walking tour organized by the UP Asian Institute of Tourism in celebration of the UP Arts and Culture Month, we now have a chance to learn more about this historic university and make every visit count.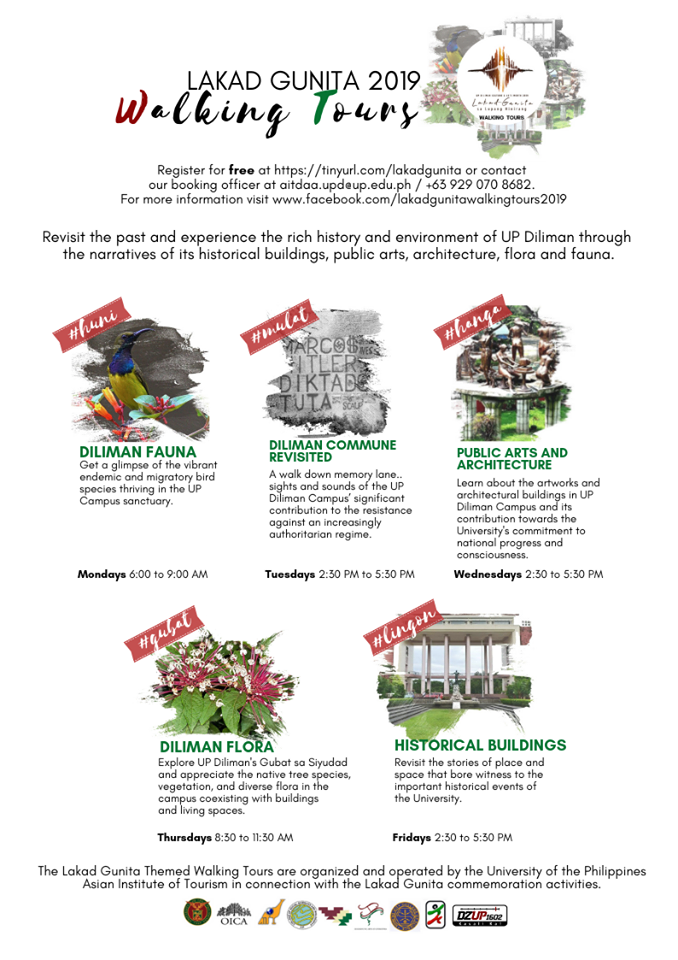 Until Mar. 29, they're holding guided and themed walking tours inside the university:
Diliman Fauna, where we can see the vibrant endemic and migratory bird species in UP – Mondays, 6 to 9 a.m.
Diliman Commune Revisited, where we can catch a glimpse of the sights and sounds of the university's significant contribution to the resistance against an authoritarian regime – Tuesdays, 2:30 to 5:30 p.m.
Public Arts and Architecture, where we can learn about the campus' artworks and architectural wonders – Wednesdays, 2:30 to 5:30 p.m.
Diliman Flora, where we can explore the native tree species, vegetation, and diverse flora – Thursdays, 8:30 to 11:30 a.m.
Historical Buildings, where we can know the stories behind the places and spaces that bore witness to the important historical events of the university – Fridays, 2:30 to 5:30 p.m.
To register for free, click here.
Read more:
The inherent racism of "South Pacific" musical according to Singaporean artist Ming Wong
Pre-war Art Deco apartment demolished without due process
What's on writer Mara Coson's reading list? Historical fiction, humor, and dogs with their humans
TAGS: university of the philippines diliman up lakad gunita walking tours