This just in: Former broadcast journalist and noted art lover Christine Bersola-Babao had someone lecture her, "Never touch the art," during an interview with our friends over at Preen.ph during the Art Fair Vernissage. This happened when Bersola-Babao and Preen's Jacque de Borja and Tisha Ramirez were posing in front of a Fernando Botero painting. None of them were even close to touching it, as you can see in the video:

Bersola-Babao smiled and replied, "Of course, we know that," but she later sounded off in a now-deleted Instagram post. Identifying the woman who condescendingly (and misguidedly) called her out as Kim Camacho, Bersola-Babao wrote, "Haller, ako pa sinabihan mo na parang wala akong alam sa paintings, Mam?"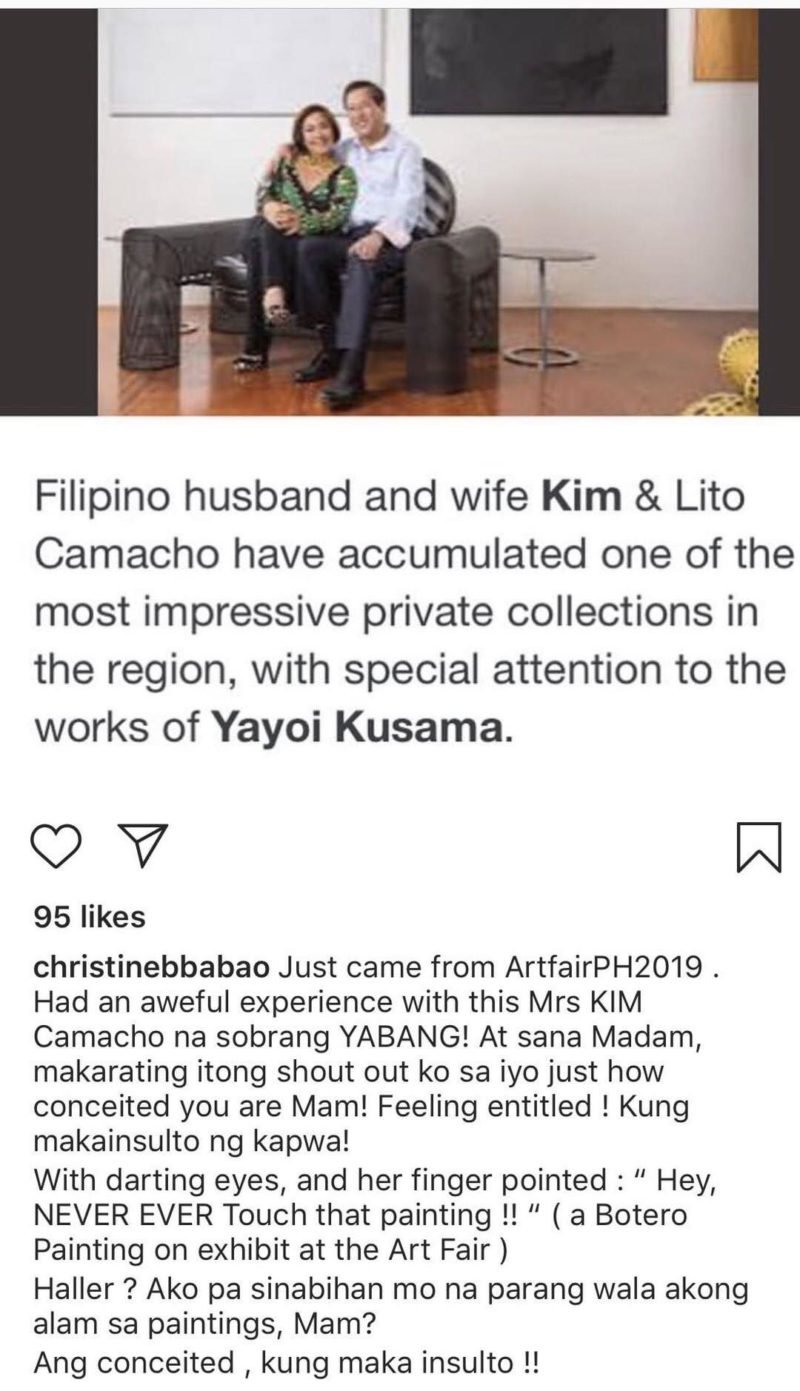 Now, we're not saying that Camacho is a condescending person. It's entirely possible that this was just a one-off incident that doesn't reflect her character. What we are saying, though, is that what she said and how she said it did come across as condescending. And even if she had good intentions, that doesn't stop Bersola-Babao from feeling insulted. Besides, there are times when telling people not to touch art is called for. This wasn't one of them.
We're currently on the first day of Art Fair right now, which means more incidents like this are likely to occur, unfortunately enough. It's sad, but there's something about huge art gatherings that can bring out the snobbishness in people. If you don't think that you're like that at all and you don't want to sound like a snob, here's a simple guide:
1. Ask yourself: do I own this gallery?
If you see someone who you think is breaking the rules or art etiquette, don't snap at them. First, check if they really are doing something wrong, and then report them. After all, if you're coming in as a guest, it's really not your job to police anyone else.
2. Never act like you're the supreme ruler of the art world
Even if you do, in fact, own that certain space, that still doesn't give you a free pass to be a jerk. You may own that space, but you don't own the concept of art. Art is for everyone.
3. Don't tell someone their interpretation is wrong
No one likes invalidating snobs! Every work of art is open to interpretation, even if that interpretation goes against the creator's intentions. (As Roland Barthes said, "The author is dead, yo") The only time it's okay to do this is if they're deliberately trying to misconstrue the piece to support their own sexist, racist, or otherwise discriminatory beliefs. Now that's just wrong.
4. Don't assume that a certain person doesn't have the money to buy a painting
This is something I experienced while walking around Art Fair. There was a representative in one gallery that, when I inquired about the price of one painting, replied to me in a brusque, dismissive tone, as if she knew that I had no money to buy it. She was right, but I was there to write an article about Art Fair and it was the media preview, so I had all the right to ask.
The problem here isn't my hurt feelings (I got over it in, like, a minute), but that she looked at a person and sized them up in a matter of seconds. That's incredibly discriminatory, which is bad for an event that touts itself as being inclusive.
5. Watch your tone
Tone is everything. For example, "thank you" is generally a nice thing to say to someone, but with the right tone, it could be the most devastating. It's how I knew the lady at the gallery was being dismissive.
The thing is, if you're not careful, your tone can be unintentionally insulting. It's probably what happened in the Bersola-Babao incident: Camacho didn't realize her tone that her tone was condescending and offensive.
Now, we don't like art snobs, but that doesn't mean we think it's okay to disregard Art Fair etiquette. Read our guide on that here.
Featured photo courtesy of Preen.ph
Get more stories like this by subscribing to our newsletter here.
Read more:
Spot the National Artist: Where the BenCab and Ocampo works are in this year's Art Fair
Art Fair has a tea salon where you can try local tea, cocktails, and Thai desserts
Hidalgo, Joya, and Zobel: The most valuable pieces at Art Fair 2019
Read more by Zofiya Acosta:
Fight millennial burnout with these wellness and self-care apps
National Artist for Architecture Francisco Mañosa has passed away at 88
What does Metro Manila lack? PWD-friendly tricycles
Writer: ZOFIYA ACOSTA