When Art Fair Philippines opened seven years ago, the founders' goal was to dedicate the platform to modern Filipino art works. "It was a new exposition focused exclusively on Philippine contemporary art," a 2013 Inquirer article wrote. 
The fair grew with this objective, standing witness to the works of many artists that incorporate new trends and ideas such as sculptor Louie Cordero's out-of-shape ping-pong table in 2014, Dex Fernandez's video installation of his hand-drawn animation in 2017, and the currently on display "Finding the Light" by Daniel de la Cruz, which shows sculptures illuminated by smartphones attached to it.
But with the fair being a sea of new and modern artworks, we wondered if there are some works by veteran and National Artists for Visual Arts on display. One gallery assistant said no, "the Art Fair is mostly filled with pieces by contemporary artists. You won't find much works of National Artists here."
While hopping from gallery to gallery, however, we were able to spot familiar strokes by some of our National Artists for Visual Arts (including a J. Elizalde Navarro sketch). So if you're also wondering where to find our National Artists' time-honored pieces at the country's most contemporary art gathering, here they are:
H.R. Ocampo
"Abstraction 148" (1978)
1335Mabini, 7F #53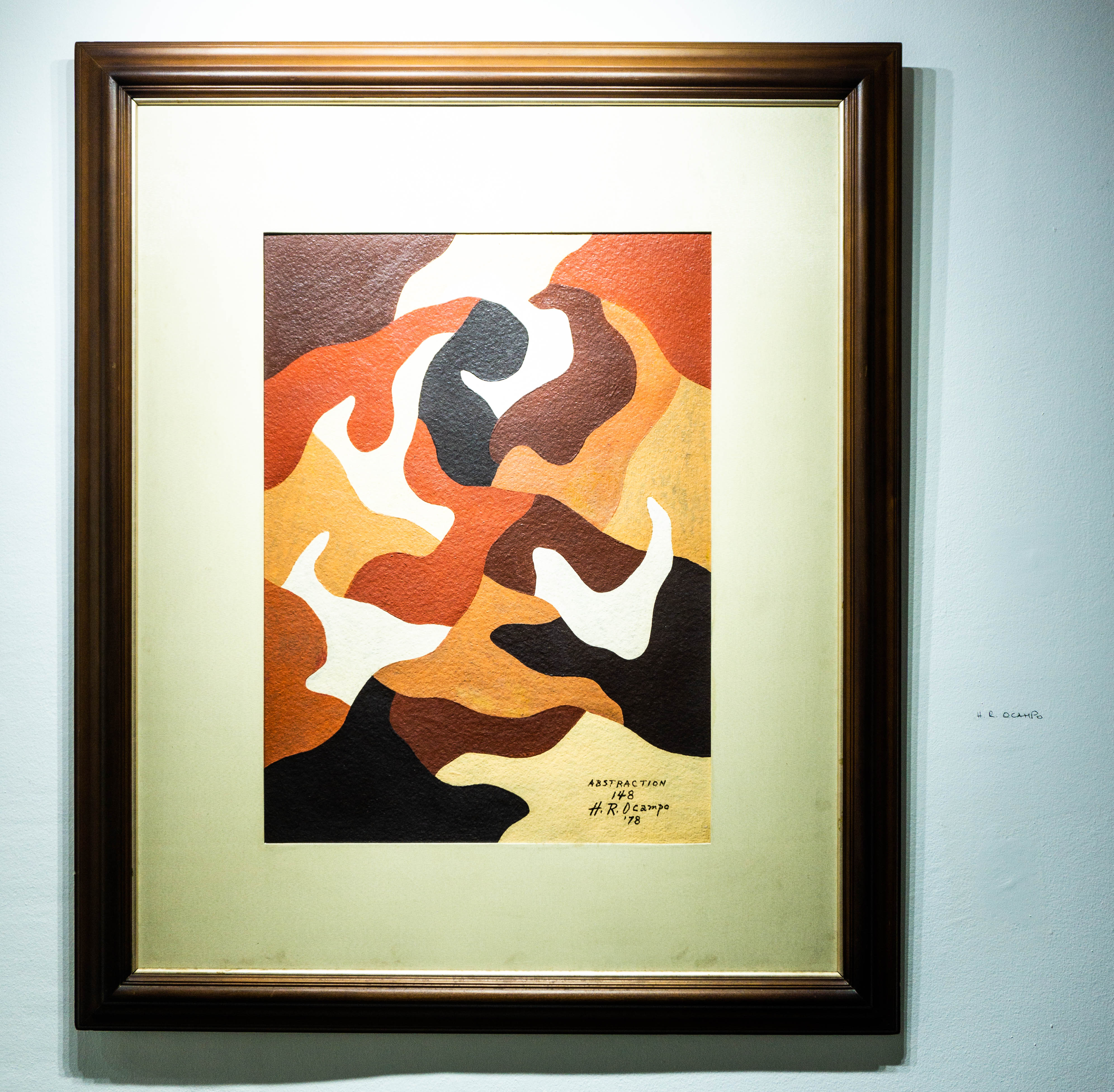 If you're familiar with Ocampo's artworks, you'll instantly recognize this piece even if you're meters away. "Abstraction 148," the only solo Ocampo displayed in the fair, boasts of every element the artist injects in his works: smoothly assembled biomorphic shapes, complementary bold colors, and a finish that exemplifies movement and nature. A pioneer of modernist art in the Philippines, Ocampo was fond of depicting the country's rich flora and fauna in his abstract works—which in this case can be seen by his use of warm, earth-like tones.
J. Elizalde Navarro
"Untitled"
1335Mabini, 7F #53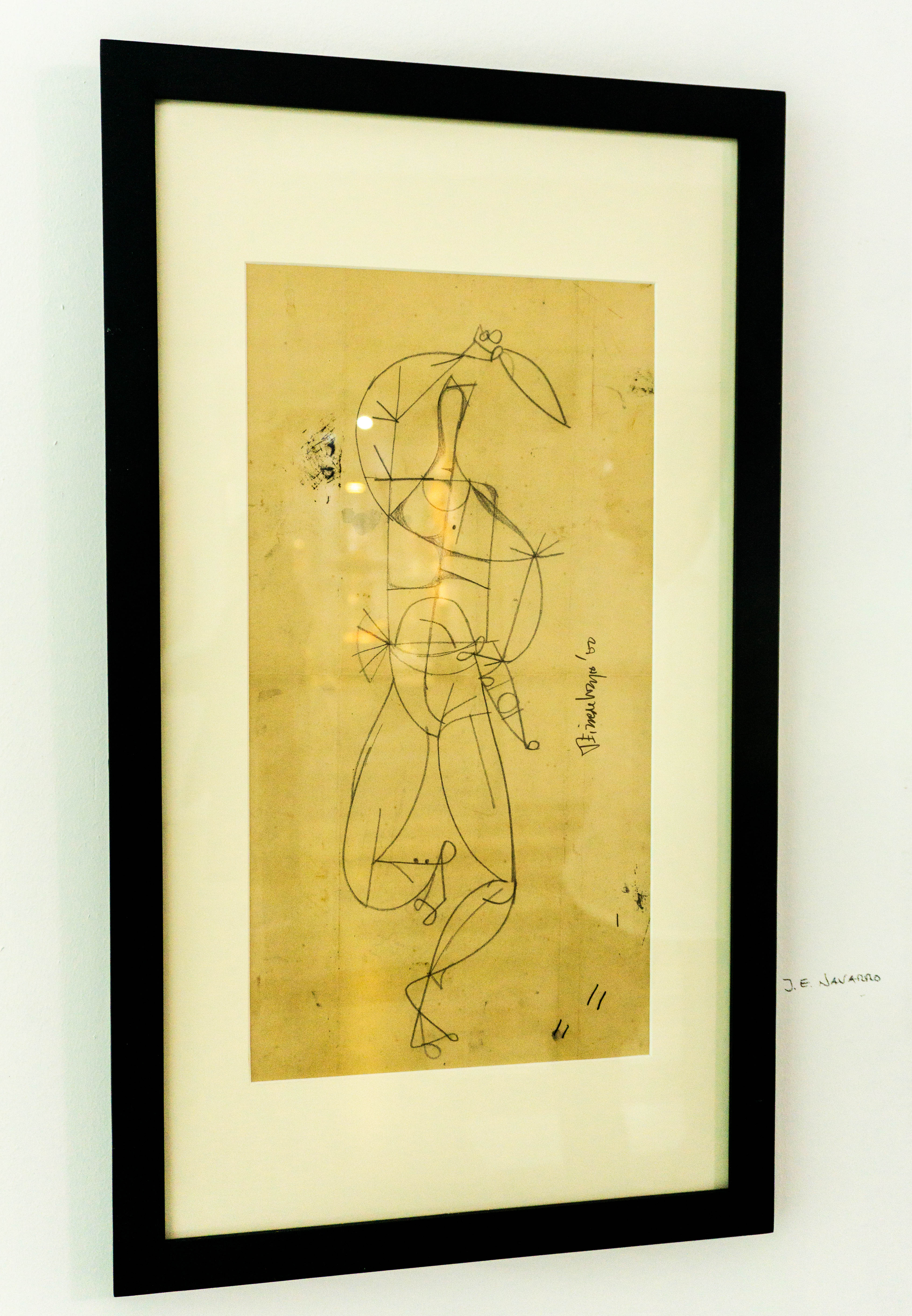 This untitled sketch is possibly a study of one of his figurative paintings, but we'll never know for sure since Navarro's style has always been unpredictable. "It may be one of the sketches he just came up with in one sitting," the gallery assistant told Nolisoli.ph. Navarro is known for his versatility, being knowledgeable in fields like painting, printmaking, drawing, graphic designing, and even sculpting.
Ang Kiukok
"Door" (2000)
Léon Gallery, 6F #24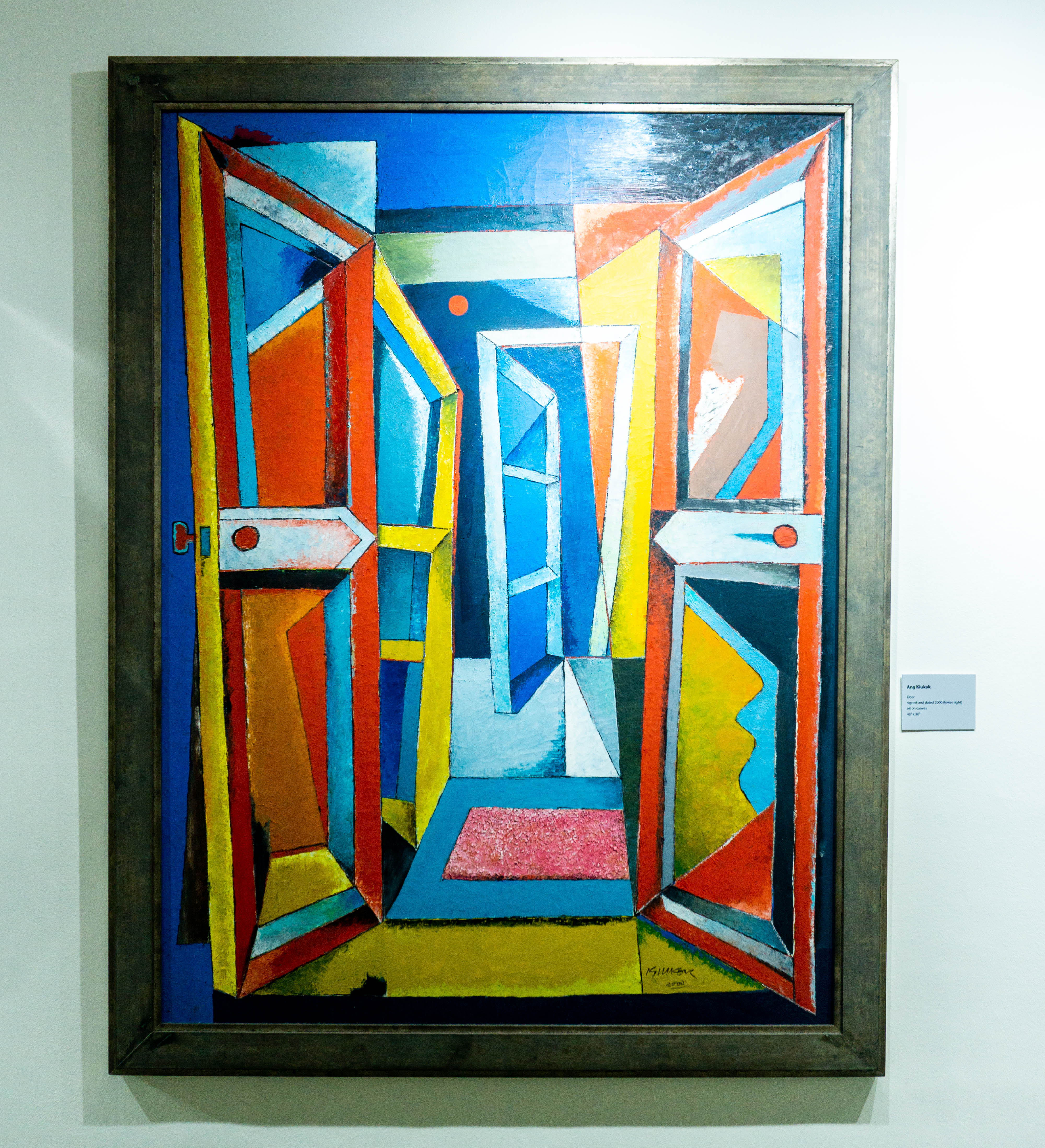 Is it three doors or four? We're not sure. But we do notice that Ang's inclination to cubism and expressionism is visible in this illusion-like piece that depicts an array of open doors. The strongly colored subjects of Ang's oil-on-canvas are made up of the prominent lines and geometric figures that immediately draws in the viewers' eyes.
Benedicto Cabrera
"BenCab x Mariwasa Tiles"
Tin-Aw Gallery, 6F #25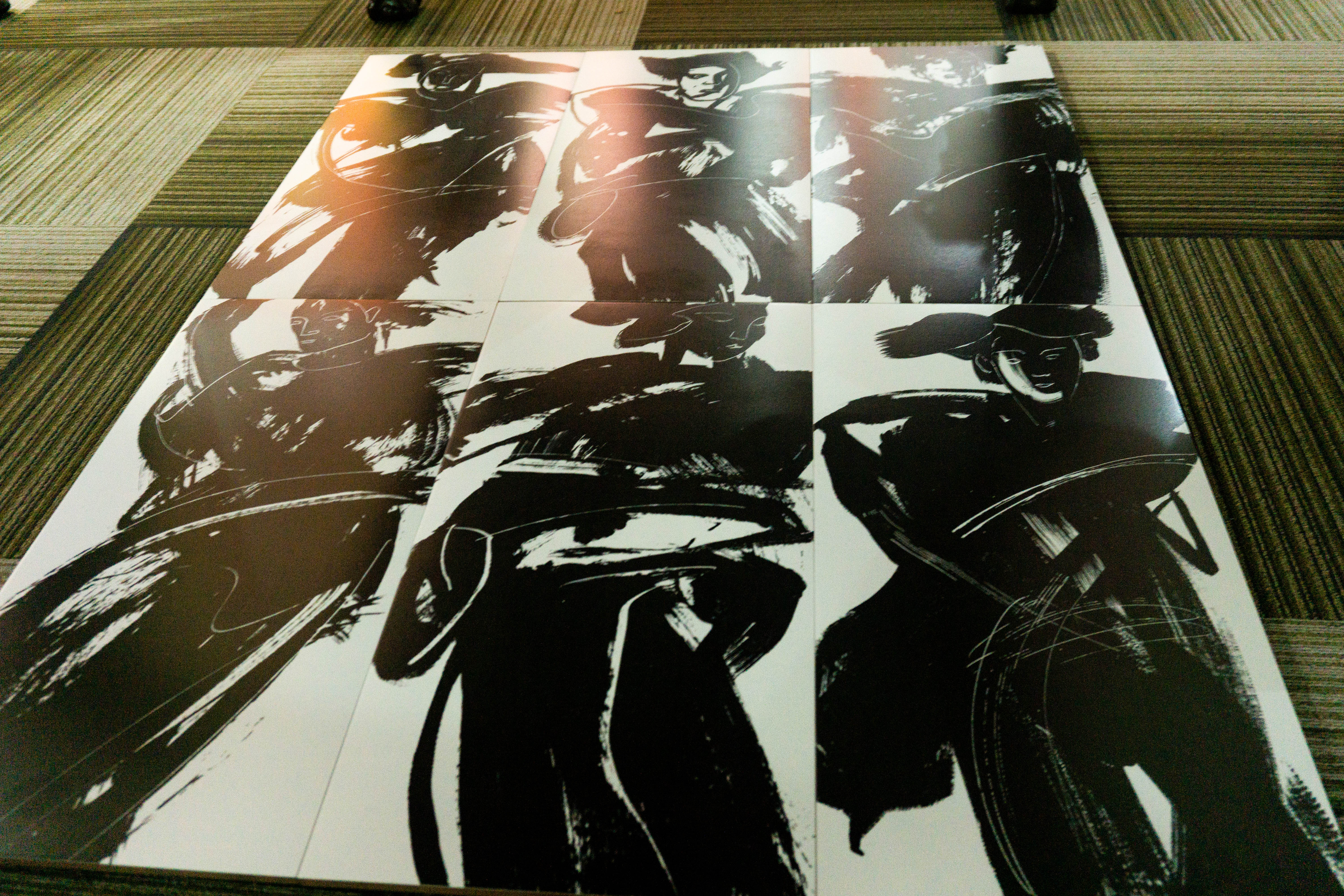 It's a BenCab you won't immediately notice since it's fittingly situated under multimedia artist Cian Dayrit's table that's topped with stone sculptures arranged in a way that resembles the Philippine map. The six-piece artwork shows a figure clad in something moving with the rhythmic brush strokes embracing it—an element we often see in the artist's works.
"8 Muses"
Secret Fresh, 7F #50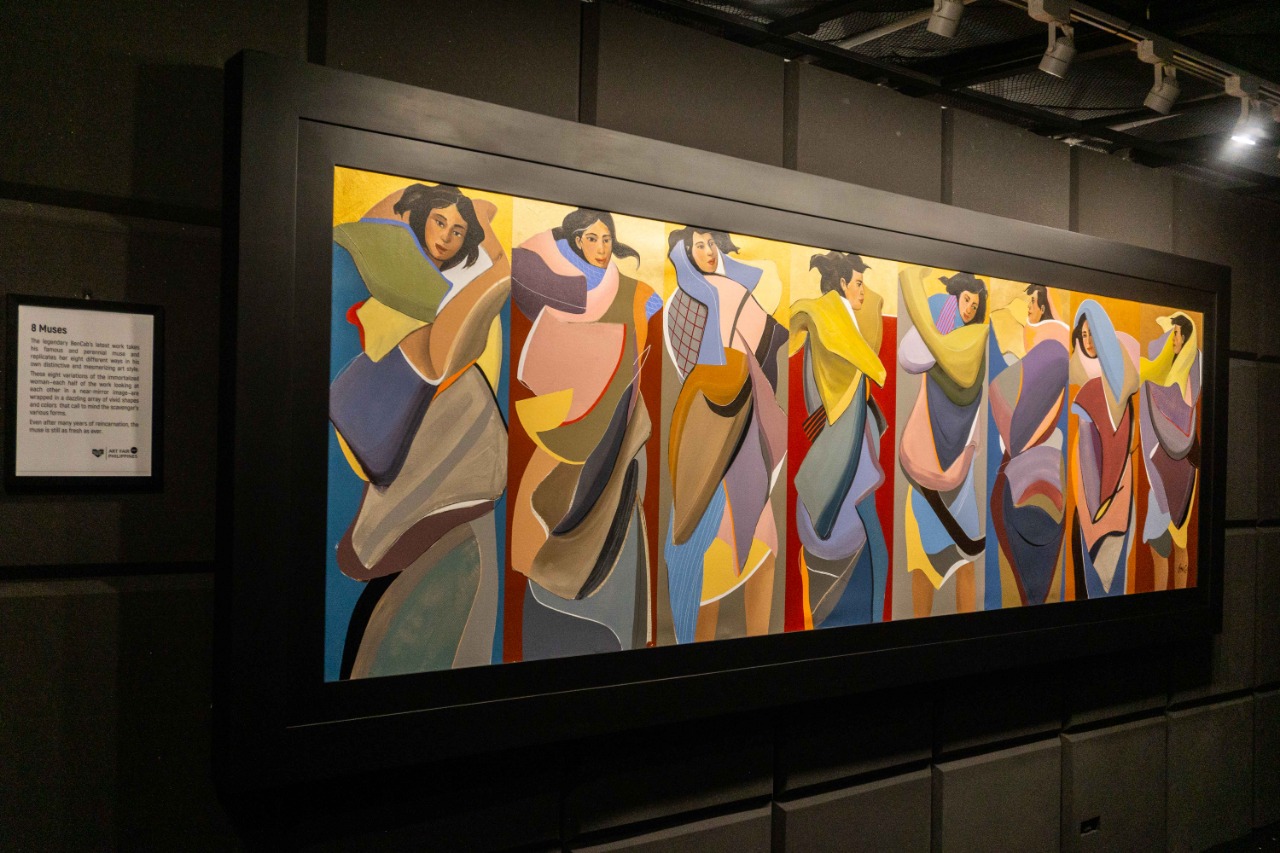 BenCab has another treasured tucked also somewhere unconventional in the art fair. While the earlier piece is under a table, this one's behind a black curtain. And like the above-mentioned piece, "8 Muses" is also a part of a series the artist is truly known for: his perennial muse from Bambang, Sabel.
Arturo Luz
Graffiti
The Crucible Gallery, 7F #38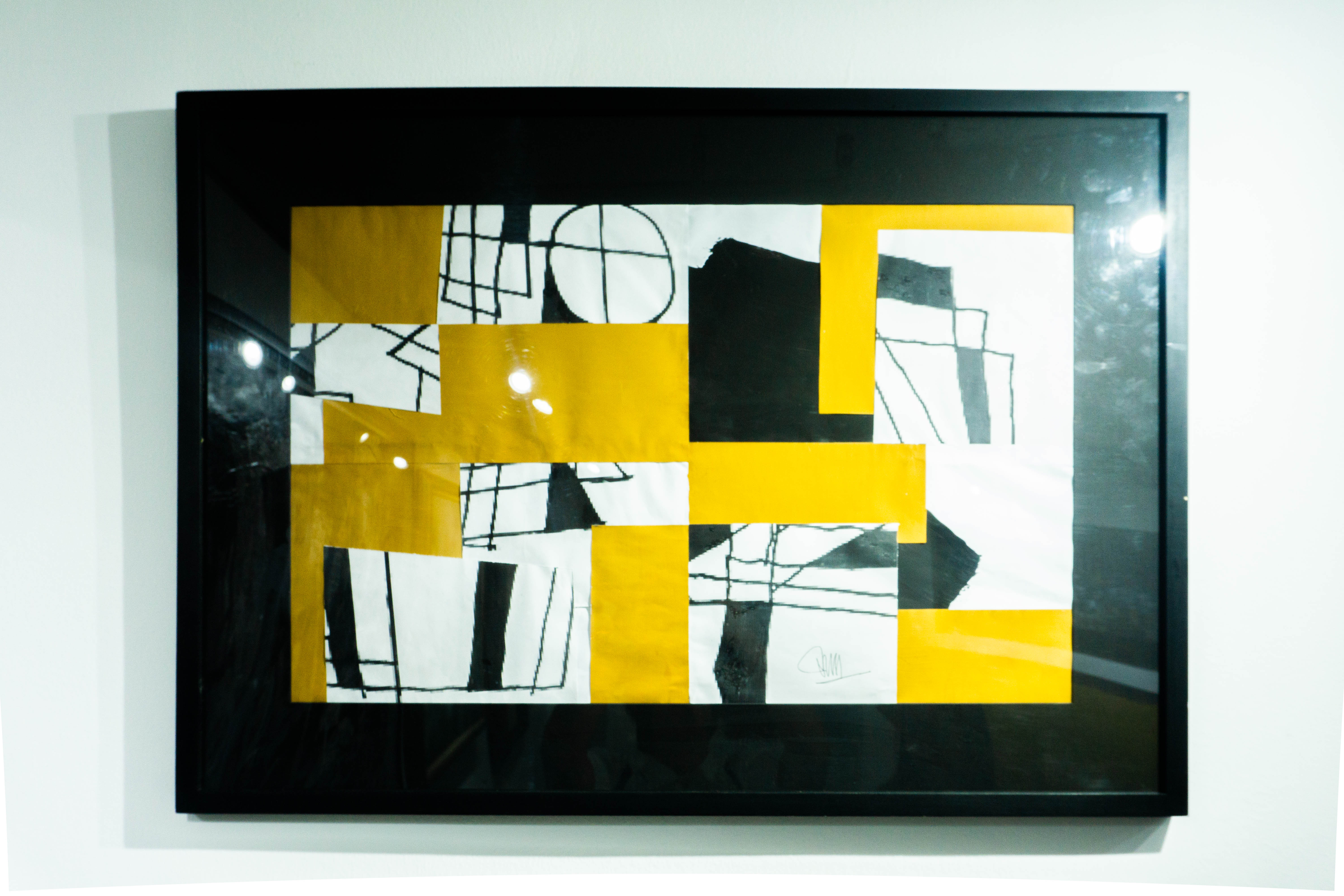 Luz's style of abstraction has always been both simple and complex. His use of linear and minimal shapes and patterns may seem like the art is what it is: two-dimensional and simplified. Yet the longer you look, the more figures you see and the more elaborate it becomes. It's one of the greatest things about Luz's use of geometry.
"Homage to Isamu Noguchi" and "Tribal"
The Crucible Gallery, 7F #38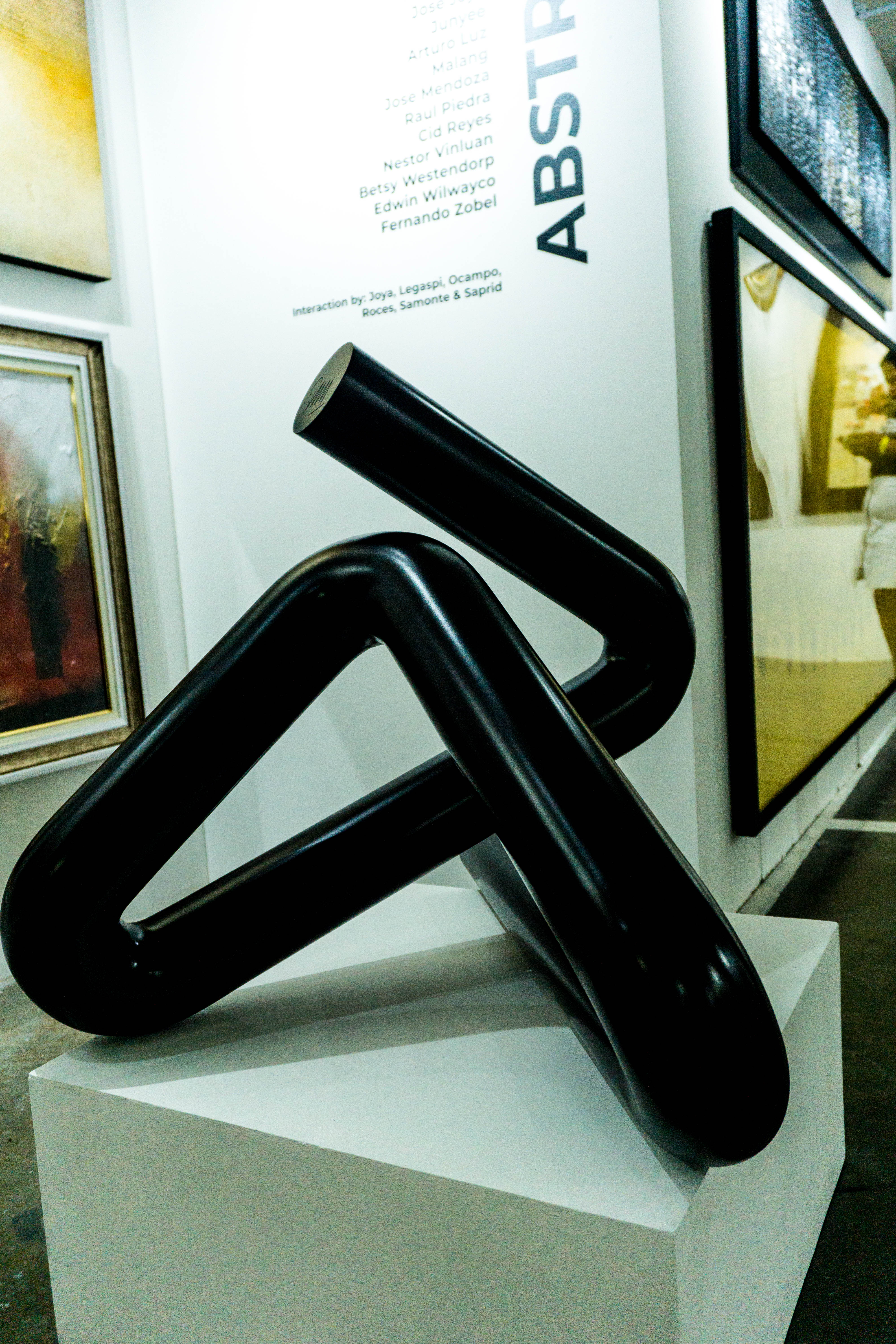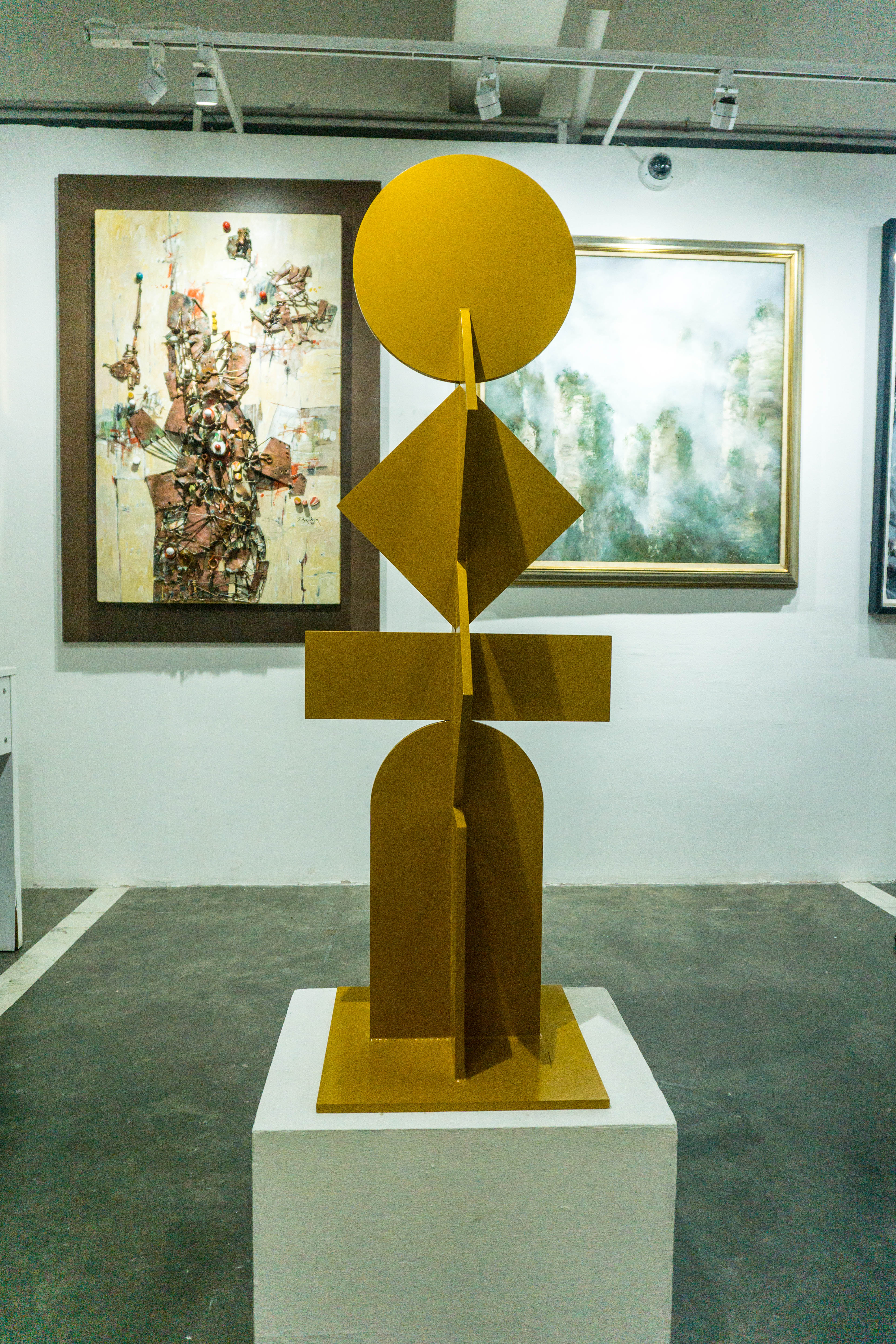 Also on display are Luz's popular works depicting a deconstructed paperclip inspired by Japanese artist Isamu Noguchi's raw sculptures and a monochromatic stack of geometric shapes.
Jose Joya
"Desert Blossoms" (1991)
The Crucible Gallery, 7F #38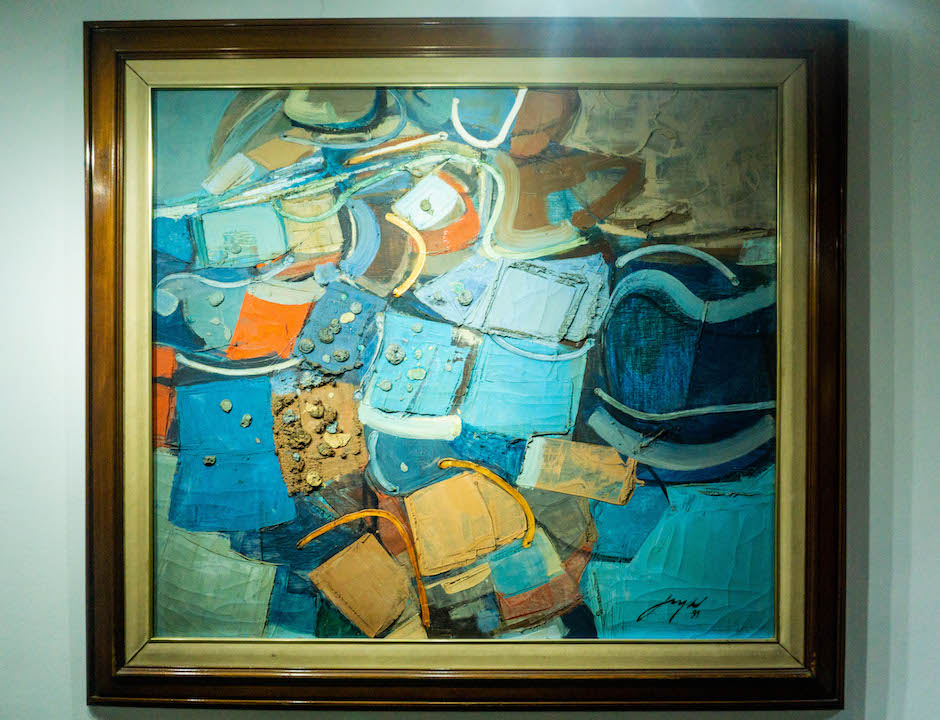 Also known as one of the most valuable pieces in the fair (READ: Hidalgo, Joya, and Zobel: The most valuable pieces at Art Fair 2019), this oil-on-wood painting boasts of a true Joya: dipped in abstract expressionism, accented with heavy impastos, and has tropical colors with dominant blue hues.
Jose Joya, Cesar Legaspi, H.R. Ocampo, Alfredo Roces, Rodolfo Samonte, and Solomon Saprid
"Interaction"
The Crucible Gallery, 7F #38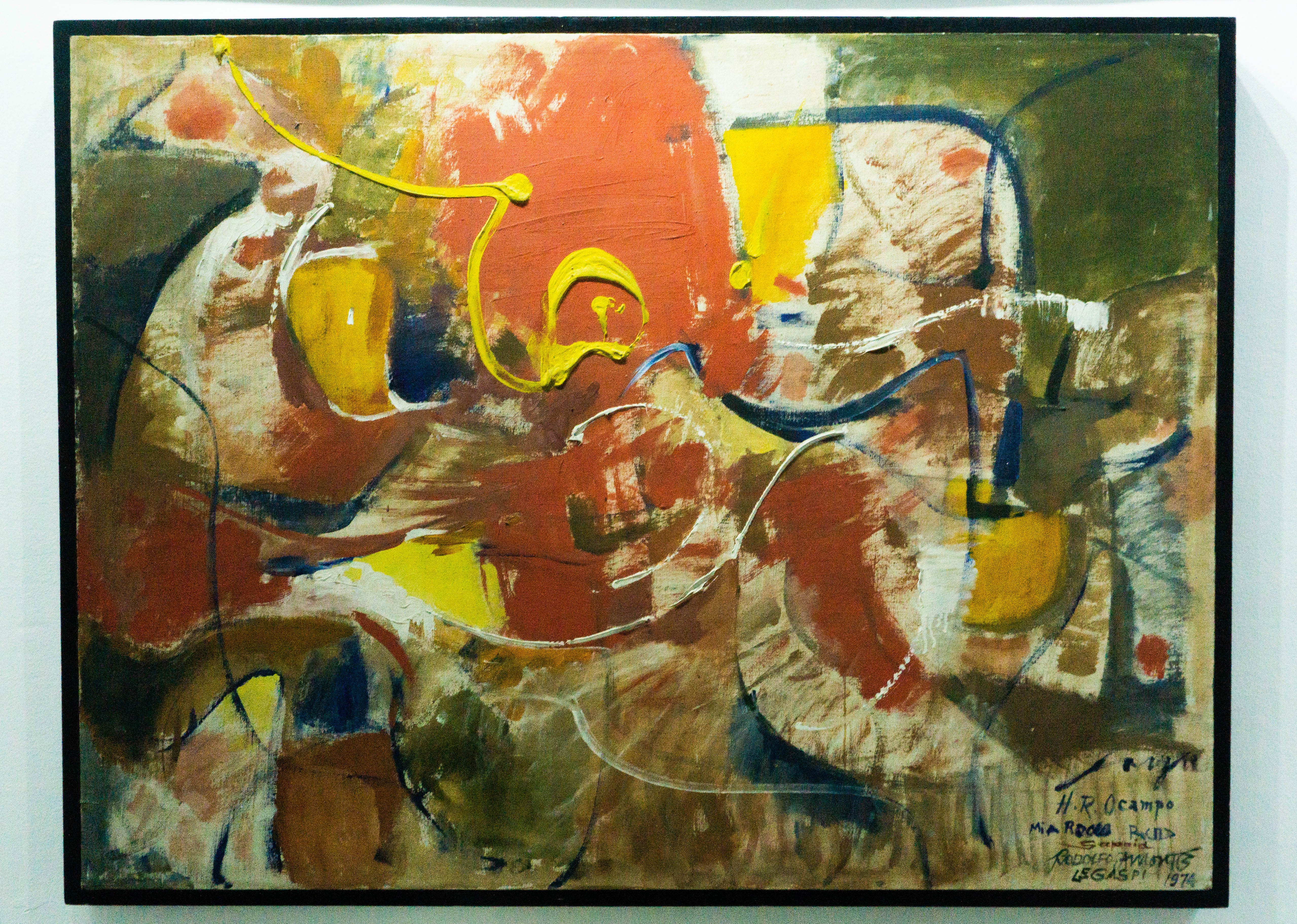 An abstract piece already has a lot of stories to tell; but this one is backed by the historical collaboration of six important Filipino painters. Displayed below the Joya painting is a historical canvas touched by the brushes of national artists Joya, Cesar Legaspi, and Ocampo and veteran painters and friends Alfredo Roces, Rodolfo Samonte, and Solomon Saprid who collaborated 45 years ago and made this interaction painting.
Art Fair Philippines 2019 runs from Feb. 22 to Feb. 24 at The Link Carpark.
Read more about Art Fair:
The Nolisoli.ph Guide to Art Fair Philippines 2019
Malang, Fernando Botero, David Medalla, and other artists featured for Art Fair 2019
All the art events happening this week outside of Art Fair Philippines
The Ultimate Art Fair City Guide
Writer: AMIERIELLE ANNE BULAN
PHOTOGRAPHY TRICIA GUEVARA