New law mandates gov't to shoulder PhilHealth coverage of PWDs
Good news for more than a million of Filipinos
Mar 5, 2019
All persons with disability (PWDs) in the country will now have automatic coverage under the Philippine Health Insurance Corp. (PhilHealth), granting them exclusive health care packages specific to their health and development needs.
President Rodrigo Duterte recently signed an amended Republic Act 11228 or the Magna Carta for Disabled Persons, which mandates the national government to shoulder all premium contributions for PWDs.
On the other hand, contributions of those under the formal economy—PhilHealth members who are government and private employees, project-based contractors, business owners, household help, and family drivers—will now be shared by their employers and the national government equally.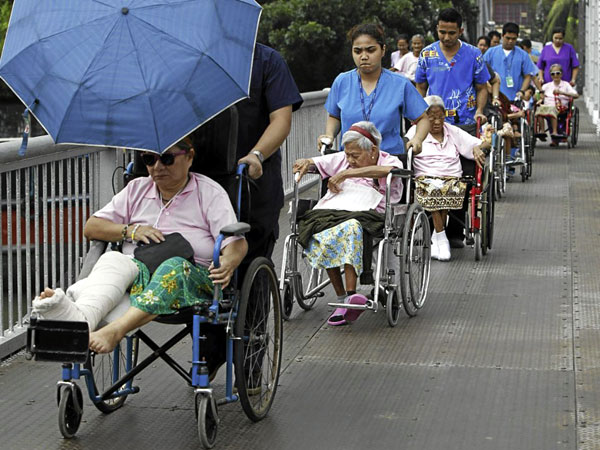 Strict implementation of this law will be monitored by the Department of Health, Department of Social Welfare and Development, Department of Labor and Employment, the National Council on Disability Affairs, and the local government units along with related agencies and non-government organizations.
For a country that has a number of unfriendly features for PWDs (the poorly designed ramps and broken elevators in public establishments are only the tip of the iceberg), this is a commendable move. It addresses a problem recently stressed to us by a PWD advocate, who noted that "for every five PWD, one is aged 0 to 14 years, three are in the working group, and one is aged 65 years and above."
READ: What does Metro Manila lack? PWD-friendly tricycle
"Only 10 to 30 percent of employable PWDs in the country are engaged in regularly paid work," adds Sabrina Tamayo, founder of PWD-friendly tricycle initiative Project Smile.
May this law be the start of our move towards creating a more inclusive community since our architectural establishments and means of transportation still need some work.
The passing of the amended RA 11228 came after Duterte signed two health-related laws: the Universal Health Care Law which guarantees quality and affordable health care for Filipinos in the country and abroad; and the Expanded Maternity Leave Law which gives working mothers 105 days of paid maternity leave credits.
Header image courtesy of Grig C. Montegrande/Philippine Daily Inquirer
Read more:
What you need to know about the newly-signed Universal Health Care Law
HIV/AIDS health services will be more accessible to Filipinos via new law
#HelpIsHere: Mental healthcare is now more accessible to the Filipinos
Read more by Amierielle Anne Bulan:
A mom's right: Maternity leave raised from 60 days to 105
New House bill appoints health workers within indigenous groups
Filipino Sign Language Act is now a law. Here's what we should expect
TAGS: Health care New law persons with disability philhealth Philippine Health Insurance Corp philippines PWDs Services