Iconic movie poster designer Vic Delotavo passes away
He shaped the '80s movie poster industry
May 20, 2019
On May 18, esteemed movie poster designer and production designer Vic Delotavo passed away due to a cardiac arrest. He was 74 years old.
Delotavo was known as the country's most prolific movie designer, having made over a hundred designs in his lifetime. Brother of the surrealist painter Antipas Delotavo, he had a unique editorial eye when it came to creating posters, often mixing media to capture the film's essence. Some of his iconic works include Scorpio Nights' steamy poster showing a couple under a kulambo, Oro Plata Mata's timepieces set against a hellish landscape, and Babaing Hampaslupa's torn-out black and white photo of Maricel Soriano's face pasted onto a more glamorous shot of the actress. He was also known for the "witty catch lines that complemented the images on the poster," as the UP Vargas Museum's exhibition explainer notes.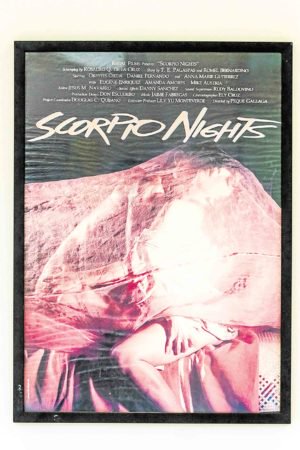 Pouring his heart into a largely-unsung artform, Delotavo was honored last year with an exhibit at UP Diliman's Jorge B. Vargas Museum entitled "Vic Delotavo: Posters for Philippine Cinema" spearheaded by Archivo 1984. The exhibit featured his famous movie posters, and it ran a complementary exhibit in which artists like Carlos Celdran, Jay Yao, and John Lloyd Cruz (under a nom de plumé) chose posters from Delotavo's oeuvre and reimagined them into contemporary artworks. The two exhibits were about Delotavo's work inasmuch as they were a retrospective on Philippine cinema during that era.
Movie poster making may not be as important now as it was back in the day, when it was still likely the movie-going audience's first contact to a film. Movie posters are still ubiquitous, of course, but like hand painted billboards (Read: The dying industry of hand-painted movie billboards), the specific art of movie poster making has fallen sway due to the advent of new technology like the internet, where graphic posters need not be so intricately-made. But on the few occasions you see a detailed and artful poster, you can just about see Delotavo's hand in that.
Featured photo courtesy of Vic Delotavo's Facebook page
Get more stories like this by subscribing to our newsletter here.
Read more:
Larry Itliong: The forgotten Filipino hero in American history
Philippine cinema mourns passing of director and production designer Cesar Hernando
What it's like to work for the movies and TV, according to cinematographer Neil Daza
Read more by Zofiya Acosta:
Popeyes is back in Manila—bring on the chicken wars
Sunday Nudes is bringing their body positive nude sketching sessions to Manila
Toto Patigas Sr. wins reelection bid despite being murdered less than a month ago
TAGS: movie posters nolisoli.ph vic delotavo