Someone said Rak of Aegis shouldn't get a rerun anymore, and I have a lot of words
Starting with: Are you insane?
Jul 18, 2019
After 300 shows and six seasons, the Philippine Educational Theater Association (PETA) has decided to reopen the (flood)gates of Villa Venezia for the seventh season of Rak of Aegis. 
But while many Rak fans rejoiced when the news first broke early this year, there were a few voices on social media asking why. Why restage Rak? Again? Wala na ba kayong ibang ma-stage? —something to that effect. And even funnier: Bakit di na lang gumawa ng sequel?
Now I'm not mad just because I'm one of the people who haven't seen Rak before this seventh season. I'm mad because this person seems to assume that (1) reruns aren't normal, (2) Rak and other productions have dated material that otherwise would no longer be relevant once staged years after its first run, (3) and all people have access to theater (that's a whole other story).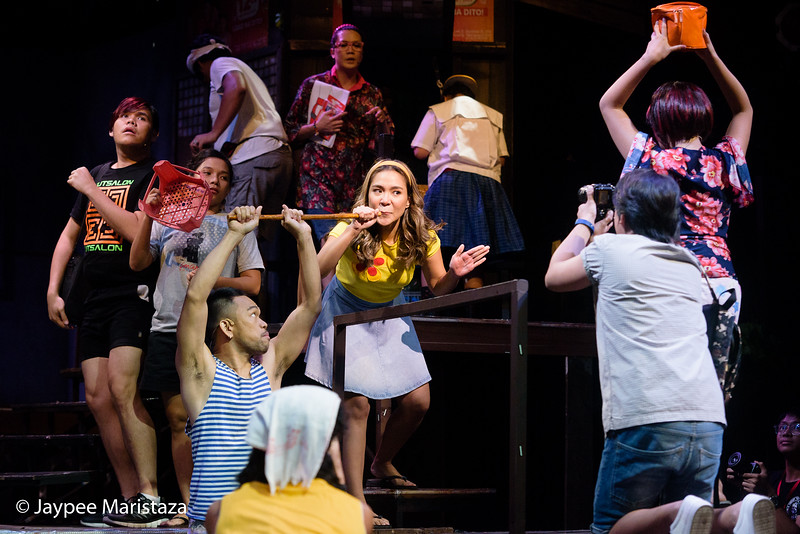 (For the record, the longest-running production is The Phantom of the Opera, which in 2018, has had more than 12,000 shows. And it's still running on Broadway now. Tell me this shouldn't be staged again?)
Thank God though it only seems like one person disagrees with the whole restaging (the likes and retweets of that original post notwithstanding). Because you've got to at least admit: Aegis' repertoire has been so ingrained in the Filipino psyche (and karaoke lists). And the musical inspired by the '90s pop-rock band's lung-smashing discography has also remained a fixture in the list of original Pinoy musicals (OPM) that it might as well be considered one of the classics of OPM.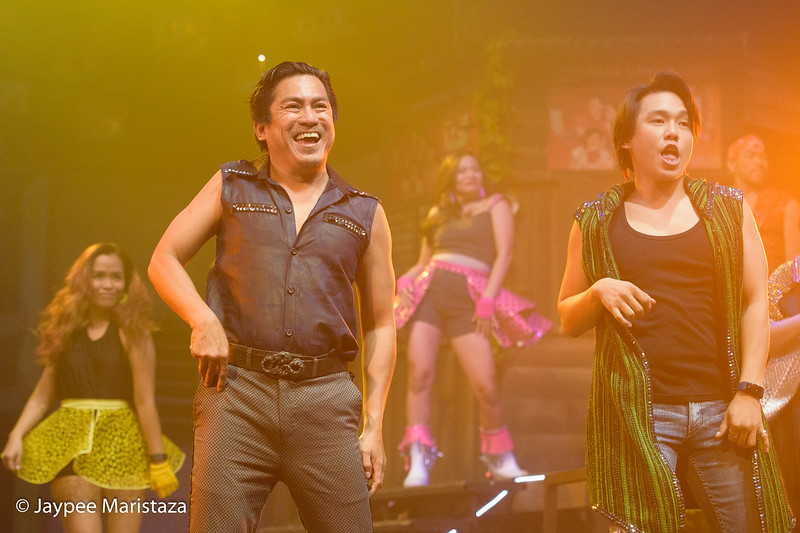 I think the reason why it's remained popular even after 300 shows, is that it is the story of the Filipino. It is a story of resilience, of family, and of love. Plus, it's told through "gasgas-lalamunan" songs (as PETA so accurately puts it) everyone knows, whether they would like to admit it or not.
And if not for the music (arranged by Myke Salomon, who also currently stars in this season of Rak as well as the on-going final run of Ang Huling El Bimbo), the set itself is a wonder to see. While other productions might settle for a figurative way of depicting the flood that disrupts the lives of the residents of Brgy. Venezia, PETA goes all out by putting in the now-iconic water channel that runs in the middle of the Rak stage. Plus, "Basang-basa sa Ulan" is performed, quite literally, as the cast is drenched in "rain," too.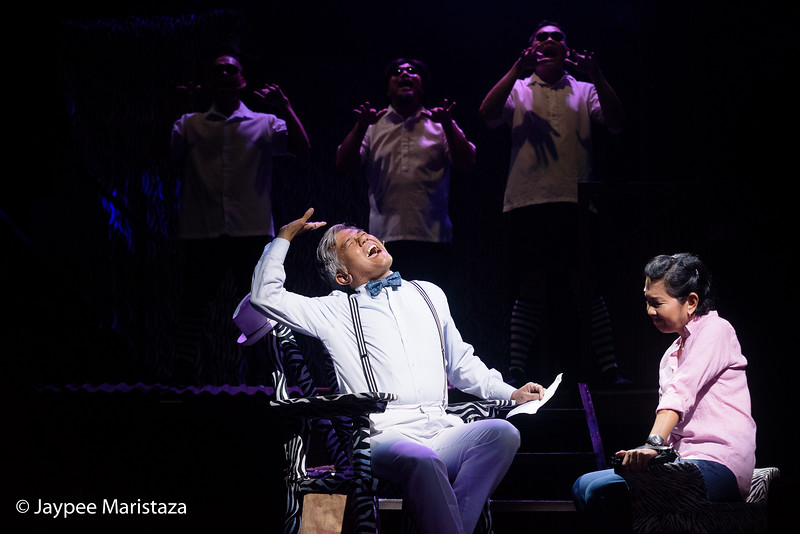 There's also gold within the script (written by Liza Magtoto, brought to life on stage through the direction of Maribel Legarda). There are a plethora of references to current social issues and popular culture, a hallmark of PETA productions. In between talks of love both hidden and failed ("I Love You Na Lang Sa Tago" and "Bakit Ako Ngayo'y Hate Mo"), are discussions about local industries and livelihood, care for the environment and (im)proper waste disposal, health, displacement, and (unjust) employment conditions. Meanwhile, the play's punchlines, often punctuating the dramatic sequences, are but a small reflection of the Filipino's coping mechanism: weathering through life with a smile.
It has an interesting climax, in which the conflict isn't clearly between "good" (the townsfolk of Villa Venezia) and "evil" (Fernan and his subdivision). Of course, it's there, but what really drives the argument in the "Gumising Na Tayo" number, is the internal conflict of the barangay itself. 
The issue is quickly resolved, though perhaps a bit too quickly compared to all the exposition leading to it, so to me it felt a little contrived and convenient. I didn't feel satisfied with the "punishment" for Fernan. (Ganun na lang 'yun? I thought, heaving a sigh as I realize, well, that's exactly how it is in real life, right? Sure, the bad guys get caught, but will they be dealt with what they deserve? Who knows. In Rak, and in the Philippines, for that matter, they become whistleblowers. *shrug*)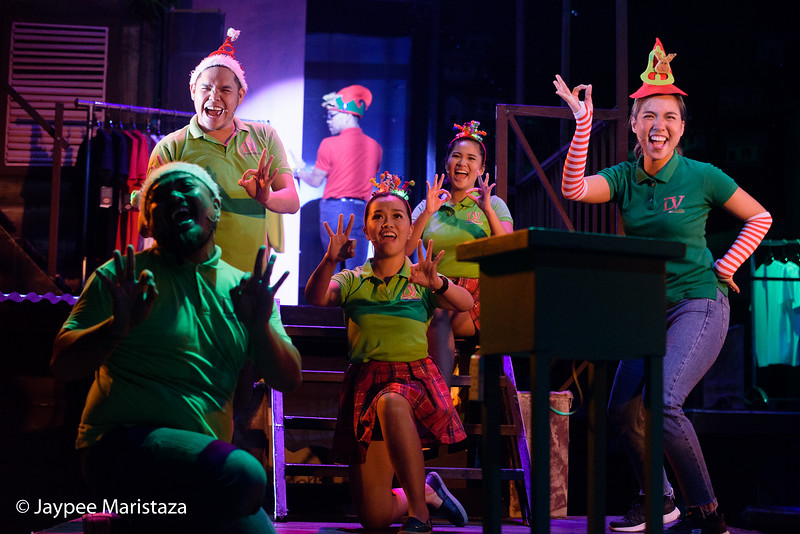 But all's well that ends well, I guess. The barangay has money, they've revived their industry, and they won't have to rely on publicity stunts and funny gimmicks to get themselves on the map.
Ultimately, it's a story that shows we'll always be able to find a way to make the most of and deal with the hand that's dealt us. Rak of Aegis is a simple story, and one that's still something worth watching again because not only is it immensely satisfying to hear Aegis hits belted out perfectly—by the likes of Aicelle Santos (Aileen), Pepe Herrera (Tolits), Robert Seña (Kiel), Isay Alvarez-Seña (Mary Jane), Kakai Bautista (Mercy), Rody Vera (Fernan), and Myke Salomon (Kenny) among others—the dynamics and antics of the characters on stage, guarantee a good three-hours of fun.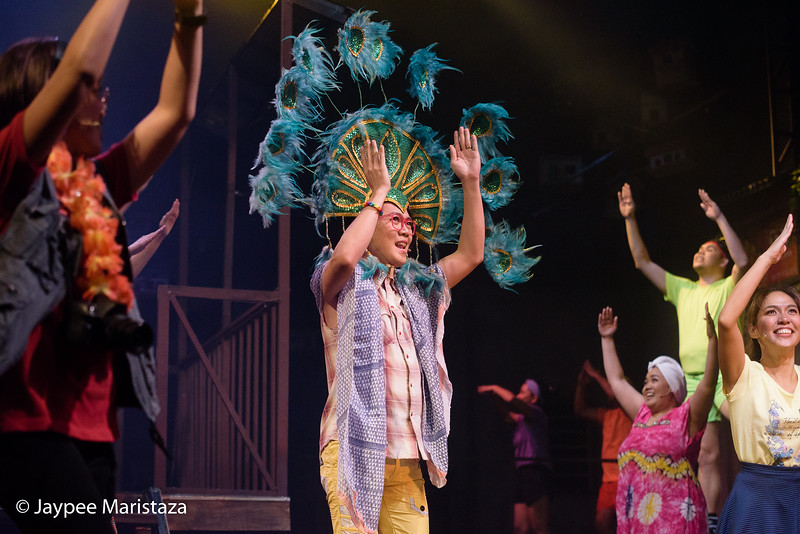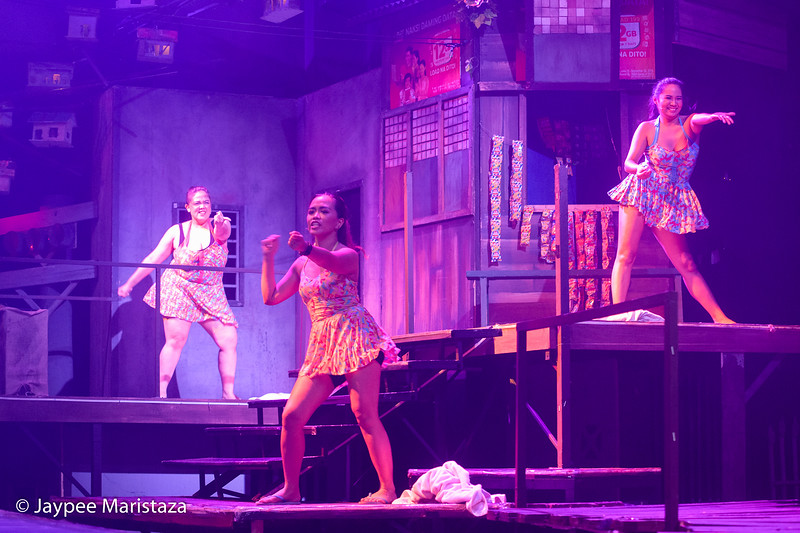 It's a production that speaks to viewers of all walks and backgrounds. Timeless, just like the music that makes it. And if that isn't enough to warrant yet another restaging, what else will?

Rak of Aegis runs at the PETA Theater Center until Sept. 29, with 8 p.m. shows Thursdays to Sundays, and 3 p.m. shows Saturdays and Sundays. Other cast members include Kim Molina, Shaira Opsimar, and Kimberly Baluzo as Aileen; Sweet Plantado-Tiongson, Bayang Barrios, and Jenine Desidero as Mary Jane; Renz Verano and Noel Cabangon as Kiel; Neomi Gonzales and Leah Patricio as Mercy; Poppert Bernadas and Vince Lim as Kenny; Jerald Napoles, Joshua Bulot, and Derrick Monasterio as Tolits; Ron Alfonso and Jimmy Marquez as Jewel; Gie Onida and Randy Santiago as Fernan; and Gimbey Dela Cruz, Gab Pangilinan, Matel Patayon, Abi Sulit, Teetin Villanueva, Gold Villar-Lim, Yumi Lacsamana, Ashe Uy, Marynor Madamesila, Paeng Sudayan, Roi Calilong, Gio Gahol, Carlon Matobato, John Moran, Lemuel Silvestre, Gerard Dy as the ensemble.
Get more stories like this by subscribing to our weekly newsletter here.
Read more:
I'll still love it tomorrow: Notes on "Beautiful: The Carole King Musical"
Theater notes: "Ang Huling El Bimbo" is an eye-opening trip
Stop Kiss, and the hard-earned win of a queer woman kiss
TAGS: aegis PETA rak of aegis theater