This bakery's answer to food waste is a treat called the conscious cookie
Shangri-La at The Fort's Bake House is a sustainable bakery promoting a zero-waste solution to food waste problem
info
Bake House

Bakery

6 a.m. to 9 p.m.

₱
A bakery is the last kind of business I expected to have a large impact on global food waste. Here's why. In our locale in Rizal, there is only one neighborhood bakery, the others were simply called pandesalan because they only sell pan de sal. 
This one nameless bakery (they probably didn't think they would need a name given they are the only legitimate bakery in the area, thus we only call it the "bakery") sells all kinds of bread on rotation like pan de coco (baked fresh every Monday), cheese monay (best on Friday), Spanish bread (served hot on Tuesdays), cassava cake (not a bread but their specialty, my personal favorite), and then my neighbor's favorite the bread pudding.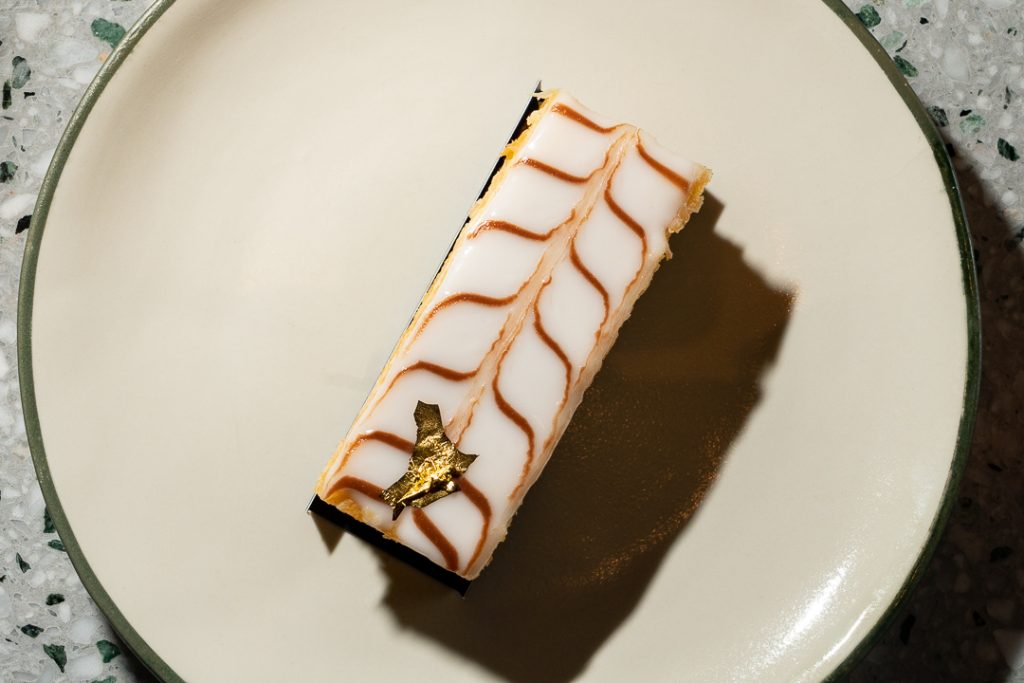 It's an almost gelatinous pastry with a crust, often colored yellow. It's made from the previous unsold batches of bread, mixed together into a new sweet bread. Other products that the bakery pride themselves in making included tasty bread which when left unsold were converted to hard toast that my lola liked to dip in coffee.
That's my definition of a bakery. Nothing is ever wasted, everything was either bought by the contractual workers taking a break from their iron melding jobs from the adjacent factory or converted into some new product that everyone else, my family included, ultimately end up buying.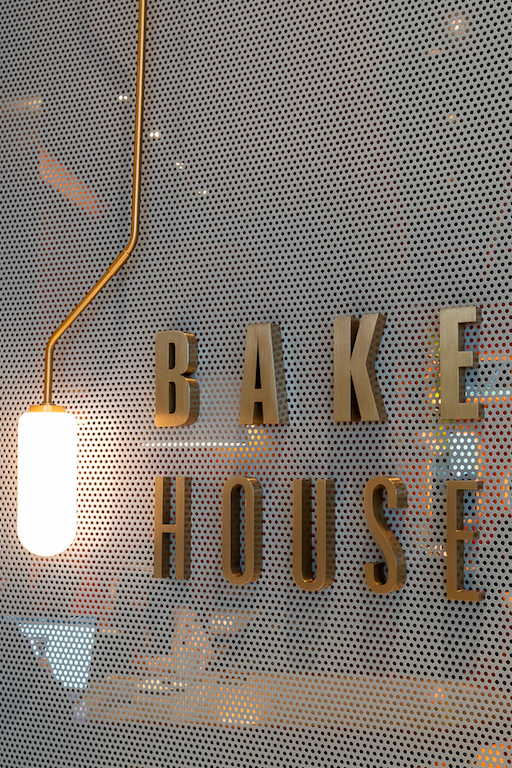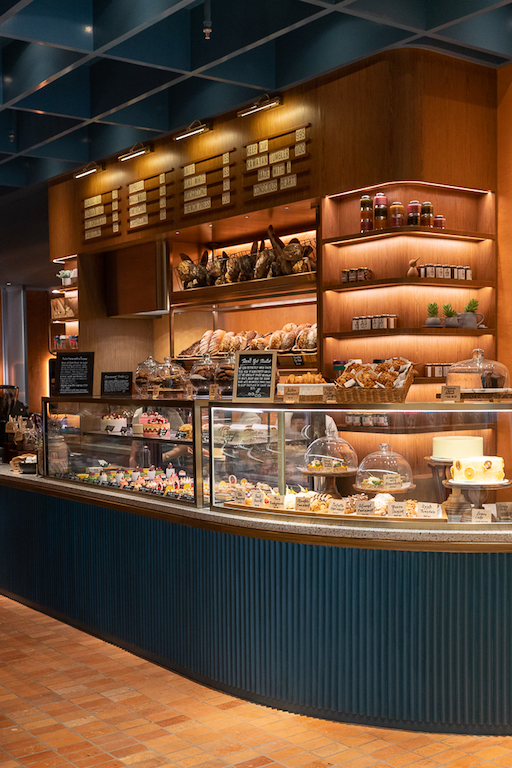 Lost or wasted
Then I read this report by the Food and Agriculture Organization of the United Nations, where they estimated that one-third of all food produced globally is either lost or wasted. That's about 1.3 billion tons per year(!).
To understand how food ends up being lost or wasted, we have to look at the chains through which raw ingredients go through before ultimately ending on a plate on our tables. From the very first step of harvesting there is already a considerable amount of discard like damaged crops that don't make the cut, or by some mechanical error at the production line, have been tossed and left behind.
The baking industry relies on these very systems for raw ingredients like wheat, eggs, grains, and dairy, which is why it is very likely to have contributed to global food waste.
But it doesn't stop there. According to a paper in the Food Policy, a US-based journal on food policies and research, there are two more stages through which food is neglected. One is through retail, where because of improper handling, storage, and preparation, food ends up in the trash bin.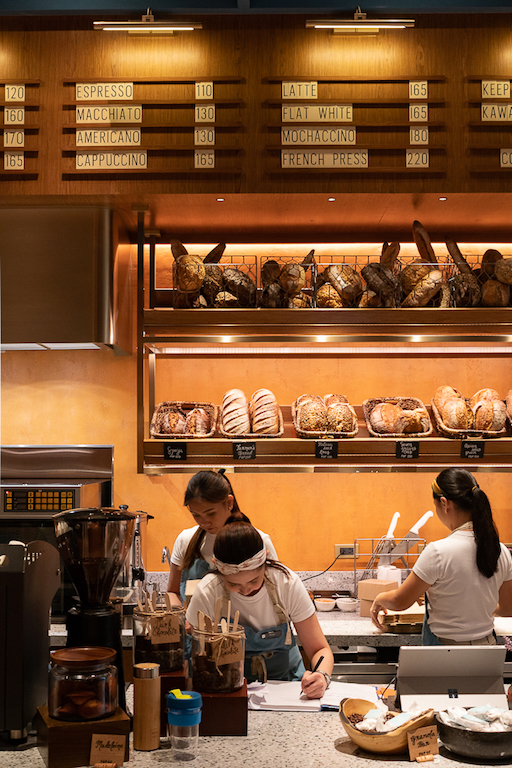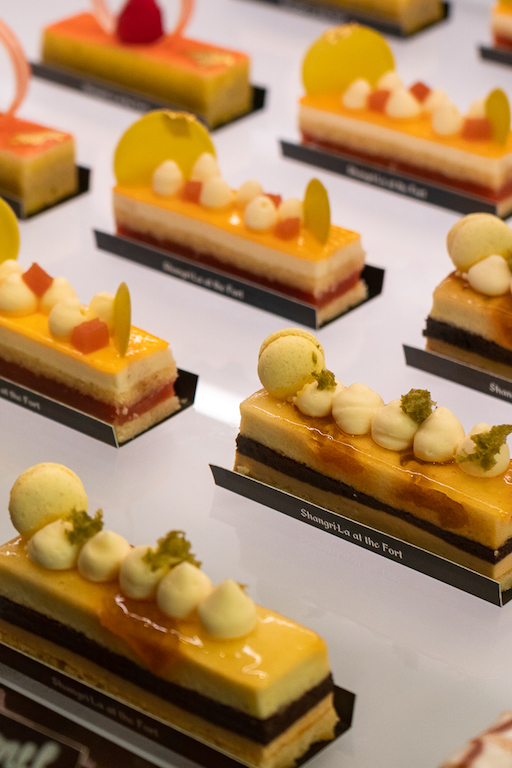 Then there's the end of the chain, the consumer level. Admit it or not, we are guilty of buying too many supplies for our home, and guiltier of throwing them away based on a misunderstanding of their expiration date labels. It's not just at home, we are even more prone to wastage when eating out. Just consider our leftovers in restaurants, buffets, and other dining establishments.
Again, bakeries are part of both stages: it is a business that's based on service, food handling, and storage, and it's a type of dining establishment that caters to hungry people by selling bread.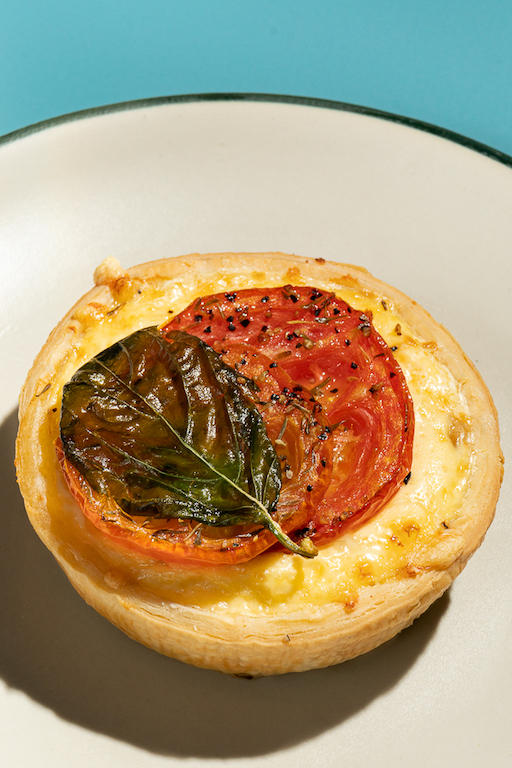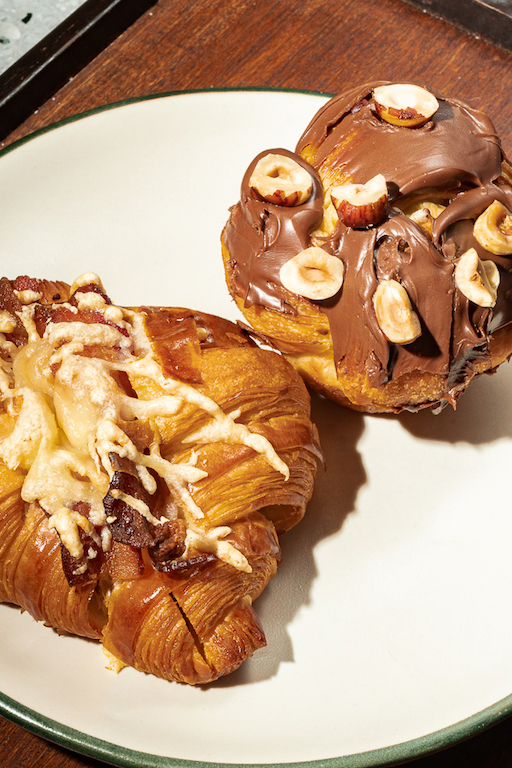 A "greener" bakery
At the lobby of Shangri-La at The Fort is a new bakery called the Bake House. Its facade alludes to a streetside it should have been on, with flowers and succulents being sold upfront that are carefully arranged next to a bamboo bicycle.
Inside are coral and teal walls with brass lighting fixtures and illuminated mirrors, plush velvet cushioned seats, and marble top tables that give it a more sophisticated café vibe than an ordinary bakery.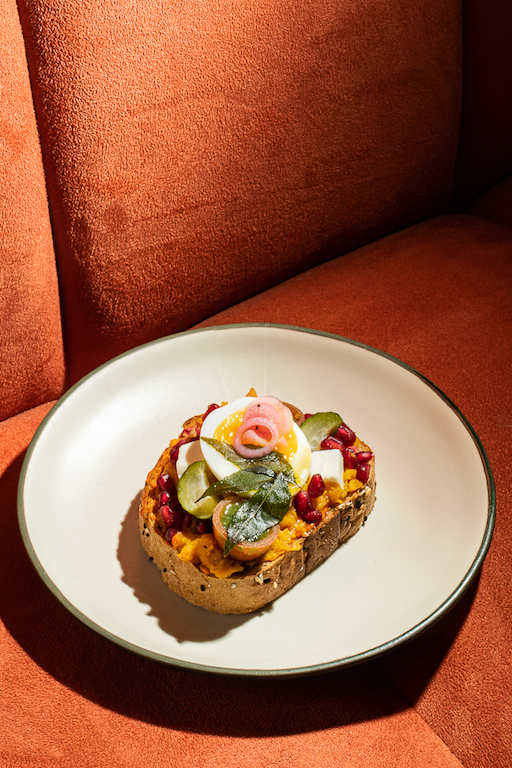 On the counter is a glass display case where many kinds of bread and pastry are kept. The sourdough loaves are kept behind the register stacked neatly like trophies in a case. And rightfully so, because their sourdough recipe is an original and is part of the first-ever World Sourdough Library of Recipes in Belgium, a food incubator that aims to store all of the world's sourdough starters. The likes of French baker and food writer Éric Kayser has donated sourdough formula to the archive.
You can even sample these loaves before buying them as there is a platter in the middle of the store with cubes of different variants.
More interesting is their line of merchandise. On the left side of the counter are a range of KeepCups and bamboo tumblers specially made for the Bake House, which you could buy and have your coffee order in.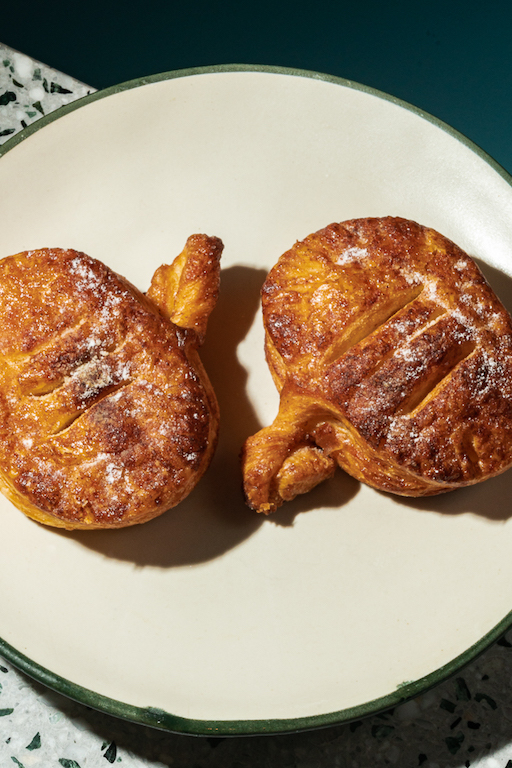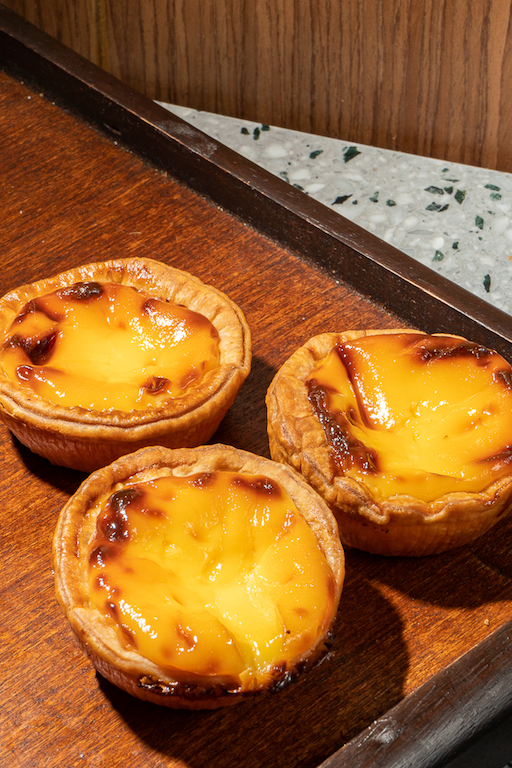 It's one of their initiatives to promote zero-waste living and conscious food consumption. Naturally, their packaging follows suit. They use kraft paper bags and boxes for takeaways to eliminate the use of plastic.
When dining in, there's a communal jar where you can drink water infused with citrus from so you don't have to ask for it at the counter, and they, in turn, won't have to dispense it in small paper cups. 
Conscious cookies
But acknowledging how this move is barely addressing the ingrained problem in the industry—food waste—Bake House integrates this philosophy in their kitchen.
Their answer? A baked good called conscious cookies. In hindsight, it looks and tastes just like a typical compost cookie with lots of textures and flavors. But what makes it different according to Tiffany Go, communications executive of Shangri-La at the Fort is the way it's made.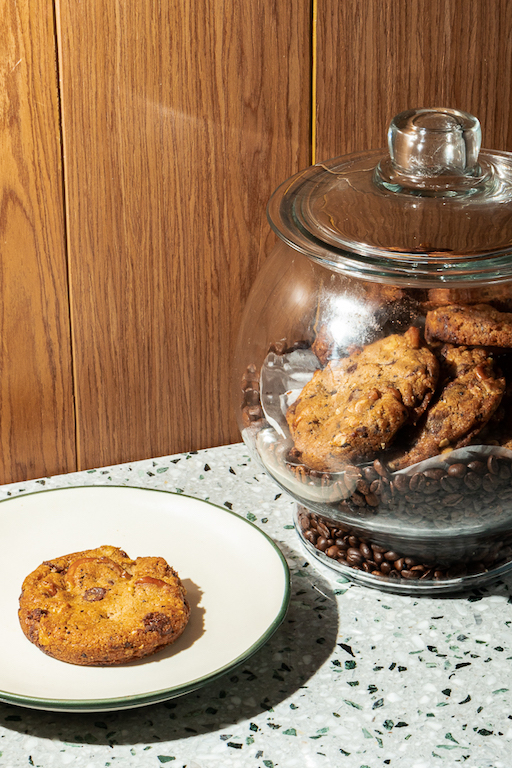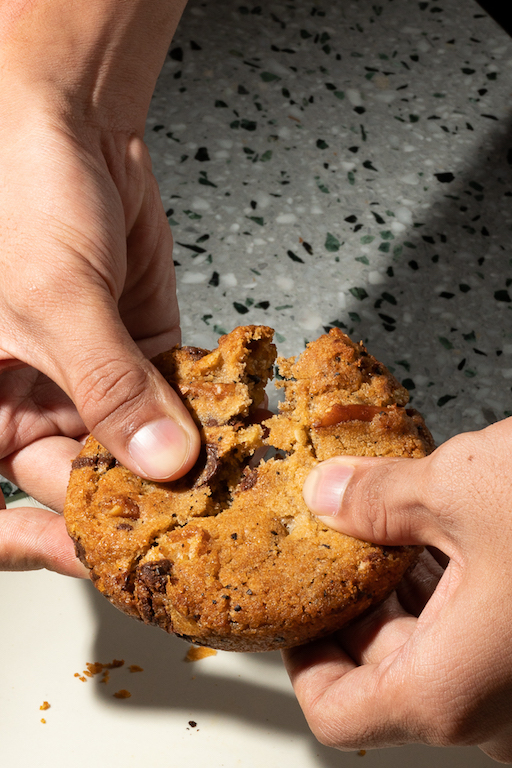 As its name suggests, conscious cookies are actually one of the ways they minimize food wastage, by using trimmings, excess, and other ingredients that "didn't make the measuring cup" and baking it to a soft, speckled, disk of a cookie the size of your clenched fist.
It's sold out nearly every day, but since it depends on the availability of leftover bread and pastry shavings, it is also restocked the following day.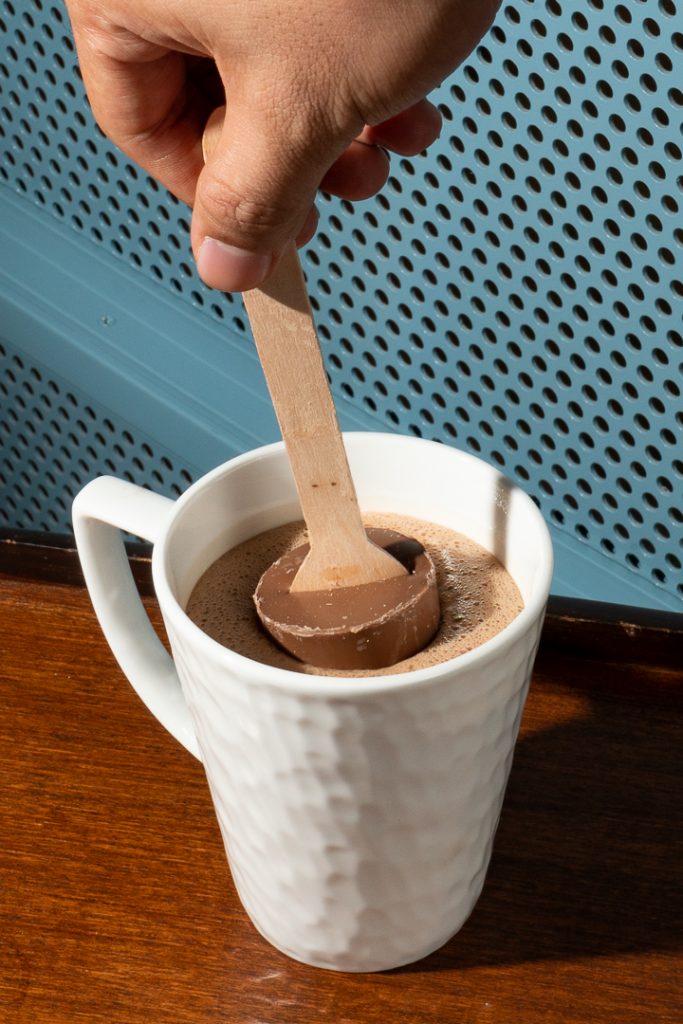 Bake Shop's green efforts don't end there. They have devised another way to reduce their dependence on plastic utensils and even water for washing reusable ones. For the hot chocolate, for example, the chocolate cup (which is available in dark and milky variants) is cleverly made like a popsicle attached to a wooden spoon. Just stir the hot milk with it until it dissolves and the spoon can be used to consume the rest of this drink.
Big and small food businesses alike have the responsibility and the capacity to rethink their ecological impact especially since they are the drivers of the agriculture industry that greatly contributes to rising carbon emissions, from the production line to the table. 
At this point, every little step towards a more conscious way of consuming is welcome, may it be by saying no to plastic or as simple as baking a cookie from scraps.
Get more stories like this by subscribing to our weekly newsletter here.
Read more:
A small stall in Banawe, Quezon City sells these artisanal pandesal
You can get authentic homemade French bread near the French School of Manila
Five places to get homemade bread in Metro Manila
TAGS:
WHY GO?
Bake House's take on the bakery/café interiors is a welcome addition to the BGC roster of businesses. While you're in there, get a conscious cookie or two—your share to stop food wastage.
MENU