In lieu of the recent small lottery crackdown (and subsequent reopening) by the government, I would like to share a joke that I told the owners of this discreet new bakery in Banaue Ave.
[READ: Lotto outlets resume operations after Pres. Duterte orders suspension lifted ]
The said bakery occupies barely five sq.m. space in a commercial building. "If you didn't make this into a bakery, I bet (lol) that this would have been a Lotto outlet," I told Alexa Versoza and Madeliene Dela Torre, two of the people behind Quezon City's first artisanal bread bakery called Manu Mano.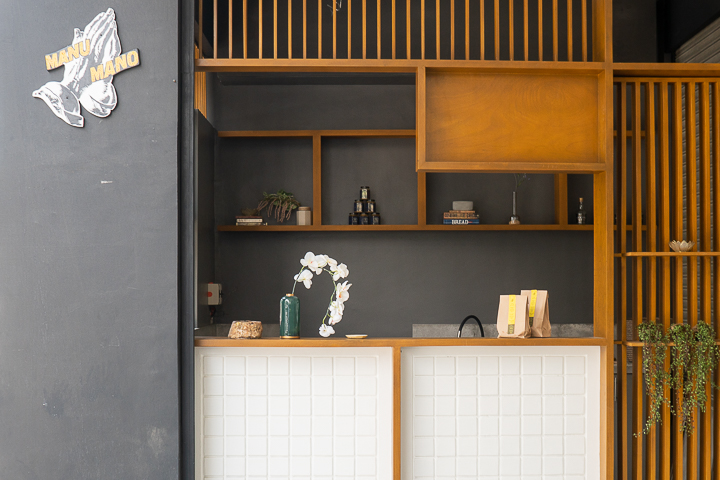 Versoza and Dela Torre both agreed, laughing. Lotto outlets, after all, are notorious for taking up whatever little space there is, and as everyday Filipinos, we are all in on that joke.
And if not for Dela Torre and her partners, it could have been that. But they were decisive. They were going to introduce artisanal bread to the Quezon City crowd. But there is one catch.
The same building where this new bakery resides, there's the storied Banawe Bakery that has been around for more than 20 years.
But before you jump into any conclusions, no, they are not competitors. Dela Torre's family, in fact, owns Banawe Bakery.
"These are two very different concepts. One is something more with the masa appeal, the other is about making quality and otherwise inaccessible kind of bread available to the greater public," Dela Torre said.
On the side of the building facing Banawe, a side reads Pandesal P3. While on the Sct. Alcaraz side, a sign depicting two hands put together as if praying is accompanied by the name Manu Mano.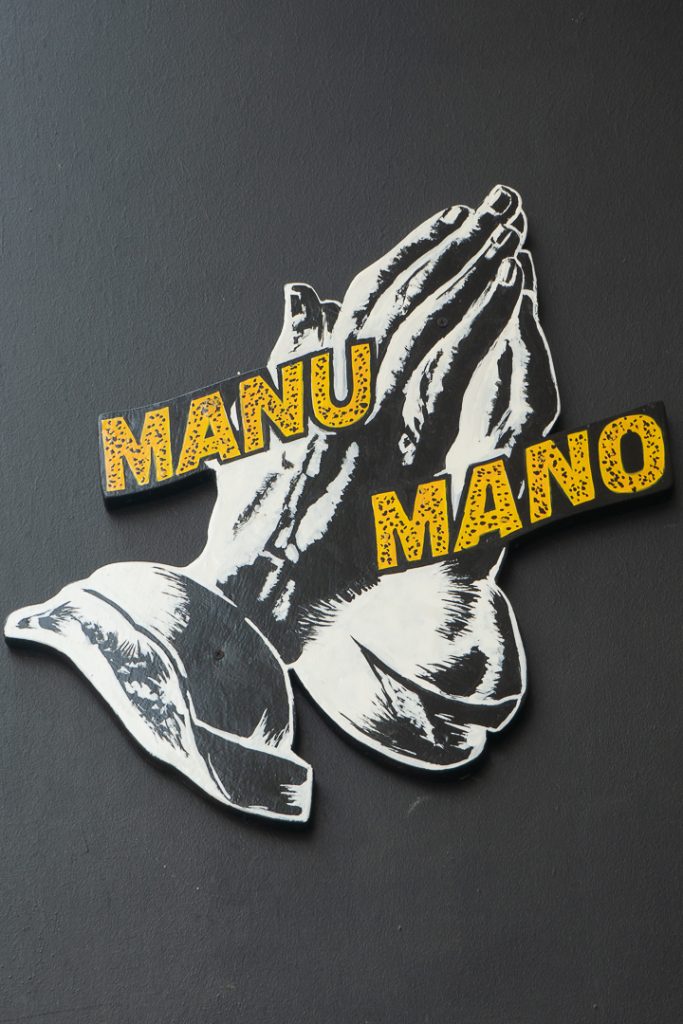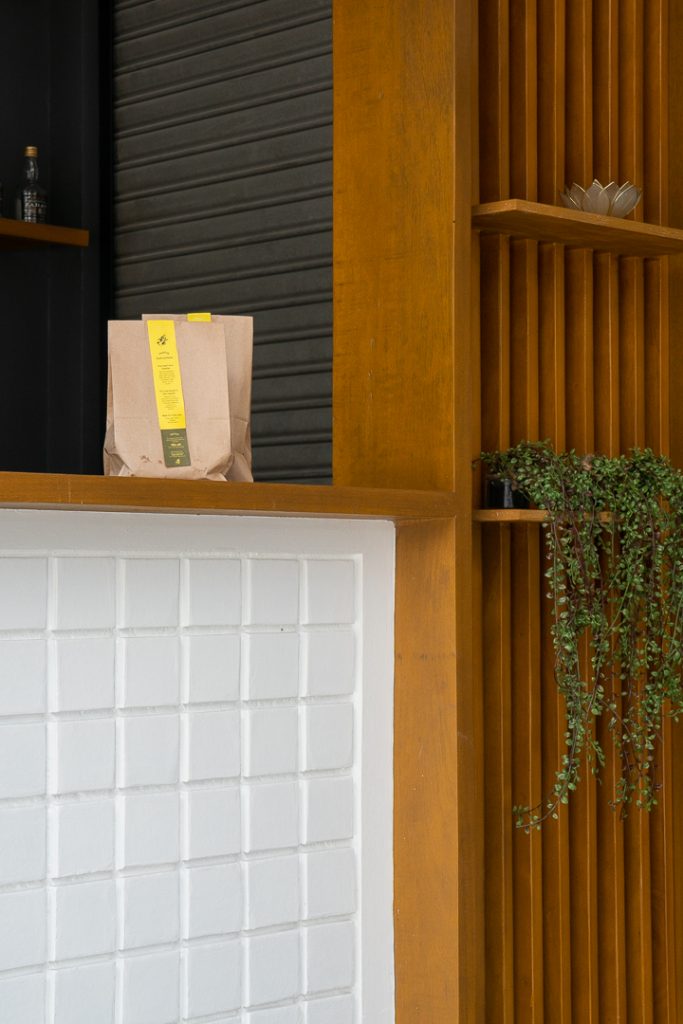 "It means handmade," Versoza says matter-of-factly. She's a pastry chef by training, who currently works with chef Miko Calo at her newly-opened French restaurant Metronome. But prior to that, she's staged with Richie Manapat of Panaderya Toyo in Karrivin. Manapat also happens to be one of the partners in Manu Mano.
"When you're making bread, it's all about the feel. Kahit na alam mo 'yung technicalities, accuracies, temperature, lahat 'yon bale wala kung hindi mo ifi-feel 'yung dough and know when it's ready."
Manapat's Panaderya Toyo since opening in 2017 has had a cut following of mostly bread aficionados and some curios because of his no-nonsense approach to baking. It is no coincidence that Manu Mano's flagship product is also pandesal, specifically hybrid pandesal, which despite being heavily influenced by Manapat's ways is distinct from Panaderya's knotted variant.
[READ: Panaderya Toyo's pan de sal is possibly the best you'll ever have ]
It looks nothing like the pandesal we've grown accustomed to (or at least I did). There's none of that half-baked pale exterior. It's almost looks burnt. But fret not, it isn't. Versoza assured us it's still edible and I tell you it is.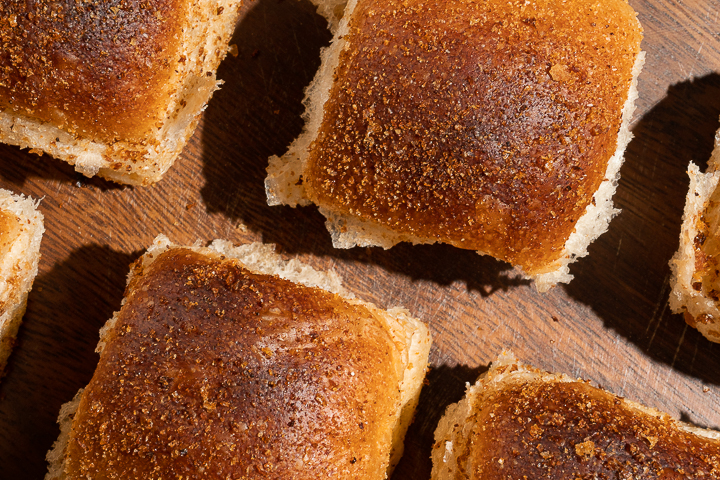 The crisp outside is just a facade to its soft billowy inside that pulls like a croissant. I am no bread expert, mind you, but any discerning Filipino who's raised in a household with hot pandesal in brown paper bags every morning, such as I, know that it is a better version. It's not overwhelmingly sweet (believe me I've had tons of saccharine pandesal), nor too dense. Out of respect, I didn't flatten it to see if it's malleable, but it could be, given its structure is made with sourdough aged over a period of at least a week.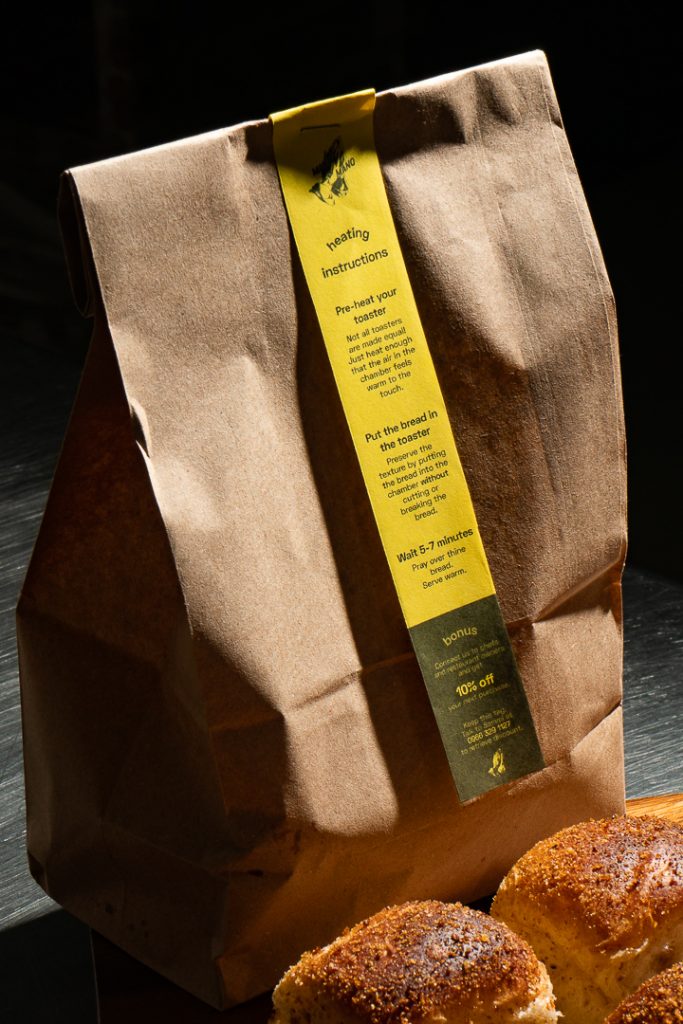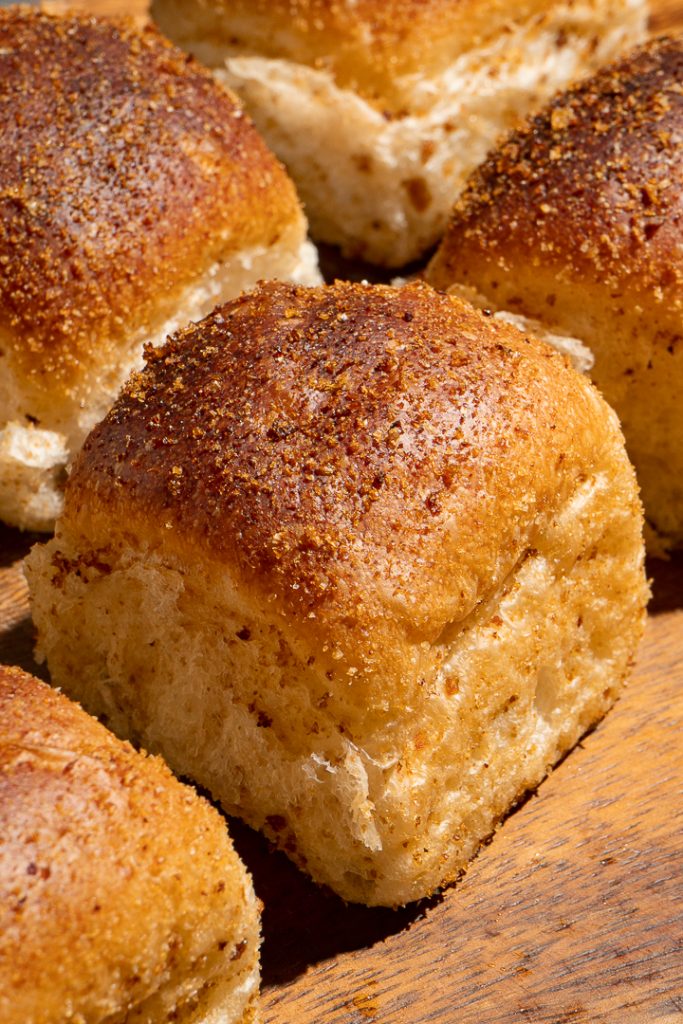 The secret? Fresh yeast and a masa madre. In fact, all of Manu Mano's bread (three as of the moment) are made using the same sourdough mix. Next to the hybrid pandesal, there's the baguette, a 14-inch hard bread that they sell for P90, and they also have a sourdough loaf called Banawe base.
From the looks of it, the small space that is Manu Mano can be deceiving. And luckily it's all part of the plan. There's only a counter where customers can order, no dining tables or chairs. It is done so to exude an air of approachability, to make it less intimidating. After all, they are out there to introduce artisan bread to a broader public, to sell hot pandesal like million-peso jackpot Lotto tickets.
Manu Mano opens to the public on Aug. 3, Saturday.
Get more stories like this by subscribing to our weekly newsletter here.
Read more:
Panaderya Toyo's pan de sal is possibly the best you'll ever have
You can get authentic homemade French bread near the French School of Manila
You won't need to drive to Baguio for freshly baked raisin bread anymore
Writer: CHRISTIAN SAN JOSE
PHOTOGRAPHY SAMANTHA ONG