This new neighborhood café in Makati draws its name from the owners' wedding hashtag
It's not really 'bad' after all
info
Bad Cafe

American-Filipino Fusion

7 a.m. to 9 p.m. (Mon-Sun)

₱

400 for two
The metaphorical phrase, "don't judge a book by its cover" was first used in a 1944 African journal American Speech as: "You can't judge a book by its binding." Two years later, it was popularized in Lester Fuller and Edwin Rolfe's 1946 murder mystery novel "Murder in the Glass" as: "You can never tell a book by its cover."
We usually hear this phrase in bookstores, especially when we try to find something new to read but in this café in Makati, the name itself is an anti-thesis to its original meaning.
Bad Cafe brands itself as an "independent neighborhood coffee shop" as the owners, couple Brian and Dianne Westphal want to create a place where they can put and share all their interests in like coffee, pastries, and art. 
"The name came from our initials: 'B' for Brian and 'D' for Dianne," Dianne explained. "We got married in June last year and our wedding hashtag was #BadWedding," she said.
"People usually assume that [our coffee shop's] name is really badass but it's actually cheesy. It's okay, it can be both," Brian added.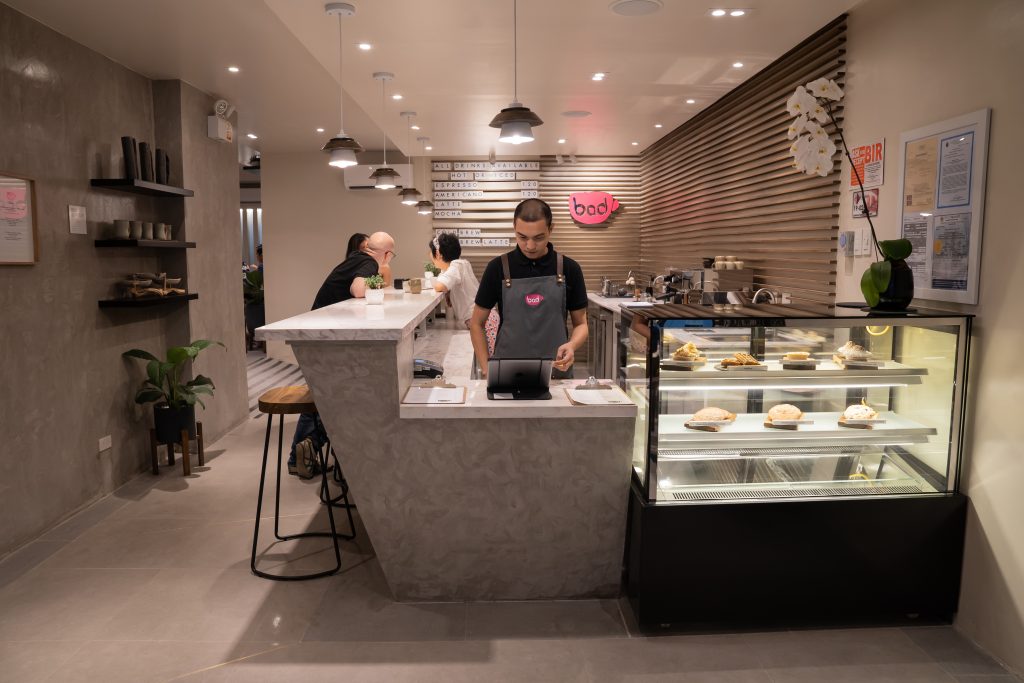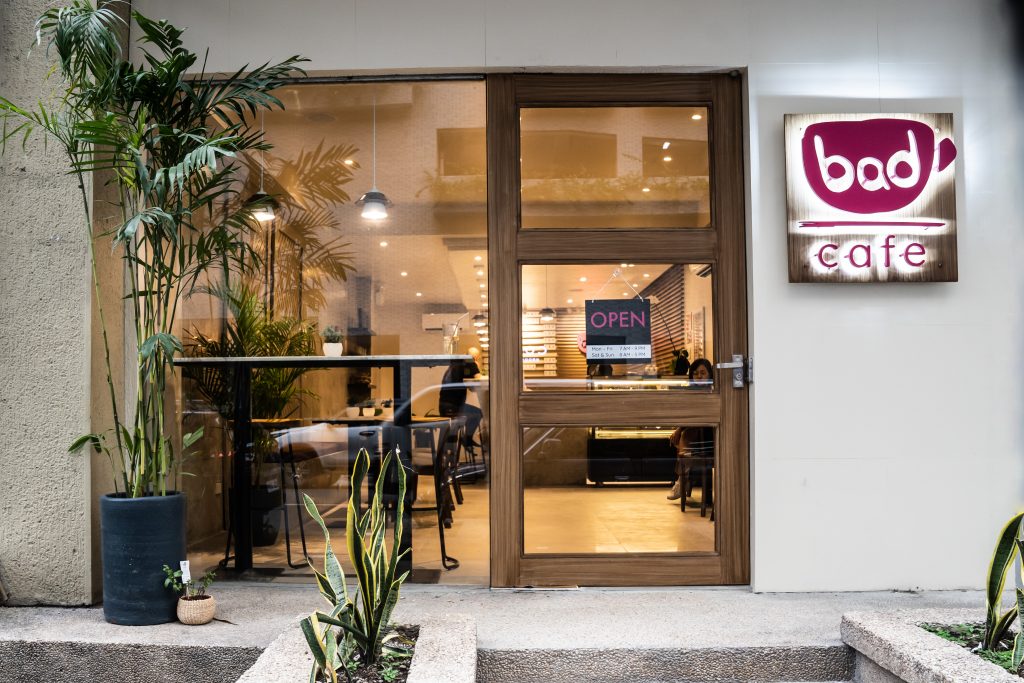 The idea of putting up their own café came when they flew to Italy for their wedding honeymoon to visit La Marzocco, an Italian company that specializes in high-end espresso coffee machines. 
"Our coffee right now is espresso-based. We wanted to focus on espresso because we are espresso lovers. That's what we drink, mostly," Dianne said.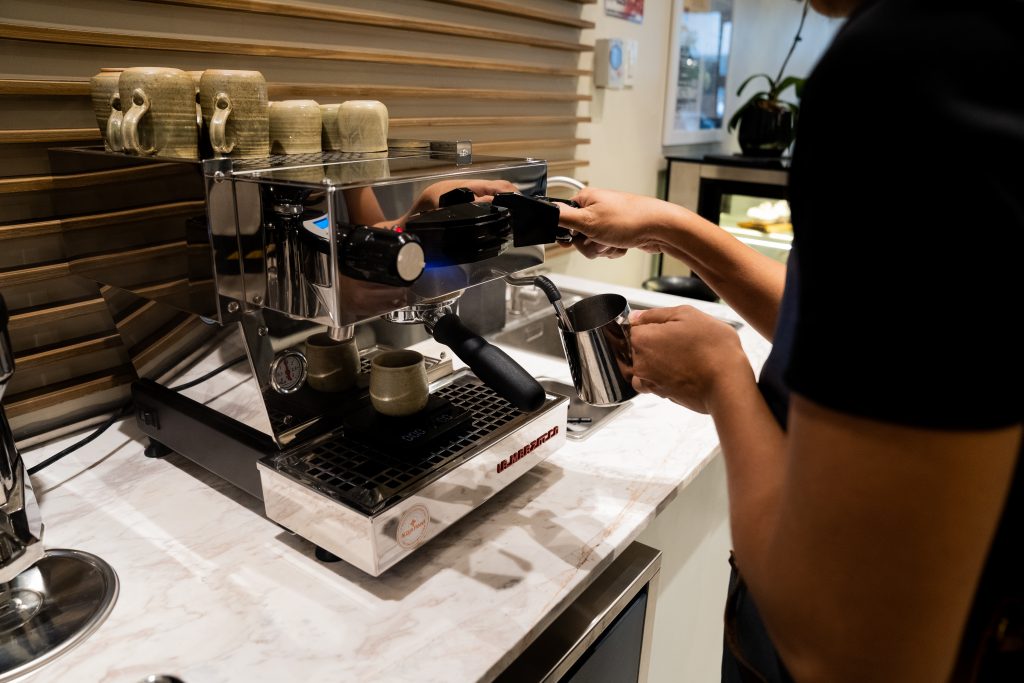 The café's interiors follow a mid-century and minimalist Japanese design. Every corner is intended to follow Japanese simplicity from its neutral-painted walls to its marble tables and countertop and wooden chairs. "The place, in general, is Japanese-minimalist because we met in Japan and we got engaged in Japan," Dianne shared.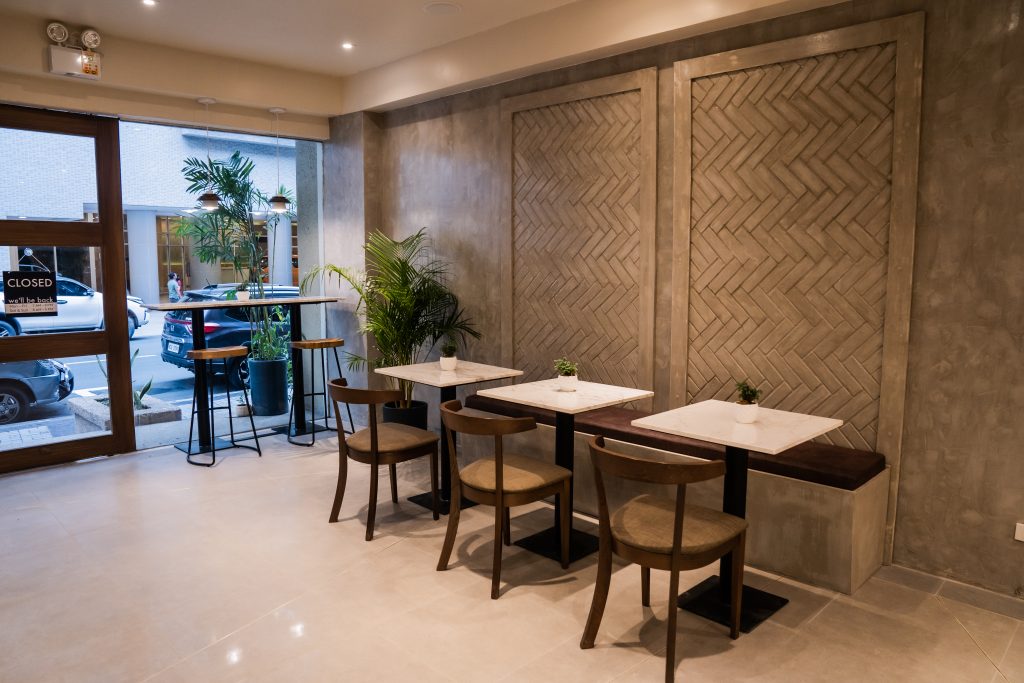 Its spacious area led Dianne to start organizing events every Saturday night in the café since its opening. Artists and writers are welcome to share their own pieces of writing through the storytelling community, "Word of Mouth", which Dianne herself co-founded. The café also has a gender-neutral bathroom space.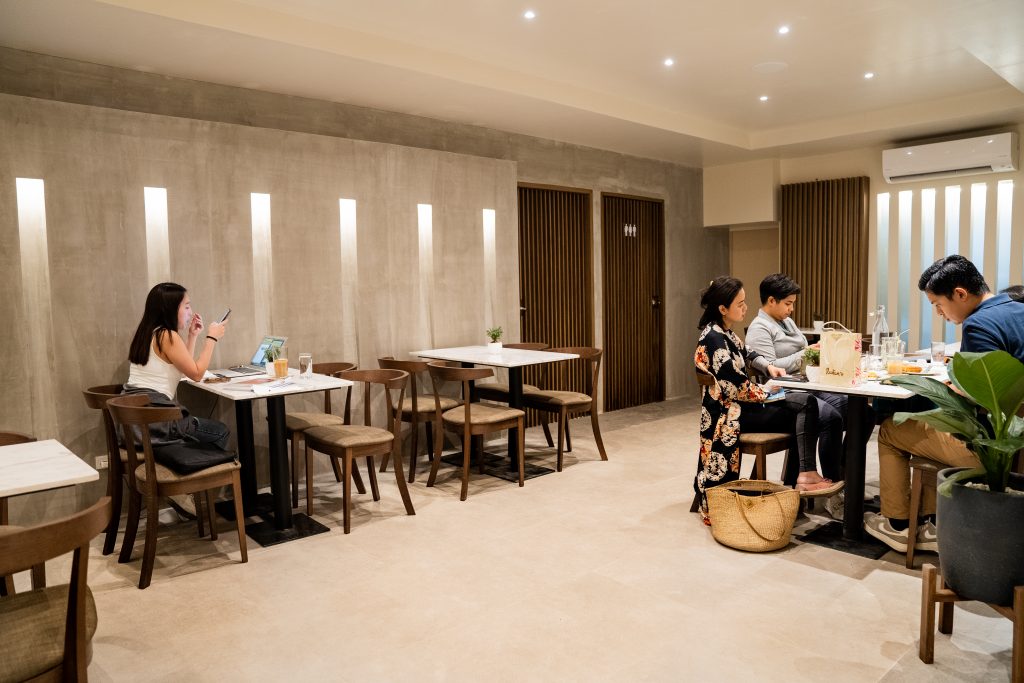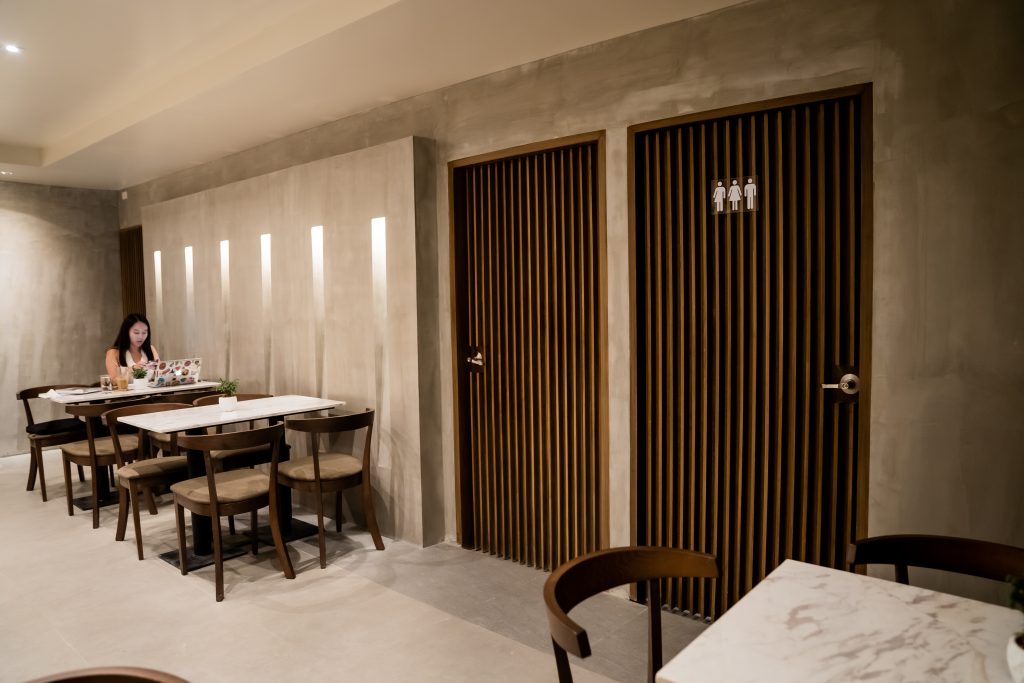 "I like the idea of having this public space that's for creative[s] so when I saw this space, I thought that we can do a lot of things here like storytelling and workshops. We want this to be that kind of space," Dianne said.
[READ: Protecting trans rights isn't just about restrooms]
Creating the menu was something personal to the Westphals as it was mostly based on their preference for comfort food, a fusion of American and Filipino cuisine. Take the breakfast egg pie, for example. It is made with American ham, gruyere, red cheddar, and egg served with sriracha mayonnaise.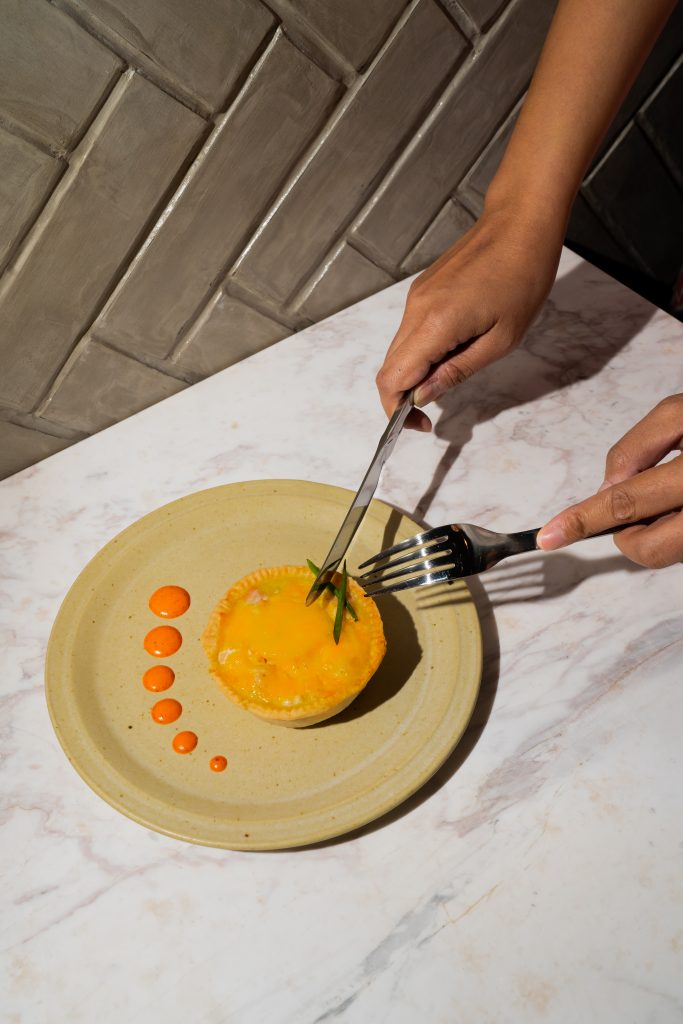 The mac n cheese is made with bleu cheese, mozzarella, and red cheddar and is served with fried chicken seasoned with cayenne and black pepper, soy sauce, and lemon juice. Slices of lettuce and carrots on the side complement the spicy hint of the chicken.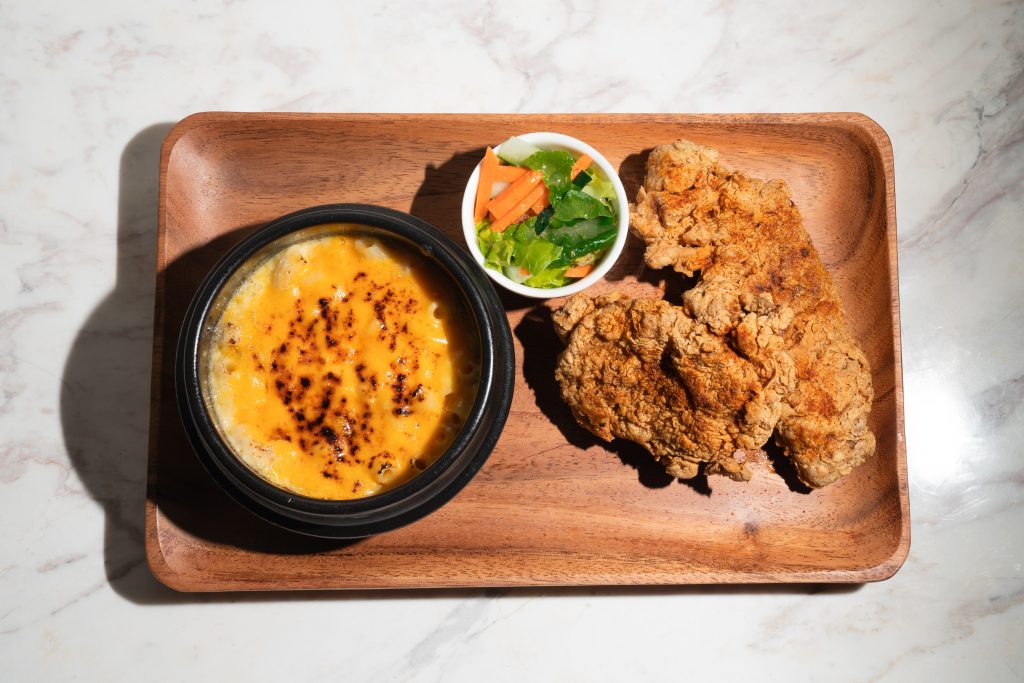 For their baked goods, get the chocolate espresso pie or calamansi pie. The former is made with espresso, eggs, crushed Oreos, and butter topped with whipped cream. The espresso, meanwhile, is made with single-origin beans from Indonesia. The latter is made with graham crackers, calamansi juice and zest, and cayenne pepper. You can also choose to pair it with a cold brew latte.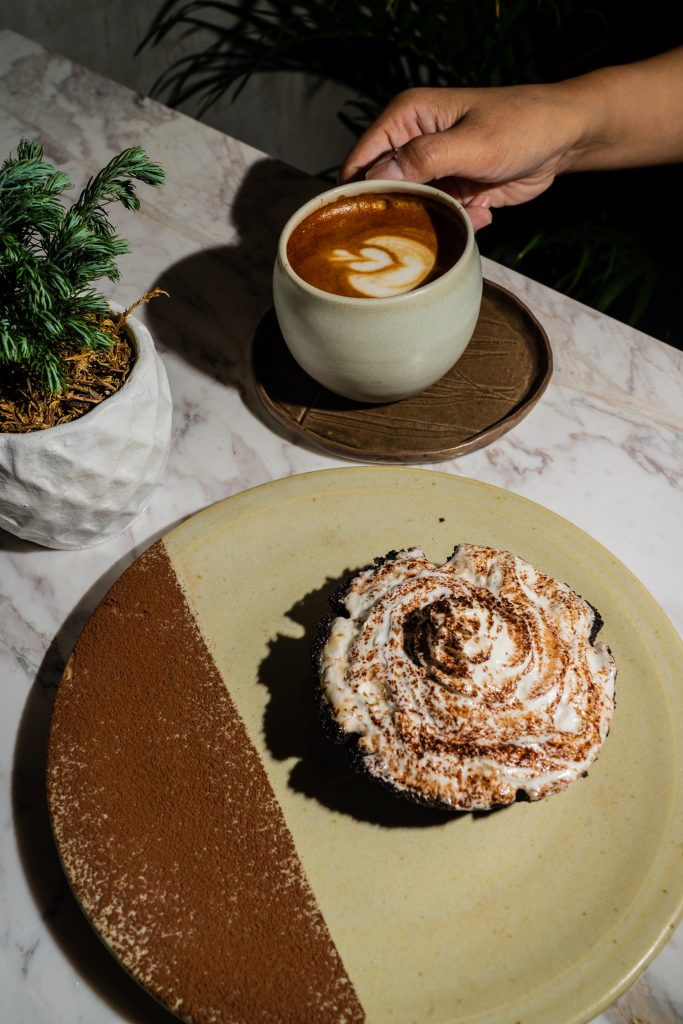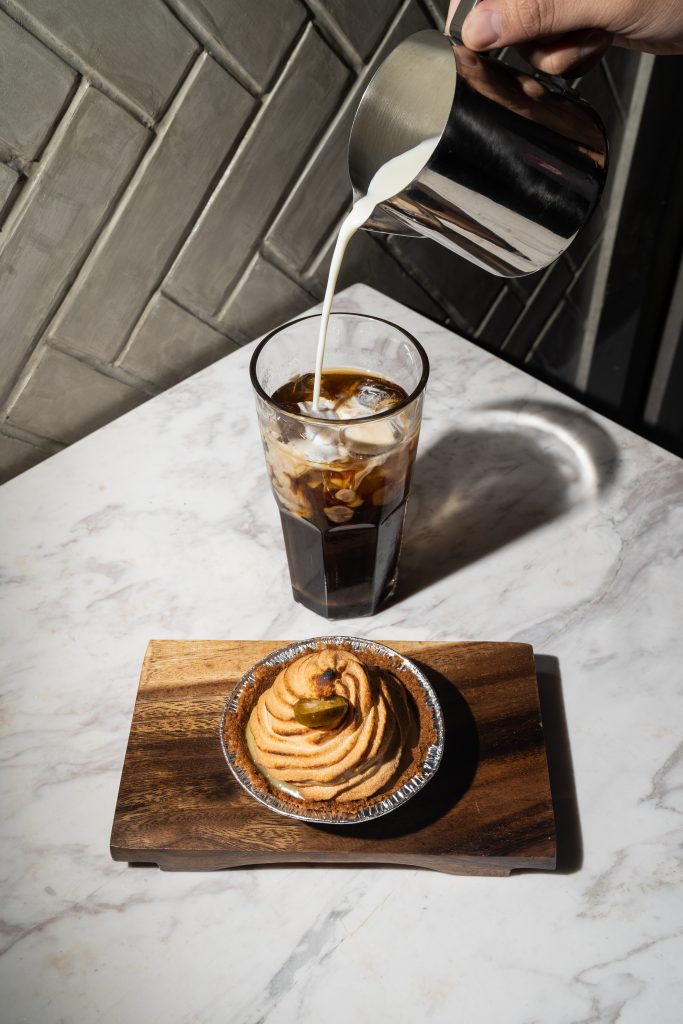 "The market for dessert here is very sweet. All of our desserts are toned down. They're sweet but they also have elements of spice and salt or different textures as we try to make them balance and less overwhelming," Brian said. 
Most of the mugs and plates used in the café are made by local potter Ugu Bigyan from Tiaong Quezon. Rooting from her love for her province of Quezon, Dianne wanted to use Bigyan's crafts. They also sell some of Bigyan's dinnerware in their café.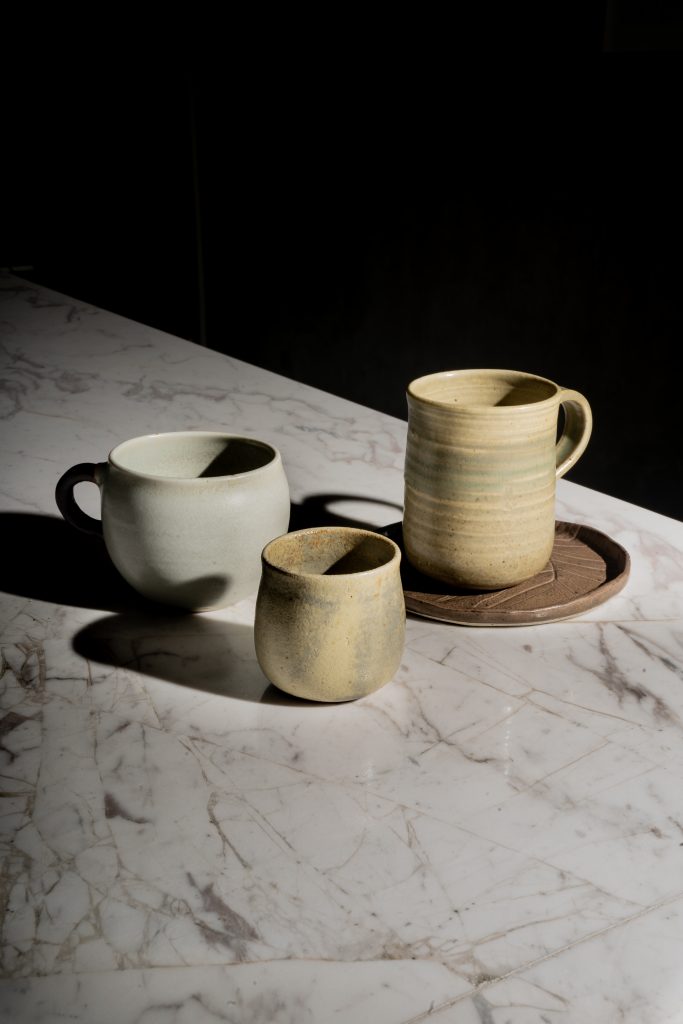 Aside from its growing menu, Bad Cafe offers a spacious yet non-intimidating environment for its customers. As "bad" as it seemed from reading its name, it's actually the opposite of it.
Get more stories like this by subscribing to our weekly newsletter here.
Read more:
This café in Alabang is also an old school arcade
This underground café is only an hour away from Manila
I hate apple pie but this patisserie in Ortigas changed my mind
TAGS: bad cafe calamansi pie Legazpi Village neighborhood coffee
WHY GO?
Go for their version of calamansi pie and homemade cola
MENU