Here's where you can drop off your electronic waste instead of just throwing it out
The E-Waste Project will be accepting donations until Sept. 28 in Valenzuela and Quezon City
Sep 24, 2019
The newest iPhone models are out once again. Just imagine the lines this release is currently generating in many parts of the world. Then imagine all the older models that have been let go and are just lying around your house after all these drops. But then again that is not the worst scenario. It is that all over the world, our e-waste is rapidly piling up. It is expected that by 2021, this could balloon to 57 million tons of this toxic waste.
Yes, it is toxic. A local collaborative effort called The E-Waste Project charts just about every imaginable and possibly fatal scenario that could result from improper disposal of electronics. There's water contamination from battery explosions in the ground, deteriorating circuit boards emitting hazardous metals into the air, and not to mention, a health risk for those who "mine" these trash for precious metals like gold (which BTW are often illegally mined for our phones), which include  immune system-, neurological-, and respiratory-related complications.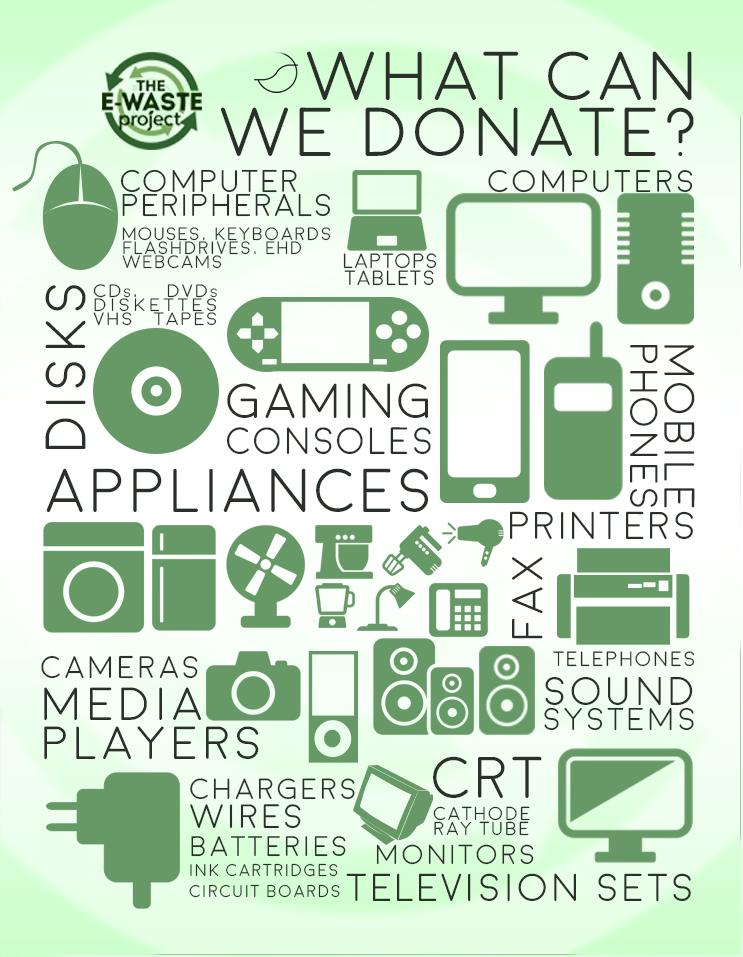 So what should you do with your discarded electronics?
If you are sentimental beings who can't just throw them away (partly because of the awareness of how toxic they are to the environment, which is good.), and would rather have them stashed in a drawer along with dead laptops, computer screens, and whatnot, there's an e-waste collection drive happening this week in Quezon City and Valenzuela.
The Department of Information and Communications Technology (DICT) together with The E-Waste Project teamed up with the Institute of Electronics Engineers of the Philippines-Quezon City Chapter for World Environmental Health Day this Sept. 26. From Sept. 23-28, they will have three dropoff points in C.P. Garcia Avenue Diliman, Roces Avenue Diliman, and MacArthur in Valenzuela City, where they will be accepting old phones, laptops, computer screens and parts, and other electronics.
Because of the precious metals that can be found in them, this kind of trash actually has value. In fact, some electronic manufacturers like Apple are utilizing these metals when making new models. [READ: Apple unveils the "greenest" MacBook yet] Even the medals for the 2020 Tokyo Olympics are fashioned out of mined e-waste. [READ: Tokyo unveils 2020 Olympic medals made from recycled electronics] According to The E-Waste Project's website, the collected waste will be sold off to accredited waste management facilities and the proceeds from that will be donated to the community's chosen beneficiary.
Don't worry if you don't catch them this week. They partner with other communities in other locations where they assign dropoff places like in the University of the Philippine Los Baños where they will be having another collection drive in Oct. 12.
But if your smartphone is still in good condition, meaning you just decided to upgrade to the latest model for minor totally repairable issues like battery or screen, you can also opt to resell it or buy a secondhand phone yourself. After all, save for these hardware issues, pretty much all phones now are programmable and can be updated to the latest software to function as usual.
Get more stories like this by subscribing to our weekly newsletter here.
Read more:
Smartphone upgrade tip: go secondhand
This local shop makes trinkets out of electronic waste
Tidied up? Here's where to donate your pre-loved items
TAGS: collection drive Department of Information and Communications Technology E-waste electronic waste electronics phones The E-Waste Project World Environmental Health Day