Within a span of a month, multiple murders on environment and agrarian reform defenders were carried out this year, from March to April. This included the massacre of 14 farmers in Canlaon City and the killing in plain sight of Toto Patigas, a human rights advocate. [READ: In the killing fields of Negros, the lives of farmers and activists mean nothing]
This is to say that to defend the environment and the rights of farmers to own their land is not an easy thing to do here. In fact, global watchdog Global Witness reports that the Philippines is the deadliest country for environmental and land activists. (JSYK, the country was named the deadliest in Asia last year. What a step up.)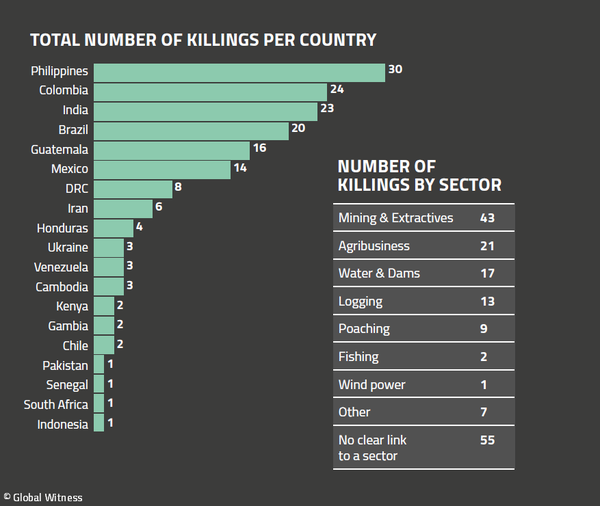 "The Philippines became the most dangerous country on earth, with more killings than anywhere else. Activists face not only systematic threats, attacks, imprisonment. Attacks against them, their colleagues, but also their family members, crimes that are rarely ever prosecuted," said Global Witness' senior campaigner Ben Leather in a recent press conference.
"Broken promises are leaving land and environmental defenders at the mercy of business at all costs," reads the group's latest report "Defending the Philippines." Here's a passage from the scathing report:
"The Philippines is among the countries most vulnerable to the negative effects of climate change. Yet our case studies show a range of business projects pushing ahead with brazen disregard for the planet. Mystifyingly, as vicious typhoons and devastating flooding cause havoc to Filipino lives and the economy, President Duterte has allowed his commitments to protect the environment to slip off the agenda."
It's both alarming and not the least bit sobering to see just how much the government has let corporations and big businesses trample on the rights of people to defend their land and our own environment. "Governments, investors, and companies alike are failing these brave men and women of the Philippines," says the report.
There's still a way out of this hole, though. The report outlines things one can do as a normal consumer: Make sure that the products you use weren't born out of bloodshed, and call on the government as much as you can until it finally listens.
How much more Filipino faces are we willing to kill until we start acting?
Featured photo courtesy of Global Witness
Get more stories like this by subscribing to our weekly newsletter here.
Read more:
Imported rice are more common now than ever—to the detriment of our rice farmers
Gina Lopez, an ardent supporter of the environment and conscious living, passes at 65
Help your local farmers by purchasing your rice from this mobile app
Climate change inaction violates children's rights, says Greta Thunberg and other young activists