ICYMI: The Philippines became the first country to approve Golden Rice for commercial planting amid uproar from groups and farmers against genetically modified organisms (GMO).
What is Golden Rice?
According to the International Rice Research Institute (IRRI), which along with its national research partners developed Golden Rice, it is a genetically engineered rice that contains beta-carotene, a plant pigment that the body converts into vitamin A as needed.
"The beta-carotene in Golden Rice, which was made possible by the addition of two new enzymes (from daffodil—then eventually maize—and a common soil bacterium genes), is identical to the beta-carotene found in green leafy and yellow-colored vegetables, orange-colored fruit, and even in many vitamin supplements and food ingredients," reads IRRI's website.
Golden Rice with its high vitamin A content was developed to address vitamin A deficiency (VAD) in countries such as the Philippines, where cases of malnutrition are rampant.
Although, critics say VAD is not as prevalent now compared to when Golden Rice was conceptualized in the '90s, thanks to the government's fortification programs. Reliance on one staple alone to meet dietary needs, critics added, also runs counter to the ideal diverse diet that most people already have.
Farmers, on the other hand, fear that the introduction of Golden Rice to the local market will endanger their livelihoods, much like how agricultural biotechnology giant Monsanto's monopoly over GMO seeds screwed over farmers.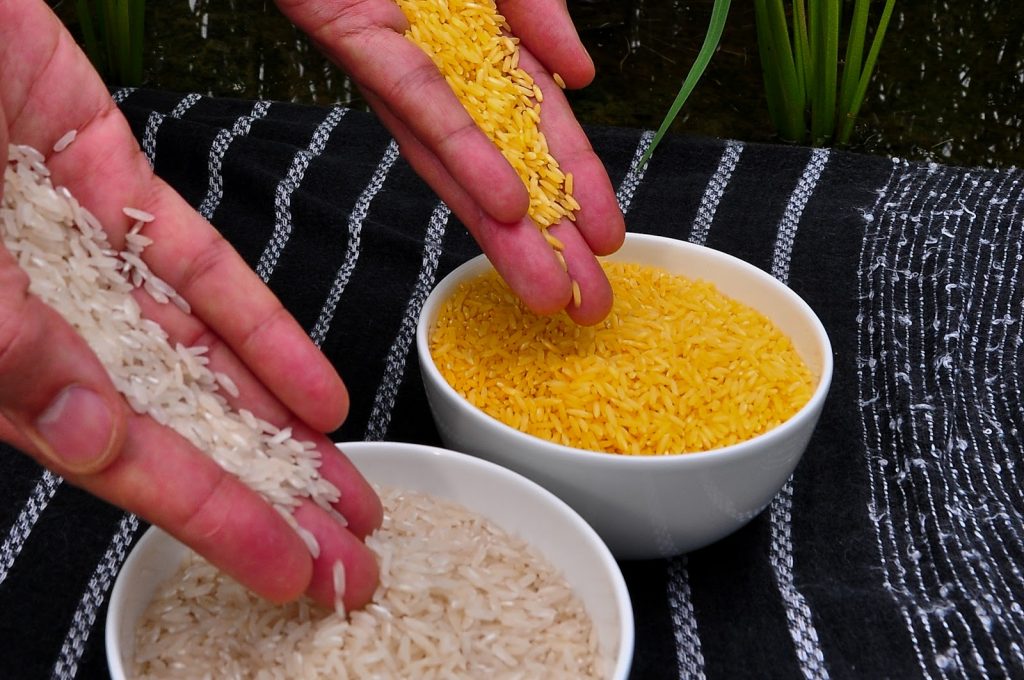 Timeline of Golden Rice
1982 – Professor emeritus Ingo Potrykus of the Swiss Federal Institute of Technology and Prof. Peter Beyer of the University of Freiburg, Germany, started research on Golden Rice
1999 – Researchers successfully expressed beta-carotene in rice grains
2000 – Golden Rice and its creator Potrykus landed on the cover of Time Magazine
2004 – The Philippines, Indonesia, and Bangladesh received an improved version of Golden Rice through the Golden Rice Network
Golden Rice timeline in the Philippines
2001 – IRRI received the first 600 seeds and six 2.5mL tubes of the genes necessary to turn any white rice into a biosynthetic factory for beta-carotene
2005 – Golden Rice 2 with better beta-carotene levels was unveiled
2011 – The Bill and Melinda Gates Foundation donated $10.3 million to IRRI to boost its Golden Rice project
2013 – Progressive pro-farmer groups against Golden Rice uprooted test plots at DA provincial office compound in Pili, Camarines Sur, where GMO rice was grown for submission to local regulatory bodies
2017 – Farmers rallied in front of the main office of Philippine Rice Research Institute (PhilRice) in Muñoz, Nueva Ecija to stop the commercialization of Golden Rice in the country
May 2019 – The Department of Agriculture-Bureau of Plant Industry (DA-BPI) issued a biosafety permit for field trial
October 2019 – Field trials conducted in DA-PhilRice stations in Muñoz, Nueva Ecija, and San Mateo, Isabela were completed
October 2020 – DA-PhilRice lodged an application for the commercial propagation of GR2E Golden Rice
November 2020 to January 2021 – A 60-day public comment period commenced
July 21, 2021 – DA approved the permit for the commercial propagation of Golden Rice along with the Bacillus thuringiensis (Bt) eggplant for direct use as food, feed, or for processing
Why farmers are not sold on Golden Rice
Stop Golden Rice Network (SGRN), a regional campaign network against corporate control in food and agriculture, released a unity statement last Aug. 9. This was backed by various civil society organizations and pro-farmer groups as a reaction to the DA's decision.
According to the statement, Golden Rice has yet to resolve problems on efficacy, safety, private control, and acceptance by the public, including those raised during the 60-day public comment period.
IRRI's Director for Research Dr. Ajay Kohli defended the decision, stating that rigorous research and regulatory review prove that Golden Rice is just as safe as ordinary rice.
Other than diverting sources and attention from the real causes of malnutrition—poverty and lack of access to agricultural resources—Golden Rice will also threaten our farmers' economic situation, SGRN added. "Local farmers who will be forced to use these seeds or whose farms may become casualties of genetic contamination may find themselves in a worse economic crisis because consumers detest Golden Rice."
Despite IRRI's assurance that Golden Rice seeds are expected to cost farmers the same as other rice varieties, SGRN fears farmers will be subject to the privatization scheme of transnational corporations. The rights to Golden Rice are owned by the Swiss agrochemical giant Syngenta, which was bought by China state-owned corporation ChemChina in 2016.
Since the introduction of GMOs in the 1990s, agribusiness giants like Monsanto have gained control over most patented seeds. In the process, they have antagonized farmers through restrictive contracts, nonprofit RESET reports.
The Golden Rice Project, however, assured the public that Syngenta doesn't have a sole claim to Golden Rice's proprietary technologies as these also belong to Bayer AG, Monsanto, Orynova BV, and Zeneca Mogen BV. "These companies provided access to the required technologies free of charge, for humanitarian purposes," Golden Rice Project's website reads.
While Golden Rice may not profit off seed sales, Kilusang Magbubukid ng Pilipinas National Chairperson Danilo Ramos foresees that its cultivation will require imported and costly chemical inputs, resulting in billions in profit for foreign agro-corporations.
Golden Rice will still have to seek varietal registration from the National Seed Industry Council. DA-PhilRice executive director Dr. John C. de Leon said it also still needs to meet remaining parameters such as seed increase before the golden grains reach farmers and consumers.
Once all these are completed, the government plans to distribute Golden Rice through partnerships with other local government agencies and market-based and programmatic approaches like feeding programs. It will specifically target areas where VAD is a problem.