Jan. 26 saw the second iteration of the biennial TernoCon, a convention and contest celebrating the Filipino terno started by local lifestyle brand Bench together with the Cultural Center of the Philippines (CCP), with production designer Gino Gonzales at the helm. First established in 2018, TernoCon takes 14 designers from all over the country to show off their interpretation of the dress, with each of them assigned to mentors Cebuano designer Philip Rodriguez, London-based designer Lesley Mobo, and experimental designer Ivarluski Aseron along with returning head mentor Inno Sotto.
What we don't talk about is how the terno as it's worn today is greatly influenced by class
Going into the show, I have to admit I had my own fair share of skepticism. I watched the show not as a fashion person (Christian, the Nolisoli team's resident style enthusiast, was unavailable), but as a person deeply invested in politics and culture. With that in mind, my question was this: Can the terno be class-neutral?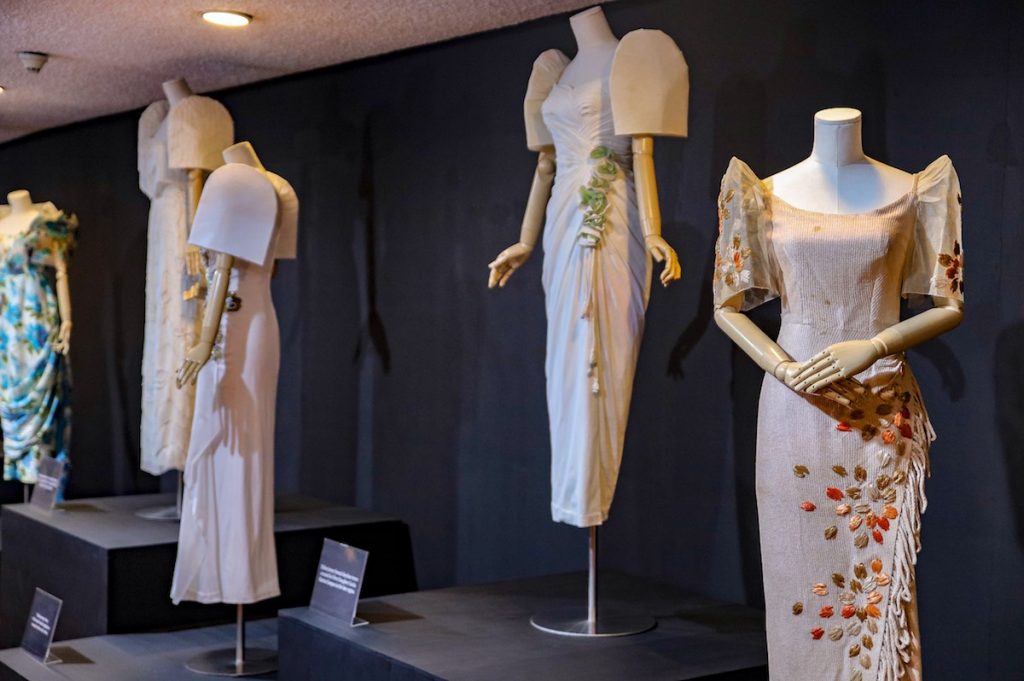 It's an attention-grabbing way to say that, I know, but what I mean by that question is if it's possible for the terno to be democratic again, something that everyone can wear. We (and I'm holding myself responsible, too) talk about the cultural elements of the return of the terno a lot, and the strides designers have taken to make it more inclusive towards other Filipino groups. (READ: The terno is not our national dress—but it could be) What we don't talk about is how the terno as it's worn today is greatly influenced by class. And if the celebration of the terno is a celebration of our culture, then isn't it at least a little bit concerning that it's the moneyed who mostly get to wear it?
Fashion trickles up before it trickles down—the way the modern fashion cycle works, trends, styles, and movements start first in the streets before they're taken by the elite and then appropriated for the masses. Would it be right, then, to assume that we're simply at the second stage, that sooner or later we'll find RTW affordable ternos that the average Filipino can buy? I'm not sure.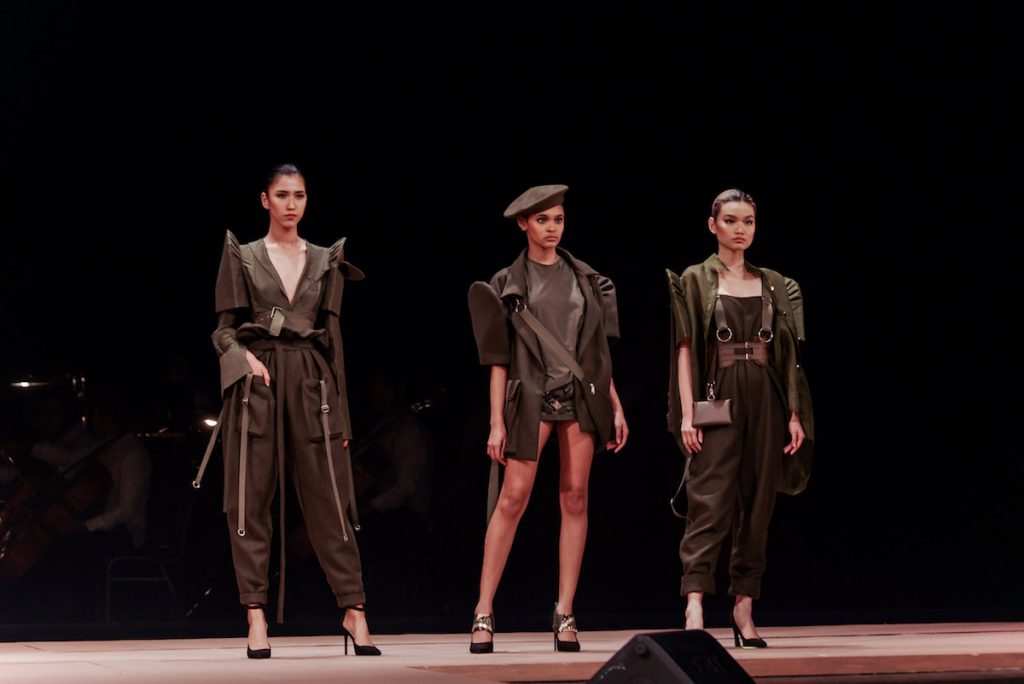 It does spell well, though, that designers are becoming more attuned to the needs of the working women. This year's winning collection was decidedly utilitarian; literally styled with hooks, purses, and cable jumpers and crafted with an olive colorway, it invokes military imagery. "My collection is inspired by utilitarian modern women, women [who are] on the go and always moving," says Hannah Adrias, the Slim's Fashion School graduate who created the collection. Thus a design that, while stylish, is easy to walk in, while at the same time commanding power. There's a kind of punch in the collection, in that it takes the overtly masculine military-wear and radicalizes it into Filipina fashion.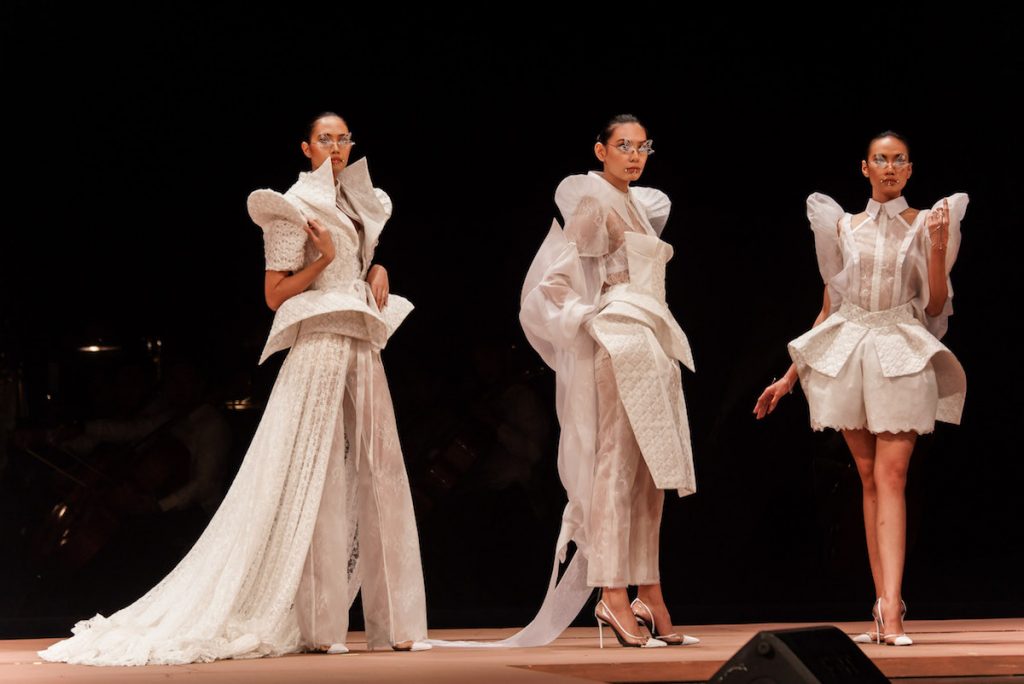 Silver medalist Jaggy Glarino's take was decidedly the queerer one. Donning Godsomeware shades, his models came out in all-white pieces that incorporated a corpinyo and French couture influences within the terno silhouette. "My collection is entitled "Malaya," an attempt to explore the idea of freedom as a generic and encompassing human experience," Glarino says.
So maybe I can't say if or when the terno ever becomes democratized, but I can say that the people working on it have that in mind. "We are challenged to address the demands of the contemporary times," pushes Glarino. (Glarino heads two brands: an RTW line named Jaggy Apparel, and a bespoke line called Maison Glarino) "If I could, I would want to make casual clothing that has terno/butterfly sleeve for young women to remember our roots," opines Adrias. And from the outside-looking-in, I think we're in safe hands.
Photos courtesy of Bench
Get more stories like this by subscribing to our weekly newsletter here.
Read more:
The terno is back from the baul. Now what?
The terno is not our national dress—but it could be
The terno is not dead. But new designers are killing it
Writer: ZOFIYA ACOSTA