Once in a while, skip the lettuce and train your eyes upon the other vegetables in the crisper. This salad—incredibly easy to make—serves as a base for many other potential salads. Add some nuts and fruits for texture and zest. Add grains to give it substance and transform it into an entree. Add radicchio or purple cabbage to give it some volume. This is the starter salad that's not your ordinary salad.
https://www.instagram.com/p/B77KiTVHvjJ/
Eaten raw or blanched for 30 seconds and then shocked in ice water (a technique that brings out a vivid green in the vegetables, while retaining its crunch factor), this French bean and sweet pea salad is zingy and zesty, thanks to the calamansi vinaigrette. Pair with seafood and white wine for lunch, or, like me, serve it with a quinoa bowl featuring stewed veggies and a fried egg. Yum.
French bean and sweet pea salad
Ingredients
A pack or two of French beans (depends on your appetite at the moment)
An equal amount of fresh peas
Black sesame seeds
Dressing
Four tablespoons fresh calamansi
Two to three tablespoons good quality olive oil
A dab of mustard
Salt and pepper
Procedure
Clean the beans and peas. Blanch in simmering water for 30 seconds or less, then plunge in an ice bath. This retains its crispness while bringing out its vivid green hue. Or serve raw! (Less labor-intensive.)
Mix the dressing ingredients. Traditional vinaigrettes use a 3-1 ratio of oil to acid. But I like this dressing extra tart, so I up the acid. It's refreshing and offers a bright counterpoint to rich dishes. But if you like it more mellow, pour on the oil.
Toss your dry veg in the dressing. Season with salt and pepper to taste. Top with sesame seeds and serve immediately.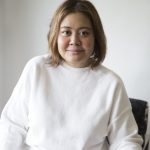 Bea Ledesma
Bea Ledesma is the group publisher of Hinge Inquirer and a columnist for the Philippine Daily Inquirer. She has a dog named George, and spends much of her leisure time photographing him while he naps. You can see more of her dog photos on her Instagram @bealedesma.