Citizens work the hardest to rise up from crisis, DOT's 'Smile' video proves
We already know we're resilient. So now what?
Apr 8, 2020
"Lift your head, baby don't be scared of the things that could go wrong along the way…"
Somehow, when it's a soothing voice like indie artist Bea Lorenzo's, with words from the iconic Ely Buendia of the Eraserheads, being told to not be afraid feels a little easier to accept.
When the Department of Tourism (DOT) released its "Smile" video last weekend, it was received warmly, having more than three million views as of this writing.
The video, which featured Filipinos all over the country, showed footage of ordinary citizens and frontliners alike, as they deal with the COVID-19 situation.
Film Pabrika advertising director Joel Limchoc, who has worked on a number of video campaigns for brands like McDonald's, Globe and Max's, was tapped by DOT Secretary Berna Romulo Puyat along with advertising producer Steve Vesagas to come up with the video.
"She wanted to do a hopeful video that would uplift the spirits of Filipinos in this challenging time," Limchoc said in an interview. "The germ (pun intended!) of the idea was inspired by the post of a friend that said something like, 'virus ka lang, Pilipino kami!'"
Although the DOT video veers from the typical imagery of a "tourism campaign," it still shows at least an aspect of the country's identity. 
"Whenever we speak about tourism, we often think about all the natural wonders of our islands," Puyat said. "But it isn't only about beautiful destinations and cultural activities. It's also about capturing the essence of a country's culture and identity. It is about people."
Tourism is currently one of the hardest hit industries in the country following the COVID-19 crisis. Puyat notes that all upcoming materials the DOT will produce will hence continue to highlight the Filipino people. "It will be an ongoing project," she said. 
Crowdsourcing
Because of the enhanced community quarantine placed over Luzon, going out to actually produce and source material for the video became a challenge. As most people were confined to their homes, Limchoc and a team of video researchers sought out videos posted online instead. 
"[We] set out to look for footage that consisted of three themes: all kinds of frontliners at work, acts of kindness and ordinary citizens expressing their thanks to these frontliners. When we found videos and photos that were particularly touching, we reached out and asked the video owners for permission to use what they had shot. Most of them were very quick to say yes," Limchoc said. He also sought help from friends in the media who had teams shooting outside for news coverage for additional footage.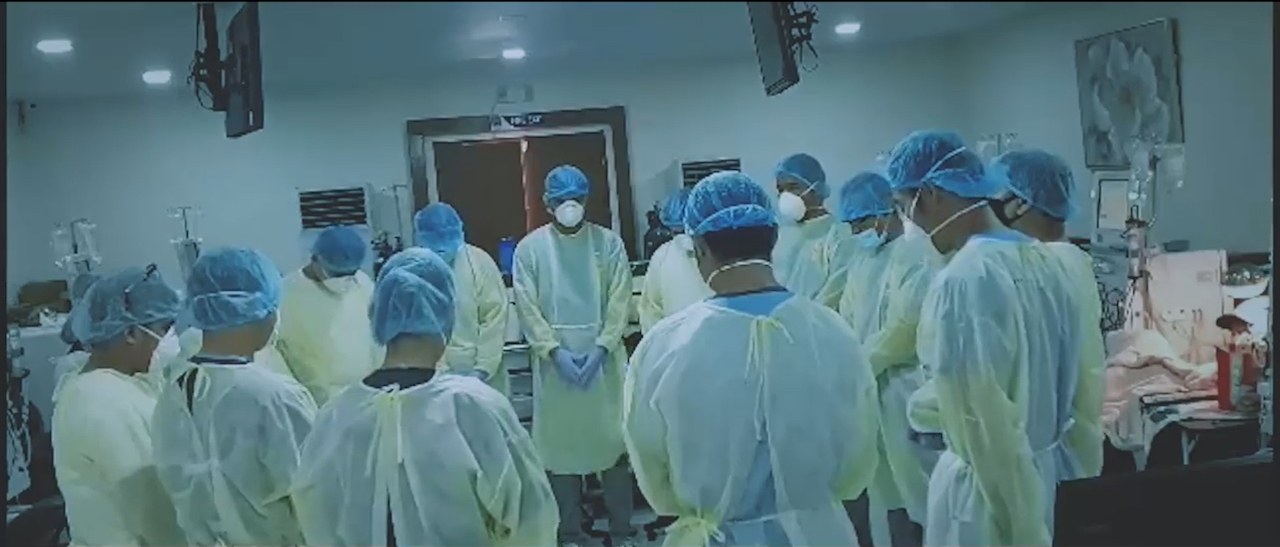 The team, through Puyat, approached Buendia for permission to use the song "With A Smile," which was originally released by the Eraserheads in 1994. Buendia agreed, allowing them to use the song pro-bono. 
"From the beginning, we wanted to use 'With a Smile' by the Eraserheads," Limchoc said. "It is a timeless and iconic song that most Filipinos know by heart, and its message of how we Pinoys smile even in the bad times just fit the concept so perfectly."
Lorenzo, whose grandfather and father are doctors, was then tapped to sing a rendition of it for the video.
'We'll get by… with a smile'?
On Mar. 24, President Duterte addressed the nation, assuring Filipinos that there's nothing to worry about. "Wag kayong matakot," he said, "nandito yung gobyerno ninyo para kayo pagsilbihan at totoong pagsilbihan." A call for resilience too, perhaps. 
People were quick to take their response online, saying what they need now is concrete action, not mere words of "encouragement." 
[READ: "Wag kayong matakot," Duterte urges Filipinos vs. COVID-19 despite no concrete plans]
The tourism video, though conceptualized before (and separately from) the president's statement, still did get the same message to appeal to and believe in Filipino resilience across—packaged in a better way, at least.
In a way, despite its ultimately more positive spin, the video does still show the current situation: frontliners battling the spread of the virus, citizens doing what they can in their own ways to help, uplift and support those  in need. If anything, there is a hint of truth in it: we're getting by. By our own efforts. Thanks for the pat on the back, government.
Get more stories like this by subscribing to our weekly newsletter here.
Read more:
Praises are posted online—but it's different from what frontliners face in reality
The private sector is mobilizing to fund medical frontliners. Where are gov't funds for healthcare?
Support frontliners and underserved communities from home through this website
TAGS: department of tourism DOT DOT Smile video DOT video ely buendia Eraserheads with a smile