Mark your calendars: 'Lam-ang,' 'Mabining Mandirigma' and 4 other plays on iWant on June 12
Tanghalang Pilipino will be showing six of their plays on the streaming platform for a month
May 28, 2020
The other day, Instagram notified me about a story I posted exactly a year ago. It was me at the stagedoor meeting some of my favorite theater actors (some of whom, over the course of the year, I've become close acquaintances/friends with). It just reminded me how I spent a large part of 2019 juggling production after production almost every weekend, shuttling across Manila from Pasay to Makati to Quezon City to BGC, just to catch all these shows (sometimes back-to-back on the same day).
In theater parlance, having all these productions from different companies running simultaneously is called "lagari season." But for most other people, I guess you could call it a marathon.
While the pandemic has put all live events to a halt for at least the rest of the year, the theater industry continues to adapt. Much in the same way theater hasn't let past pandemics force the art into extinction, too. (It is, after all, one of the oldest art forms, with a history dating back to the Greeks.)
Theater critic Charles McNulty writes for The Los Angeles Times: "One thing that's certain is that theater will return. Man, Aristotle observed in 'Poetics,' is an imitative animal. We learn through mimicry, a form of acting, and through enactment, the basis of drama. The stage isn't simply a leisure time extravagance. It springs directly from that reflective consciousness that distinguishes human nature. But while no virus can defeat this art form, the theater will have to change to meet the challenges of a transformed world."
And change it does, as theater has been shifting to the digital space amid quarantine. And in the absence of new productions and live shows, many theater companies are making their works available for public viewing through online streaming instead.
[READ: Recommended for you: Local theater productions to watch online]
Tanghalang Pilipino (TP), who has already begun publishing some of their works (both old and new) on YouTube, will be partnering with streaming service iWant to bring six—yes, SIX—plays online for a month.
While the plays will be available for streaming from June 12 to July 12, viewers are encouraged to donate to the Tanghalang Pilipino Foundation through BPI (Tanghalang Pilipino Foundation Inc., Savings Account Number: 3131-0387-46, Bank Branch: BPI – Harrison Plaza), GCash (0915-4538933) or KTX, ABS-CBN's ticketing platform.
Lam-ang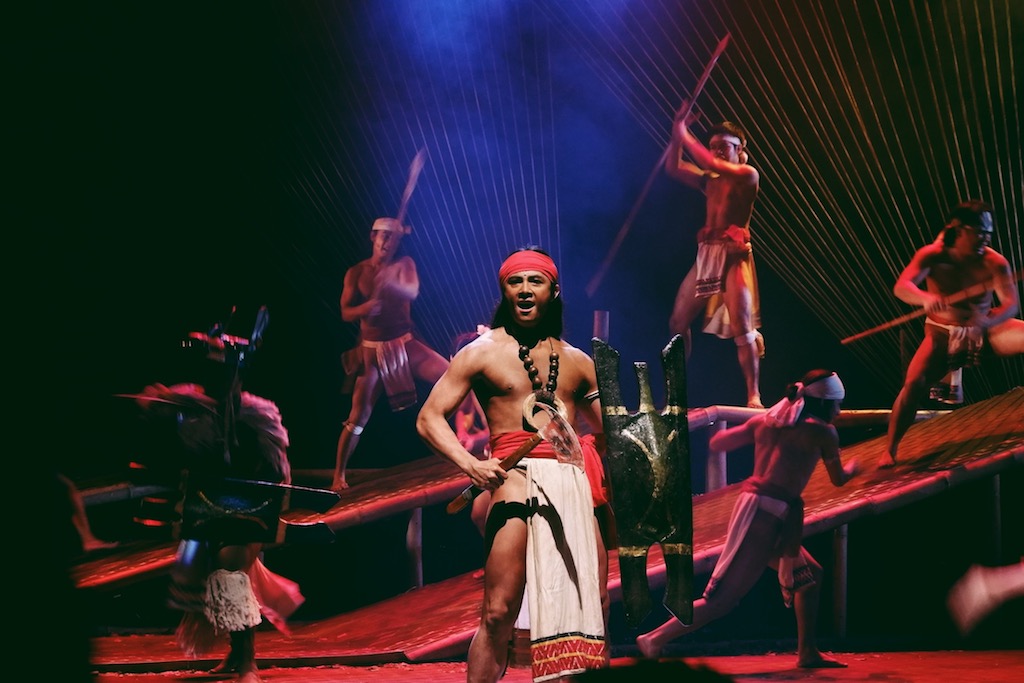 The most recent TP production to be staged in this list is the JC Santos-starrer "Lam-ang." It is a retelling of one of the country's most well-known epics, set to music that is not only inspired by the epic's culture of origin but also infused with elements of pop and more.
Starring JC Santos, Anna Luna, Tex Ordonez-De Leon, Lance Reblando, the TP Actors Company and more
Directed by Fitz Edward Bitana and Marco Viaña
[READ: 'Lam-ang: An Ethno-epic Musical' is an exercise in cultural representation]
Mabining Mandirigma
Most apt for the June 12 release, "Mabining Mandirigma" is a steampunk musical that is essentially the story of our political history, but through the life of Apolinario Mabini. Relevant viewing (with very catchy music) for this time, as we contemplate whether we really are truly free (quarantine restrictions or otherwise).
"Mabining Mandirigma" previously won 12 Philstage Gawad Buhay awards, including Outstanding Musical, Outstanding Musical Composition and Outstanding Costume Design.
Starring Monique Wilson, David Ezra, Arman Ferrer, the TP Actors Company and more
Directed by Chris Millado
[READ:Art is protest, Tanghalang Pilipino proves with "Mabining Mandirigma"]
Coriolano (Coriolanus)
View this post on Instagram
TP has also been known to translate and adapt many classic English plays into Filipino. "Coriolano" is one of them—a translation of Shakespeare's "Coriolanus" by Guelan Varela Luarca—which tells the story of a "legendary Roman soldier turned into a tyrannical leader… [displaying] how personal and selfish ambition can lead to one's ultimate downfall." Another socially-relevant piece of theater, perfect for these ever-trying times.
Starring Marco Viaña of the TP Actors Company, Frances Makil-Ignacio, Sherry Lara and the TP Actors Company
Directed by Carlos Siguion-Reyna
Pangarap sa Isang Gabi ng Gitnang Tag-araw (A Midsummer Night's Dream)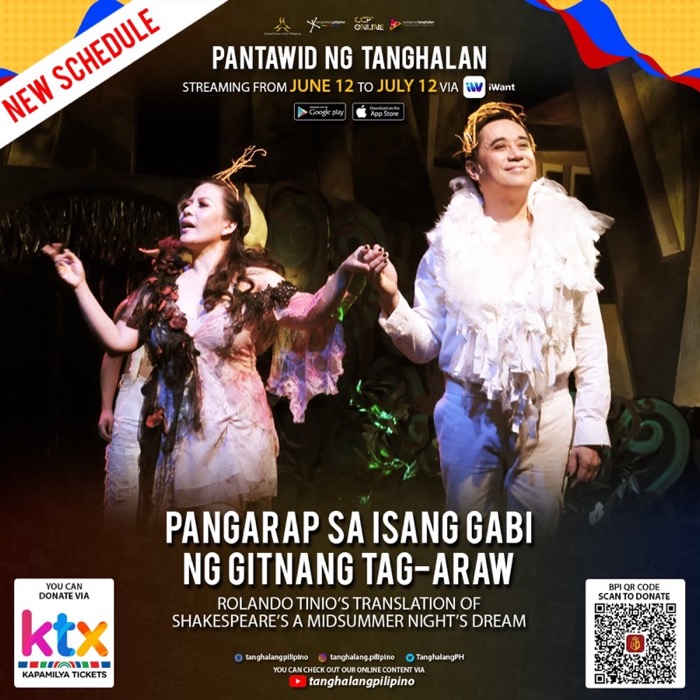 Another Shakespeare classic that got the TP treatment was "A Midsummer Night's Dream," translated into Filipino by National Artist for Literature and Theater Rolando Tinio. "Pangarap sa Isang Gabi ng Gitnang Tag-araw" is a comedy set in Athens that revolves around multiple characters who find themselves entangled in a "web of romance."
Starring Audie Gemora, Liesl Batucan, Jackielou Blanco, Teroy Guzman, Rafa Siguion-Reyna, Richard Cunanan, Randy Villarama, Skyzx Labastilla and the TP Actors Company
Directed by Carlos Siguion-Reyna
Der Kaufman: Ang Negosyante ng Venecia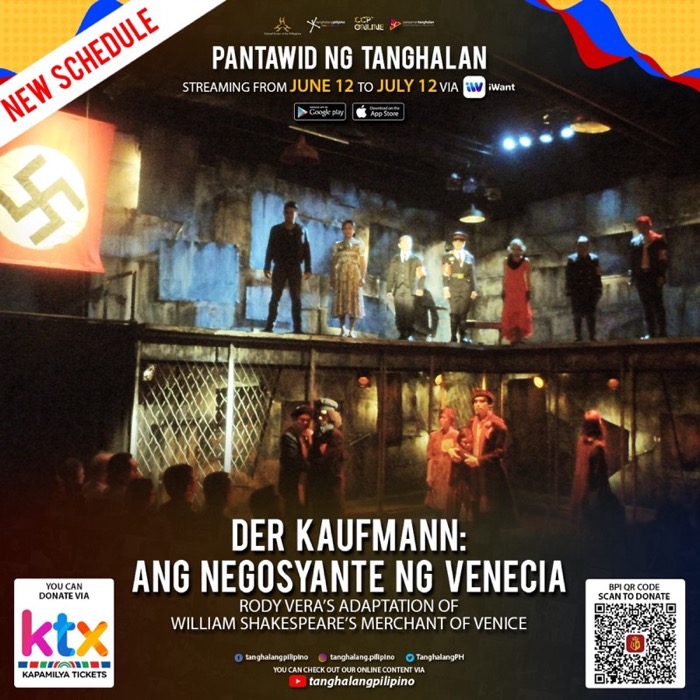 The third of TP's Shakespeare offerings is "Der Kaufman," an adaptation of "The Merchant of Venice." This adaptation takes the story to revolve around the holocaust, "with the Nazis directing the Jewish 'actors,' underscoring the dehumanizing effect of racism and intolerance." It received seven citations during the 2014 Philstage Gawad Buhay Awards.
Starring the TP Actors Company
Directed by Rody Vera and Tuxqs Rutaquio
Sandosenang Sapatos
TP also makes available an offering fit for families who would want to immerse their children into theater: the "Sandosenang Sapatos," based on the Palanca award-winning children's book. The adaptation by Layeta Bucoy, set to music by Jed Balsamo and Noel Cabangon, tells the story of a father's love for his differently-abled daughter.
Directed by Tuxqs Rutaqio
Get more stories like this by subscribing to our weekly newsletter here.
Read more:
Recommended for you: Local theater productions to watch online
Virgin Labfest 2020 unveils schedule for its digital lockdown run
Here's where you can find your favorite plays and musicals online
TAGS: CCP Cultural Center of the Philippines iwant musical theater musicals online theater performances philippine theater tanghalang pilipino tanghalang pilipino actors company theater theater online theater plays