We've talked about how students have been affected by the shift to online classes, but what about our educators?
In preparing for the upcoming school year, several teachers all over the country have had difficulty submitting important documents or attending online teaching seminars because they are unable to secure a reliable internet connection.
[READ: Walang signal: Davao de Oro public school teachers struggle to join webinar, camp upland]
They've had to confront the challenges of blended learning with reduced salaries due to budget cuts, while some teachers have lost their jobs entirely as schools close after failing to meet their enrollment quotas for the year.
[READ: Enrollment figures continue to decline for the coming school year]
Aside from these socio-economic factors, most educators also struggle with work-life balance because they no longer have separate physical spaces for their work and their responsibilities to their families. These factors may lead to an unhealthy obsession with productivity in trying to respond to the needs of their students and their families.
This is defined as toxic productivity by Dr. Carolina Uno-Rayco, the national executive director of the Philippine Mental Health Association, Inc., during a webinar conducted in partnership with Globe and Inquirer, titled #StartANewDay: A Forum for Educators last July 17. 
Key characteristics of productive people: They are satisfied with the work they produce and can produce valuable, creative output. Toxic productivity, meanwhile, is an unhealthy and excessive obsession with being productive, regardless of the quality of the output.
Dr. Uno-Rayco, however, added that toxic productivity becomes unhealthy when it is tied to one's self-worth. "Parang kapag hindi ka na naka-produce ngayong araw na to, ang baba-baba ng tingin mo sa sarili mo. Or when you are able to accomplish something, you feel good about yourself but for a very little while. Andyan ka na naman, gusto mo na naman."
To address this, Dr. Uno-Rayco says that it's important for educators to set realistic expectations for themselves. When a task isn't completed within the day, Dr. Uno-Rayco notes that this should not be an excuse to go beyond your set working time.
"We're in a crisis, we're not in a normal [situation]. Like what I mentioned earlier, a normal person can cope with the normal stresses of life right? But this is not just normal stress of life, it's a pandemic, it's affecting everyone globally," she said. 
Regional Director of the Department of Education Region VII Dr. Salustiano Jimenez also notes that there are wellness programs and educational support services available for teachers around the country. They are also working with doctors to help develop additional programs for educators.
"At least we will be enlightened or we'll be sort of aware of, if ever we have these symptoms we thought asymptomatic tayo sa mga ganito, but we have something in us," he explained.
Rolyn Cantanus-Gantalao, an elementary school teacher from DepEd Region VII, added that educators also need parents to support the department's projects and programs to make the shift to blended learning systems easier for both the students and teachers.
"We really assure you that we will stay true to our oath in the department of education to really serve our fellow men and our children in the Philippines to the best of our abilities. This is our lifetime commitment as teachers, as educators, and this is also our passion aside from our commitment," she added.
For educators who need support, they can also reach out to these mental health helpline numbers that are available 24/7: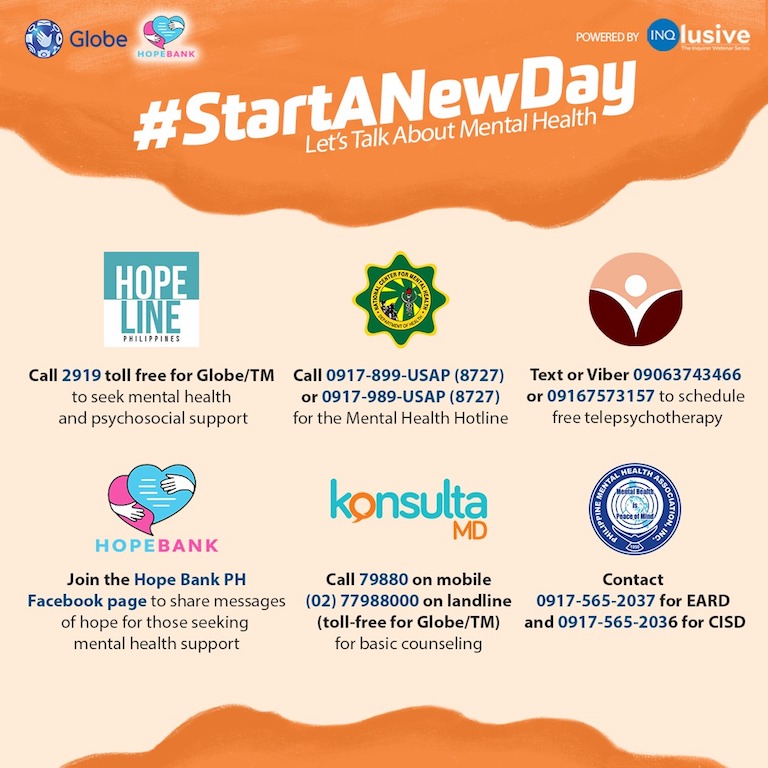 HOPELINE:

Call 2919 toll-free for Globe/TM

National Center for Mental Health:

Call 0917-899USAP (8727) or 0917-989USAP (8727)

UP Diliman PsycServ:

Text or Viber 0906-3743466 or 0916-7573157 to schedule free telepsychotherapy

KonsultaMD:

Call 7-8990 on mobile or 7789-8800 on landline toll-free for Globe/TM

Philippine Mental Health Association (PMHA):

Call 0917-5652036 for the Clinical and Intervention Services Department
Take a break from the negativity. Join the Hope Bank community, an online safe space for anyone trying to cope with the emotional and mental challenges caused by COVID-19, and see messages of hope and inspiration every day.
Header photo by Sergey Zolkin on Unsplash
Get more stories like this by subscribing to our weekly newsletter here.
Read more:
Face-to-face classes in COVID-19 low-risk areas? DepEd and DOH are thinking about it
#NoStudentLeftBehind is a call for inclusivity, not an excuse for laziness
Students won't even be in classrooms, how come schools are charging miscellaneous fees? DepEd asks