How to watch this year's Cinemalaya movies for a week for as low as P75
Cinemalaya 16 goes fully digital through Vimeo and you can get access to the film festival in five easy steps
Aug 4, 2020
August apart from being Buwan ng Wika is notorious for cinephiles for its many film festivals. First of which, Cinemalaya, happens during the first week of the month. But due to the coronavirus pandemic, the film festival will be going fully digital this year as mass gathering remains restricted and movie houses remain closed.
[READ: The cinema is now online: The first deets on Cinemalaya 2020's virtual theater setup]
This year's festival will be available through video streaming service Vimeo from Aug. 7 to 16. Over 100 short films and 20 full-length will be available for viewing on demand as bundles that you can purchase for as low as P75 for a selection of short films. 
Look! You can watch these films under #Cinemalaya2020 INDIE NATION FULL-LENGTH section starting August 7! Handa ka na…

Posted by Cinemalaya on Monday, August 3, 2020
Meanwhile, for the full Cinemalaya 2020 experience, you can buy the premium bundle priced at P350. This bundle already entitles you to the following:
– Main competition shorts A
– Main competition shorts B
– Indie nation shorts and full-length
– Dokyu
– Cinemalaya retrospective shorts and full-length
– Premieres
– New short films with talkbacks
– Tribute to Peque Gallaga and Anita Linda
– Digital classics
– Experiments during quarantine
– Virgin Lab Fest plays
– Talkbacks with Cinemalaya filmmakers
– Fringe events, and
– Cinemalaya Campus talkbacks
But for those unfamiliar with the video streaming platform, fret not. We will outline here five easy steps you will have to take for an enjoyable digital Cinemalaya film festival this year.
Step 1
Go to vimeo.com/ondemand and search for "Cinemalaya 16."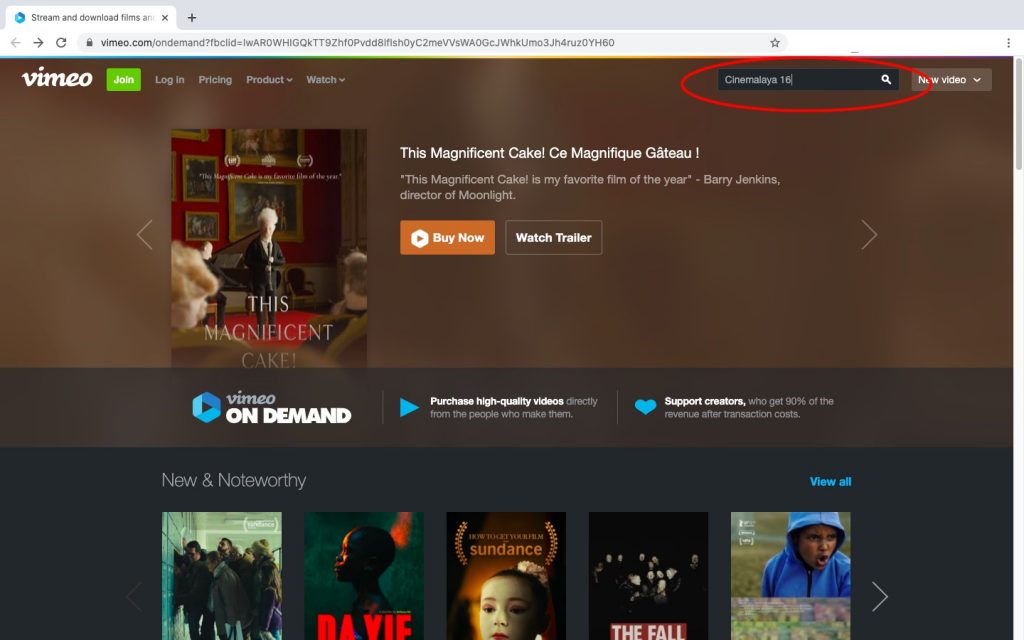 Step 2
Choose a bundle you'd like to purchase:
Basic – P150

Standard – P200

Premium – P350

Shorts A – P75

Shorts B – P75

Mindanao – P75

Double Feature A – P75

Double Feature B – P75

Premieres/Triple Feature – P150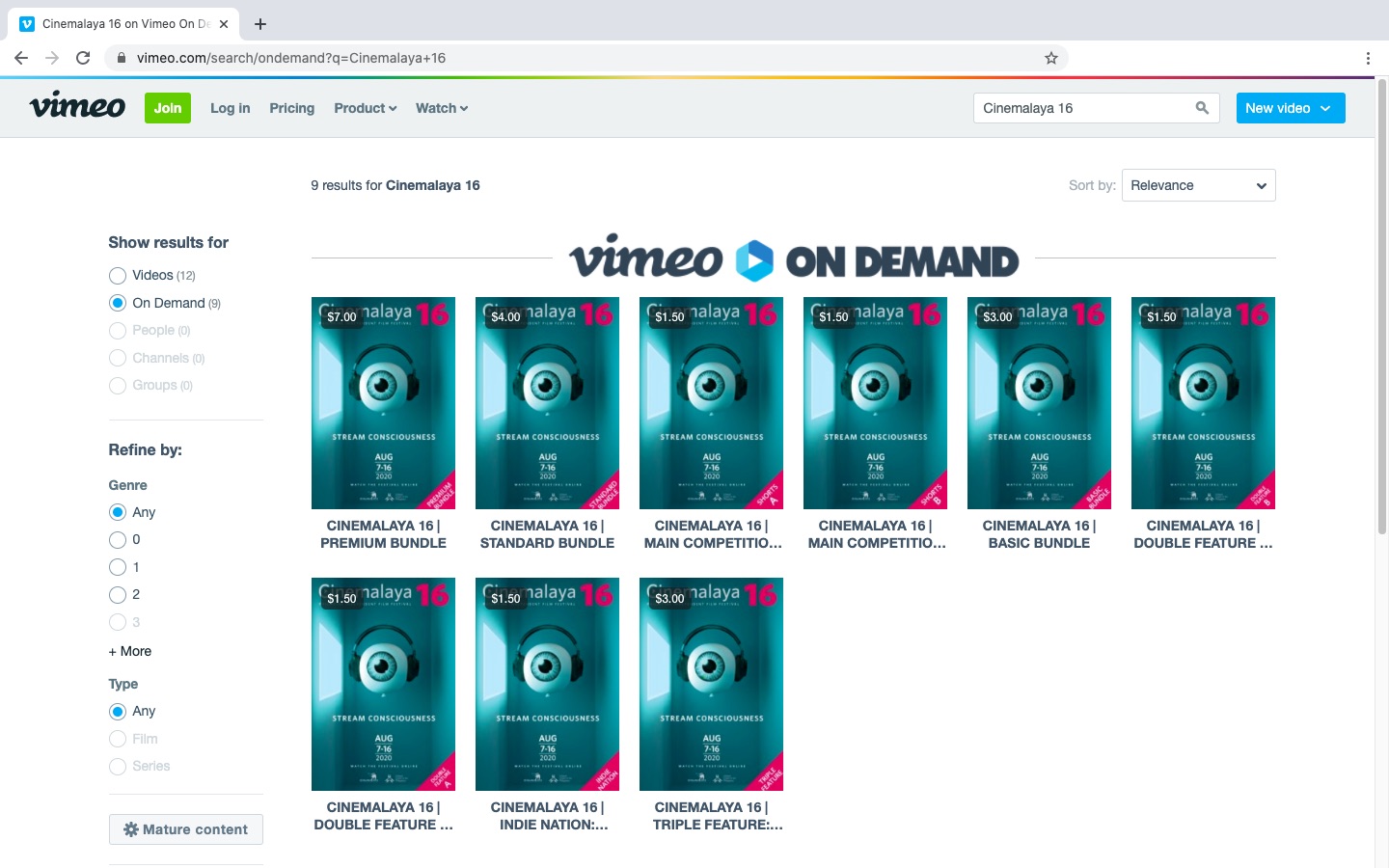 Once you've selected, click on "Buy"
Step 3
You will be instructed to log into your Vimeo account if you have one. Otherwise, just sign up via email or Facebook.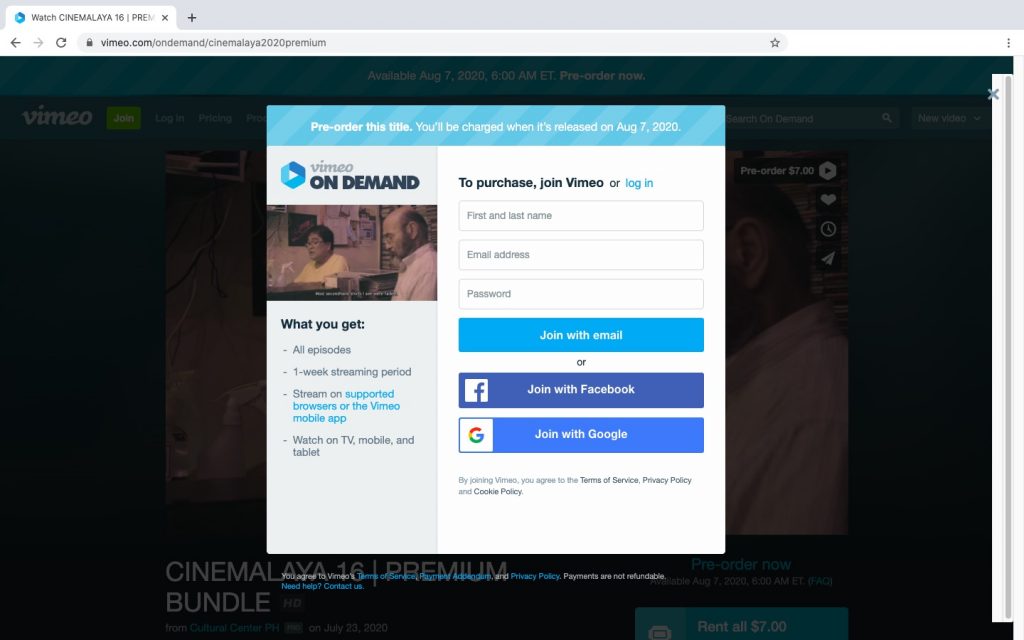 Step 4
Fill out the payment details. You can pay with Visa, MasterCard, American Express debit/credit card, Paypal, Gcash MasterCard and Virtual American Express cards.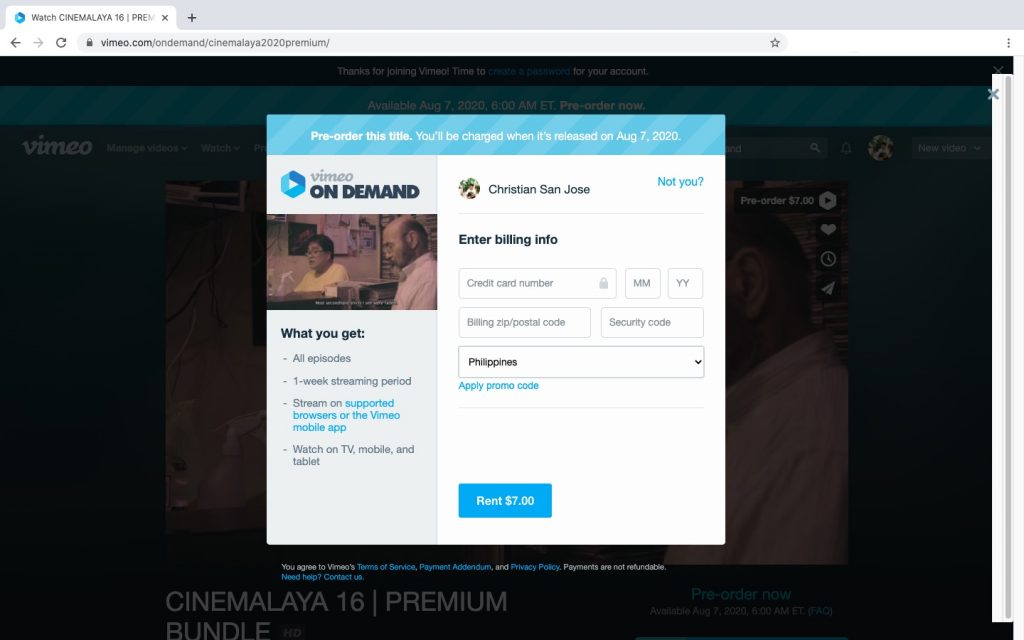 Step 5
Once payment is complete, check your email inbox for a message containing an e-receipt and a link where you can watch this year's Cinemalaya films.
Enjoy!
Header photo courtesy of Cinemalaya
Get more stories like this by subscribing to our weekly newsletter here.
Read more:
The cinema is now online: The first deets on Cinemalaya 2020's virtual theater setup
This artist illustrated 100 views of Metro Manila—and they look like a scene from a movie
6 local films you may have missed in cinemas are now streaming online
TAGS: cinemalaya 2020 independence film Short Film streaming vimeo