Galleries may be closed but its backrooms are open and online
Art collecting in the time of COVID? It's possible. You can even find steals from past exhibits—just find your way to the backroom
Aug 5, 2020
Local art galleries were just starting to reopen and mount new exhibitions after months of closure when President Duterte earlier this week announced the reimposition of modified enhanced community quarantine (MECQ) in Metro Manila and neighboring provinces. 
[READ: A quick guide for MECQ's transportation rules in Metro Manila]
Just like that, they are (temporarily) closed again.
But the local art scene never really ceased during this pandemic. In the absence of physical spaces to display artworks, there is the endless social media feed.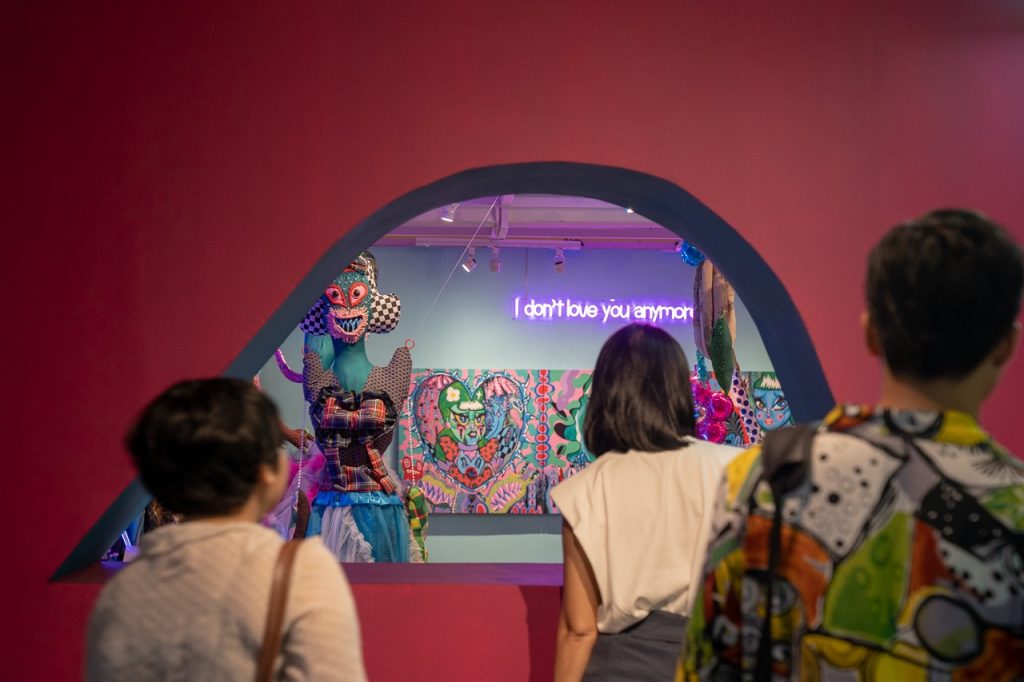 Early in May, we wrote about the artists and galleries auctioning art pieces for the benefit of communities affected by COVID-19. 
[READ: As art galleries close, online exhibits open their doors]
We ourselves dabbled in a series of auctions with the help of local artists, designers and businesses to raise funds for tricycle drivers in Makati and Quezon City.
But outside of advocacy, galleries have also been exploring e-commerce to reach art collectors looking for paintings, sculptures, installations and more.
Last December, Silverlens Gallery launched Spotlight, where patrons can buy art through Instagram Stories and direct message. It's sort of a virtual backroom, too as it includes works from past exhibits alongside new ones. They've also had a special release for this year's Art Fair in February.
Other galleries seemed to have taken note of this model like Blanc Gallery, which through Instagram Stories as well, posts paintings available for purchase on a daily basis.
Included in the sale are pieces by artists Gino Bueza, Mariano Ching, Wesley Valenzuela and Allan Balisi to name a few. Available artworks can be found on their Story highlights.
Artist-run space and studio Sampaguita Projects have likewise utilized Instagram to display artworks for sale.
The likes of West Gallery and Vinyl on Vinyl meanwhile, has built a page especially for their respective backrooms.
@westgallery.backroom, created almost two months ago, contains over 300 paintings, sketches, collages, photographs, sculptures and objects from previous exhibitions by artists such as Kawayan de Guia, Elaine Roberto-Navas, Reg Yuson, Doktor Karayom, Isabel and Carina Santos, and Micaela Benedicto. They even have a couple of Roberto Chabet's ink and watercolor paintings from 2012. 
Plus, you don't even have to send the gallery a DM to inquire as prices are indicated on the caption for select pieces.
Aptly called @vov_vault, Vinyl on Vinyl's behind doors Instagram account has over 20 pieces on display including commissioned works by Reen Barrera.
Other than that, Vinyl on Vinyl has recently launched a virtual tour of its current exhibits accessible through its website.
These are just some of the art galleries that have established an online backroom. There are plenty of others that will surely entertain your every inquiry, whether it is for sure buyers or new art collectors looking to canvas ballpark figures.
Header photo courtesy of Silverlens Gallery
Get more stories like this by subscribing to our weekly newsletter here.
Read more:
This artist illustrated 100 views of Metro Manila—and they look like a scene from a movie
The first online Art in the Park has virtual portraiture sessions and mixed media exhibits
7 artists and galleries auctioning their art for COVID-19 relief efforts
TAGS: art gallery artwork backroom Blanc Gallery painting Sampaguita Projects silverlens gallery vinyl on vinyl West Gallery