Read more related stories

Theater is definitely back, as evidenced by the slew of sold-out runs from the brave companies who opened 2022's stages, both popular and experimental. And now the show is set to keep going as more theater companies are now ready to welcome audiences to their first live productions post-pandemic.
Here are just some shows to watch out for for the remaining months of the year:
Anak Datu
Tanghalang Pilipino
Sept. 23, 24, 30, Oct. 1, 2, 7, 8 at 8 p.m.
Sept. 24, 25, Oct. 2, 3, 8, 9, at 3 p.m.
Tanghalang Ignacio Gimenez (CCP Black Box Theater)
"Anak Datu" is a play adapted from the short story of the same name written by National Artist for Visual Arts Abdulmari Imao. Aside from integrating the short story, playwright Rody Vera and director Chris Millado also incorporate elements and events of Mindanao's conflict-ridden history within the plot, along with details from the lives of Imao's family. Artist Toym Imao, son of the National Artist, also works on the play as its set designer.
Tickets available through Ticket2Me or by contacting the CCP Box Office at +632-88323704 or +632-88321125 local 1409.
We Will Rock You
GMG Productions
Oct. 27 to 30, Nov. 1 to 6, 8 to 13, 15 to 20
Samsung Performing Arts Theater
Opening and making its first stop in Manila, "We Will Rock You" is an international touring musical featuring the songs of Queen. The musical follows two revolutionaries off to save rock and roll in a post-apocalyptic world.
Tickets available through TicketWorld.
Carousel
Repertory Philippines
Nov. 26, Dec. 1, 2, 3, 8, 9, 10, 15, 16, 17 (evening)
Nov. 27, Dec. 4, 8, 10, 11, 17, 18 (matinee/afternoon)
Tanghalang Ignacio Gimenez (CCP Black Box Theater)
Rodgers and Hammerstein's "Carousel" is one of REP's postponed musicals from 2020. Starring Gian Magdangal and Karylle, the musical tells the story of Billy Bigelow, a carousel barker, who falls in love with millworker Julie Jordan. Their romance costs them their jobs, which then forces Billy to find another way to provide for their new family.
The musical is set to have a post-modern re-imagination at the hands of director Toff De Venecia. "It's a radical departure from previous iterations, even from what we set out to do in 2020," he said.
Tickets available through TicketWorld and the CCP Box Office.
The Reconciliation Dinner
Dulaang UP
Nov. 18 to 20
University of the Philippines – Diliman
This new one-act play by Floy Quintos explores the aftermath of the 2022 elections, and how people attempt to heal the division that political choices and affiliations have caused.
Details on how to purchase tickets to be announced soon.
Joseph the Dreamer
Trumpets
November 12, 13, 19, 20, 26, and 27
Maybank Performing Arts Theater
After a successful extended run last July and August, Trumpets has announced that the musical featuring the biblical story of Joseph, son of Jacob, will be having a third run this November. Tickets are available via Ticketworld.
Batang Rizal
Philippine Educational Theater Association
Streaming: Oct. 14 to 16
Live: Nov. 25, Dec. 2, 9:00 a.m. and 3:30 p.m.
PETA Theater
As the title suggests, the award-winning play "Batang Rizal" gives us a glimpse into the early life of Jose Rizal. The story follows a young boy named Pepito, who magically meets the hero in his youth. Their journey together teaches them the truth about heroes, and how age is no measure nor limit for heroism.
Tickets for streaming are available through KTX. For ticket inquiries, contact Mitch Go at +63917-5391112.
Mula sa Buwan
Barefoot Theater Collaborative
Dec. 2 to 11
Samsung Performing Arts Theater
On "Mula sa Buwan"'s final matinee show last Sept. 18, cast member Gab Pangilinan announced that they are set to have another run in December.
"Mula sa Buwan" is a Filipino musical adaptation of Edmund Rostand's "Cyrano de Bergerac." Read more about the 2022 run of "Mula sa Buwan" here.
"Ang tanghalang ito'y atin ngayong gabi, walang makakapigil," is the heart-felt cry of "Mula sa Buwan"'s cast as they literally put away the ghost light that has stood steadfast, alone, on stage the past two years. After barreling through an electric opening weekend, it looks like truly nothing can stop the passion of the theater—especially not of those that make up this production.
The second of this year's major live theater comebacks, "Mula sa Buwan" is on its third large-scale iteration now at the new Samsung Performing Arts Theater (CPAT), and it's proving to be bigger and brighter than its previous stagings. They call it its "final version"—and the bigger cast, bolder dance numbers, grander sets and costumes, and new musical arrangements are just the tip of the iceberg.
The musical, created by Pat Valera and William Elvin Manzano, is an adaptation based on Soc Rodrigo's Filipino translation of Edmund Rostand's French play "Cyrano de Bergerac." Originally a thesis play entitled "Cyrano: Isang Sarswela" in 2010, it has since evolved to the "Mula sa Buwan" hit we know today. Here, the story is set in a history we've probably long forgotten: 1940s Manila, on the cusp of and later amidst World War II.
While today we see our built heritage and history crumble, seasoned set designer Ohm David lets us relive it in the musical through its dreamy, almost crafts-like recreation of old Manila, where the characters'—and by extension, the audiences'—imaginations roam. Bonsai Cielo's colorful take on '40s fashion also adds to the historical immersion.
[READ:
LOOK: Historic Manila sites digitally reimagined in their pre-war glory
]
Despite the old world setting, it features universal and timeless themes of love, friendship, and courage, as well as the ever-present realities of war, violence, and social discrimination. All this is packaged in a story that also emphasizes the power of words, music, art, and inclusivity in times of difficulty and suffering. Coming from a two-year (and ongoing) pandemic and a tumultuous election season, we know this power all too well.
"Mula sa Buwan" is eager to showcase so much—owing perhaps to all that has been placed on its shoulders as well. It is not only the maiden musical production of CPAT, it also carries the weight of meeting and exceeding past patrons' and new theater-goers' expectations.
The musical opens with a play, through a vibrant if not dizzying opening number that feels like an explosion of pent-up energy. It is quite a sight—at times overwhelming to a point. But it does succeed in bringing attention instantly to the feats this 2022 run strove to reach: more solid dance routines and a tighter vocal mix, grander backdrops and set pieces, and more period-accurate dress.
At the helm of this 27-member cast are Myke Salomon (Cyrano), Gab Pangilinan (Roxane), and Markki Stroem (Christian).
Salomon is awe-inspiring as Cyrano, completely transforming himself into the character, as each line said and sung oozes with the character's wit and artistry. Reflective of Salomon's genius, as he also serves as the production's musical director and arranger this year. Interestingly, Salomon played Christian in the 2018 run.
If Cyrano is the mysterious "tinig sa dilim," Pangilinan's Roxane may well be the "liwanag sa dilim" (reference intended). She shines every moment she's on stage, and her clear vocals command undivided attention. Roxane is, as she herself declares, a "prinsesang mandirigma"; she is in every instance a lady, but Pangilinan also manages to inject a graceful mischief in her. She projects a Roxane that every girl would want to be: strong and firm, knows what she wants, and won't back down against those who belittle her, especially not men. But at the same time, she is a romantic—which also makes it unsurprising that she is the muse that has so easily captured the hearts of the two cadets.
Stroem, meanwhile, is the picture-perfect Christian. It is, admittedly, his good looks and figure that catch the eye at first, but it is his comedic banter with Cyrano and sweet serenades (and sometimes clumsy attempts at courtship) to Roxane that endear him to the audience's heart. His earnest take on the iconic "Matatapos Din" number just seals the deal.
What also makes "Mula sa Buwan" more profound is how it has explored multifaceted relationships among the characters. It is no longer just a love triangle between the beautiful girl, her brilliant but unsightly best friend, and the handsome (but stupid) new boy in town. And ultimately it's not even just about the three of them. "Mula sa Buwan" has involved a kaleidoscopic troop of characters, each with their own motivations and developments throughout the story. Opening weekend crowds have cheered along with Rosanna's (Phi Palmos) tribe of dreamers and misfits, shared the kilig of Tato (Jon Abella) and Gabriel (Jillian Ita-as), and rooted for Cyrano's ragtag cadet squad of Limon (Stephen Viñas), brothers Rosario and Gimo (Rapah Manalo and Jep Go), the noble Maestro (Abe Autea), and the cute but feisty Carissa (Ericka Peralejo).
And of course, with a large cast comes a fuller voice for the entire show. Harmonies flow all throughout, and are such a joy to just listen to, it's such a shame there is yet to be an updated official recording of these songs.
Salomon's arrangements also masterfully blend the classical with the modern, making even the beloved "Ikaw" or soul-pounding "Manifesto", down to the eponymous "Mula sa Buwan" fresh even for long-time fans' ears. And difficult the choice may be, for this writer, it is the hair-raising Act I closer "Malaya" that must be most anticipated.
The magic of art and theater
At the heart of the story are the youth who regard the arts highly. (Nawa'y lahat.) Music, dance, performance, art, and poetry, kept their souls alive as they navigated a society that was quick to disapprove, not to mention also on the verge of war.
But this reverence for the arts seems to transcend beyond the edges of the proscenium. "Mula sa Buwan," coming fresh off of the pandemic, opens at an opportune time when people are hungry for live performances and for human interaction. Audiences have seen what theater (and local theater artists) can do during the early lockdowns, and now have the opportunity to come to see it for themselves. "Mula sa Buwan" seems to be highly aware of this, and uses it to their advantage.
The energy of being with a live audience—1,500 other hopeful souls—sighing and laughing along with each melancholic and comedic beat is proof that, even for just a few hours, the theater is truly this space to let our collective minds free, to let ourselves suspend the disbelief the "real world" so heavily imposes in these trying times.
"Mula sa Buwan" may now be bigger and better, but it retains its heartfelt charm and wit. Whether or not you view it as a love story, "Mula sa Buwan" is also ultimately a reminder that to love and to hope are not just things to wistfully aspire for. In a world full of hatred, to love and to hope are acts of defiance.
The musical is a reassurance for dreamers and hopeless (or rather, hopeful) romantics that we must continue dreaming, loving, and romanticizing life. Reality is already full of darkness as it is; let's keep whatever little light we have shining.
Whatever it is you come here for, "Mula sa Buwan" will leave you with a renewed belief in hope, love, and joy, and perhaps, leave you wanting to shoot for the moon, too. Or if not, then at the very least, it will leave you with a renewed belief in and love for Philippine theater.
"Mula sa Buwan" runs until Sept. 11 at the Samsung Performing Arts Theater, Circuit Makati. Directed by Pat Valera, with musical direction by Myke Salomon, choreography by JM Cabling, set design by Ohm David, costume design by Bonsai Cielo, and lighting design by Meliton Roxas, Jr.
The musical stars Gab Pangilinan, Myke Salomon, Markki Stroem, MC Dela Cruz, Jon Abella, Jillian Ita-as, Phi Palmos, Stephen Viñas, Jep Go, Rapah Manalo, Abe Autea, Ericka Peralejo, Chesko Rodriguez, Mark Anthony Grantos, Khalil Tambio, Francis Gatmaytan, Ace Polias, Kinnara Mayari, Miah Canton, Shaira Opsimar, Eizel Marcelo, Mitzie Lao, Lance Reblando, Mikaela Regis, Liway Perez, Deborah Lemuel, and Keith Sumbi. 
UPDATE (12/1/22): "Mula sa Buwan" once again runs at the Samsung Performing Arts Theater from December 2 to 11, with new cast member Cedric Juan playing the role of Maximo, while current cast members MC Dela Cruz and Khalil Tambio now playing the roles of Christian and Limon, respectively.
Cinemalaya, one of the most anticipated independent film festivals, just wrapped up its first in-person screenings after two years of the pandemic. With 11 full-length and 12 short films on its roster, it was back in full swing at the Cultural Center of the Philippines and selected malls from Aug. 5 to 16. And while its lineup is, in fact, slated to make an online premiere later this year, catching them IRL still has its own allure (i.e. collective screams and gasps in theaters).
[READ:
What to see at and where to watch the 2022 Cinemalaya film fest
]
This is why Cinemalaya is extending its run in another location in Quezon City: Cinema '76 Film Society in Anonas. 
For P250, you can still watch independent films for another week, starting Aug. 24 until Aug. 30. Cinema '76 will screen shorts and full-length films as early as 12 p.m. and as late as 8 p.m. To buy tickets, simply fill out this online form. The microcinema requires all audiences to be fully vaccinated against COVID-19.
Don't know what to watch yet? See the list of winners at this year's Cinemalaya here.
[READ:
Check out the finalists of Cinemalaya 2023
]
Meanwhile, the opening film for Cinemalaya 2022, "Leonor Will Never Die" by Martika Ramirez Escobar, is open for private screenings at boutique cinema Sine Pop in Cubao. For P8,000, you can have your own screening at its renovated postwar address, which has a theater that can sit 25 people. Visit this form to book.
Escobar's film won the Special Jury Prize for Innovative Spirit at this year's Sundance Film Festival.
Blatant disregard for heritage continues among real estate developers, as evidenced by the ongoing demolition of the Capitol Theater in Escolta. In 2020, most of the pre-war art deco building was demolished, with only the tower retained and set to be part of a new high-rise building that will be constructed on the theater's old site.
However, the destruction of the theater's remnants continues today.
Heritage advocacy group Renacimiento Manila posted today on its Facebook page a video of ongoing demolition of the remaining facade.
This demolition continues despite instructions from the National Commission for Culture and the Arts (NCCA), National Historical Commission of the Philippines (NHCP), and National Museum to preserve the said feature.
NCCA issued a cease-and-desist order on the demolition today, according to Renacimiento Manila. The order comes after NCCA found that the developer had violated "Section 48 (A) of Republic Act No. 10066," or the National Cultural Heritage Act of 2009.
The aforementioned section states that anyone who "destroys, demolishes, mutilates, or damages any world heritage site, national cultural treasures, important cultural property, and archaeological and anthropological sites," violates the heritage law.
The art deco Capitol Theater, designed by the first National Artist for Architecture Juan Nakpil in the 1930s, features a facade with bas-relief sculptures. Formerly believed to have been designed by Italian sculptor Francesco Monti, the bas-relief sculptures were found to have been designed by artist Severino C. Fabie, according to Stephen Pamorada of The Heritage Collective. Fabie also designed several sculptures of muses that used to be located at the old theater's lobby.
Crimes against heritage and history
When considered alongside the enduring attacks on our history, it's alarming how, as Renacimiento Manila puts it, "we don't care about our heritage," too.
In 2020, it was reported that NHCP received cuts to their 2021 budget, which was supposed to be allocated for heritage site restoration. While the budget was reallocated into a higher priority (the government's pandemic response, the efficiency of which is subject to much contention, too), it begs to note: Heritage is not a priority.
It's disheartening to see heritage structures—ones that used to define Manila's landscape—be reduced to rubble in exchange for "faceless" urban buildings. And when we've seen what restoration can do and how people can still appreciate and enjoy the architecture and structures of decades past, it becomes even more frustrating to see these landmarks be given up.
Aside from the Capitol Theater, other heritage sites that have suffered demolition, disrepair, and neglect include the Hospicio de San Jose, the Manila Port Terminal, and Manila's San Nicolas district.
We still have many sites that have been part of our rich history, but their value has been diminished through time and lack of care.
Filipina actress Dolly de Leon plays Abigail, a toilet manager on a luxury cruise ship in the dark comedy film "Triangle of Sadness" by Swedish filmmaker Ruben Östlund. She's seen every little antic of the super-rich and given the chance to get back at them when the ship goes under, she obliges.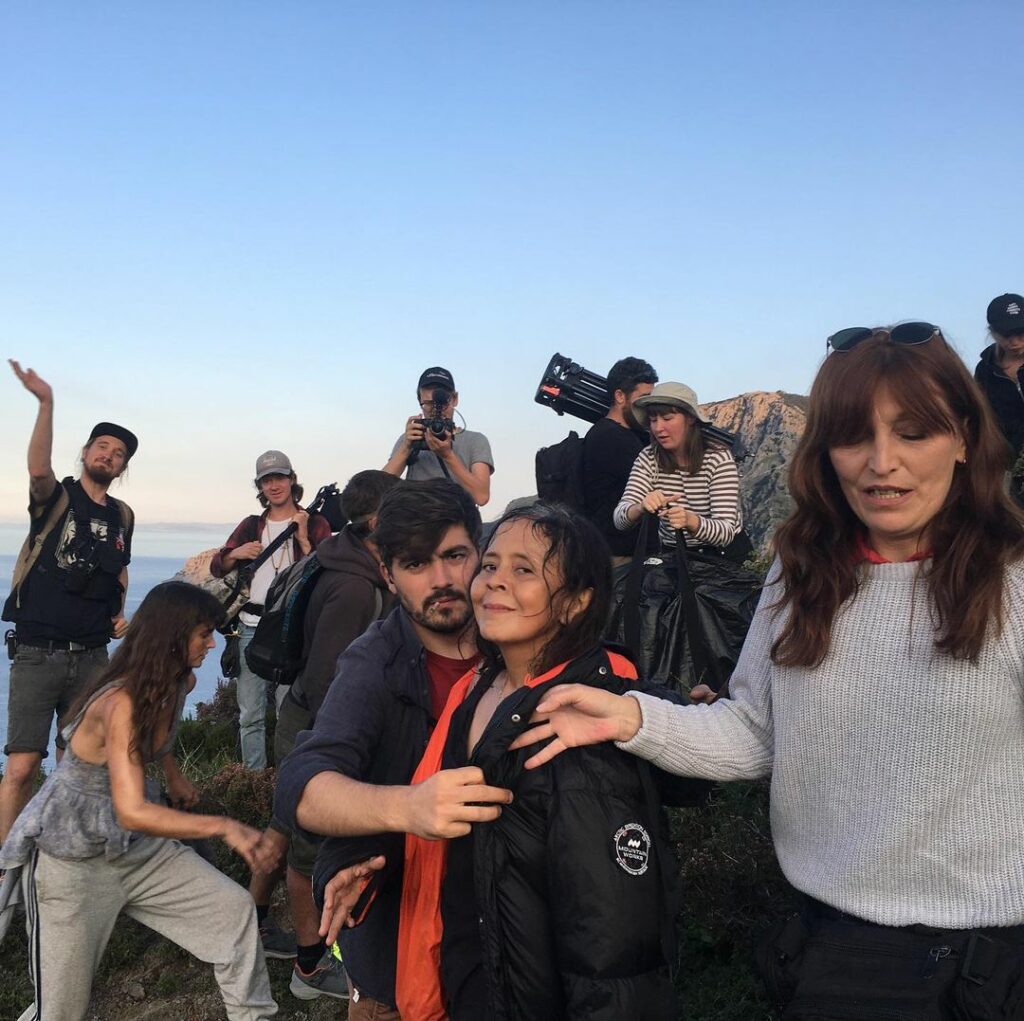 Even in the presence of other big names, de Leon's deadpan acting shone through, earning her breakout star status. She is even being hailed as one of the movie's best assets, so much that when it won the highest honors at the Cannes Film Fest this year, she immediately rose to prominence with talks of an Oscar nomination in the background, too. Prior to this, she has been a fixture in the local theater circuit and played small roles in independently produced films.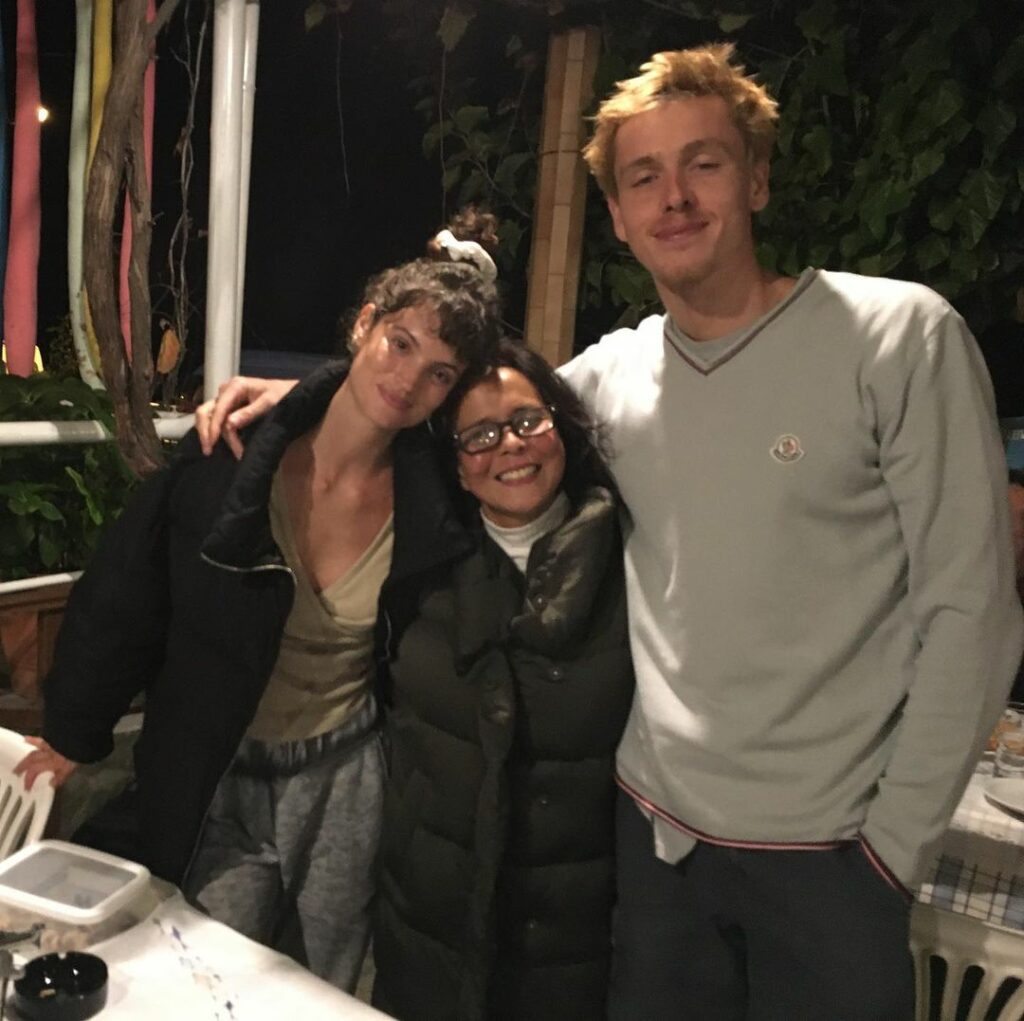 "Triangle of Sadness," often described as a commentary on privilege, greed, and power, has since been acquired by American independent film production and distribution company Neon, outbidding other distributors like A24.
In the Philippines, independent production studio TBA Studios got the rights to "Triangle of Sadness." It's behind the blockbuster "Heneral Luna" and the acclaimed documentary "Sunday Beauty Queen," among other local and internationally screened films. Most recently, TBA Studios brought to local theaters the A24 hit movie "Everything Everywhere All At One."
With the release of "Triangle of Sadness's" theatrical trailer for its October 2022 international release, TBA Studios teased that the movie will also soon be screening locally, although it has yet to disclose an exact date.
In the meantime, watch this thrilling preview of the film to get a glimpse of why the audience at Cannes gave it an eight-minute standing ovation.
The cinema is back. Well, it has been for quite some time now with eased restrictions. You might have gone back to the theater to see a new film in the last month, rejoicing in the feeling of actually seeing something outside your laptop or TV screen—with other people! Well, if you missed that kind of feeling and want more, the good news is that Cinemalaya, the country's independent film festival, is back in person this year.
Last year, due to pandemic restrictions, Cinemalaya was only held online via streaming. This time, you can see the 18th edition of the film fest, which features 11 full-length films along with 12 short films, at the Cultural Center of the Philippines (CCP)'s Tanghalang Nicanor Abelardo (CCP Main Theater), Tanghalang Manuel Conde (CCP Arthouse Cinema), and Tanghalang Huseng Batute (CCP Studio Theater) from Aug. 5 to 14.
Full-Length films (with MTRCB rating)
"The Baseball Player" by Carlo Obispo (Rated G)
"Retirada" by Cynthia Cruz-Paz and Milo Alto Paz (Rated PG)
"Kargo" by TM Malones (Rated PG)
"Kaluskos" by Roman Perez Jr.; screenplay by Enrique Villasis (Rated PG)
"Ginhawa" by Christian Paolo Lat (Rated PG)
"Bula sa Langit" by Sheenly Gener; screenplay by Andrian Legaspi (Rated R-13)
"Blue Room" by Ma-an L. Asuncion-Dagñalan (Rated R-13)
"Batsoy" by Ronald Espinosa Batallones (Rated G)
"Bakit 'Di Mo Sabihin?" by Real Florido; screenplay by Flo Reyes (Rated PG)
"Angkas" by Rain Yamson; screenplay by Jaymar Santos Castro (Rated R-13)
"12 Weeks" by Anna Isabelle Matutina (Rated R-13)
Short films (with MTRCB rating)
"Ampangabagat nin Talakba ha Likol (It's Raining Frogs Outside)" by Maria Estela Paiso (Rated PG)
"Black Rainbow" by Zig Dulay (Rated G)
"City of Flowers" by Xeph Suarez (Rated PG)
"Dikit" by Gabriela Serrano (Rated PG)
"Distance" by Dexter Paul De Jesus (Rated PG)
"Duwa-duwa" by Nena Jane Achacoso (Rated PG)
"Kwits" by Raz De La Torre (Rated G)
"Mata Kang Busay (Vision of the Falls)" by Niño Maldecir & Cyphor John Gayorgor (Rated PG)
"Mga Handum Nga Nasulat sa Baras (The Dreams That Are Written in the Sand)" by Arlie Sweet Sumagaysay and Richard Jeroui Salvadico (Rated G)
"Roundtrip to Happiness" by Claudia Fernando (Rated G)
"See You, George!" by Mark Moneda (Rated PG)
"Si Oddie" by Maria Kydylee Torato (Rated G)
The Cinemalaya 18 festival pass (P2,500) gives you access to all the films in competition at CCP venues. You can purchase it here. You can also opt to buy individual tickets at the CCP box office or through TicketWorld for P250 each.
As usual, you can also catch Cinemalaya films in select Ayala Malls cinemas and SM Malls cinemas starting Aug. 10 until Aug. 16. Tickets are priced from P230 to P250.
And if you missed any of these in-person screenings, the films will still be available to stream online from Oct. 17 to 31.
The opening film for Cinemalaya 2022 is "Leonor Will Never Die" by Martika Ramirez Escobar, which premiered and won the Special Jury Prize for Innovative Spirit at this year's Sundance Film Festival. Tickets for its Aug. 5 screening in CCP are free and will be distributed on the same day on a first come, first served basis.
Here's the schedule of screenings for this year's Cinemalaya:
"I'm just here to hook up," Danton* told Czar Kristoff on Grindr, a dating app largely used by the LGBT+ community. "I don't understand what a workshop is for," Kristoff's match added.
Also on Grindr, Zeus Bascon paused, looking for the words to tell his match what the project really was about. Unfortunately, before he could finish, his match blocked him.
Selling a project to the art world in Manila and abroad was one thing, but sharing a community project with a sales clerk with limited opportunities and education was another thing entirely. "Do you feel safe when you go out?" Kristoff asked instead.
Hours later, Danton was still opening up about being a heterosexual-passing man in a hypermasculine space.
Later, it's Kristoff sharing at Danton's prompting, and the former talks about frequenting a skate park, having to hide his flamboyance, and "manning up."
Taking up space
For Kristoff and Bascon, both recipients of the Cultural Center of the Philippines' (CCP) annual 13 Artists Awards, coming to terms with their queerness was, and is, a gradual process.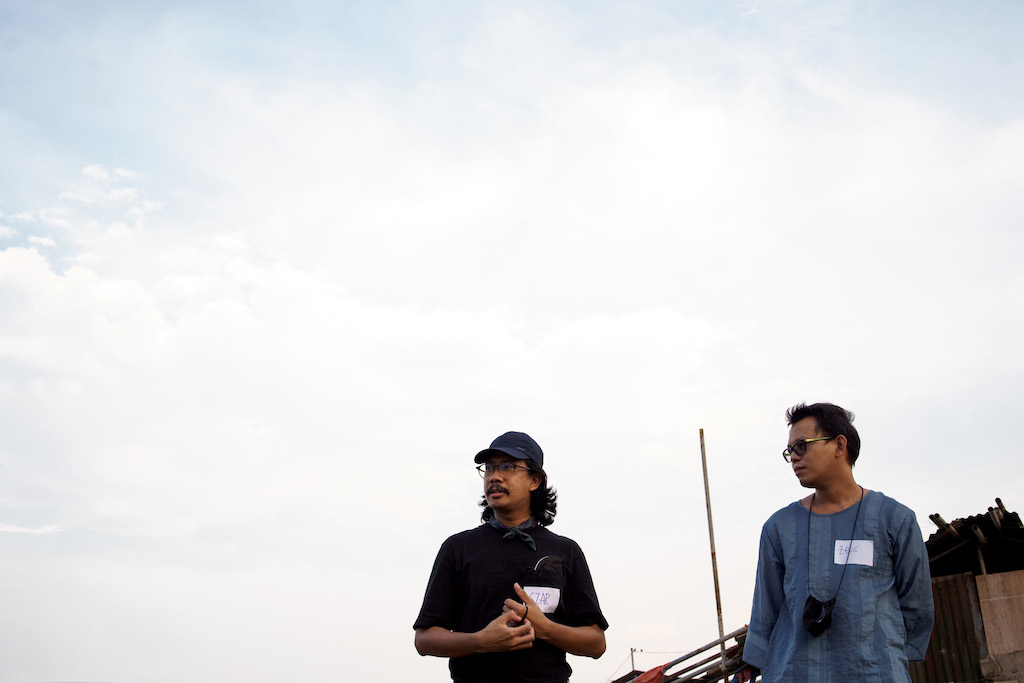 In a Zoom interview with Nolisoli.ph, the two Laguna-based artists share their mission and what drives them. Bascon also brings up the dilemmas of self-expression in a hypermasculine space. Recently, he attended a hip-hop event in a skate park, but he didn't hide who he was. He let them know "na may bakla dito."
Bascon cites a supportive family and tolerating neighbors as the water which lets him flower.
Unfortunately, as Danton's story shows, many queer Filipinos from less privileged backgrounds are not given the space or the institutional safety to allow this process to bloom. As such, many LGBTQIA+ folks sometimes hold mindsets that hinder their best interests, such as internalized homophobia or a fear-driven dismissal of human immunodeficiency virus (HIV) testing.
This urgency animates Bascon as he shares, "Since we're queer people here in Laguna, HIV testing is very important. We want to create a public space where HIV testing is seen as normal."
First discovered in the 1980s, HIV is a largely sexually transmitted virus that weakens the immune system. Scientists believe it likely originated from colonial prostitution in Africa and later unhygienic syringe use from vaccination campaigns in the region.
You take this specific role in a community as an artist to motivate or initiate movements within the community.

Arist Zeus Bascon
Presently, dated misconceptions persist that HIV is a disease exclusively created by and spread among LGBTQIA+ people. The Human Rights Campaign Foundation reports that HIV is notably present among the LGBTQIA+ community not because of same-sex practices, which many ideologues insist, but because of social stigma forcing many LGBTQIA+ people into unsafe sex work given the lack of employment opportunities.
In the Philippines, the Department of Health warned of the rising positivity rate of HIV results in the period between 2008 and 2017, from one positive case per day to 30 new diagnoses per day. Meanwhile, only 67 percent of people living with HIV in 2016 knew their status. In the same report, the World Health Organization added that a misdiagnosis rate of 10 percent occurs with dated test kits as one possible factor.
A safe sunset
Enter "Sunset Garden," a project which may just be Kristoff and Bascon's biggest undertaking yet. Is it a publication? A microsite? An ethnography? Group therapy? A community intervention?
The duo partnered not just with art institutions but also with medical and civil institutions, and the project heavily credits its rollout to Erroll Austria, a worker from a private HIV foundation attached to the Ospital ng Biñan HIV and AIDS Treatment Hub.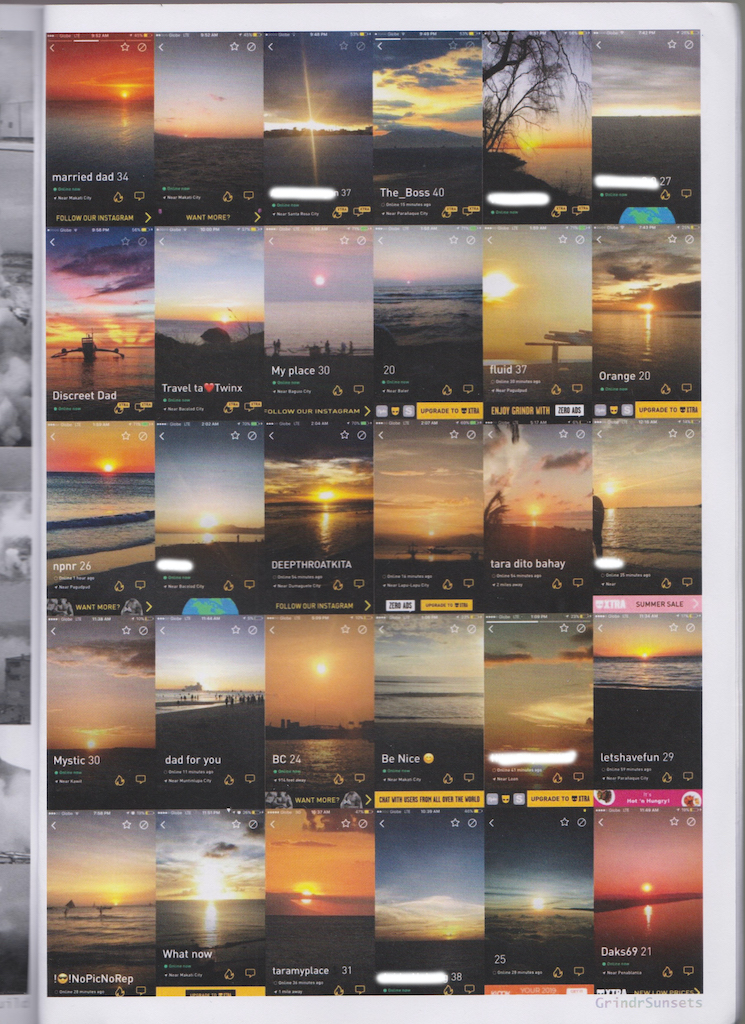 "Sunset Garden" is a continuing collaboration between the two artists that brings LGBTQIA+ individuals together by holding space for conversations and self-expression. It is a combination of individual projects they initiated in previous years, the first iterations of which were launched in early 2022. More iterations are also planned in the future based on feedback from the past and current sub-projects.
Kristoff observed something peculiar about Filipino Grindr versus when he used the app overseas: Some Filipinos used photos of sunsets as their profile pictures instead of face or body photos. He talked to these people and presented his observations in a multimedia artwork titled "Grindr Sunsets."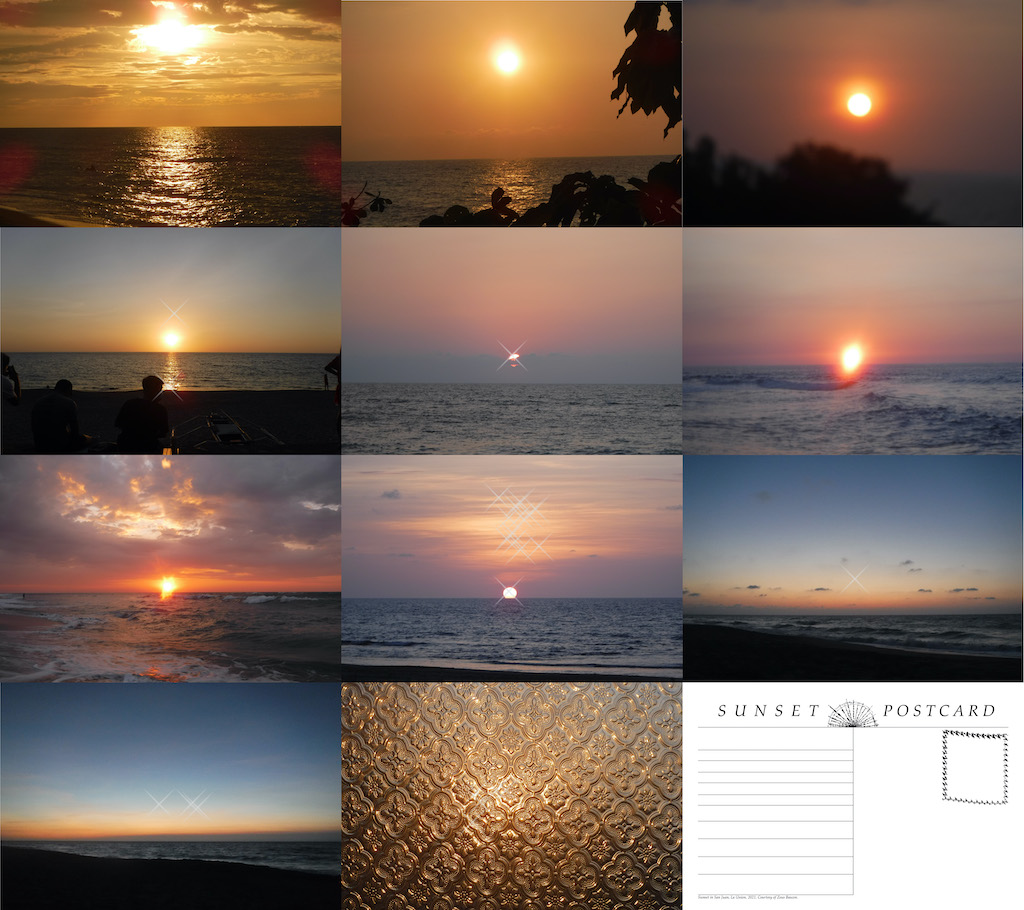 A version of this project was presented in Kwago Book Bar during Pride 2019. Building from feedback there, Kristoff presented a different version during the March 2022 run of the CCP's 13 Artists Awards.
Bascon, meanwhile, was working on an artist residency in seaside La Union under Emerging Islands. It was also a time in his life involving much inner work. The residency culminated in a series of paintings and postcards of sunsets titled "Cultivating a Garden."
"Sunset Garden" presently revolves around "congregations" of queer people and allies literally viewing sunsets at a reclaimed patch of land along Laguna de Bay, which Kristoff discovered during a bike ride. With Austria's help, they organized a sharing session at the said spot, documented it, and presented snippets of it all while respecting participant privacy.
The duo admits that the first run saw limited success and that they continue to face hurdles. During the said sharing session, only one couple arrived, and they were hesitant at first. But Austria was vocal in his support of the project, which won the couple over. They then began to open up candidly about their experiences as queer folk, including their choice to get tested for HIV.
Upon recalling that, Bascon lights up: "As all this was happening, this is when I realized: This should happen again with more participants." Psychosocial support and even caretaker support are crucial in living with HIV, similar to the holistic treatment of other chronic illnesses. "Sunset Garden," if allowed to continue, may just be that, but also with a component of creative expression.
The next session saw the launch of a "Sunset Garden" publication by their sunset spot, containing field notes and snippets of testimonies from the "Grindr sunset profiles" as well as from their first congregation, which was filmed. Amidst local DJ budots remixes, and with their voices altered to protect their privacies, only their silhouettes shown, the participants talk about what the sunset means to them, by the sunset on Laguna de Bay. "How we participate in Grindr affects our everyday life outside of it," one participant shares. The event was largely attended by writers and artists.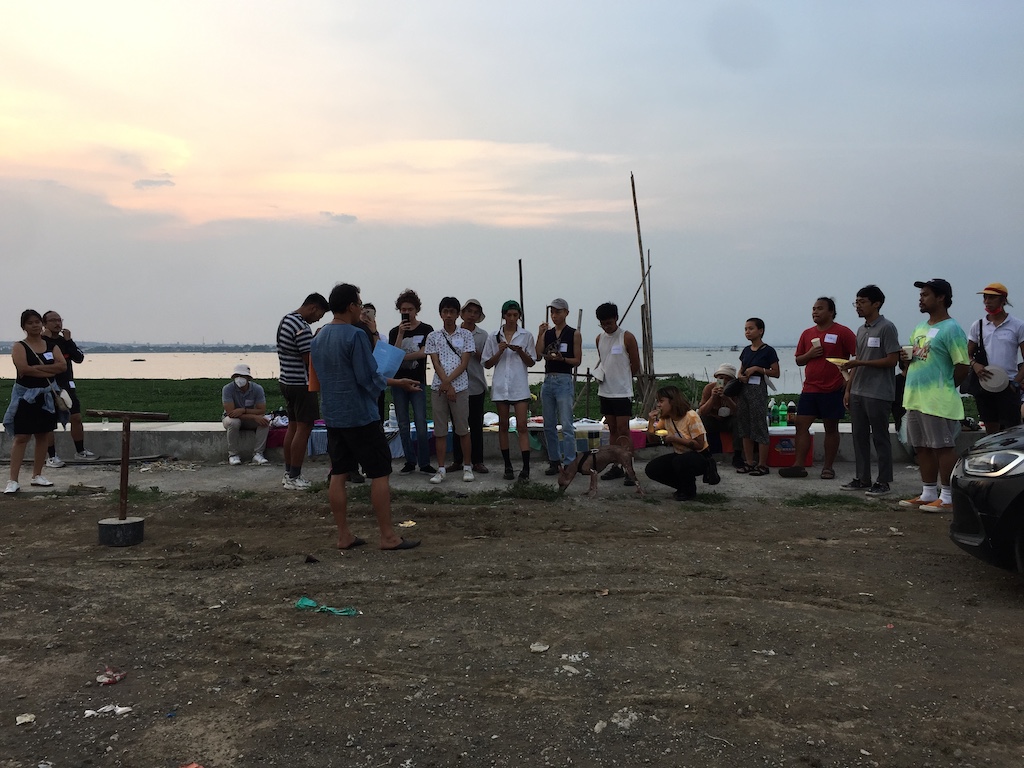 The duo tried distributing the publication at HIV clinics, and Bascon shares that the patients were kind enough to admit to the artists that they didn't understand the publication's content. "Many don't know what the word 'queer' means," Kristoff says of the people he interviewed on Grindr.
[
READ: Local queer literature to add to your reading list
]
Despite this, the artists were further galvanized into improving the work. Amid differences in language and education, as well as some initial hesitance, the subjects were always, always willing to share, to open up, to let someone hold space for them.
Kristoff and Bascon have each exhibited around the Philippines and abroad. And yet they feel that going home to Laguna and focusing on it is the most challenging and fulfilling project they've taken on so far. More iterations are planned, as long as there is a need for them, and the publication is one way supporters can help fund the project.
The Excel site and film (which was shown at the CCP) on which the publication is based is glittery and kitsch and reminiscent of a Multiply page from the early 2000s.
"That's because I'm a Multiply gal," quips Kristoff, before expounding that they used this specific visual language as it resonates more with home, with how people here express themselves. He adds, "It's hard to unlearn things if you won't go back to your past. Healing is a time-based process. You have to go back in time in order to heal."
Citizens then artists
The project thus also sheds light on the gap between the language of the art world and the language of the general public.
"Parati nating pinagsisilbihan ang mga collectors tsaka galleries (We always serve art collectors and commercial galleries)," Kristoff observes. Bascon meanwhile rounds it out by admitting that while painting in the gallery circuit pays the bills, he remains aware of "the concerns of the public beyond the art world" and because of this, he and Kristoff are straightforward with galleries in "expressing what we need to be able to work with them."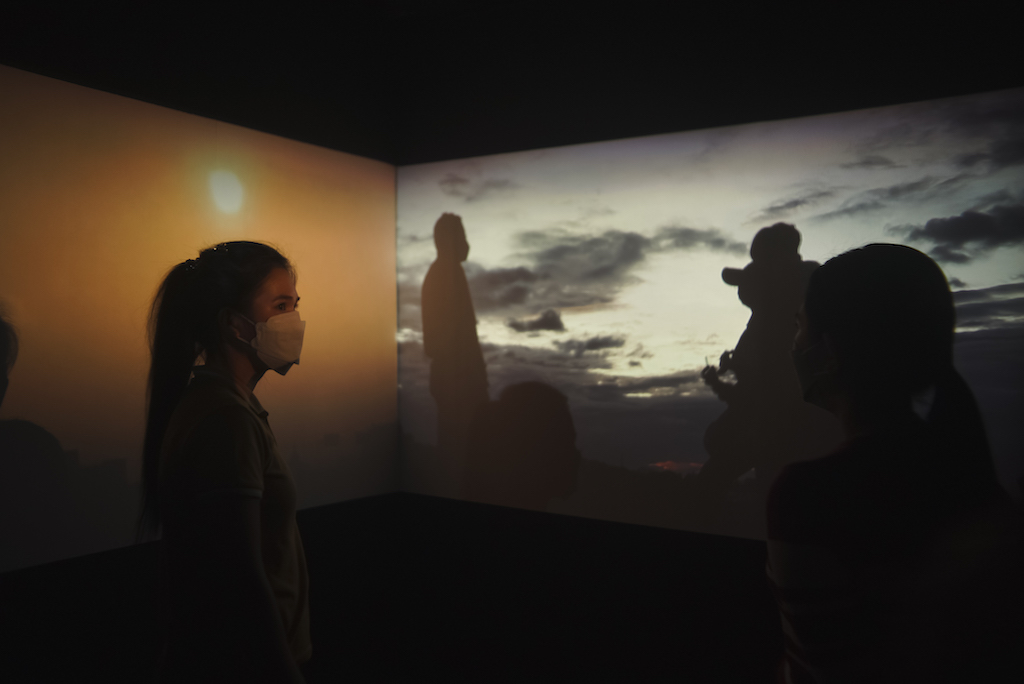 Feedback from the "Sunset Garden" congregations informed Bascon on how to be understood by the public instead of just the art-viewing community. "That's when I realized projects like these aren't meant to target art institutions and commercial galleries to tackle community issues but to target the local government and individuals with resources," he expounds.
While sunset viewing with Austria and the couple, Bascon noted that bystanders in the vicinity were within earshot of the group and could pick up on the stories being shared and how they were being expressed.
Something as small as that is a radical act, Bascon further believes, as being a citizen is essentially participating in public life. Being queer in public spaces where heteronormativity is equated with propriety, sometimes in spaces as mundane as one's commute, is one such example which the painter cites from his experience. "Ito nga ang ibig-sabihin ng occupying spaces. Kahit nag-uusap lang tayo, and other people are present. (This is what it means to 'occupy space': Something as seemingly small as conversing while others are present)."
Community mediums
In pre-colonial Philippines, the babaylan or shaman was roughly the equivalent of a priest but also a living library. The babaylan knew not just rituals to ensure a good harvest or which plants healed or poisoned but also the fables and legends representing community values. People visited the babaylan to seek advice, too.
The babaylan worked to embody and anchor the gods, the ideals, in their communities.
Storyteller, community guide, spiritual medium, medicine-person—these were the roles undertaken.
[
READ: Assured that they are loved by God
]
Babaylan were often women or men who lived as women. They held as much power as the military and political leader of a barangay, the datu, who was often a man but could be a woman. When the Spaniards arrived, babaylan were demonized in order to pave a new hierarchy. The datu meanwhile, became the overseers of Spanish authority.
Today there are still subconscious imprints of our communal past. It could be said that a manifestation of this is in the participants allowing themselves to be vulnerable with a group of strangers during the sunset viewings. It's precisely this that grounds the entire project: that primal need to commune in spaces created by those who've done thorough soul-searching.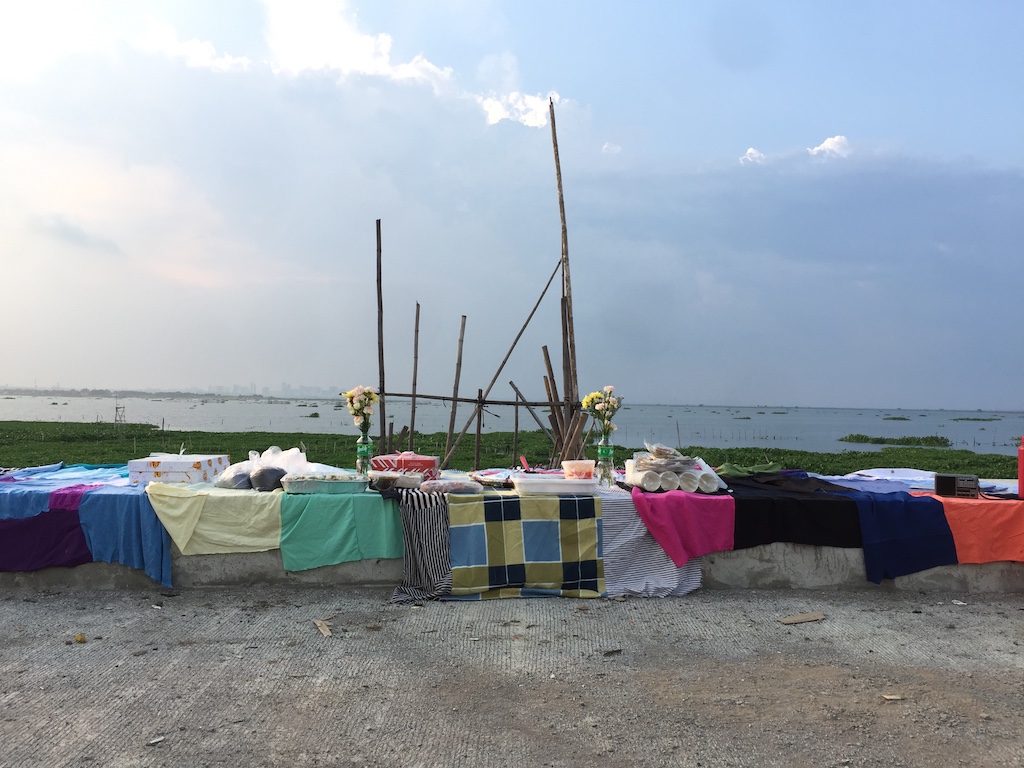 But Kristoff and Bascon aren't saviors, they are mediums helping others to embark on their own journeys, "the hero's journey," as Bascon puts it, alluding to the meaning of sun signs in astrology. It's not for the galleries, it's for the subjects, it's for the community.
He ponders further, realizing that "there's even the artist-as-performance. You take this specific role in a community as an artist to motivate or initiate movements within the community."
There's a spirit that the Sunset Garden project is trying to anchor, and it's currently taking many physical forms with no definite shape yet. But it's there. Perhaps Bascon, Kristoff, Austria, and their collaborators, in their own ways, answer the call of the Divine Feminine, a call which closeted clerks or hip-hop lads in skate parks are trying to heed, in their own way, in their own time.
When the sun sets, it's time for the stars to shine.
*Name has been changed
You can support the project by purchasing the Sunset Garden publication on Instagram and Facebook. Follow Czar Kristoff and Zeus Bascon to keep posted on future sunset sessions.
Silverlens Gallery is expanding—all the way to New York City. The Makati-based studio announced its trans-continental expansion on July 19 after 18 years of housing contemporary Asian and Asian Diaspora artists.
Its new gallery is a 2,500 square-foot space with 20-foot ceilings located on the ground floor at 505 W 24th Street in Manhattan's Chelsea neighborhood. The gallery will open on Sept. 8.
Representation and diversity have been important issues in the common consciousness, but the emphasis on Southeast Asian, Asian Pacific, and Diasporic artists have only come into light recently.
"Opening a New York gallery has remained a consideration for us since 2004, but I felt invisible when I lived here then — the wrong gender, the wrong Asian, the wrong minority," founder and co-owner Isa Lorenzo said in a statement.
"The past few years have shown strong demand for Southeast Asian art in the US, so this felt like the perfect moment to expand to a global art hub packed with discovery. We are Asian, we are Latin, we are American, we are brown, we are queer — there is energy here for us and we are thrilled to show our artists in the world's biggest market," added co-owner Rachel Rillo.
Silverlens's New York space aims to hold both gallery and curator-led exhibitions, as well as artist talks, panel discussions, film screenings, and events.
The gallery's inaugural exhibits are two solo gallery shows by Martha Atienza and Yee I-Lann. Both artists are of mixed descent and work collaboratively with their respective island communities.
After a two-year live performance drought, the local theater scene is roaring to get back up and running. Audiences are sure to be excited, too, because there's a shiny new arts space opening in the center of the metro. Enter: the Samsung Performing Arts Theater at Circuit Makati. Located right in front of the mall, it's easily accessible and can't be missed.
Here are some interesting figures as we anticipate the theater's opening on July 14.
10 floors, 5 lobbies
Towering over the 22-hectare lifestyle district, the theater building actually spans 10 floors, with five spacious lobbies for guests to converge before and after shows, as well as during intermissions.
Each level leading to the audience floors also has concession areas, which are set to be staffed by chef Gilbert Pangilinan of Kai restaurant. Theatergoers can thus expect to enjoy food and drinks while waiting for shows to begin.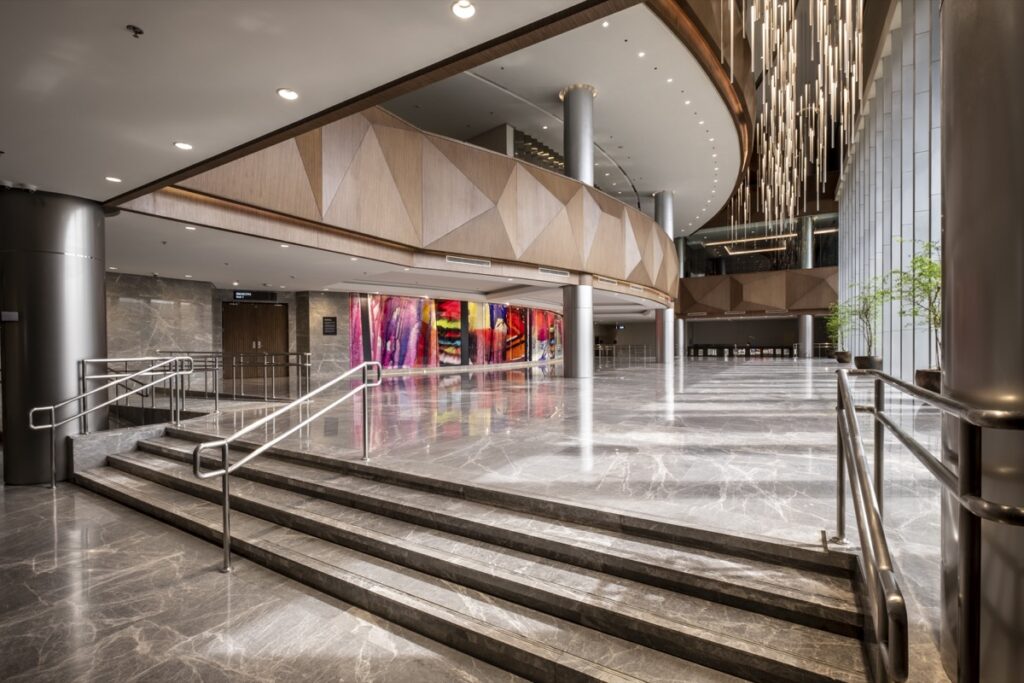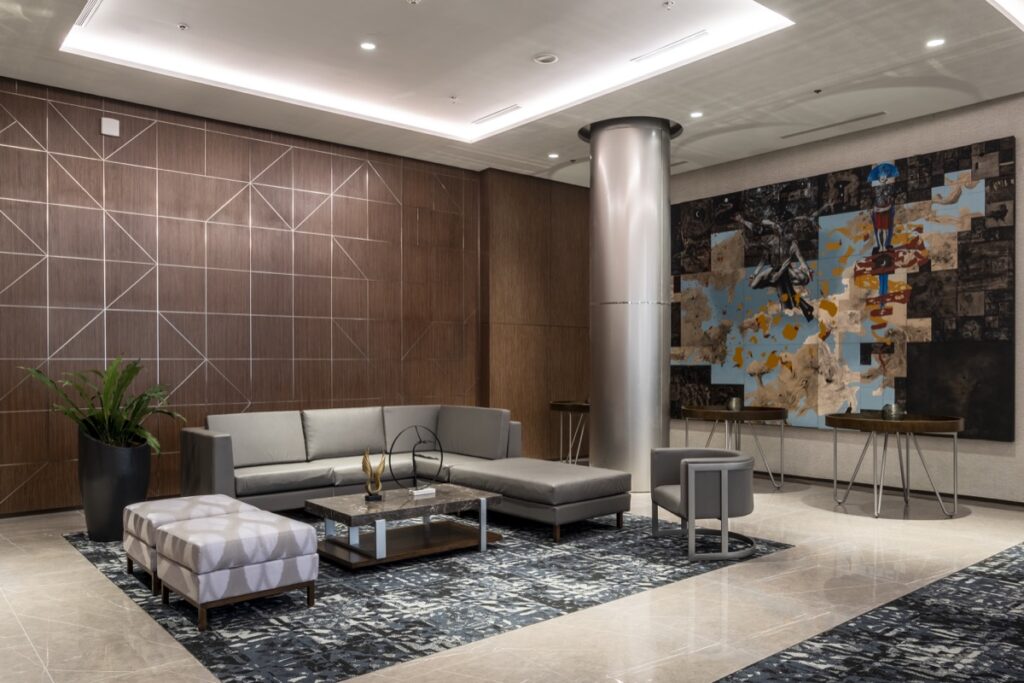 The building also houses its own gift shop, from which guests can purchase merchandise and memorabilia from the shows that will be staged.
A private lounge on the 7th floor can also be used for small events, conferences, meetings, and even meet-and-greet opportunities.
A ticket outlet is also located within the building.
1,500 seats with three audience levels
The theater is a massive 1,500-seater space, divided into three levels: orchestra, loge, and balcony. Each level has good views of the stage. (And yes, I say this because I did try to sit at several spots just to see. The girl wants to know which ticket to buy soon, you know.)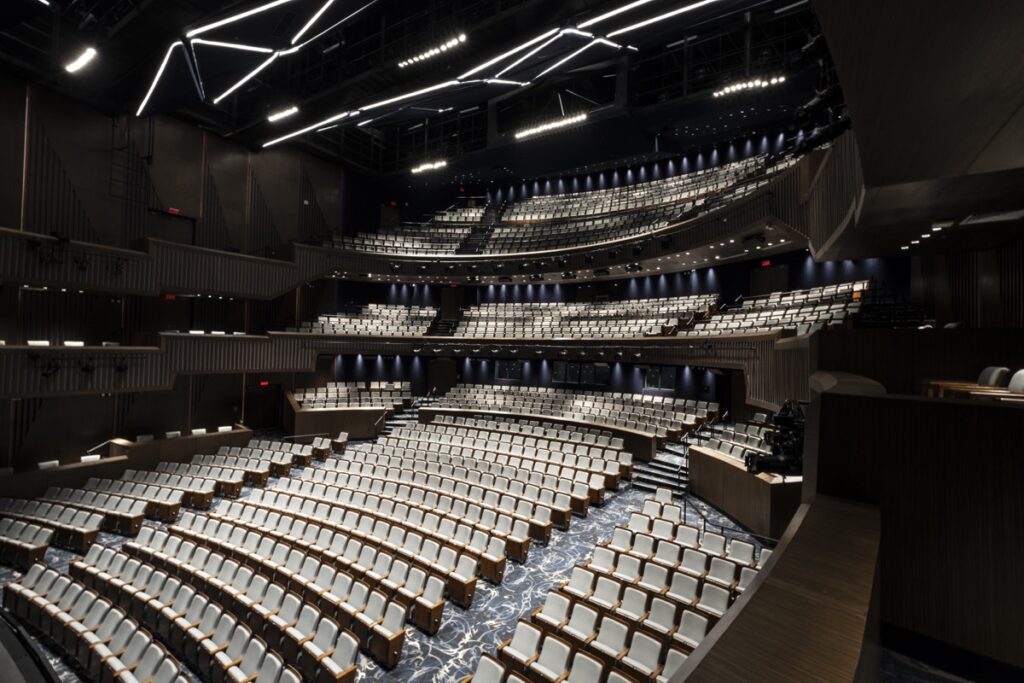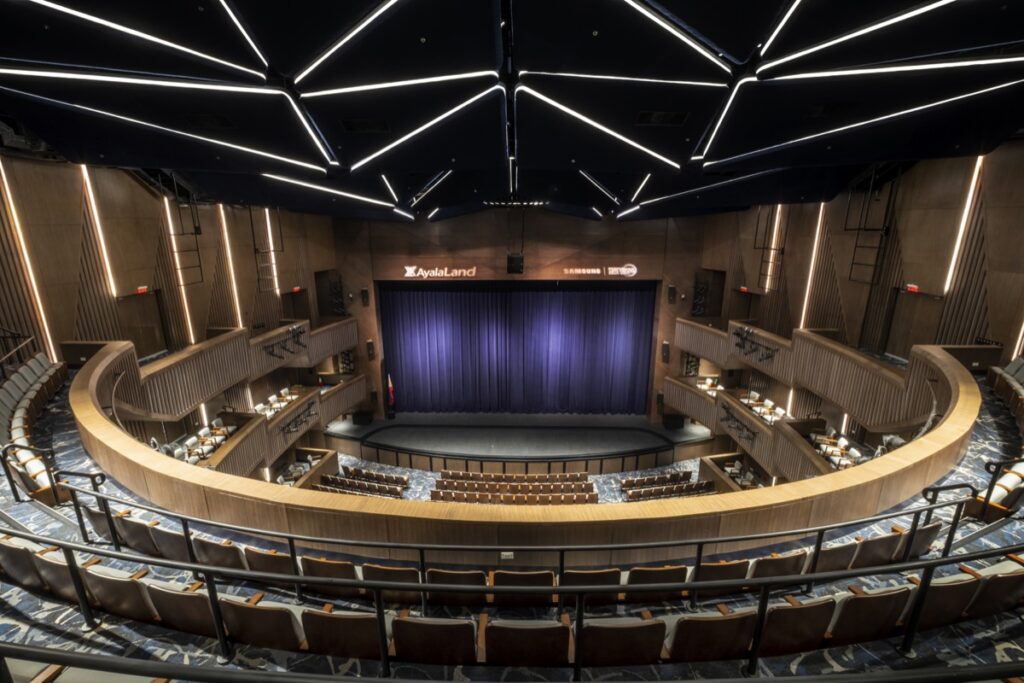 250 sqm of stage area
According to their theater kit, the stage has a depth of 15 m and spanning 17 m wide, the stage covers a total area of around 250 sqm. The new theater is also installed with a special type of flooring called Harlequin sprung floors. This reduces the risk of performers getting injured through impact, slipping, or falling on the stage flooring. The theater is allegedly the only stage in the country to be equipped with this type of flooring.
The theater also has a spacious rehearsal hall that spans 60 ft by 30 ft.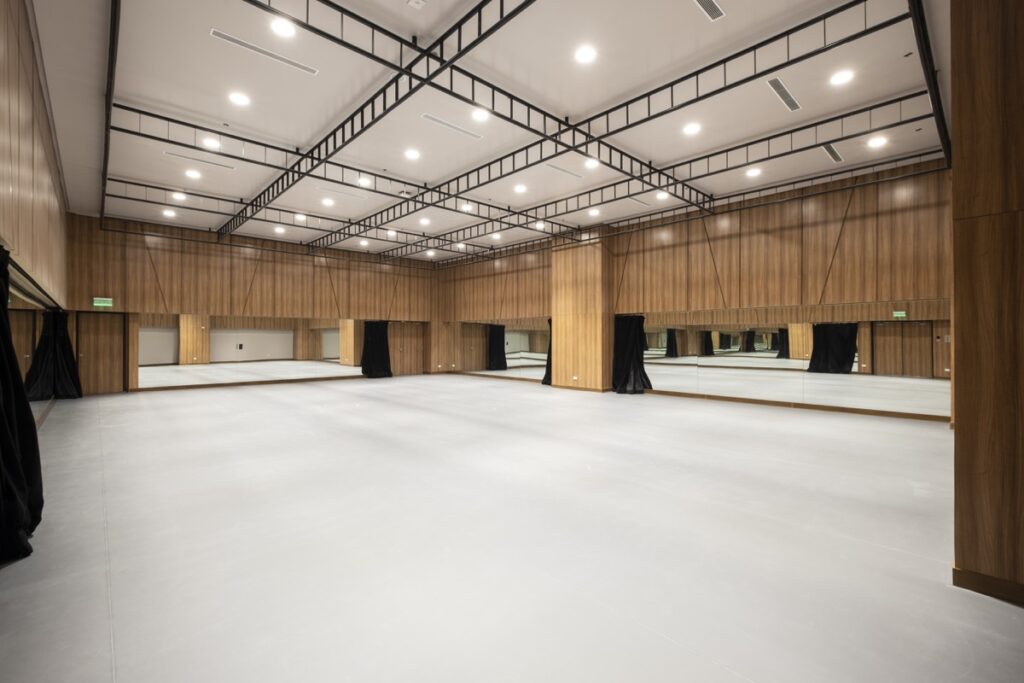 16 dressing rooms that can fit around 90 mirrors
At the media preview, thespian and host Mica Pineda gushed at how almost hotel-like the dressing rooms are. The theater kit also lists the several dressing rooms located across different levels, with a total capacity of 93. Goes to show that the theater was created not just with audiences in mind, but with its performers, too. While we can't exactly visit the dressing rooms, we can just imagine how grand they must be if the backstage area can fit up to 90 mirrors.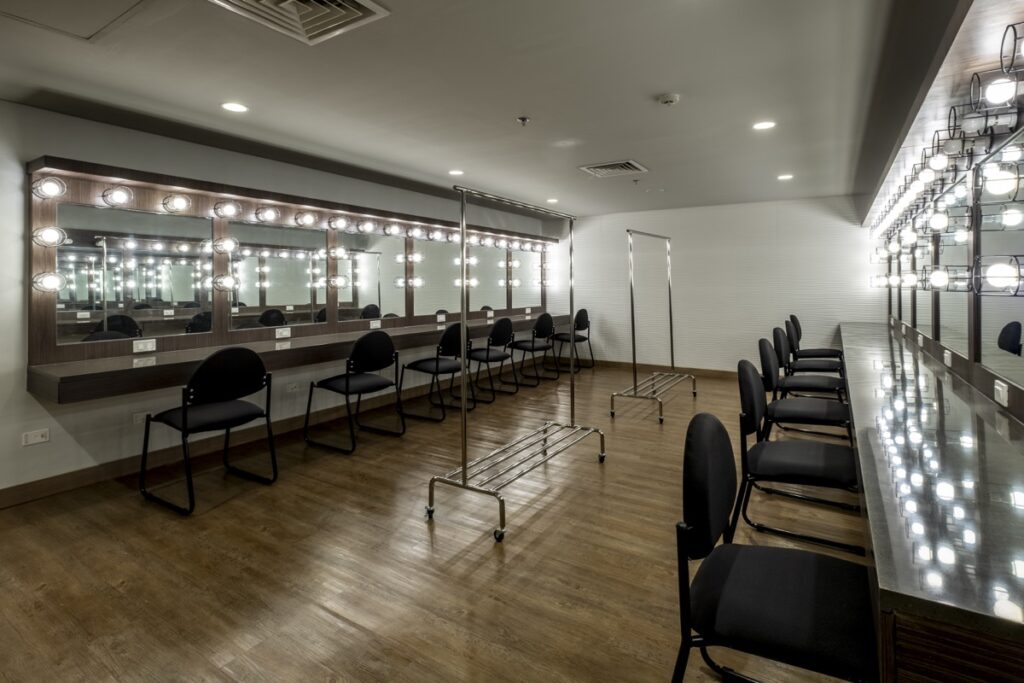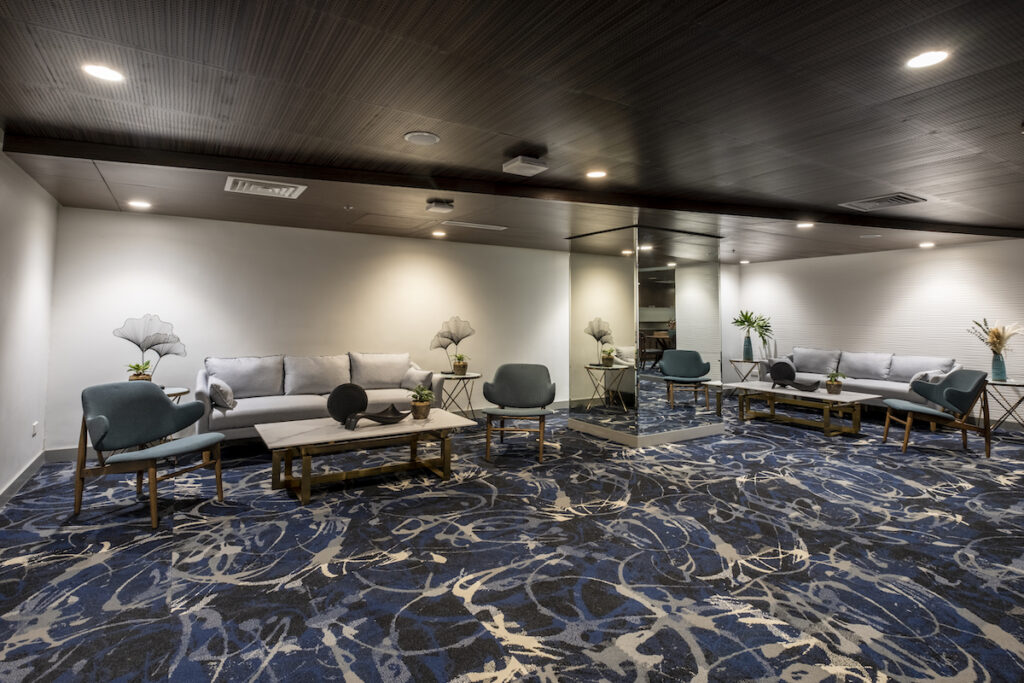 Two major musical productions this 2022
The theater opens with two musicals already in the lineup: the phenomenal original Pilipino musical "Mula Sa Buwan," which starts on Aug. 26, and the kick-off of the international touring production of "We Will Rock You," a jukebox rock musical based on the songs of Queen, which opens on Oct. 27.
[READ:
Theater is back! Here are shows to catch this 2022
]
More than a dozen acts on opening night
The Samsung Performing Arts Theater is set to have its grand launch on July 14. Some of the most celebrated names in the performing arts industry are set to grace the new stage, including the first lady of Philippine musical theater, Menchu Lauchengco-Yulo; Bituin Escalante, Shiela Valderrama-Martinez, Christian Bautista, Irma Adlawan, Bart Guingona, Rachelle Gerodias, "Ang Huling El Bimbo" stars Reb Atadero, Jamie Wilson, Gab Pangilinan, and Myke Salomon; the casts of "Mula sa Buwan" and "We Will Rock You;" Steps Dance Studio, Mandaluyong Children's Choir, and the Manila Symphony Orchestra.