Laguna's history in three plates
Try a 1920s version of adobo: it's pan-fried and has no sauce
Mar 18, 2017
Travel a few hours south of Manila and you'll find yourself seemingly transported in time. Houses with intricate wood designs, paned windows, balconies looking out into the streets—if there wasn't a 7-Eleven sign hanging at the corner, you'd have probably thought you were right back in the colonial period.
Such is the norm at some of Laguna's heritage towns, where over 30 of the houses and structures remain preserved in their original forms, standing as testaments to the passing and changing times. In Pila, the town plaza, the surrounding structures and houses were declared National Historical Landmarks by the National Historical Institute.
There are also several restaurants in Laguna that highlight the local cuisine. One such spot is Aurora, in Santa Cruz, run by chefs Day Salonga, Mon Urbano, and Gel Salonga. Though originally built in the 1920s, the structure that now houses Aurora was destroyed in World War II, and was later rebuilt. In its life prior to becoming a restaurant, the owners share, it once served as a beauty parlor. Aurora's menu features a wealth of heirloom recipes.
1920s Chicken Wings Adobo
By Isidra Guevara, wife of former senator Pedro Guevara, as demonstrated by chef Day Salonga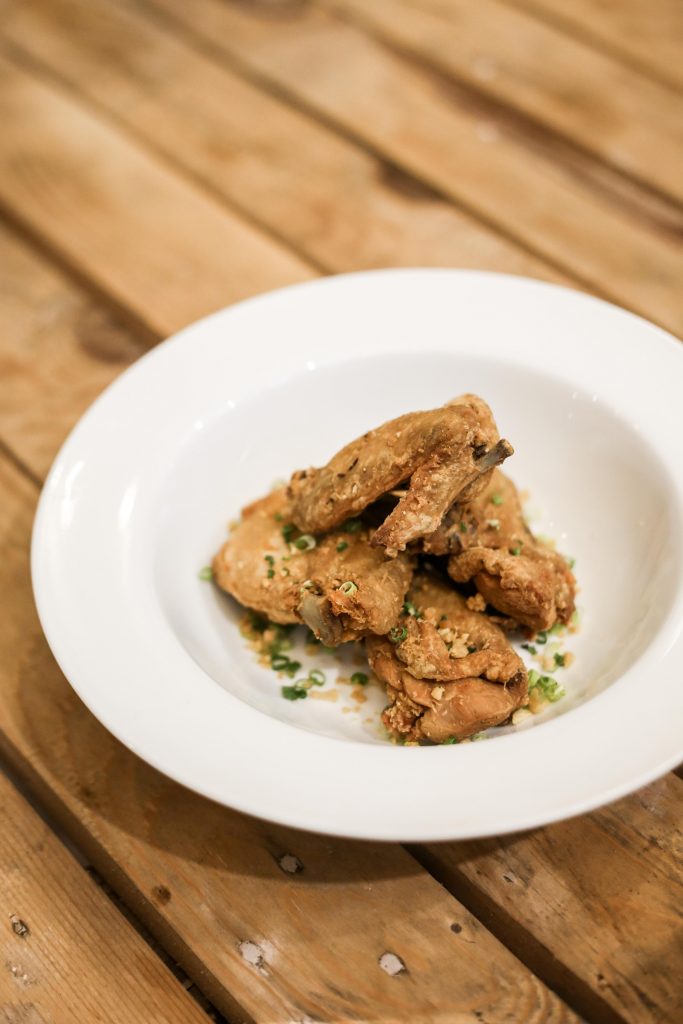 INGREDIENTS
1/2 kg Magnolia chicken smart pack wings
1/4 cup vinegar
2 tbsp iodized fine salt
1 1/2 cup water
1/4 tsp pepper
1 cup Magnolia all-purpose flour, for coating
1/4 cup Magnolia nutri-oil palm vegetable oil
1 tbsp toasted garlic
PROCEDURE
In a pot, put chicken wings, water, vinegar, salt, and pepper. Bring to a boil until cooked.
When cooked, coat chicken wings in a thin layer of flour.
In a separate cast iron, pan-fry chicken wings in oil.
Place toasted garlic on top.
Meanwhile, Ted's, also in Santa Cruz, offers a more vintage, country vibe both in their interiors and their menu. Though they mostly serve American cuisine, the chefs infuse a bit of the local flavor into their offerings. Among their cakes are variations of the Filipino favorite, brazo de mercedes—named Brazo de Aurora and Brazo de Fernando (a chocolate version). Chef Gel of Ted's also incorporates bibingka into the typically American cheesecake.
Baked Bibingka Cheesecake
By chef Gel Salonga of Ted's
INGREDIENTS
For the crust:
1/4 cup melted Magnolia Gold Butter unsalted
1 1/2 cups crushed La Pacita graham crackers
2 tbsp powdered sugar
For the cheesecake:
5 (225g) pc Magnolia Cream Cheese, softened
5 pc Magnolia brown eggs plus 2 egg yolks
1 1/2 cups sugar
1/8 cup Magnolia all-purpose flour
1/4 cup Magnolia all-purpose cream
1/8 cup coconut milk
2 pc salted egg, shelled and sliced
PROCEDURE
Preheat oven to 180 degrees C.
In a bowl, combine all the ingredients from the crust then press firmly against the bottom of a 9" spring form pan. Bake for 15 minutes.
In a large bowl, combine cream cheese, eggs, and egg yolks and mix until smooth. Add the sugar, flour, cream, and coconut milk. Blend until smooth. Pour batter into prepared pan.
Top with salted egg slices.
Bake in preheated oven for one hour. Turn the oven off and let the cake cool in the oven with the door closed for two hours until set. This prevents cracking. Chill.
A rustic garden cafe near Lake Sampaloc in San Pablo, Cafe Lago serves international and local fare. They are most known for their fried chicken, which is served with a margarine and garlic sauce slathered over it. On the side, they also serve paco salad.
Café Lago Fried Chicken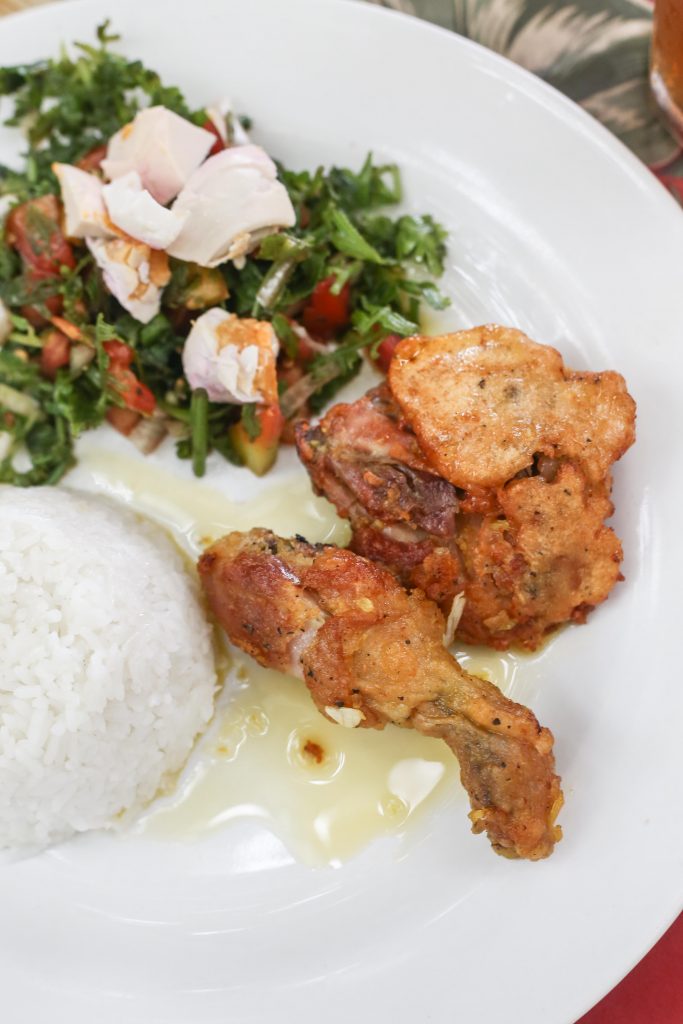 INGREDIENTS
3 tsp Magnolia all-purpose flour
1 tbsp cornstarch
1 pc Magnolia brown egg
1 tsp seasoning mix
1 (900g) pc Magnolia whole chicken, chopped
1 cup Magnolia Nutri-oil palm vegetable oil
2 tbsp Star Margarine
1 tbsp garlic, minced.
PROCEDURE
Make the batter: combine flour, cornstarch, egg, and flavoring profile. Mix well.

Dip chicken in the batter and fry in hot oil until golden brown. Drain on paper towels and set aside.

In a separate pan, sauté garlic in margarine until golden brown. Pour mixture over cooked chicken.
TAGS: adobo bibingka cheesecake chicken fried chicken laguna nolisoliph recipe