Quezon Province and its neighboring Laguna towns south of Laguna de Bay and north of Tayabas Bay are known for three Fs: food, faith, and fun—at least according to our tour guide.
Food is a no-brainer. People have always gravitated to Southern Tagalog's distinctive cuisine shaped by its geography of mountains, flat lands, and bodies of freshwater and the abundance that come with it. Fun is self-explanatory. Its serene landscapes make it an ideal getaway for city dwellers. The faith aspect is a little convoluted. The area is a famed Visita Iglesia destination for Catholics but Mount Banahaw, a mystical old volcano, is also home to a folk Catholic cult that calls Jose Rizal god.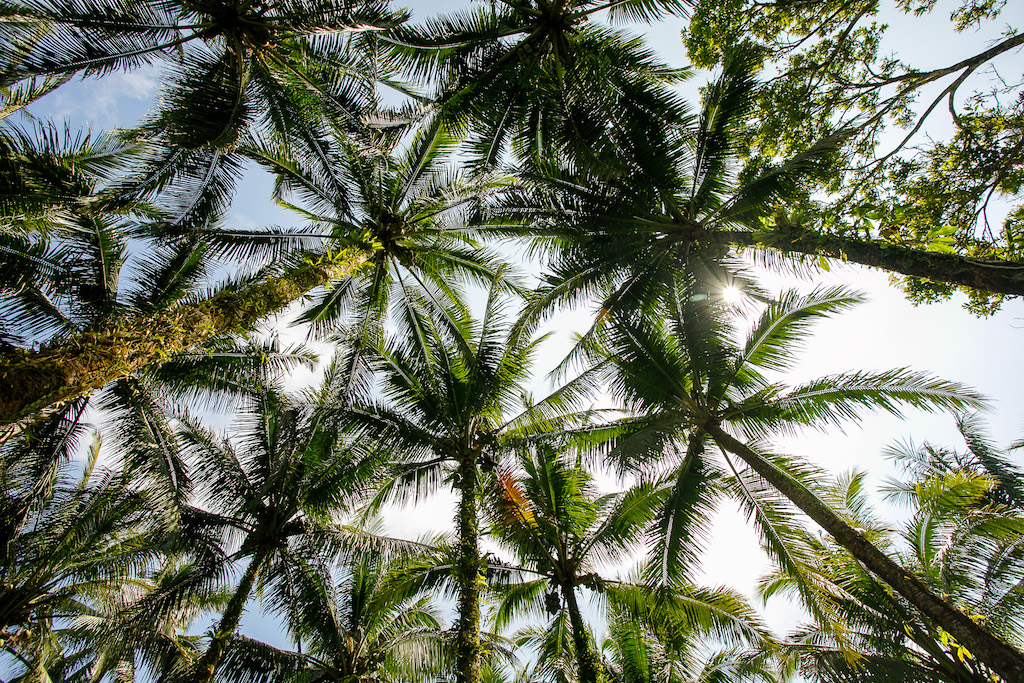 But this part of Southern Tagalog wasn't always known for these three Fs. It was a recent invention, said Maria Cristina Decal, a Sariaya, Quezon local who's been conducting tours for years to bolster the culinary heritage of Quezon and Laguna, what she calls, Kulinarya Tagala.
The locale being a relatively remote setting has a long history of insurgency. This, according to Decal, dwarfed the development of a robust tourism industry in the region. It didn't help that the pandemic also limited the number of visitors in the last few years. But thankfully, with restrictions eased and a shortened travel time via the Skyway System, South Luzon Expressway, and STAR Tollway, Decal and fellow advocates continue to push the region and its culinary heritage.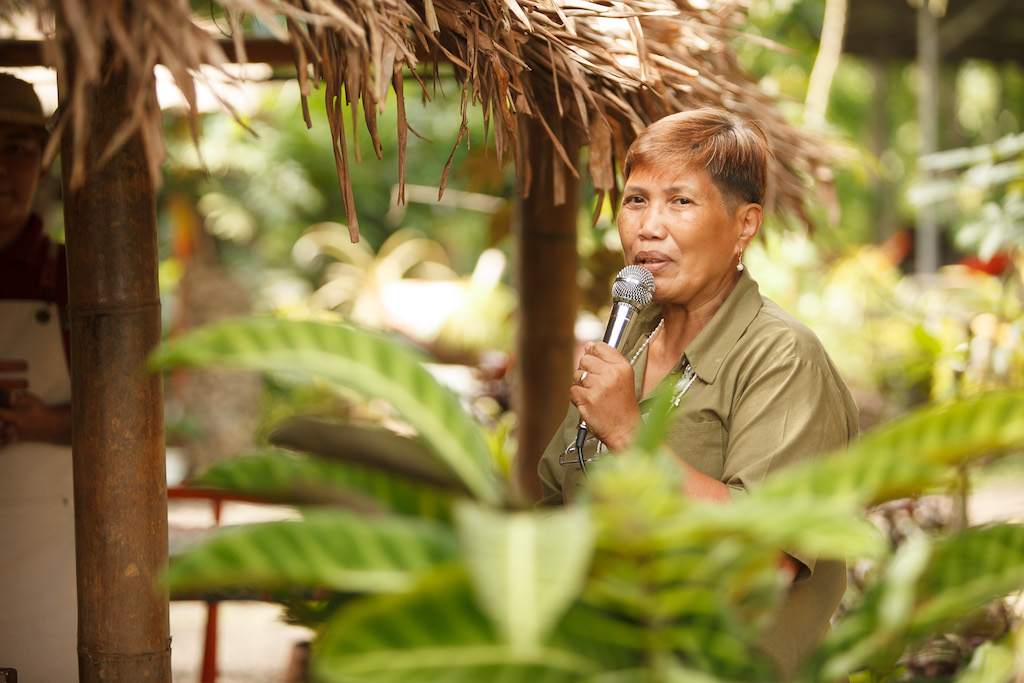 And if there's one thing that can really reel people in, Decal thought, it would be the region's unique food offerings.
Here, I list some of the stops we made on our two-day gastronomic tour with San Miguel Foods Culinary Center in celebration of National Food Month last April. And, of course, with it, the delicacies and dishes that made the trip all worthwhile and worth coming back to.
Aurora Filipino Cuisine
1488 Pedro Guevara Ave., Santa Cruz, Laguna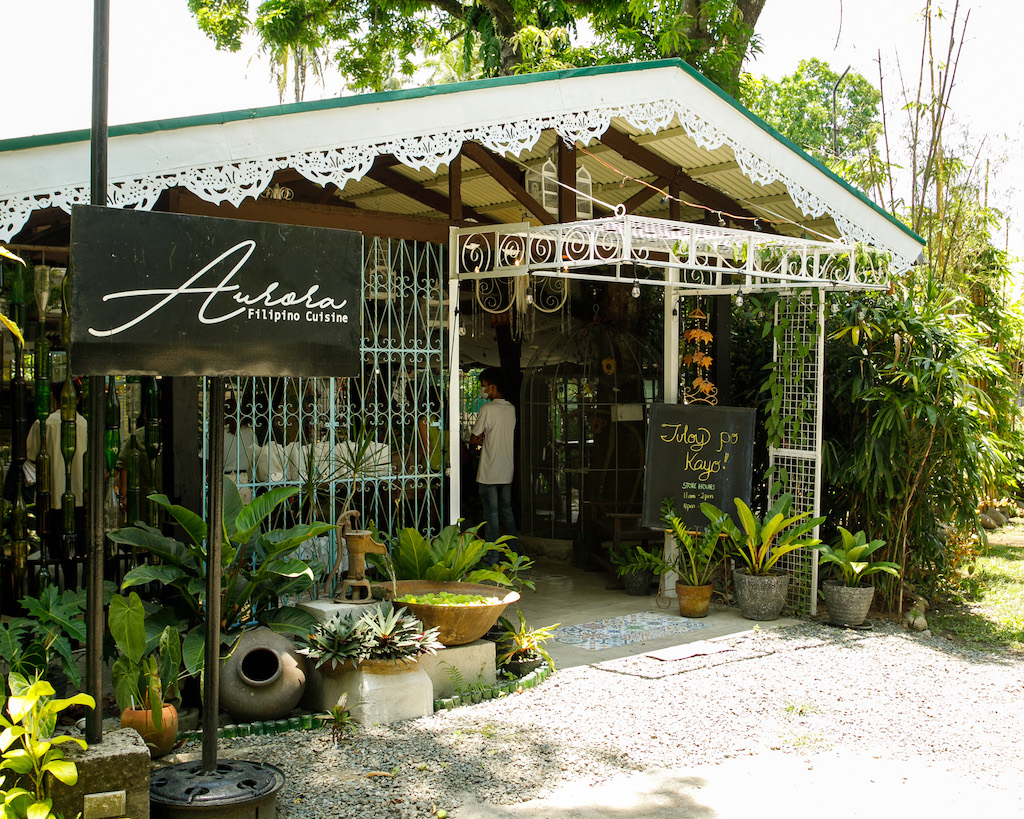 Our first stop is a family-owned restaurant founded by siblings chef Theodore Day Salonga and pastry chef Gel Salonga-Datu in 2016 and named after their maternal grandmother.
During our visit, we were welcomed by an ensemble of folk dancers and a brunch spread that consists of local bread, innovative takes on breakfast classics, cakes, and kakanin, and, of course, a selection of heirloom recipes that are Santa Cruz, Laguna staples.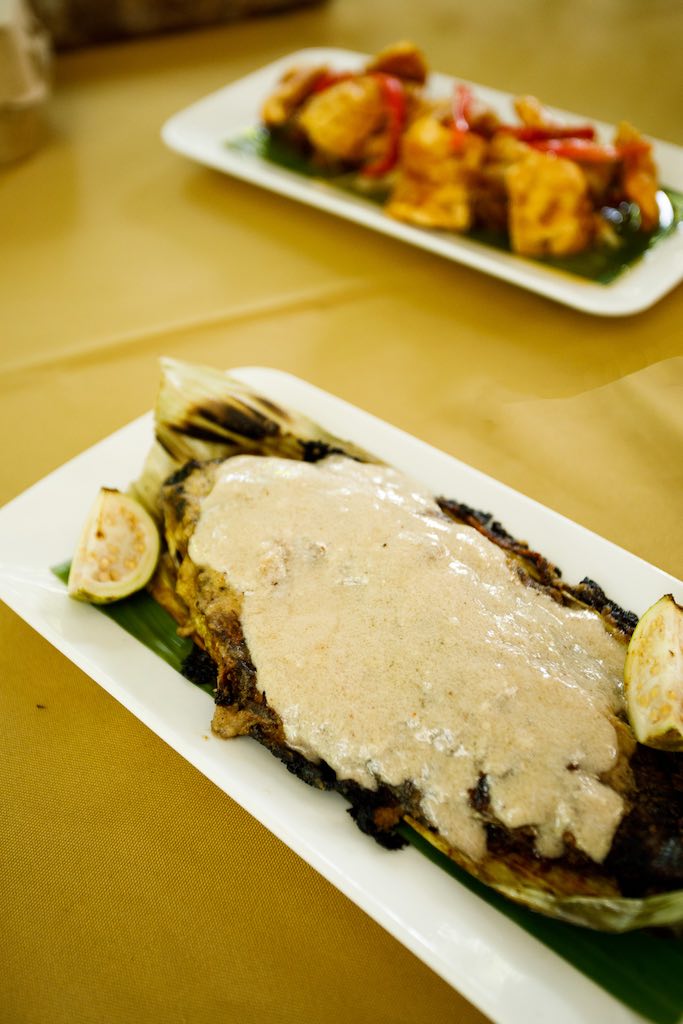 Sinugno tilapia was a revelation with its considered combination of the popular freshwater white fish and vegetables that are usually found in a pakbet. It was a fitting starter to the Quezon-Laguna culinary trip, as we soon after found that this is one of the many ways Tagalogs utilize coconut and its by-products.
For this dish, Aurora uses locally-grown tilapia ensuring a clean taste. It is first grilled then cooked in coconut milk extracted from coconuts harvested in their own backyard because when you live in CALABARZON, everyone has one or more trees. The result is a creamy, smoky sauce that envelops the flesh and the vegetables.
Linang ni LK
Lucban-Luisiana Rd., Brgy. Kalyaat, Sitio Pandak, Lucban, Quezon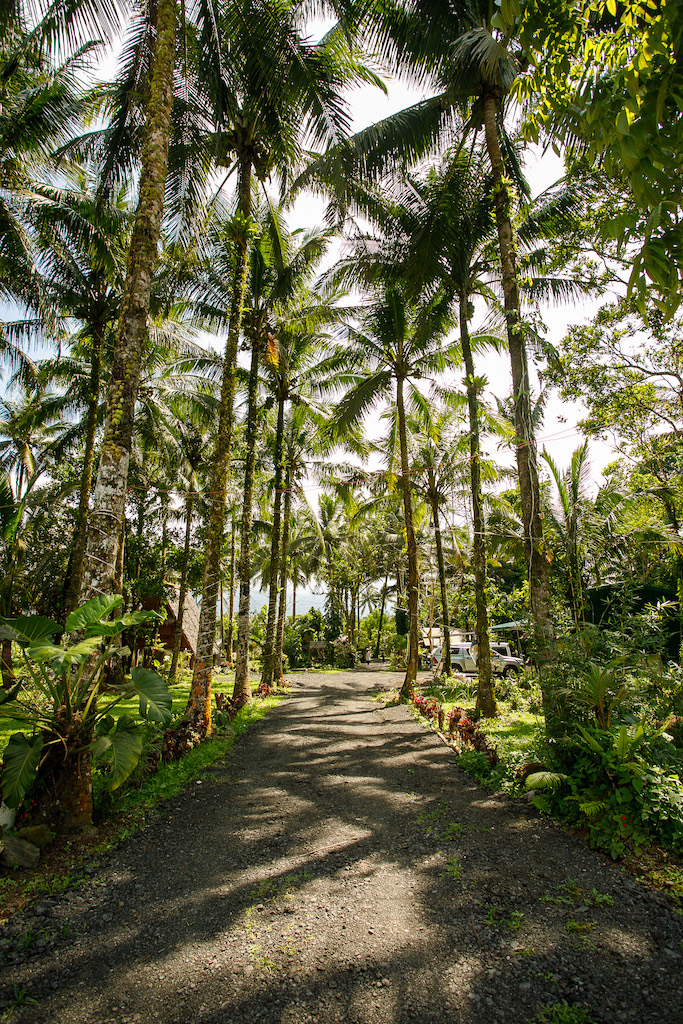 A quintessential Quezon dish is the pancit Lucban also known as the pancit habhab after the manner by which it is customarily eaten: without utensils, straight from its banana leaf plate to the mouth.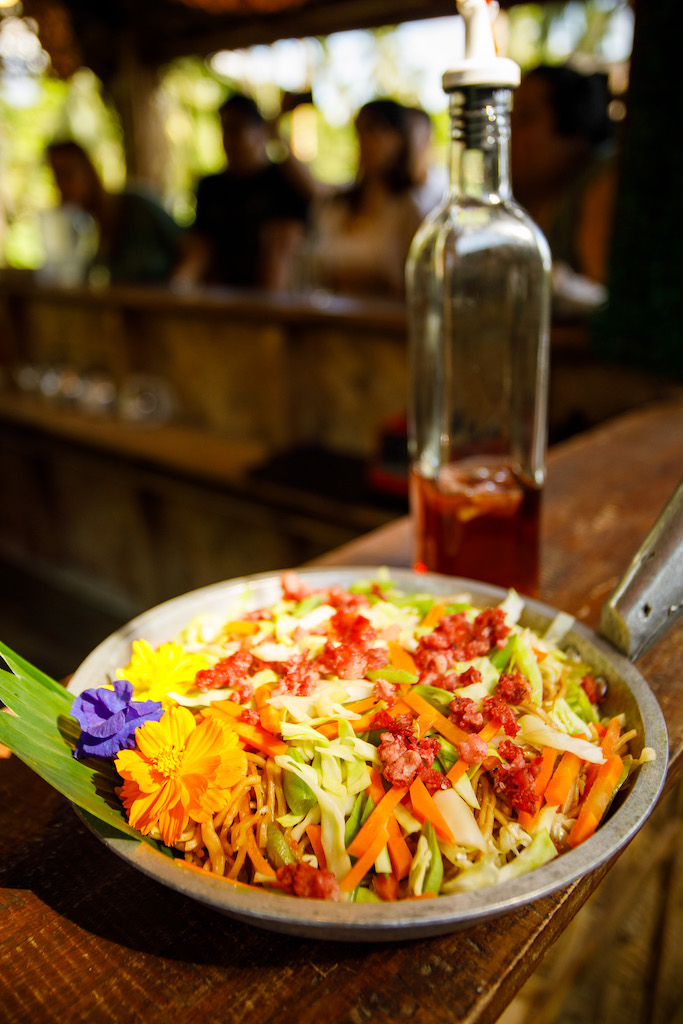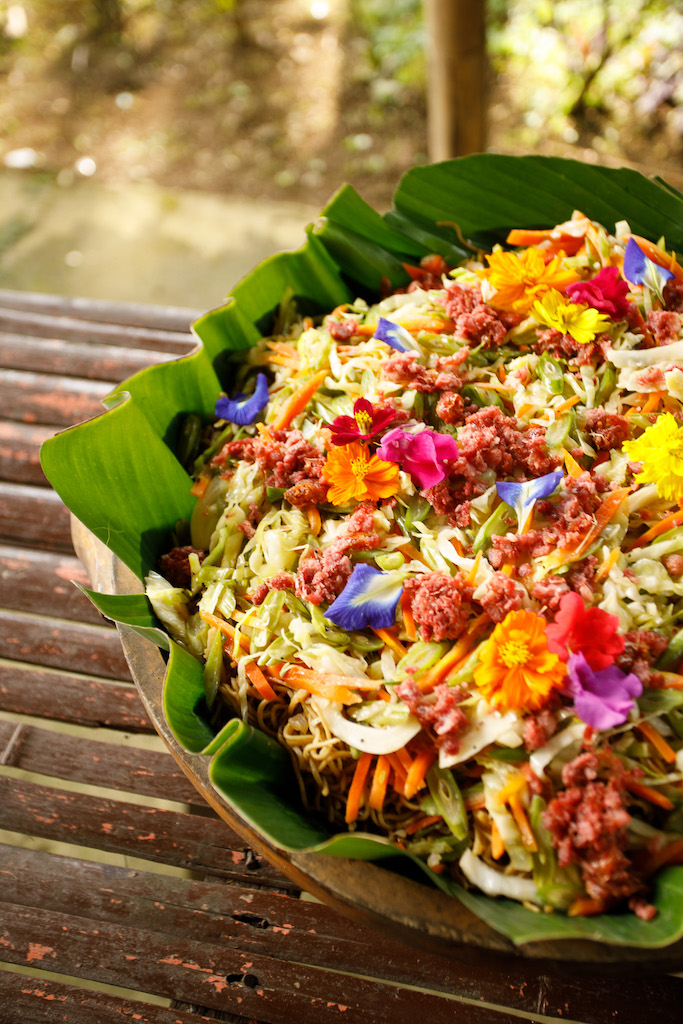 The farm resort owned by Chef Francis Ocoma a.k.a. Lakwatserong Kusinero, hence LK, makes its pancit Lucban with the town's own fresh miki noodles, vegetables and edible flowers from its own garden, and recado Lucban longanisa.
For a truly Lucban experience, locals recommend dousing it with a bit of coconut vinegar, which adds a mild sourness and sweetness to the humble dish.
Jardin de Pio
113 National Highway Brgy. Calumpang, Tayabas, Quezon
This Italian restaurant is the culinary extension of Filipinos' fascination with the Italian saint Francesco Forgione or Padre Pio. For the non-religious, thankfully, Jardin de Pio is strikingly modern without any indication other than its name and a dedicated Italian menu that it's an homage to the saint.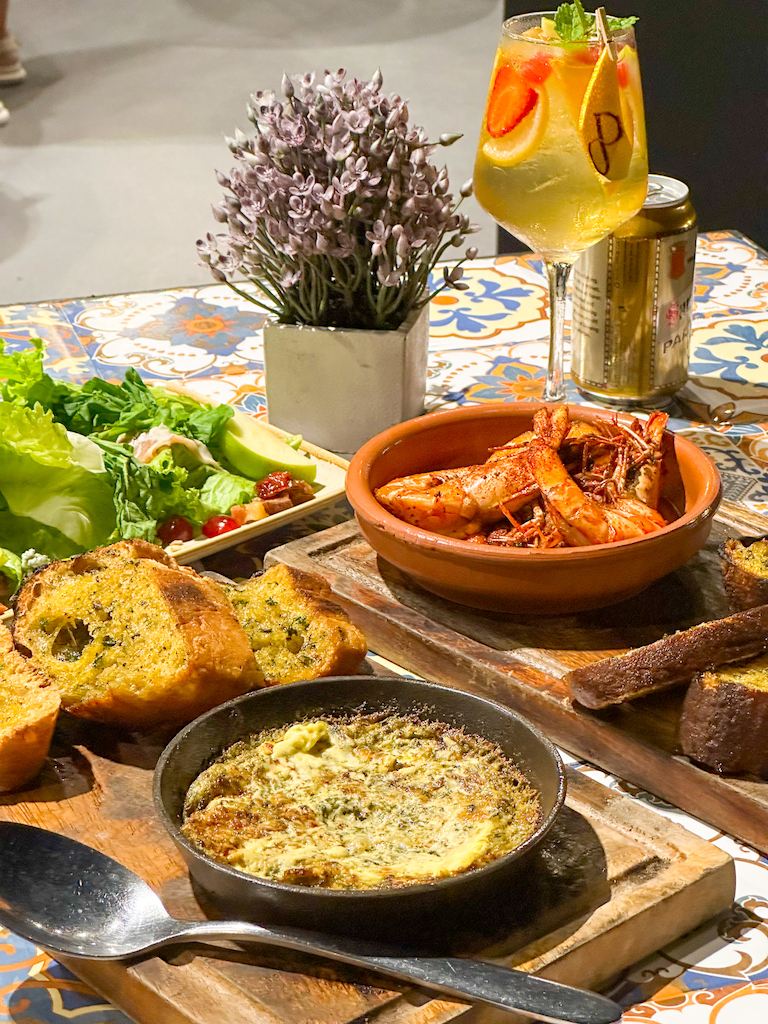 It seems locals do appreciate that dissonance, as the place was near packed when we got there for dinner. The menu is a decent attempt at Italian cuisine considering its location. We were served an assortment of pasta, pizza, and a variety of sourgough-paired dishes like the pan de ajo and the indulgent gambas aligue, which had me scared for a few seconds about my cholesterol levels.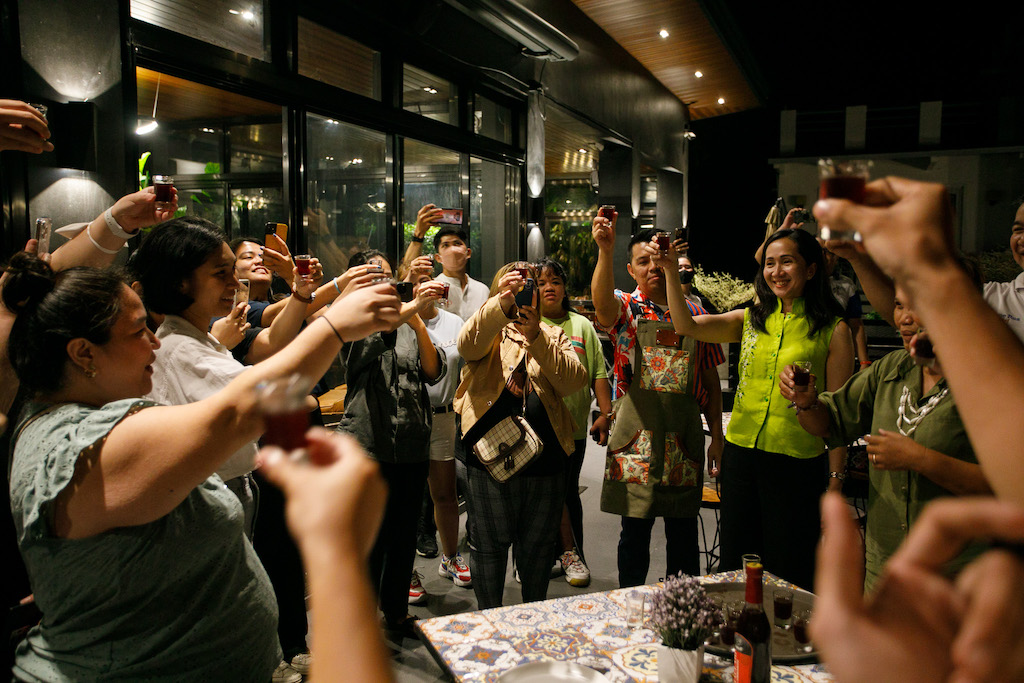 But what truly made this dinner memorable is a pre-meal ritual led by Decal starring the province's star export lambanog. She told us about Quezon's enduring tradition of tagayan or the communal way of drinking accompanied by a song and a dance that men and women partake in.
She passed around shots of local berry-flavored lambanog that is tamer in alcohol content than its classic counterpart but could rival red wine in flavor. Nonetheless, we still had a good buzz not unlike downing a few glasses of natural wine.
Sitio de Amor
KM 88.8 Maharlika Highway, Purok Paraiso, San Antonio I, San Pablo City, Laguna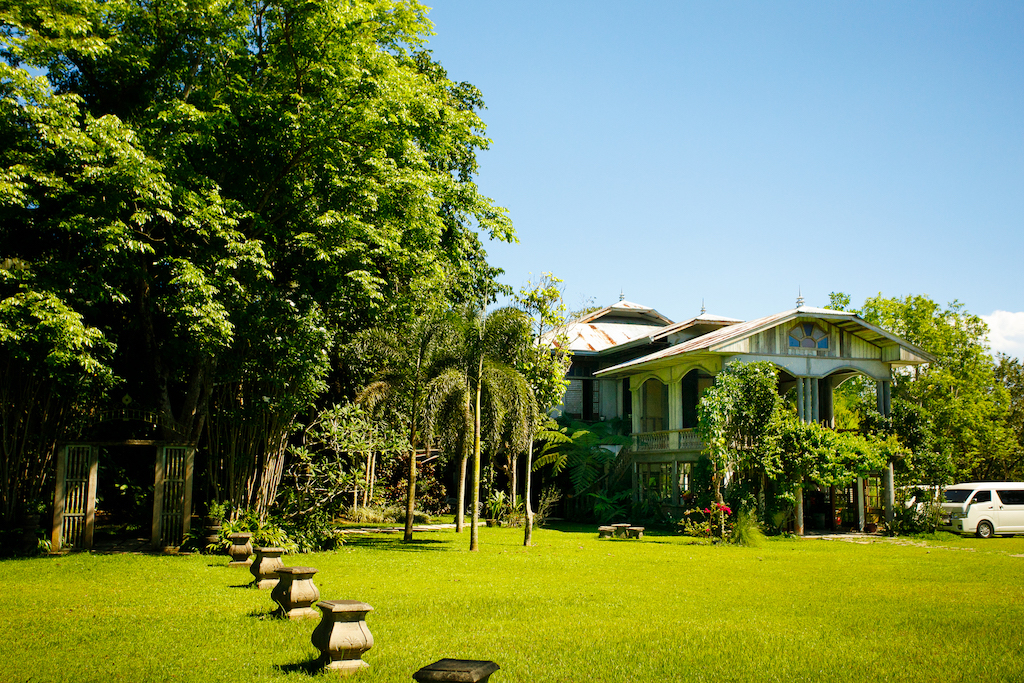 The six-and-a-half-hectare property has a picturesque collection of relocated and restored ancestral houses from around Quezon Province, including that of Spanish-born Filipino businessman and politician Tomas Morato.
The tour of the property and individual houses in itself is a delight, especially with the owners' design touches on top of the structural wonders of each abode. For example, they've retained most of the parts of each house but outfitted them with traditional Filipino home fixtures including grandiose beds, capiz windows for optimal ventilation, and wood furniture sculpted by one of the owners himself.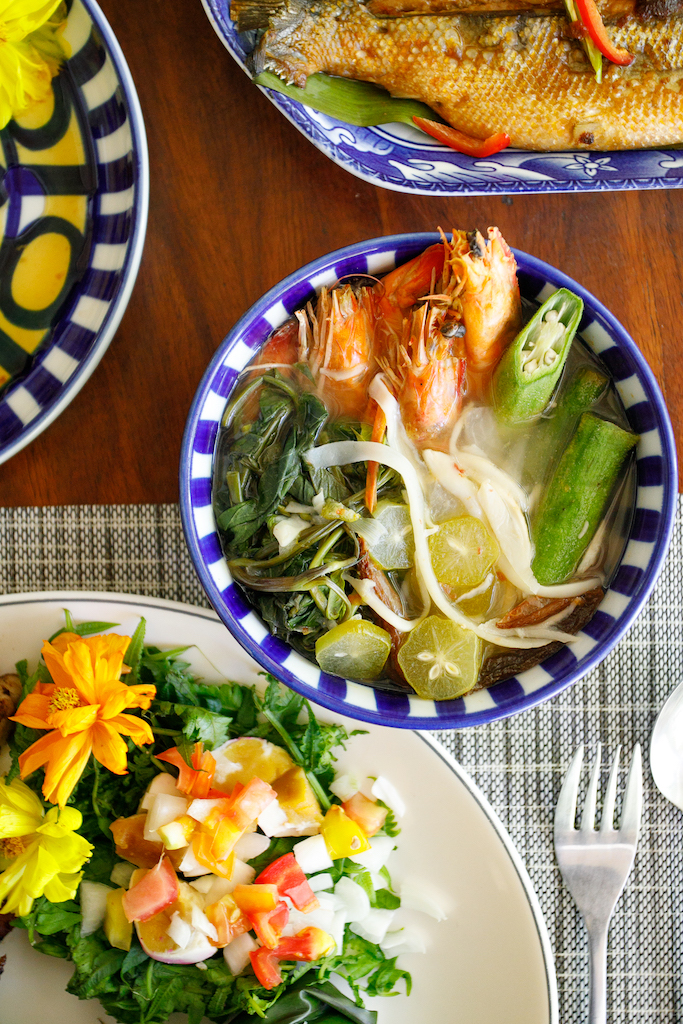 Back in the restored Morato house, the tour is made even more special with a farewell lunch spread courtesy of San Pablo-based catering and styling business Everyday Eden.
Laid on a long table along with an arrangement of flowers and fruits are rice individually wrapped in banana leaf, chicken inasal, inihaw na liempo, and sinaing na bangus accompanied by a side of sinantolan, ensaladang mustasa at kamias, and a life-changing kulawo or banana heart stewed in burnt coconut milk.
And then there's the main event: a build-your-own bowl of sinigang na hipon corner. In lieu of a mouth-puckering sour broth, prawns and vegetables are simmered in a sweet soup of coconut juice and coconut meat, an apt end to our culinary exploration of the coconut-forward cuisine of Quezon and Laguna.