Ask food historians about the origin of our favorite summertime treat halo-halo and they will all point you to its Japanese roots. Both food historian Felice Prudente Sta. Maria and historian Ambeth Ocampo found evidence that perhaps the precursor to the halo-halo we know today is the Japanese mitsumame (or mongo con hielo in Nippon) and kakigori; both are desserts of shaved ice with sweetened ingredients, usually beans.
Food writer Doreen Fernandez's origin story of halo-halo involved mono—a glass of crushed ice with caramel and sometimes evaporated milk—with a side of espionage. She writes in her 1976 book with multihyphenate Gilda Cordero-Fernando that, after the bombing of Pearl Harbor, mongo con hielo parlor proprietors were later revealed to be Nippon Army officers. The authors also allude to halo-halo's probable date of origin in the same book: sometime in the 1920s upon the introduction of ice in the country.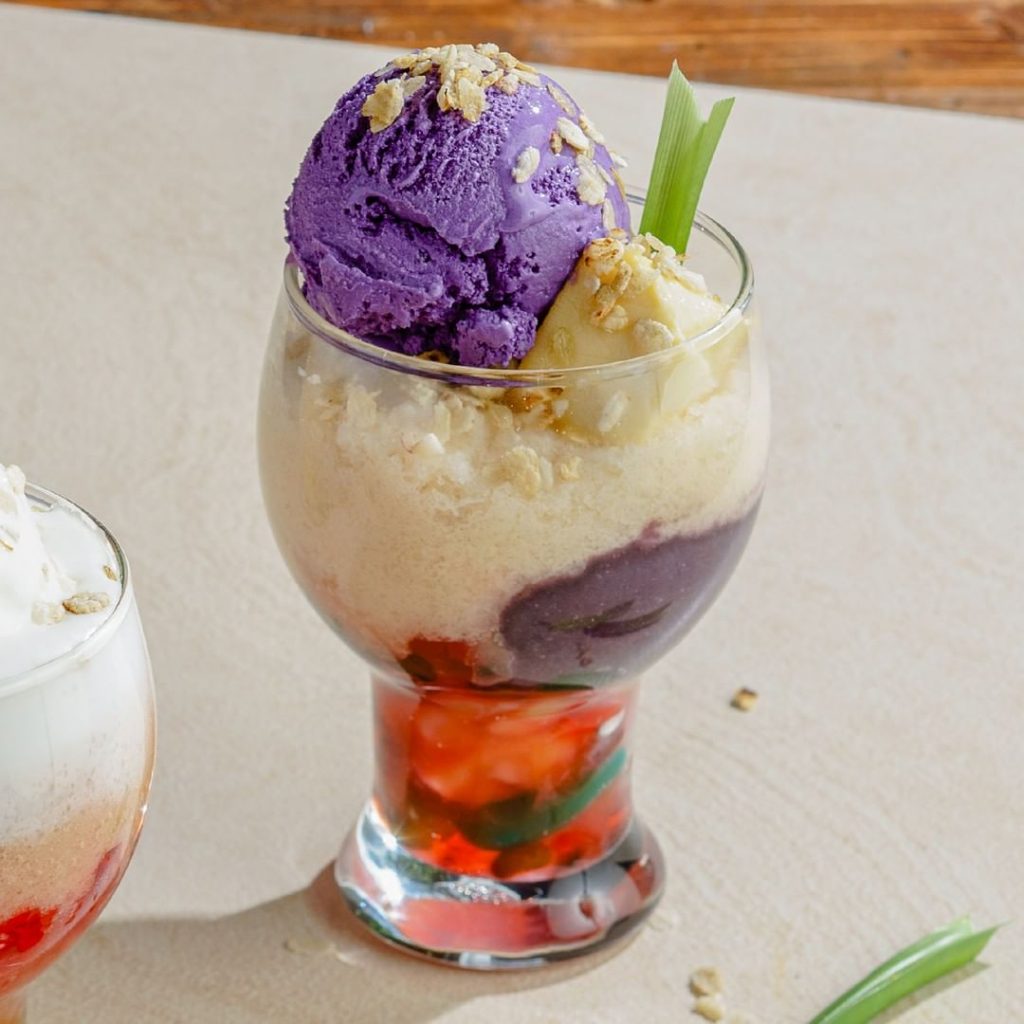 Today, halo-halo represents the Filipino nation itself. When referring to our cuisine on the international stage, alongside adobo and sinigang, one never fails to mention halo-halo, even in its most diluted and vaguest form.
In 2016, for example, alongside popstars Sia and Halsey, a version of this ubiquitous Pinoy refreshment made an appearance at the Coachella Valley Music and Arts Festival. Los Angeles-based Filipino-Canadian chef Isa Fabro's gluten-free and vegan halo-halo had fruity pebbles, pineapple, soft tofu, coconut milk and Red Bull alongside the usual suspects like ube, nata de coco and what could only be a substitute for macapuno; in lieu of the silky and sweet coconut sport strips were shredded coconut meat.
Not your typical coconut
The halo-halo I grew up eating—nay, selling streetside during the summers of my youth—was as traditional as it gets. I had a manual ice shaver or pangkaskas, a half trapezoid metal clam contraption with a blade underneath, that shaves ice with every push.
P20 cups would be filled with my mother's homemade saba, beans and jackfruit preserves, cubed gulaman, large sago, shredded melon, kamote jam (a cheap substitute for ube halaya) and nata de coco bought from the market. Sometimes, when she's feeling a bit generous, she'll make leche flan and ramp up the price to P25 a cup. On luckier days, when she'd manage to wake up early to go to the wet market, there would be my favorite sahog: macapuno which occasionally became available, thanks to out-of-town vendors from Laguna and Tanay, where agriculturists grow all sorts of genetically improved crops.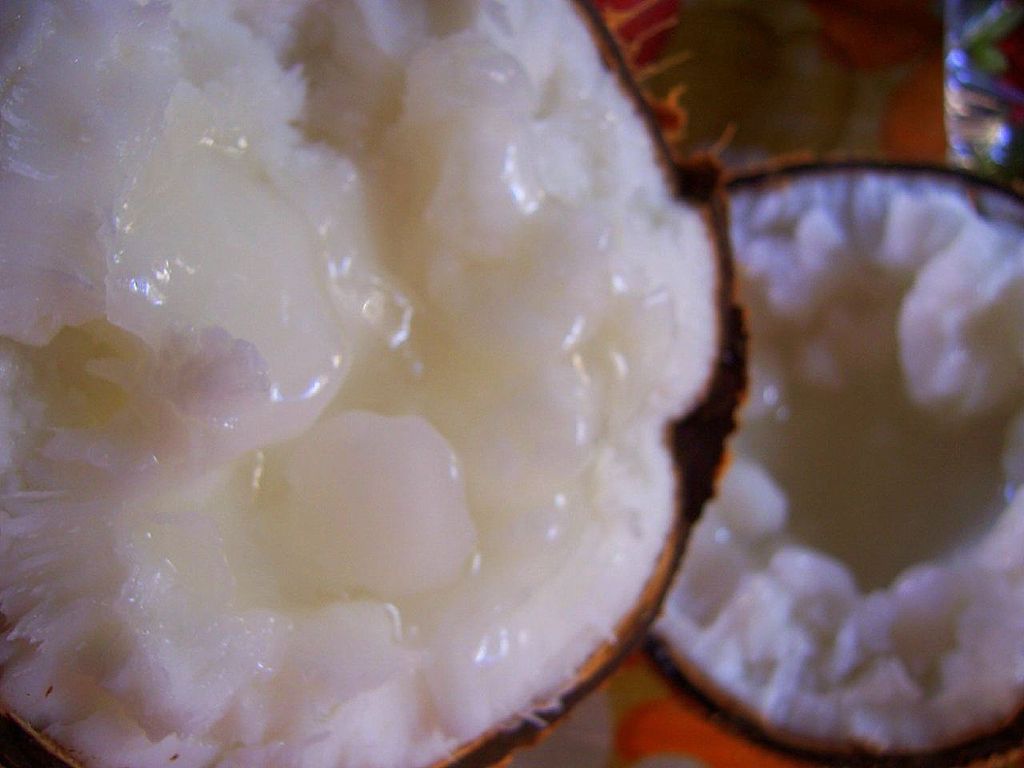 Macapuno or glutinous coconut meat is rare; a regular coconut tree produces one macapuno per five or more normal buko. This is because the macapuno is essentially a failure in germination due to an abnormality of the endosperm. Instead of growing to be normal coconuts with a hollow inside filled with coconut water, macapuno has a thick inside that mostly consists of soft, glutinous meat. Some may see it as a "freak" coconut, but for coconut farmers, it is actually a prized crop owing to the demand for this rare ingredient.
Glutinous coconut is said to cost up to 10 times more than regular ones. To give you an idea of how in-demand it is, imagine when the country's largest fast-food chain Jollibee with its over 1,000 stores nationwide and a hundred more overseas launched its ube macapuno pie earlier this year; they'll need tons of macapuno to supply all its stores.
This was why the University of the Philippines Los Baños (UPLB) developed a macapuno embryo culture technology in the 1960s to specifically cultivate only or mostly macapuno-bearing trees.
According to the Philippine Coconut Authority (PCA), to breed a true-to-type macapuno tree that could yield desired results 98 percent of the time, the normal embryo of the macapuno nut has to be cultured in vitro. The process takes about two years before an in vitro-cultured embryo is ready for field planting. The PCA has macapuno fields all over the country where thousands of these trees are grown to meet the demand for ube's partner-in-crime and one of halo-halo's unsung palm-derived trifecta.
Cream of coconut water
Three to five pieces of nata de coco, about a square centimeter each, is strictly allocated per cup when I was selling halo-halo. Otherwise, my mother would scold me for almost bankrupting our small business. At day's end, when there are leftover nata de coco, I would snack on them for merienda at 5 p.m.—a pre-dinner affair really.
For the uninitiated, nata de coco are these translucent jelly-like cubes of fermented coconut water that are juicy and chewy to the bite. You can buy them from the palengke floating in what I could only assume is buko juice. My mother simmered them with some sugar and pandan leaves to sweeten and sort of preserve them while also giving them a fragrant smell.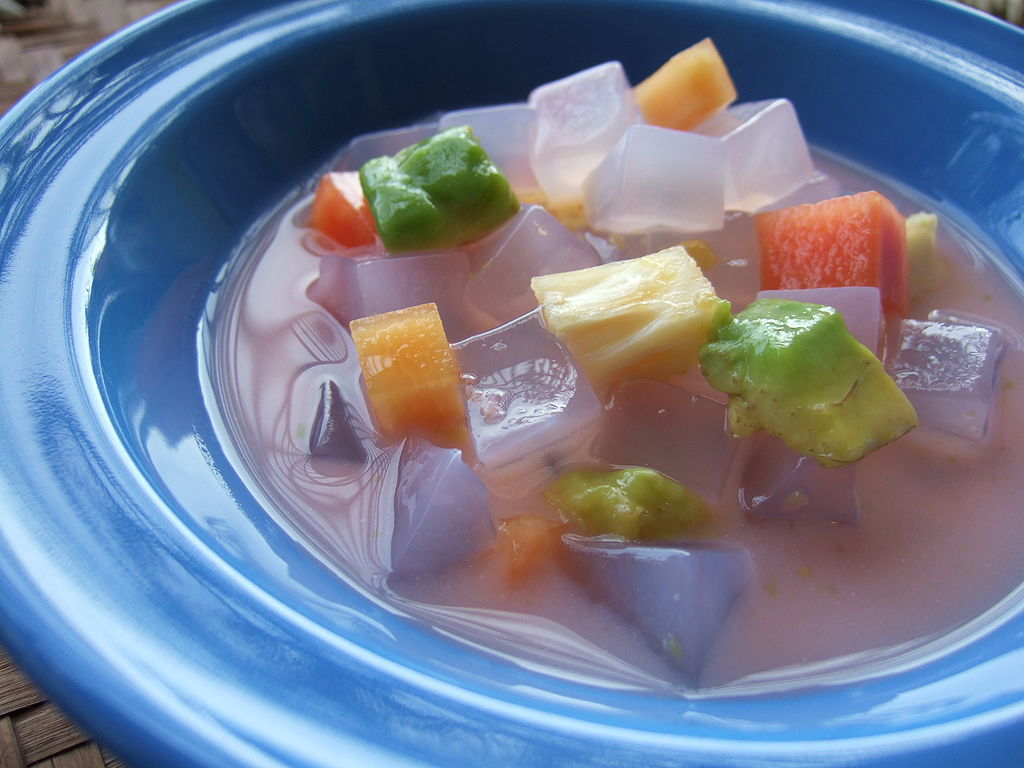 Outside of halo-halo and its life as a fiesta dessert, nata de coco has many industrial, even nonfood uses. A 1999 booklet commissioned by the National Academy of Science and Technology (NAST) lists nata de coco as high-cellulose diet food, cheese and yogurt stabilizer, hotdog and sausage casing, candy, resistors in audio speakers and baffles, food texturizer, substitute for raw fish in sushi, potential replacement for traditional cellulose, pharmaceutical ingredient, bacterial media, component in the manufacture of high-grade paper and fiberglass filter sheets, and finally as an ingredient in fruit cocktail, ice cream, sherbet and cold soups.
Much like most food staples, nata is formed through fermentation. A bacteria called Acetobacter xylinum on the surface of sugar-enriched coconut water feed on the sugar present in the coconut water mixture and in the process produces thin threads of cellulose.
Nata de coco in its raw state is a gelatinous, white or creamy-yellow to pinkish substance that floats on top of a coconut water mixture composed basically of cellulose, water, and a small proportion of minerals. "Float" is an important term here as it is where nata derives its name from, the Latin word natare. Either that or the Spanish word for cream, as in cream of coconut water.
The origin of the nata goes back to 18th century Pagsanjan, a piña cloth-producing locality in Laguna. I say nata here because what we know as nata de coco—or at least the process of making it—started with a different fruit altogether. The story goes that after bleaching the piña fiber with acidic juice extracted from the pairings of the pineapple fruit, the leftover juice was left to rot and on its surface a slimy substance grew. "Someone must have tasted it and found it good," the booklet said; people were a lot braver and more experimental in those times.
It wouldn't be until 1949 that nata de coco was born, after
a chemist named Teódula Kalaw Africa suggested the use of the all-year-round bearing coconut tree and its fruit juice as a substitute in making plant-based cellulose.
The sad part about the rise of nata de coco is that Africa remains to an unknown scientific figure—being a woman at a time when they were confined within the household. The NAST booklet glosses over this fact by reducing her name to a genderless T.K. Africa.
Coconut's cousin
Coconut may be the tree of life with its boundless uses, but another palm species could nearly strip it of this title: kaong.
Arenga pinnata, commonly known as sugar palm and locally as kaong, is considered a medium-sized palm even at its average height of 20 meters. In Indang, Cavite aka the "Kaong Capital of the Philippines," this palm is short of sacred, cultivated not just for its by-products, but also because the deep-rooted tree helps hold the soil together thus protecting the area against flash floods.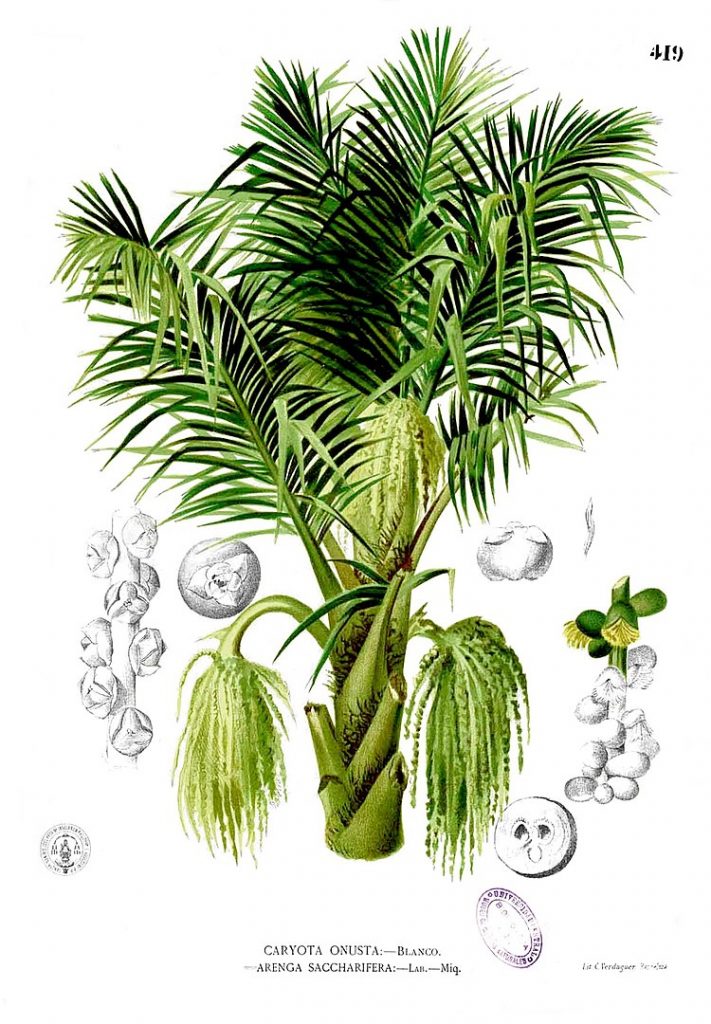 Much like the coconut, its sap can be tapped to produce a variant of the alcoholic drink tubâ called tuhak, as well as vinegar. The same sap can be simmered to produce a thick syrup, left to crystalize and solidify then pounded to produce brown sugar notable for its low glycemic index.
When left alone, the flowers mature to be clustered green orbs of fruits that almost look like miniature coconuts. Inside lies the halo-halo ingredient that's white in color and oval in shape. To get it, the tops of the nut are shaved off then each pebbly orb—around four per fruit—is plucked off. The soft gelatinous kaong is then simmered with sugar to preserve and flavor it before being stored in a jar.
In grocery aisles, you can find kaong in syrup sometimes dyed with red or green food coloring, something I abhor, especially in halo-halo and not just for its artificial color. Commercially produced kaong tends to leave an unpleasant smell/taste when eaten which is comparable to accidentally eating black ants stuck to sugar. Either my palette is not as refined as I thought or I have been eating bad kaong all my life.
My feelings aside, kaong is prized for its crunchy but chewy texture, a welcome addition to any glass of halo-halo with its clashing colors, tastes and varying levels of sweetness. Well, any halo-halo, but ours. I may have inherited my disdain of kaong from my mother after all.