Watching critically acclaimed Filipino films online can be difficult—and in some cases even impossible. And if they do stream, it might be for a very limited amount of time. But that's not to say that they don't exist (or won't be existing) online. Two critically acclaimed Filipino films are hitting streaming services next month. 
"Respeto" and "Leonor Will Never Die" will be making their small screen debut on Netflix next month. "Respeto" will be debuting on March 3, while "Leonor Will Never Die" will debut on March 17—just in time for Women's Month.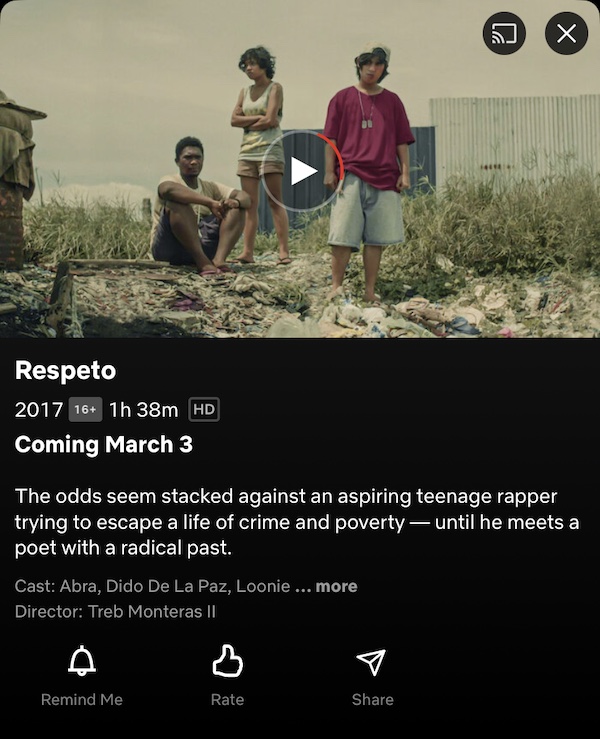 "Respeto" is a 2017 independent film written and directed by Alberto "Treb" Monteras II and co-written by screenwriter Njel de Mesa. The independent drama tells the story of Hendrix (played by rapper Abra), an aspiring young rapper, and his unlikely friendship with Doc (played by Dido de la Paz), a poet who has quit his craft.
The film was highly praised by critics for its commentary on the extrajudicial killings that ran rampant during the time of the film's release. It swept the Cinemalaya Film Festival the year it was released, bagging seven awards, including Best Picture and Audience Choice.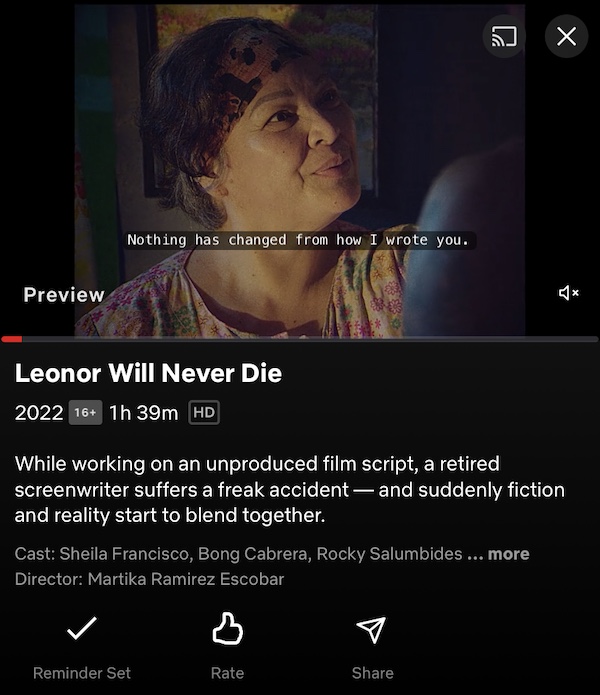 "Leonor Will Never Die" is a 2022 film billed as a psychological comedy-drama written and directed by Martika Ramirez Escobar in her directorial debut. The film is about Leonor Reyes, a former film industry screenwriting powerhouse whose success is seemingly behind her. She starts tinkering with an unfinished script when an accident occurs and starts blurring the lines between reality and her imagination.
The film stars Sheila Fransisco as the titular Leonor and Bong Cabrera as her son, Rudy.
"Leonor Will Never Die" debuted at the Sundance Film Festival, where it won the special jury prize for innovative spirit. Since its Sundance debut, the film has gone on to win four other international awards, including the Toronto International Film Festival's Amplify Voices award.