Ever since its conception a few years back at Hole in the Wall, Bad Bird has been titillating palates with its umami fried chicken. At that time, there were so many other variants in a food court that the duo Charles Paw and Dwight Co decided to focus on fried chicken and sides.
Now, with their latest stand-alone in Megamall, the humble stall embraced the variety of the grill and fryer, churning out Japanese-Korean-inspired dishes for excited diners. Most prominent aside from the mouthwatering smell of deep-fried fowl, is its contemporary interiors described as "brutalist." Depicting the modernist facades of government buildings from the '50s to the '70s, Bad Bird pulls off a customized theme that distinguishes it from its neighbors.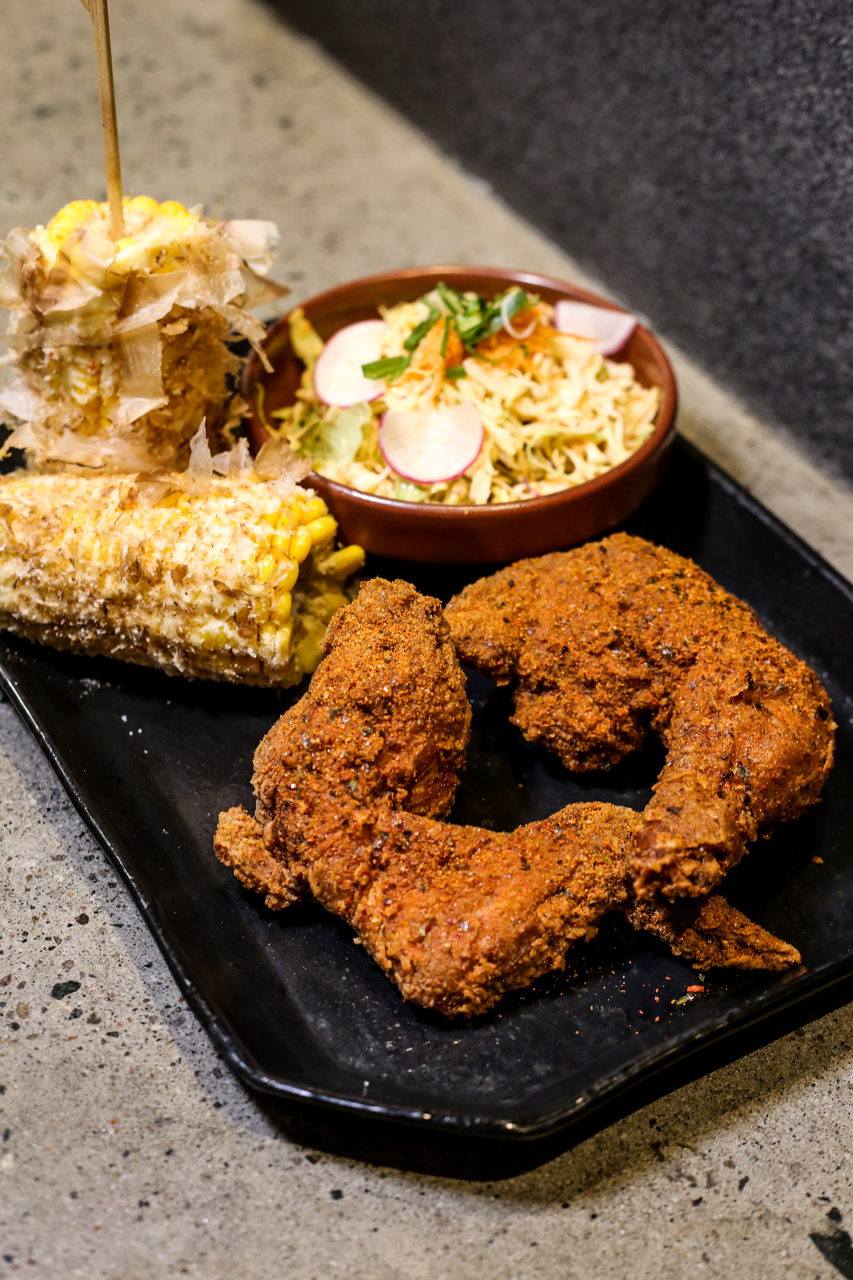 Corn and coleslaw plate with spicy chicken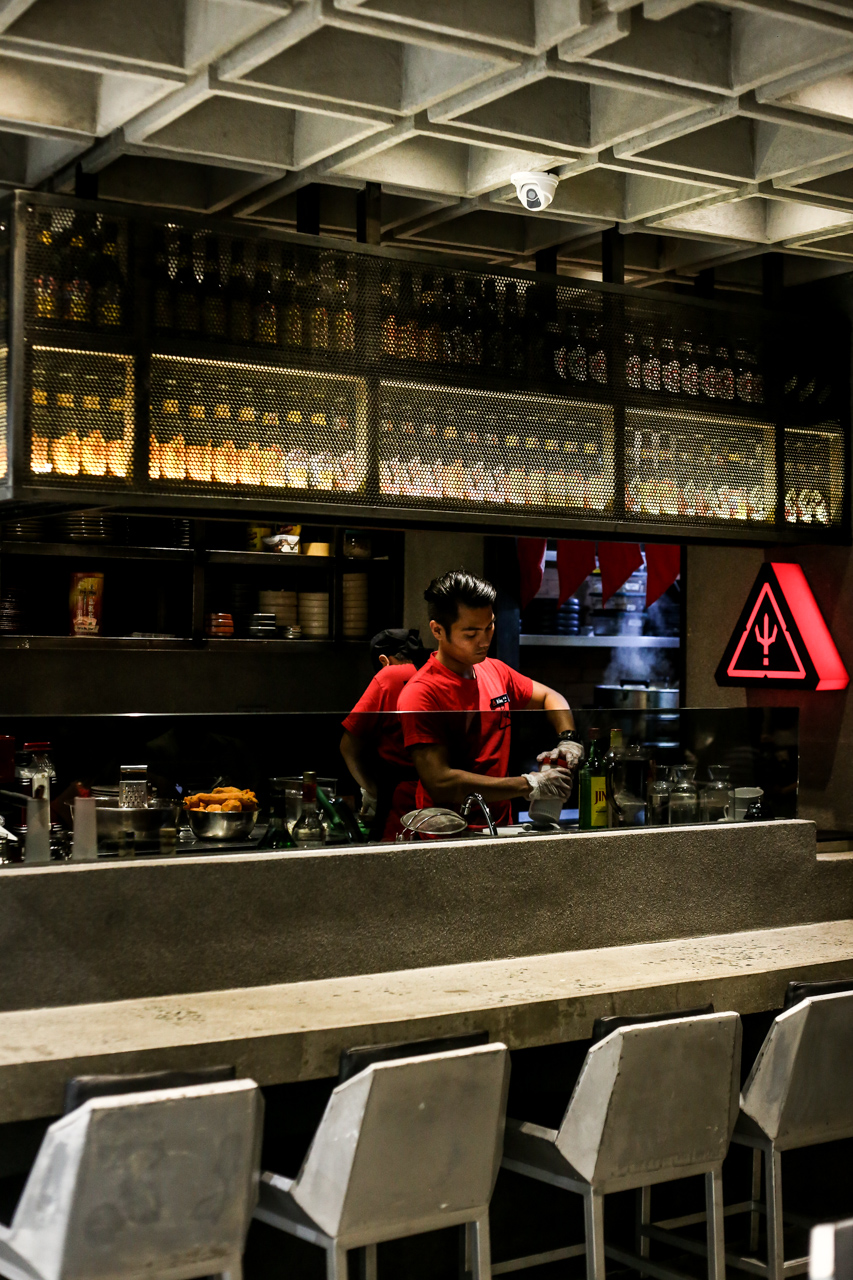 Brutalist-style interiors of Bad Bird
What Bad Bird has now is a roster of signature cocktails that pay homage to its Asian influences: Drunken Thai Tea is your favorite bottled milk tea with Don Papa Rum; Gin Soju Fizz is a medley of gin, muddled apples, soju, and club soda; Kim Jong Mary is a play on the quintessential Bloody Mary and North Korean's bloody dictator, sporting soju, vodka, gojuchang (red chili paste), kimchi, and rimmed with Korean chili salt; Melon Popsicle is a romp on the Korean ice lolly Melona, a sucrose combination of Midori liquer, vodka, honeydew melon puree, and vanilla foam. Apart from cocktails, they offer craft beers and non-alcoholic drinks like their Iced Oolong Tea.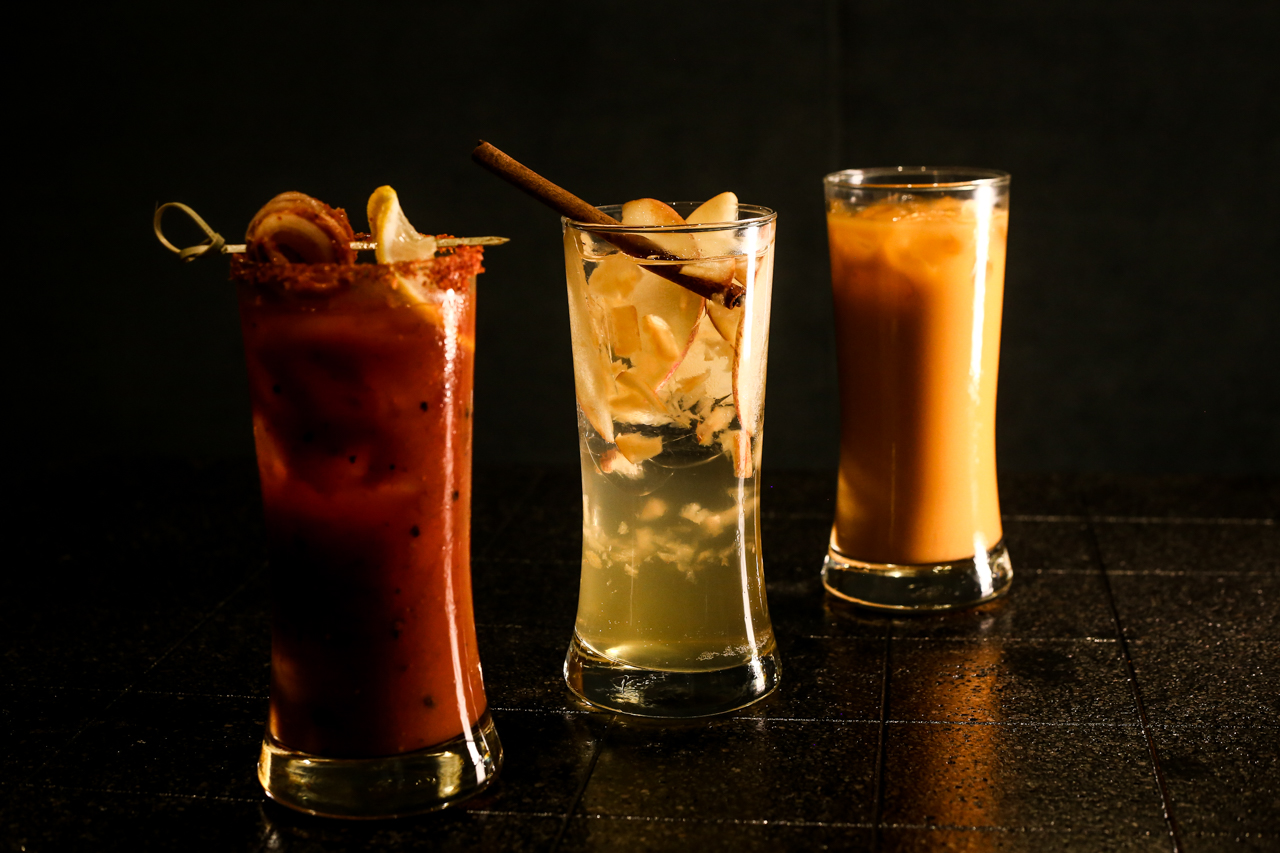 From left to right: Kim Jong Mary, Gin Soju Fizz, and Drunken Thai Tea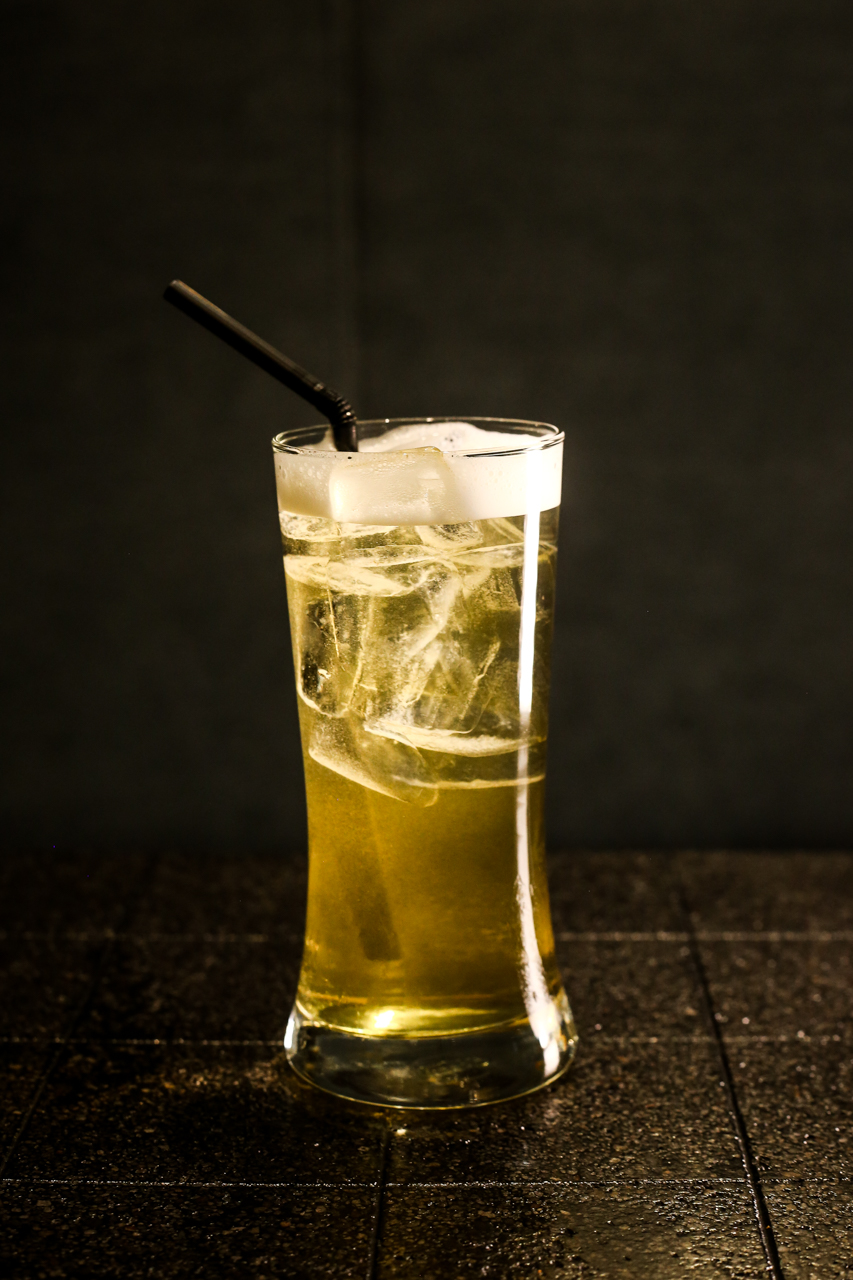 Iced Oolong tea
Back to their roots, Bad Bird still offers its iconic plates and three spice levels: safe, spicy, and for the daring, chemical. The Waffle Plate includes two considerable cuts of chicken, two sweet potato waffles topped with homemade miso butter and maple syrup on the side. The Corn & Coleslaw Plate includes two cuts of fried chicken, Bad Bird's signature corn and kimchi coleslaw. The Dirty Rice Plate includes two pieces of chicken and Bad Bird's coveted dirty rice with bacon, kimchi, and tamago slivers.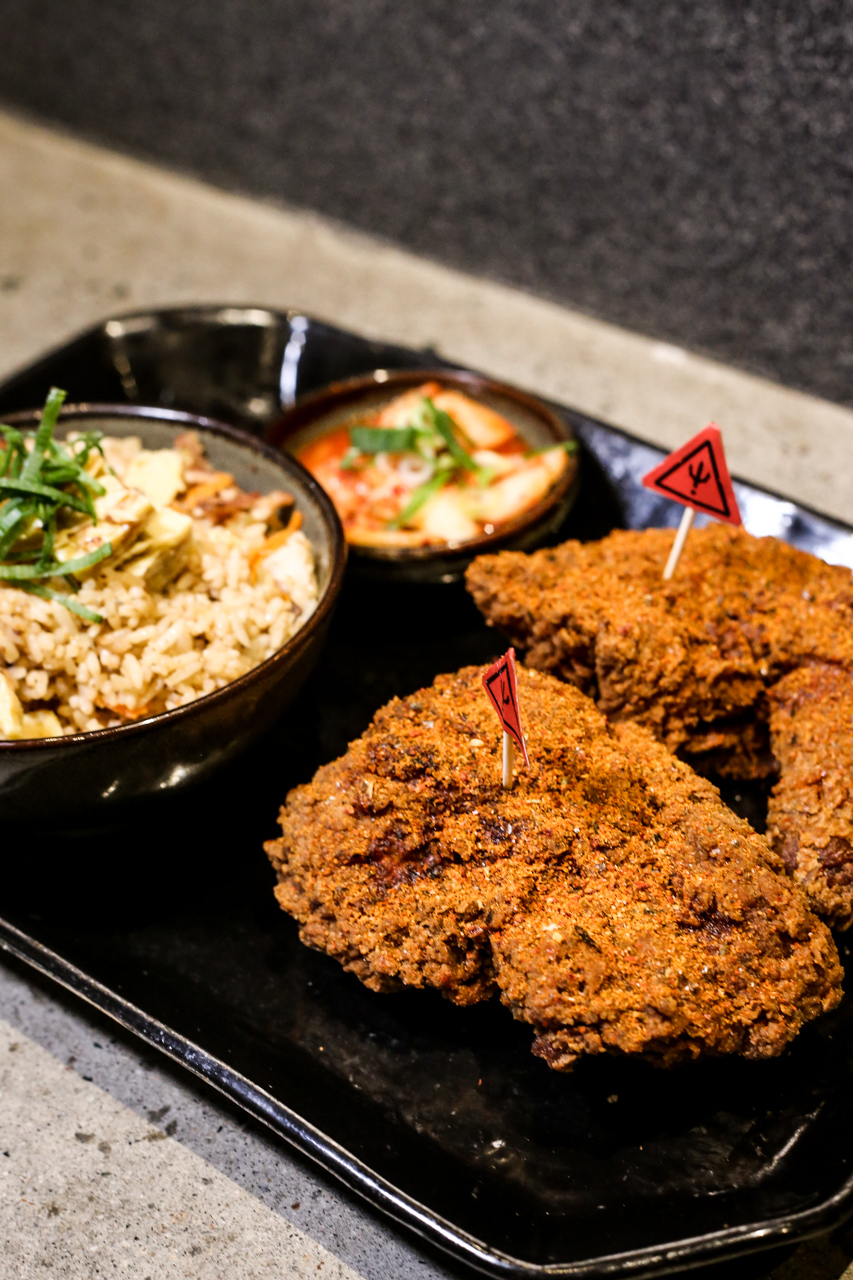 Dirty rice plate with chemical chicken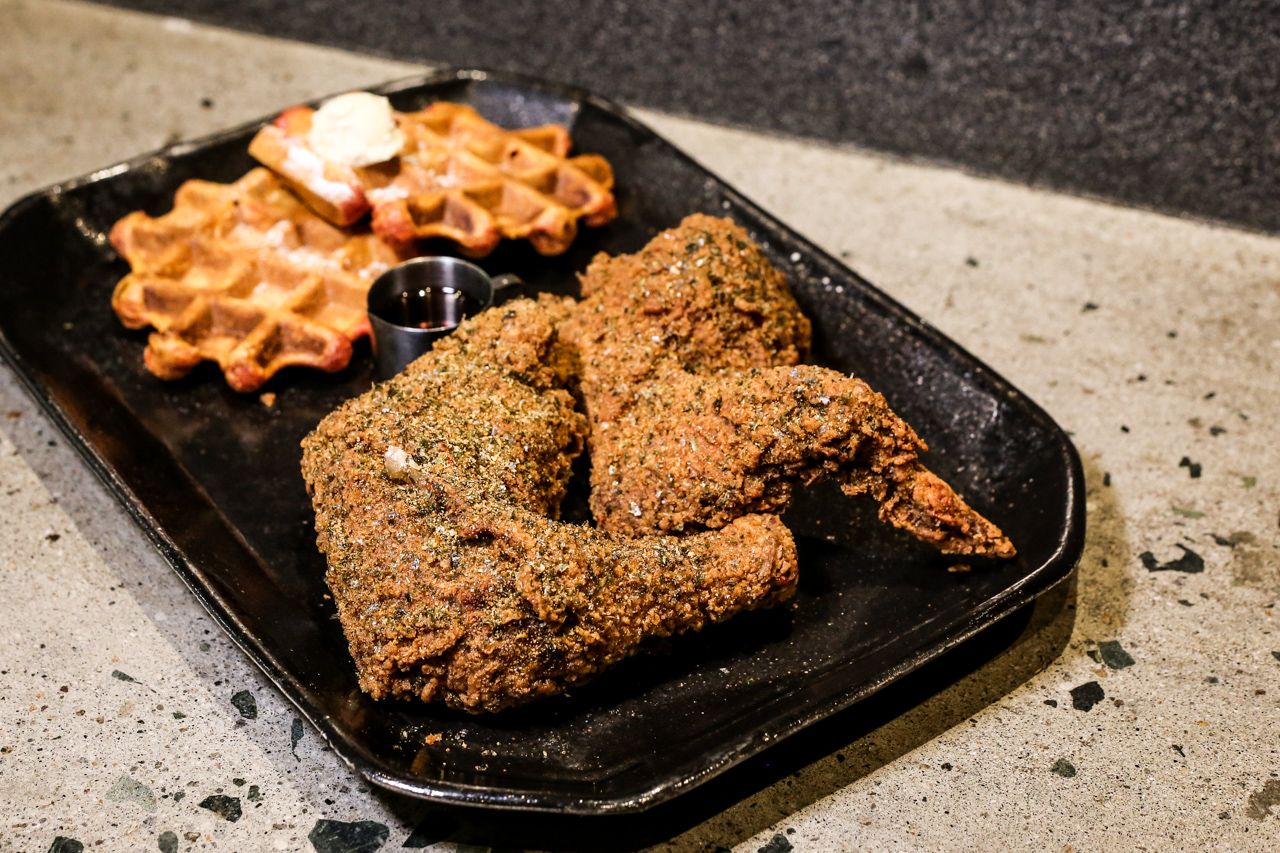 Waffle plate with safe chicken
A recent offering that is already gaining popularity is Bad Bird's For Sharing options that come in four or eight pieces of chicken and their supplementary Hush Puppies, the restaurant's deep-fried cornbread balls.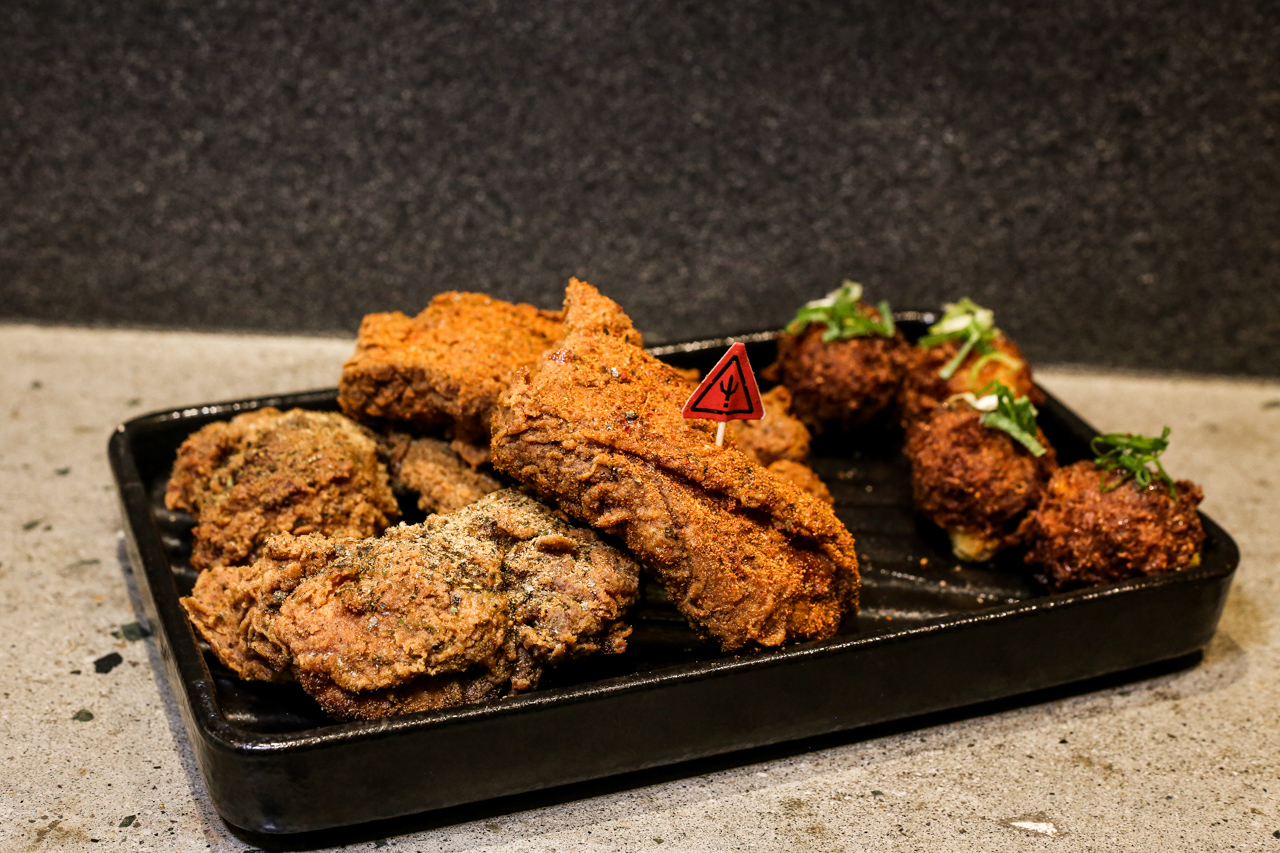 For Sharing: Four pieces chicken of varying spiciness levels and Hush Puppies
Bad Bird wants its customers to have a multi-dimensional dining experience; so, for appetizers, their small plates are close to Korea's banchan and are meant to add variety to the meal. Diners can choose among Popcorn with Crispy Fish, Pan-Fried Fishcakes, Mashed Sweet Potato, Scallion Pancake, Grilled Sesame Caesar, and Eggplant Agedashi, (all pictured below) just to name a few.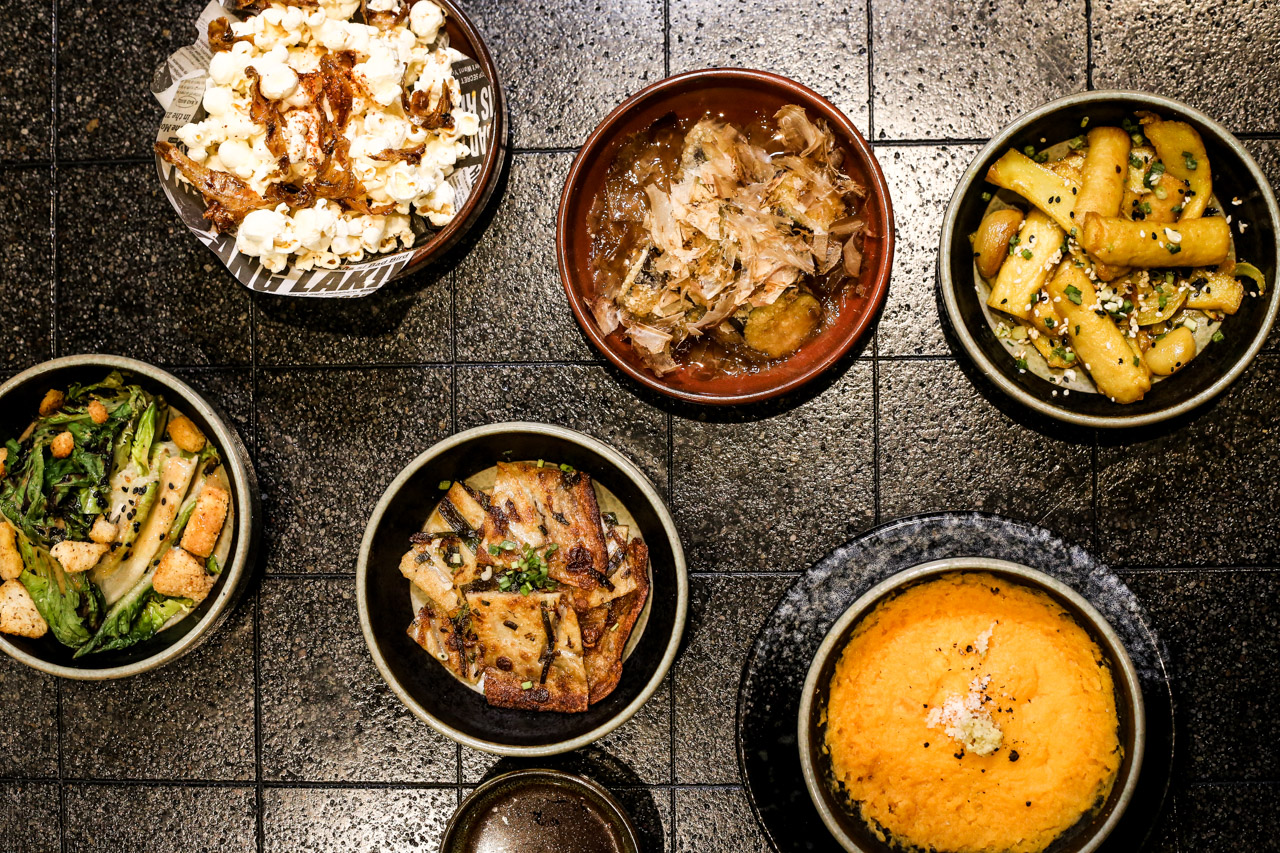 From left to right: Grilled sesame caesar, popcorn with crispy fish, scallion pancake, eggplant agedashi, pan-fried fishcakes, and mashed sweet potato
Their Asian take on the quintessential corndog is manifested as a Prawn Dog, deep-fried battered prawn topped with bonito flakes, katsuoboshi, nori and Japanese mayo.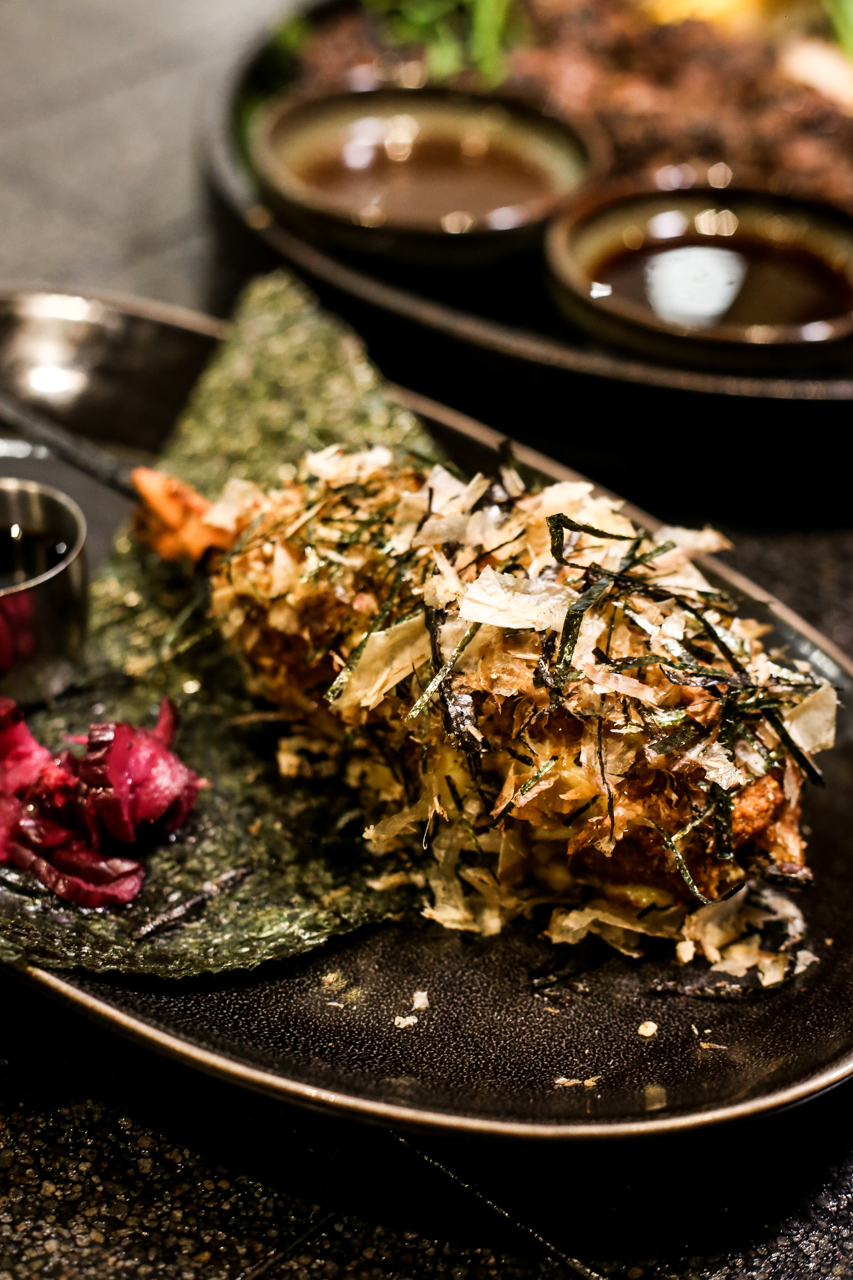 Prawn dog
From the grill, a recent addition of meats to their fowl-centric menu, select from either their Pepper Steak, a Kitayama hanger steak served medium rare; Pork Belly, grilled succulent cuts of local pork; or Bacon-Cut Short Rib, thin strips cut like bacon. All come with the choice of sauces of either mustard BBQ, ginger, hot steak sauce, or black pepper sauce, with grilled Korean pears, corn and greens on the side. Emulating a kabab, the Spiced Lamb may not come with sauce but is a definitely recommended.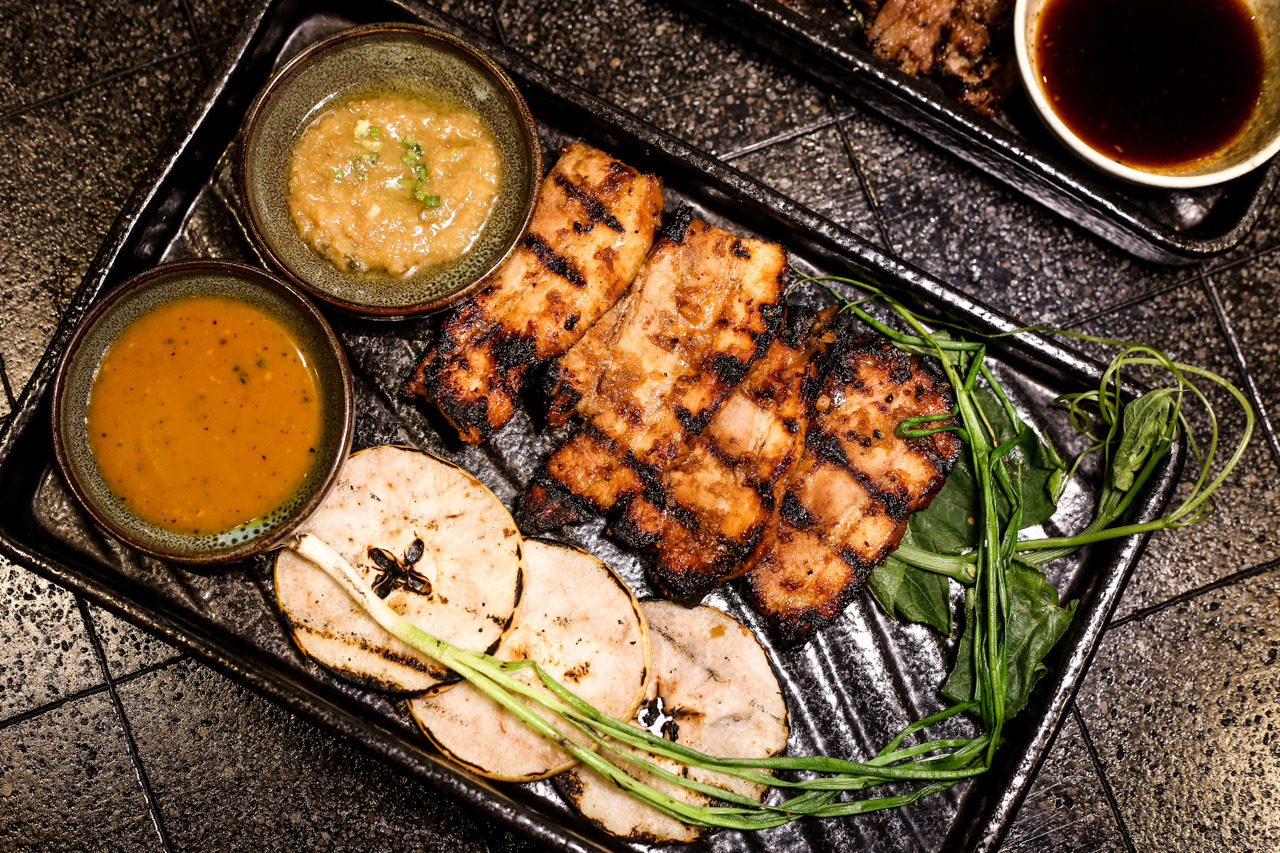 Pork belly with ginger and mustard BBQ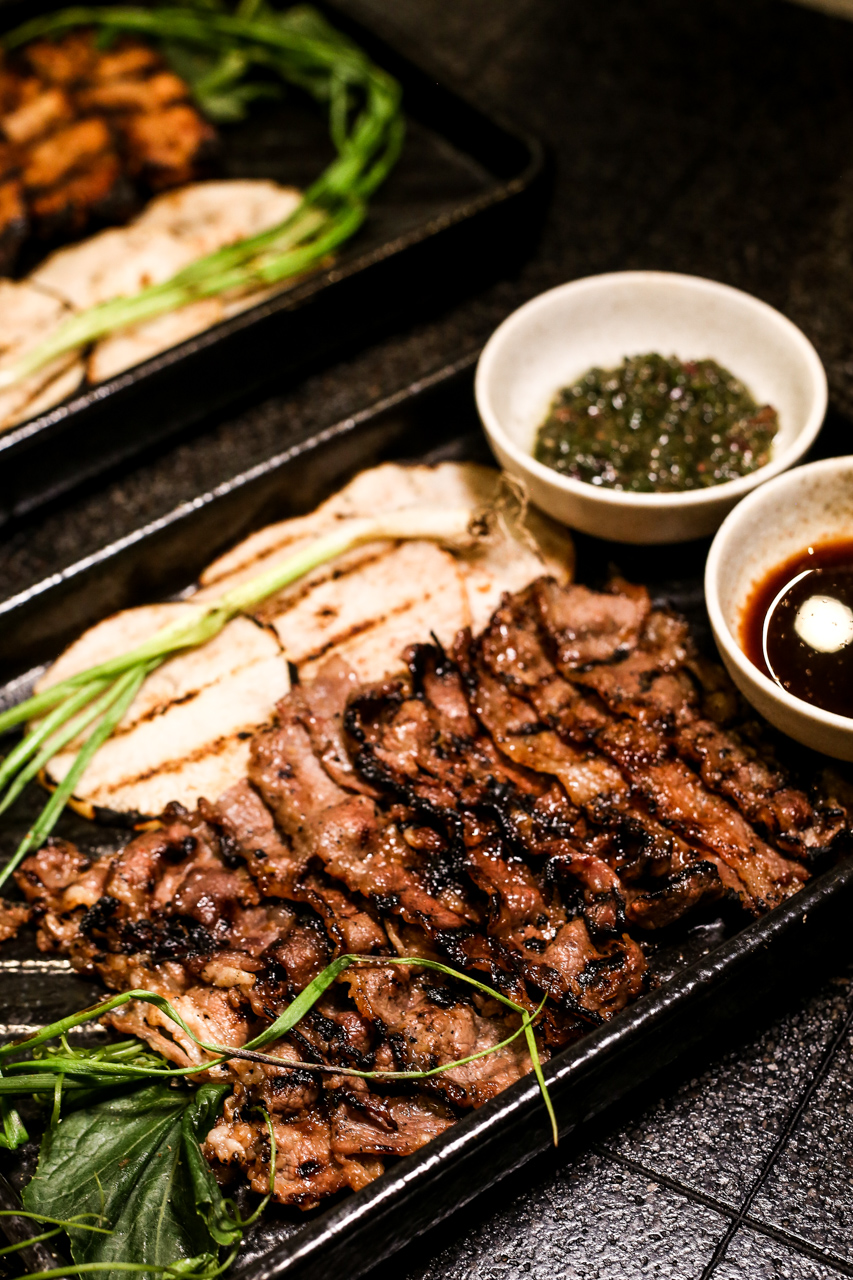 Bacon-cut short rib with hot steak sauce and chimichurri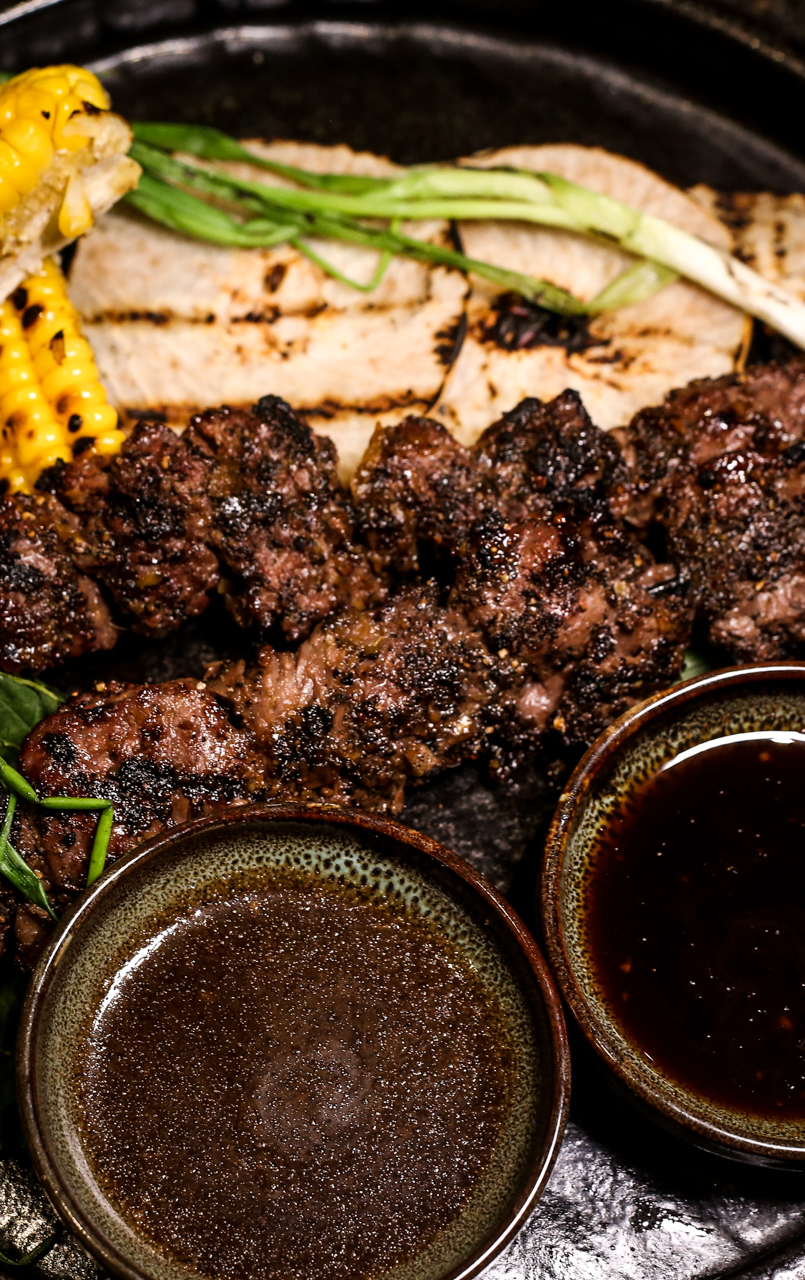 Pepper steak with hot steak sauce and black pepper sauce
Bad Bird may be situated in the midst of numerous competitors, but its one-of-a-kind facade and especially, its contemporary take on comfort favorites keep us assured that this is just the start for the standalone.
Writer: BEA CELDRAN
PHOTOGRAPHY DANICA CONDEZ