Even as he was taking pen to paper, Clinton Palanca was already trying his hand at whipping up stuff in the kitchen. His earliest culinary memory is of making gulaman when he was about five years old. "The recipe called for 1/8 teaspoon of salt. I didn't know fractions then, so I just put in eight teaspoons of salt. My family tried to eat the gulaman so as not to hurt my feelings."
He went on to study at Le Cordon Bleu, learning how to cook French food before he could cook Filipino or Chinese food. "It was only when I was living abroad that I became homesick for the food that we had at home and became interested in learning how to cook it, and also doing research about it on a more abstract level."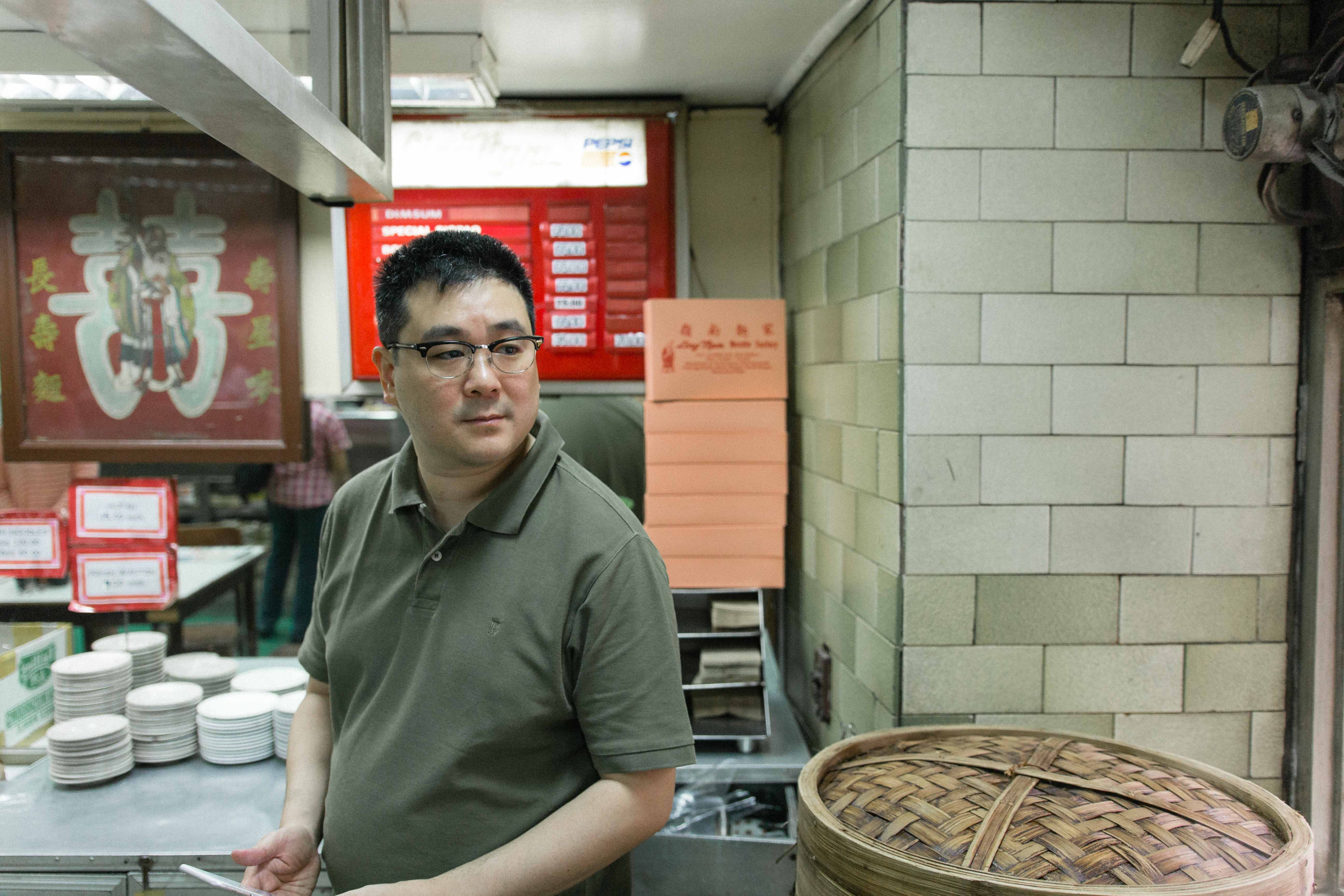 My Angkong's Noodles, Palanca's first cookbook, is filled with traditional, mostly Hokkienese (from which the word angkong or "grandfather" is from) cuisine as found in the Philippines. The germ for the book came about four years ago, when he was researching on the anthropology of Chinese Philippine foodways for his doctorate at the School of Oriental and African Studies at the University of London. "I was observing many other aspects of Chinese food in the Philippines, but I encountered so many great recipes and learned a few of them by just watching several families do them over and over. I thought it would be worth writing up the recipes in a cookbook."
He did meticulous research and, with the help of Ginny Roces de Guzman, tested the recipes, the results of which were photographed by award-winning photographer Neal Oshima. "[The recipes are from] generations and generations of women (and some men) in kitchens. We owe a great debt to these unseen authors," Palanca says. "We were able to get hold of the recipes from a pool of informants who were unbelievably generous with their time and willing to share what other families considered theirs. I ran across some very grouchy people who slammed the door on me because they didn't see themselves benefiting from sharing the recipes, but that's part of doing fieldwork. They were more than made up for by the wonderful people who let us into their homes, cooked for us, fed us, and then answered questions afterwards when we kitchen tested the recipes and couldn't get them to work."
My Angkong's Noodles makes for good reading for people who want to try their hand at Chinoy cooking, or who simply want to learn more about their culinary roots. "I think it gives a good snapshot of what the old and new Chinese-Filipino recipes are," he says. "I'm sure we'll get plenty of complaints about what we left out and that some recipes aren't like what their grandma used to make, but this comes with the territory of writing about something so close to people's hearts."
TEN TREASURES SOUP
JAP CHAI TENG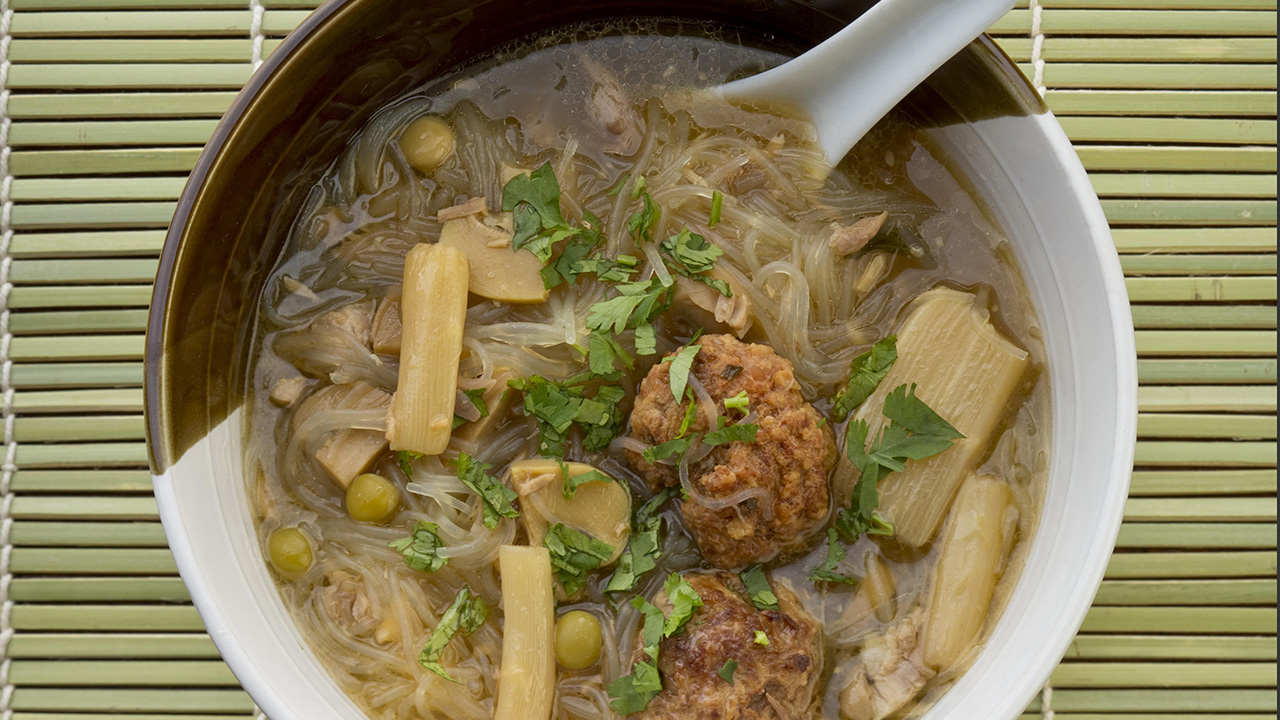 Soup base
Ingredients:
2 whole native chickens, dressed, cleaned, and blanched
1 kilogram pork trotters (pata), cleaned and blanched
Preparation:
Put the blanched chickens and pork trotters in a large stock pot. Cover generously with water. Bring to a boil, skimming off the scum that rises to the top. Lower the heat and simmer until the meats are very tender. Let cool.
When cool enough to handle, remove the meat from the bones and slice into strips. Season the meats with a little soy sauce, sugar, and pepper. Set aside.
Meatballs
Ingredients:
3 kilos lean ground pork
2 medium carrots, finely chopped
1 cup water chestnuts, finely chopped
1/2 cup spring onions, chopped
1 tbsp. sugar
2 tsp. sea salt
1 tbsp. calamansi juice
2 tsp. liquid seasoning (optional)
2 tbsp. flour
2 tbsp. cornstarch
3 eggs
Preparation:
Combine all the ingredients in a large bowl and mix well. Cover with plastic wrap and leave to marinate in the refrigerator for a few hours or overnight.
Form the pork mixture into balls about 1 1/2-inches in diameter. Heat a wok over high heat and add enough oil to reach halfway up the sides of the pan. Working in batches, deep-fry the meatballs until golden brown. Drain well and set aside.
Writer: YVETTE TAN
PHOTOGRAPHY TAMMY DAVID