He said, she said: Comelec chief's wife accuses him of corruption
Marital woes lead to a full-blown investigation into Comelec head's unexplained wealth
Aug 8, 2017
What began as marital problems is now a full-blown investigation into Commission on Elections (Comelec) chief Andres "Andy" Bautista's unexplainable wealth, which reportedly amounts to an estimated P1 billion and has been uncovered and exposed to the public by his estranged wife, Patricia.
It all started when Patricia (also known as Tish) sought an audience with President Rodrigo Duterte last July 26. During the meeting, Patricia came forward with evidence against her husband, who she claimed had hundreds of millions in unexplained wealth.
According to a report by the Philippine Daily Inquirer (PDI), Patricia submitted on Aug. 1 an affidavit, "saying that the Comelec chief might have amassed nearly P1 billion worth of ill-gotten wealth." The said affidavit formalized the report and was handed over to the National Bureau of Investigation (NBI) for further action.
What we know is that husband and wife have not been okay for the past few years and this dispute is a result of marital problems. In fact, the reason why Patricia looked into her husband's earnings is that she was supposedly computing what "was due her" since they have been planning to part amicably. The absence of a prenuptial agreement meant that Patricia would be entitled to half of Andres' properties.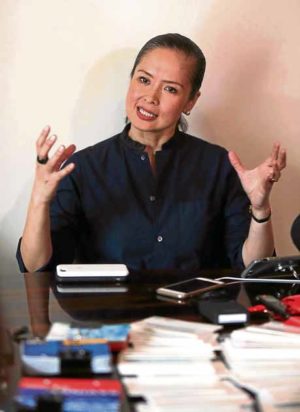 While Patricia has come forward with documents that may prove her husband's ill-gotten wealth, the Comelec chair claims that his wife is simply trying to get her hands on his money. Andres has even gone as far as accusing his wife of infidelity.
"This is pure extortion," Bautista said in another report by PDI.
Patricia, on the other hand, defended herself today in an interview that aired on ANC's morning show Headstart.
"Let me make it clear. By law I'm entitled to half of what Andy owns, but I only want half of what's clean. This is why we're bringing it to the government, to tell me which part is clean," she said, citing that her husband may have excluded a number of items from his 2016 Statement of Assets, Liabilities, and Net Worth (SALN).
Clearly, this is a case of he-said, she-said—one that's proving to be quite the national scandal. If what his wife is saying turns out to be true, the Comelec chair will have to be answerable for criminal violations under the Anti-Graft and Corrupt Practices Act and the Anti-Money Laundering Act. Critics, on the other hand, say that if Andres Bautista cannot be trusted with his own SALN, then perhaps the credibility of the 2016 elections, which he oversaw, should be questioned as well.
In case you wanted a simple summary, here's a rundown of the accusations that Patricia and Andres have been throwing at each other:
Patricia Bautista:
"Domestic problems" have been present even before she began investigating her husband's bank accounts. She has been wanting to separate from Andres since 2013

Accused her husband of "'emotional and economic sabotage' against her and their children." Upon finding out that Patricia had taken a number of Andres' belongings to present as evidence, he cut financial support for the family

Denies having an affair with a certain Alvin Lim, who is her good friend

Says Andres may have received commissions "for referring companies such as Smartmatic, Baseco, and United Coconut Planters Bank (UCPB)" to law firm DivinaLaw

Questioned husband's 2016 SALN because she discovered the exclusion of several passbooks, bank accounts, real properties, and foreign investments from the financial report. According to his 2016 SALN, Andres had a net worth of P176.3 million
Andres Bautista:
Accused wife of having an affair with a certain Alvin Lim. According to the Comelec chair, this was the reason why their relationship took a turn for the worse in 2013. He also tried to save their marriage, the Comelec head explained

Accused wife of fabricating evidence just so she can claim more money. According to Andres, his wife demanded a settlement worth P620 million that he could not afford

The "commissions" were referral fees that were paid to him by DivinaLaw "but never for companies where I will have potential conflict of interest"

The referral fee system was an arrangement he had with DivinaLaw even before Andres joined the government and he assured they were just "small amounts"

Also accused wife of violating his right to privacy (referring to pieces of evidence that Andres says Patricia stole from their family home)
Photos courtesy of the Philippine Daily Inquirer
Read more:
LOOK: We simplified #SONA2017 for you 
Why is Duterte so mad about mining?
TAGS: Andres Bautista comelec Commission on Elections fixture nolisoliph Patricia Bautista President Rodrigo Duterte SALN