SONA: What did Duterte miss?
Here's the tally on what we were expecting the president to address, and what he missed
Jul 25, 2017
Now that everyone has had a day to digest and meme the declarations from yesterday's State of the Nation Address, let's explore everything the president did not say.
Popular anti-Duterte administration facebook page, Change Scamming took the initiative of creating a Bingo-style scoreboard keeping track of the topics and issues the public was expecting our controversial leader to address, and the ones he forgot somewhere along his lengthy speech.

In all fairness to the president, he only missed a handful of issues from the scoreboard above. See the list of these neglected topics below:
Federalism
Aside from a passing "we have to talk about this sooner or later", Duterte didn't really explore and explain how he's going to implement the transition of the country's government into federalism. It was mostly just a vague re-hash of his previous statements, reiterating that this was what he wanted to do. There are no concrete plans, no detailed procedure as to how he's going to lead the people into this revolutionary change.
He also failed to explain once again how turning to federalism would benefit us as a people. In the end, I still find myself asking "what would make the chaos of re-establishing a new form of government worth it for the Philippines?"
8888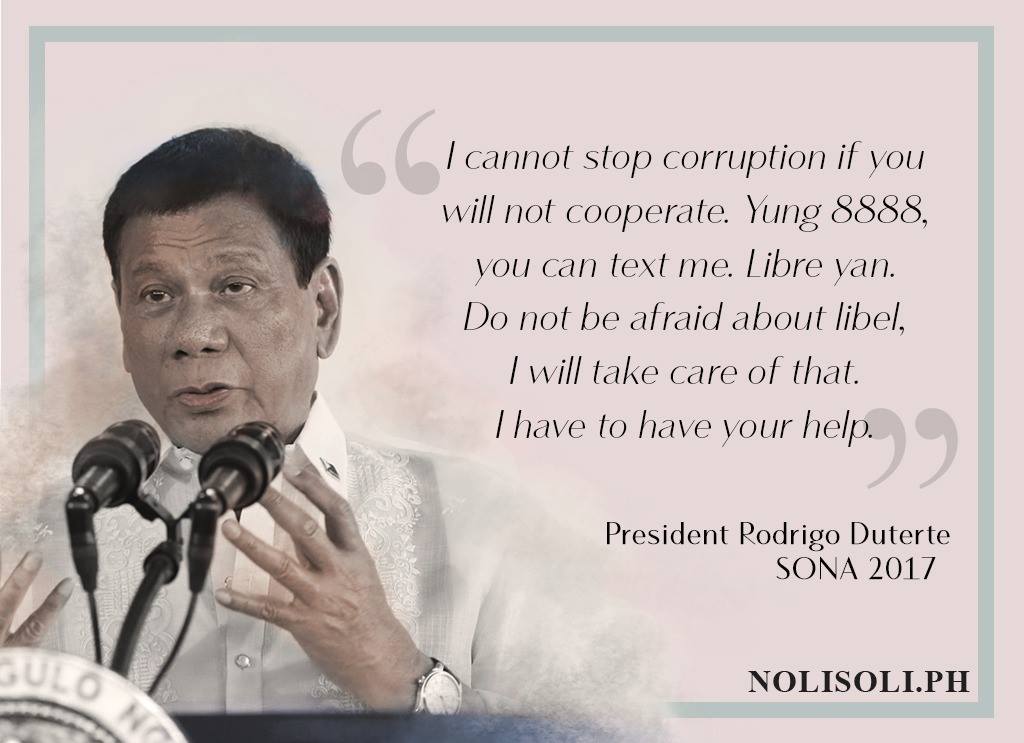 Despite his encouragements to use the government's hotline for complaints, President Duterte failed to address the current issue the people are having with the existing hotlines we have now. For example, the suicide hotlines that are often out of reach, "not in service", or have incorrect numbers. Then, there's our 1-1-7 emergency hotline. For an emergency hotline, the operators responsible for this hotline are often out of reach, uncertain, and lacking in resources. Most of the time, it's better to just call a Grab or Uber to get yourself to the nearest hospital.
What is the government doing or going to do to fix these hotlines that citizens are supposed to be able to rely on? I wish he'd answered that first before tackling the bigger and more complicated issue of corruption in our government.
De Lima
This one, I guess, is self-explanatory and understandable since, in literary terms, this enemy has been vanquished and no longer Duterte's main concern.
PNP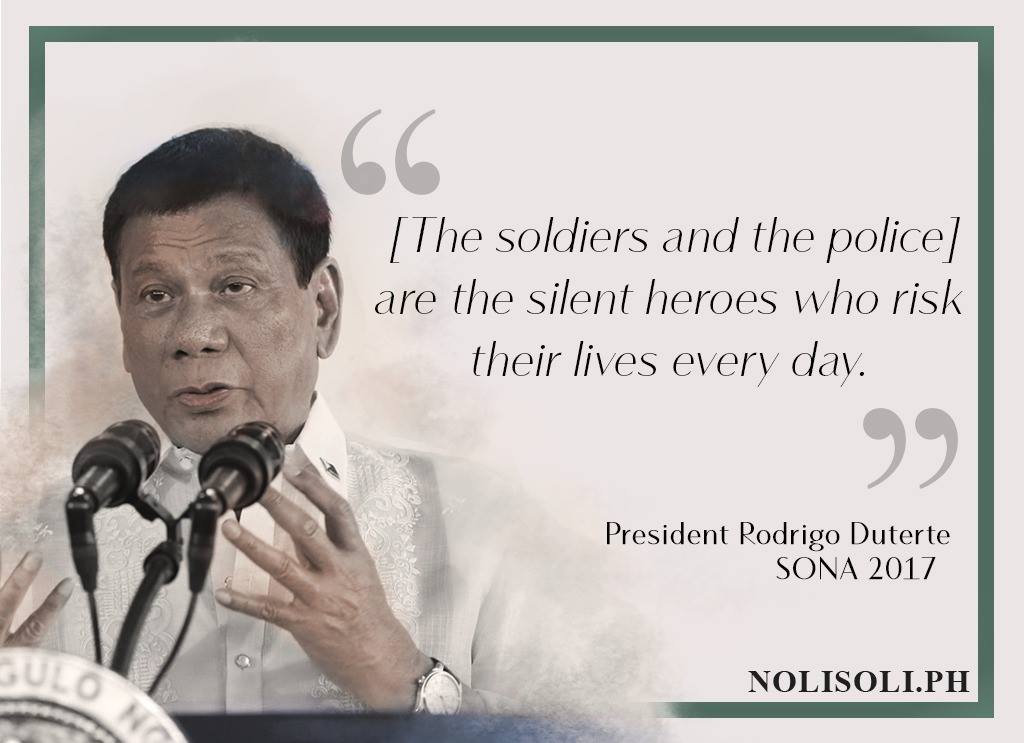 Though he did graze upon our heavy reliance on our soldiers and the Philippine National Police (PNP) considering the recent events affecting our country's security, he did not elaborate or even hint on the current state of the PNP's reliability. In light of the Mandaluyong cops who were caught on tape beating two civilians, one would think that he would reassure the public that the investigations and cleansing of our police body hasn't let up. The corruption and power abuse that goes on amidst the men and women who have sworn to protect and serve us is an ongoing and important issue, especially with the possibilities of an extended Martial Law in the horizon.
Endo
For something that was once a vital part of his platform, Duterte made no mention of the end-of-contract issue affecting many of our labor force right now. It makes one wonder whether he's made progress negotiating with the business magnates participating in endo, or should the workers of our shopping malls let go of any hope for a better working contract.
Health
Somewhere along his side-stories and improvised commentary, the president dropped a line that might be interpreted as a hint on his health.
"Ganito iyan," he said. "Two things, wala na talaga akong panahon. I don't know if I can make another SONA again in the future."
In light of his extended absences and the rumored increase of his hospital visits, to say that this line is a cause for concern would be an understatement. I wish we knew more or had more reassurance pertaining his health. Especially with the controversy and potential conflict surrounding the vice presidency at the moment.
For an analysis of everything he did tackle, you can check them out our simplified synopsis and our own highlights of this year's SONA.
Read more:
6 points from Duterte's SONA we agree with
Four times President Rodrigo Duterte stood up for the environment
LOOK: Citizens react to President Duterte's SONA
TAGS: Duterte fixture Sona SONA 2017