Watch award-winning Spanish and Latin American films in October for just P100
¡Vamos!
Sep 27, 2017
Since 2002, we've been getting a chance to see what Spanish and Latin America cinema is like every October. The Instituto Cervantes collaborates with the Embassy of Spain to the Philippines to bring PELíCULA, the 10-day annual film festival, in Manila.
As culture is weaved in the intricacies of filmmaking, this is the cheapest way to experience others' own—in this case, through the exhibition of Spanish-speaking countries' award-winning comedy, drama, thriller, animation, documentary, and short films. PELíCULA will be running from Oct. 5 to 15. The films will be shown at Greenbelt 3 Cinema 1.
Here's the schedule: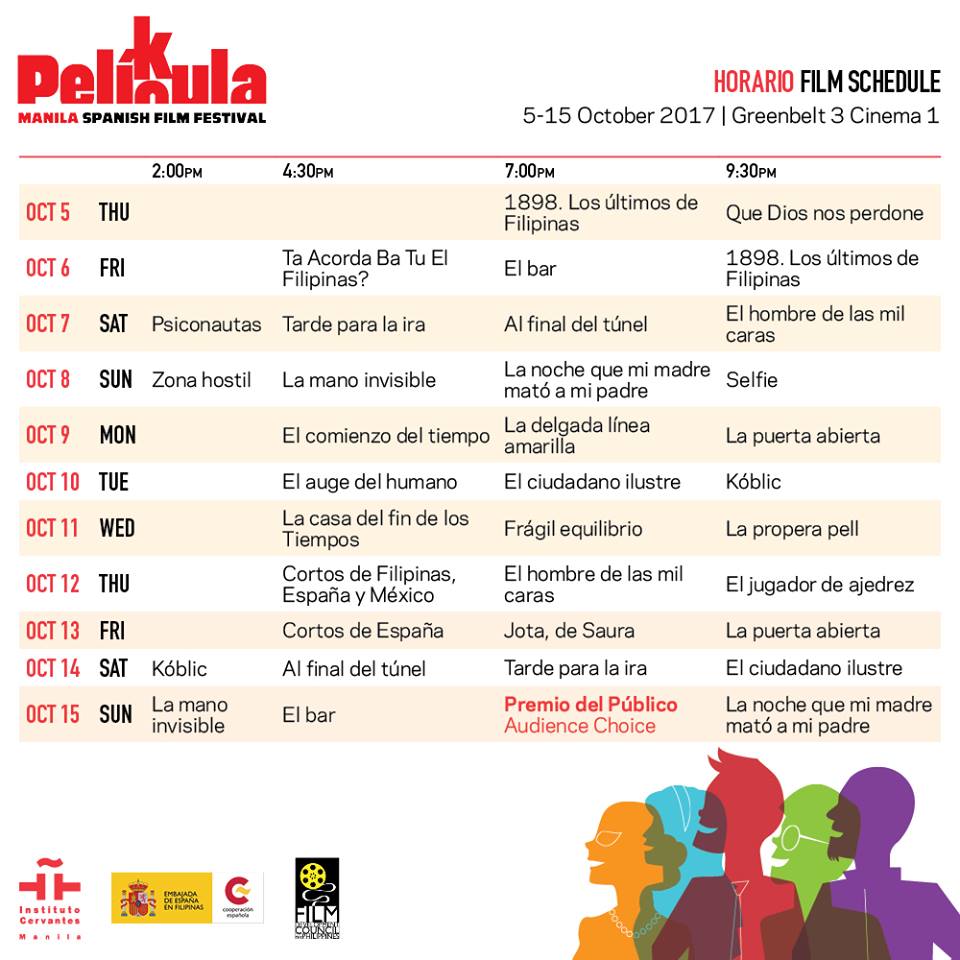 Well, that's difficult to understand (unless you know Spanish, then good for you). But here are some of the notable films that will be shown throughout the festival:
1898. Los últimos de Filipinas

Directed by Salvador Calvo, who will be present in the festival, the film is about a Spanish military troop that was sieged in Baler by Filipino revolutionary insurgents in 1898 for 337 days. The troop didn't know that the Treaty of Paris was already signed and that Spain had already handed over the Philippines to the United States. In other words, the war was already over and they were left completely clueless. This is also the inaugural opening film on October 3.
Al final del túnel (At the end of the tunnel)

This Argentinian film released in 2016 has bagged awards from this years' Brussels International Festival of Fantasy Film, Seattle International Film Festival, and Washington DC Filmfest. The narrative follows Joaquin, a paraplegic engineer living an improved life when he rented a room in his house to a stripper and her daughter. One night, while working in his basement, he realizes that there's a group of robbers building a tunnel that passes under his house. He then decides to stop these robbers from their plan to break into a nearby bank.
El ciudadano ilustre

Daniel Mantovani is a recipient of the Nobel Prize for Literature and has been living in Europe for decades, away from his home. One day, he accepts an invitation from Salas, Argentina, his hometown, to receive a "Distinguished Citizen" award despite his busy schedule. However, his country does not receive him as he had expected. This Argentian black-comedy is a multi-awarded film in Venice, Haifa Film Festival in Israel, Havana in Cuba, and Spain's own Goya.
Psiconautas: The Forgotten Children

Psiconautas is the animated film adaptation of a novel by Alberto Vázquez. It follows the story of two teenage friends Birdboy and Dink struggling to face their reality. And then they decide to escape their home ravaged by an ecological catastrophe. This animation has received awards from this year's Goya Awards in Spain, Platino Awards for Ibero-American Cinema, and 2016 Fantasia Film Festival in Canada.
Ta Acorda Ba Tu El Filipinas? (Do You Remember the Philippines?)

This documentary released just this year is a "multi-layered dialogue between Spain and its former Asian colony, the Philippines." It delves into different complexities of the Philippines, intertwining lives and struggles of different communities: "from the haunting voices of recalling layers of history in the bustling district of Quiapo to a camp for internally displaced persons in Zamboanga."
Each movie screening only costs P100. For the complete lineup of the films, visit Instituto Cervantes' website.
Photos courtesy of Instituto Cervantes de Manila's Facebook page
Read more:
These 10 films will introduce you to queer cinema
Ten Japanese filmmakers who revolutionized cinema
Why do local films flop?
TAGS: arts be culture instituto cervantes de manila nolisoliph southeast asia spanish film festival