Spoon Eat + Drink marries familiar flavors and New York-inspired interiors
The owners drew inspiration from the boroughs of New York up to the valleys of Napa
info
Spoon Eat + Drink

American

Tuesday to Sunday, 4 p.m. to 12 a.m.

0917-5210612

₱

P900 for two people
The space is a bit on the narrow side—the place can seat two dozen at full capacity. Currently open from four in the afternoon until a little past midnight, Spoon would be almost inconspicuous if not for the sign outside.
Owner Philane Ponio says that in gentrified neighborhoods in New York, aging buildings with craggy, faded exteriors have surprises in the form of tiny yet polished restaurants operating on a modest budget. This new breed of restaurants is the new kind of mom-and-pop store defined by multicultural culinary influences, a penchant for the organic, and owners who don't go by the book in business.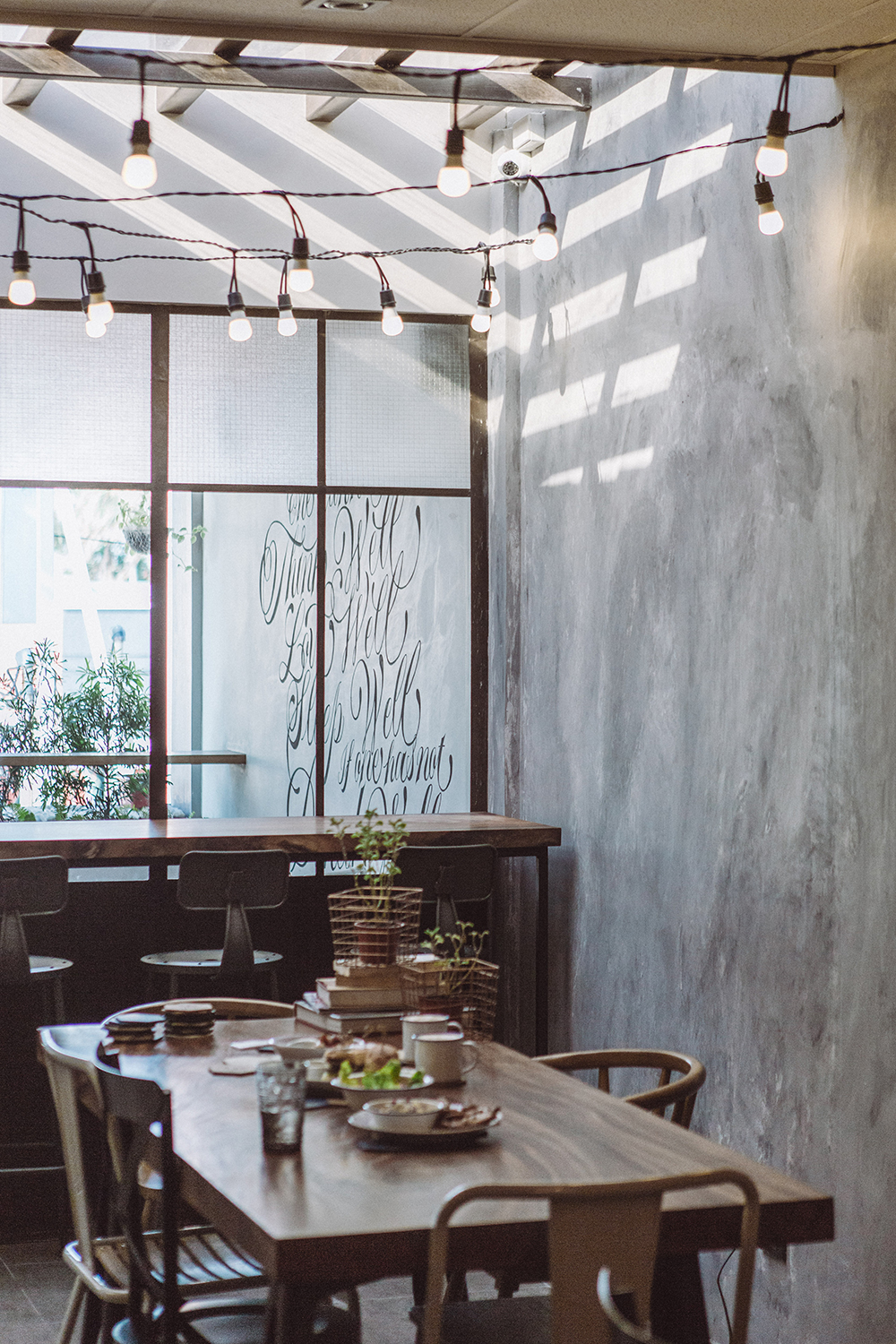 We can see the parallels with one step inside Spoon. The walls are bare concrete and what would otherwise be a low ceiling is an elevated headroom, with sunlight seeping through the sunroof. The balcony, a bit hot in the afternoon, gives a relaxing view of Aguirre Avenue at night.
The food selection can be found on the menu or on the mirror near the balcony, where specials and promos are listed. The light mouthfeel of the Grilled Watermelon and Peach Salad, dressed with sherry vinegar, comes from the delicately crunchy but still watery texture of the watermelon and peach. If meat appetizers are more up your alley, try the Bacon-Wrapped Vegetables—cherry tomatoes and mushrooms surrounded by a coil of bacon with a side of dill pickle relish.
For the main course, try the Chicken Peri Peri, where Spoon's love affair with spices is evident. The marinade is a curious arrangement of lemon peel, parsley, and oregano, and the slaw comes with your choice of garlicky mustard dressing, creamy herb, or Sriracha lime. If you're dining with friends, the Lamb Burger Munchies are a good bet. The homemade tzatziki balances out the juiciness of the lamb patty. Add a little bit of slaw for a tangier zing.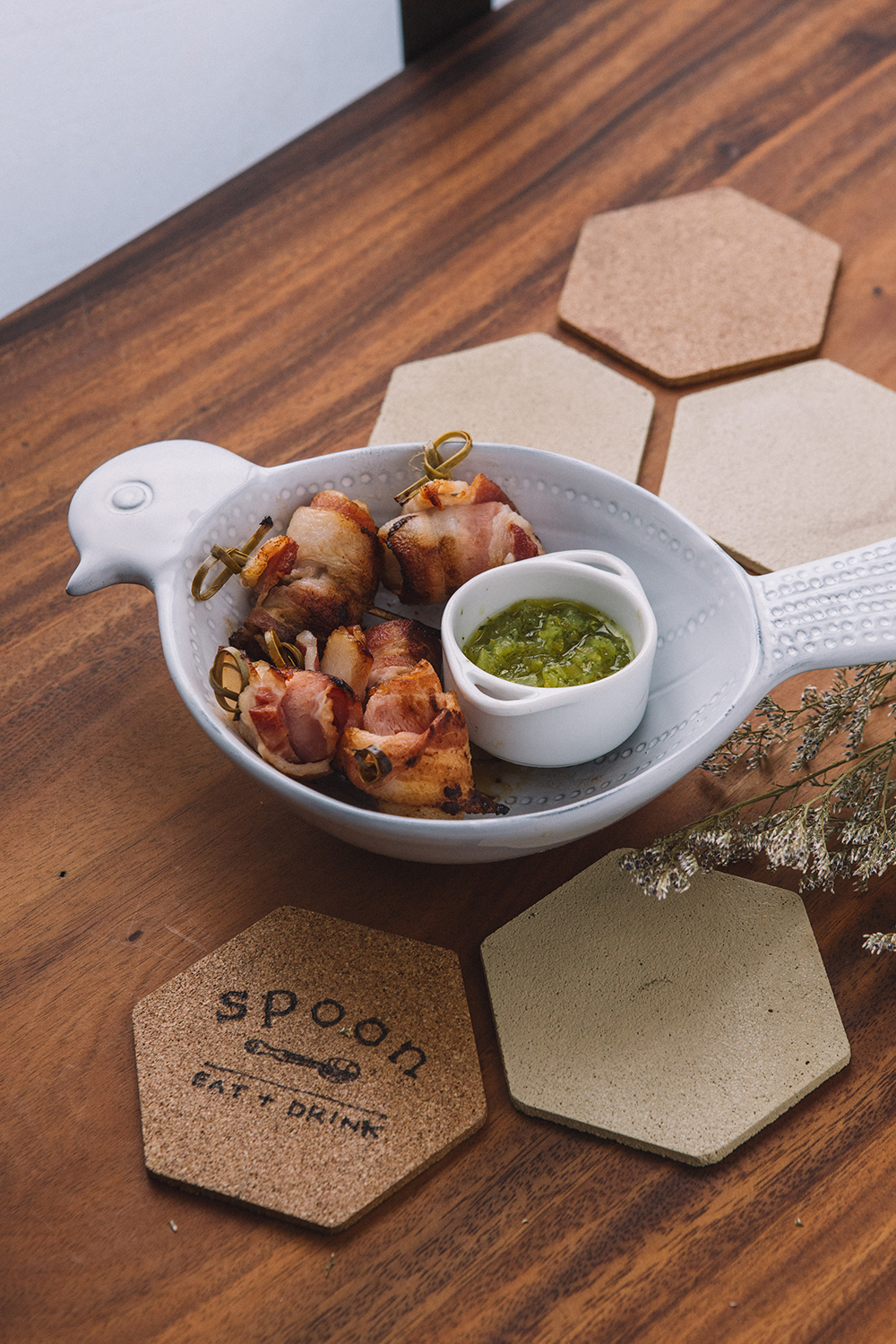 So why the name? Ponio offers two explanations. One is a long-winded rumination on what a spoon represents: for feeding oneself, and also for sharing with others. The original is much more humorous. In a scene from the movie Robin Hood: Prince of Thieves, the Sheriff of Nottingham, played by Alan Rickman, vows to cut Robins Hood's heart out with a spoon. Ponio loves that scene, to say the least. It's safe to say that Spoon is born out of a collection of experiences that made an impact: a dream vacation visiting the various boroughs of New York, a visit to Napa Valley rife with numerous spices, and memories of cooking for friends and family at home.
This story was originally published in Southern Living, April 2016.
TAGS: Aguirre BF Homes food nolisoliph spoon spoon eat + drink
WHY GO?
Spoon has unique appetizers like the Grilled Watermelon + Peach Salad. Their Lamb Burger Munchies, with their homemade tzatziki, are also good for sharing with friends.
MENU