You can watch QCinema without going to Quezon City
Looking at you, south friends
Oct 20, 2017
Quezon City is a great city. If you think otherwise, you're probably from the south. And if you think every good thing in Quezon City is also in the south, then you haven't heard of QCinema International Film Festival yet. Just so you know, Patay Na Si Hesus and Apocalypse Child are two of the films from QCinema's previous runs.
Now on its fifth year, QCinema highlights the role of Quezon City or the City of Stars in the film industry. QCinema is one of the better and more eclectic film festivals we have. For starters, the film festival has four main sections: Circle (main competition), Asian Next Wave (for Asian filmmakers with less than three full-length films), RainbowQC (a section dedicated to LGBTQ+ films), and QC Shorts (short film competition). Sounds good, right? Now, here comes the sad news for southerners. Since the film festival is specific to Quezon City, it's only apt to hold screenings within the city.
However, QCinema saves southerners from the long drive and heavy traffic. This year, Circle competition and QC Shorts entries will also be screened at Cinematheque Centre Manila from Oct. 24 to 28.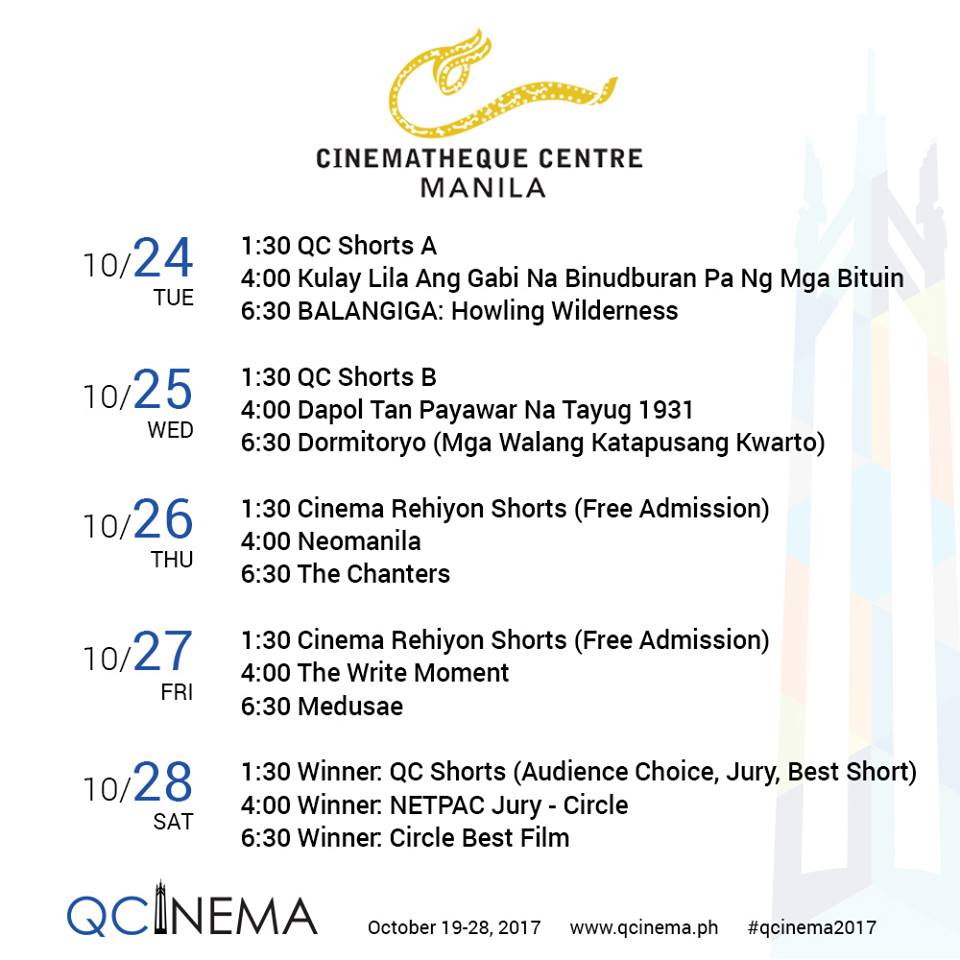 Before you plot your schedule, here are the official trailers and synopses of this year's Circle competition entries:
Balangiga: Howling Wilderness by Khavn

Set in 1901 in Balangiga, the film follows Kulas and his grandfather as they escape General Smith's Kill & Burn order. Along the way, they find a young boy and try to survive the American occupation.
Dapol Tan Payawar ng Tayug 1931 by Christopher Gozum


To prepare for her new film about folk hero Pedro Calosa and the Tayug Uprising of 1931, a filmmaker revisits Tayug in Pangasinan. As she proceeds with her research, she unravels stories about Calosa through the townspeople.
The Chanters by James Robin Mayo

Sarah Mae is the granddaughter of Lolo Ramon, the last chanter of the Panay Bukidnon tribe. Obsessed with pop culture, she prepares for the visit of a celebrity to their school. However, Lolo Ramon suffers onset dementia and Sarah Mae needs to help him complete 12 epics, a fading tradition of their tribe.
Dormitoryo (Mga Walang Katapusang Kwarto) by Emerson Reyes

This film is based on the short film Mga Walang Katapusang Kwarto. The film follows eight individuals who live in the same dormitory owned by Aling Linda. The film shows the struggles of these eight borders along with their collective need to pay rent.
Kulay Lila Ang Gabi Na Binudburan Pa Ng Mga Bituin by Jobin Ballesteros

Based on a Palanca award-winning screenplay, the film is about a couple who undergoes an experimental retreat to fix their marriage. The three-day retreat does not involve a marriage counselor. Instead, the retreat brings them to an empty house where they try to resolve their issues in any way they want.
Medusae by Pam Miras

A documentarist investigates on the mysterious disappearances of firstborn sons in a remote island with her son. As she goes on with the documentary, her son goes missing and she finds herself in the same situation of the subject of her documentary.
Neomanila by Mikhail Red

Irma (Eula Valdez) recruits an orphan named Toto (Tim Castillo) to her notorious death squad. Soon, Toto looks up to her as a maternal figure. However, their relationship will be tested as a target turns out to be a familiar face.
The Write Moment by Dominic Lim

A heartbroken writer crafts a romantic comedy hugot script to get back with his ex. However, he fails and finds himself living out the exact scenes he wrote.
The screenings at Cinematheque Centre Manila starts a bit later than the screenings at various malls in Quezon City. If you don't want to miss out, you can check the schedules at various malls in Quezon City here.
Read more:
Why do local films flop?
Ten Japanese filmmakers who revolutionized cinema
These 10 films will introduce you to queer cinema
Kita Kita redefines the boundaries of a romantic comedy and an independent film
TAGS: Film movie nolisoli QCinema Film Festival quezon city