If there's any Filipino food that comes as a close second to the already famous adobo, it's probably lumpiang shanghai or fried spring rolls.
Jeff Donahue and Wade McElroy, owners of Ludlow Liquors in Chicago, wanted a food concept that would "symbiotically exist as its own entity" within their bar. Thanks to a Filipino friend, the idea of a pop-up was quickly replaced by a restaurant concept called Old Habits.
The friend, Nick Jirasek, would talk about his Chicago upbringing and old childhood habits, such as dipping fries in malted vanilla ice cream and other tasty throwbacks.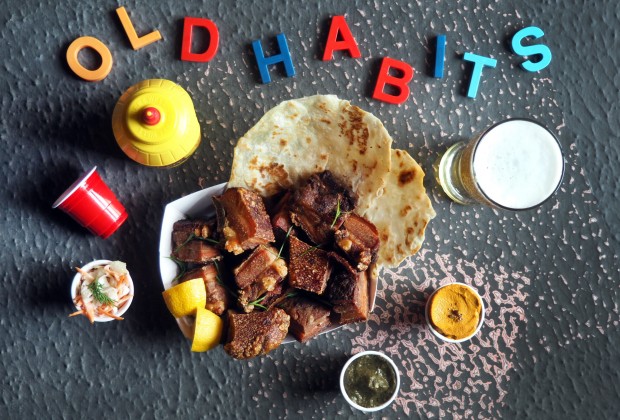 Old Habits focuses on serving "blue collar creative" food–updated takes on familiar Chicago dishes. Think rib tips with sauces inspired by mostaccioli and pot roast sandwich with homemade giardiniera (Italian pickle relish). Also included on the menu are Filipino-inspired food like lumpia and Filipino-style chicken leg. "My mom is Filipino, so I try to throw in a little bit of Filipino flair because it's cool," says Jirasek. "It's kind of a time where people are more accepting and understanding of Filipino food. Like when you say 'lumpia,' they know what it means. I wanted to highlight these Filipino things all around the menu."
The restaurant's spring menu will also feature rice bowls, including Filipino adobo made with pork shoulder, jerk chicken with American cheese, and a vegan kimchi bowl. "We want Ludlow and Old Habits to be a place where people cultivate a big group of friends who became friends because they were regulars at the bar," said McElroy.
Old Habits is located at 2959 N. California Ave., Avondale, Chicago, Illinois.
Photo courtesy of Wade McElroy
Read more:
LOOK: There's a Sari Sari Store in Los Angeles
The extra value meal was created by a Filipino
Read more from Bea Llagas:
Green Pastures' new menu has langka kare-kare and yellow adobo
Knead, toss, and garnish your own pizza at Amare La Cucina
Writer: BEA LLAGAS