What you need to know about leptospirosis
And how to avoid it
Jul 25, 2018
Following a rise of leptospirosis cases in some parts of Metro Manila last month, the Department of Health (DOH) declared an outbreak in some barangays in Quezon City, Taguig, Pasig, Parañaque, Navotas, Mandaluyong, and Malabon.
A total of 68 deaths from more than 500 reported leptospirosis cases have been recorded by the DOH. From Jan. 1 to Jul. 14, data shows that there has already 530 cases—a 225 percent increase compared to last year's 163 cases.
What is leptospirosis?
Leptospirosis is an infection caused by bacteria found in the urine of animals such as rats, pigs, horses, and dogs.
Aside from wading through dirty floodwater (the reason why cases of infection shoot up during the rainy season), a person can also get infected if they come in contact with water, soil, or food contaminated with the urine of other infected animals like stray cats and dogs. Person to person transmission, however, is rare.
Signs and Symptoms
Symptoms of leptospirosis include high fever, muscle aches, vomiting, jaundice (yellow skin and eyes), and diarrhea among others. But a word of warning: There are times symptoms do not manifest at all or go away quickly.
From the moment a person is exposed to contamination, symptoms take two days to four weeks to manifest.
Leptospirosis also affects animals, so don't forget about your pets.
If left untreated, it may cause kidney failure, meningitis (inflammation of the membrane around the brain and spinal cord), massive internal bleeding, and even death.
Treatment
Leptospirosis is treated with antibiotics like doxycycline or penicillin, which should be given early in the course of the disease. For persons with more severe symptoms, they may be required to take intravenous antibiotics. Contacting a healthcare provider is highly suggested.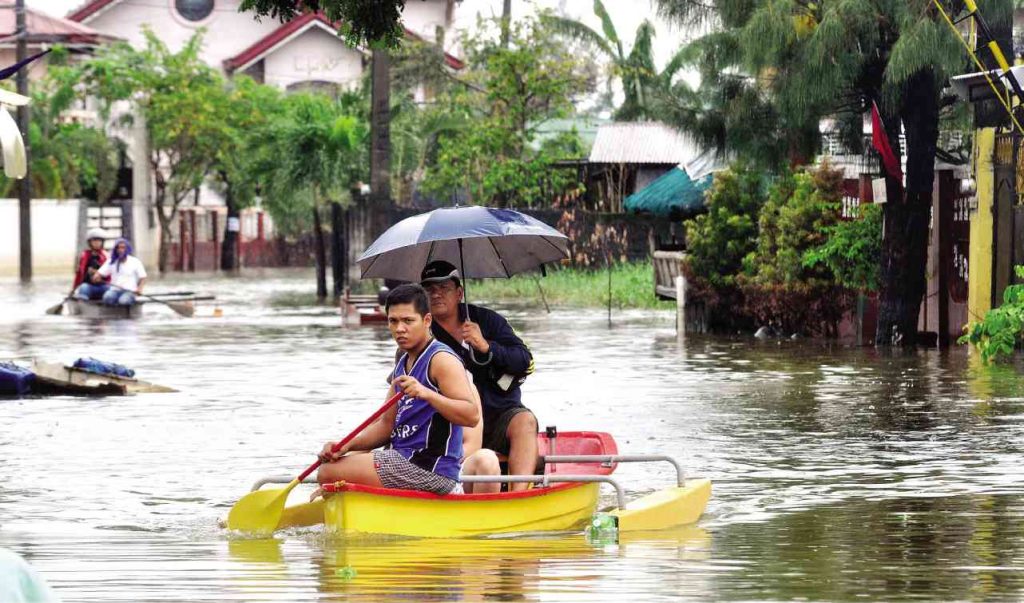 How to Avoid
First of all, don't brave the floodwaters especially if you have an open wound where bacteria can easily enter your system. Open wounds aren't the only entry points, though—the bacteria can also enter through the eyes, nose, and mouth. If you really have to take a dip, make sure you're equipped with protective clothing and footwear. 
Many take Doxycycline, a medicine for leptospirosis, but Health Secretary Francisco Duque warns people to not take it without the advice of a doctor as anti-microbial resistance may develop.
Personal measures for individuals aside, local governments should also take preventive actions to control the proliferation of rats and mice in their areas. They should also work on improving drainages, pump out potentially contaminated waters, and reinforce proper garbage collection.
[READ: What our barangays should be doing about waste management]
"Ako po ay nag-aapela na 'wag kayong lumusong sa baha. Kung 'di naman maiwasan, pumunta kayo sa mga pagamutan na malapit sa inyo. Madali po ang gamutan at ang mga hospital natin ay handa namang tumanggap at pangasiwaan ang bawat kaso ng lepto," Duque told DZMM radio.
Get more stories like this by subscribing to our weekly newsletter here.
Featured image courtesy of Philippine American Inquirer
Read more:
This is how Filipinos dealt with flood in the early 1900s
We need to talk about those plastic umbrella cases
Why do rainy days make us feel sleepy?
TAGS: Department of Health leptospirosis philippine flood