La Union will soon host a 41-hectare coal-fired power plant
Greenpeace launched an online petition opposing the plan
Jul 26, 2018
Some asshats don't really want to see the Philippines beautiful, don't they?
Global Business Power Corporation (GBPC) is starting the construction of the P80-B coal-fired power plant across Barangays Carisquis and Nalvo Sur in Luna, La Union next month. The massive twin 335-megawatt power plants are occupying 41 hectares and is scheduled to be operational by the first quarter of 2022.
The project is called Global Luzon Energy Development Corporation (GLEDC), a joint venture company of Meralco and Metrobank among others.
In March, environmental groups such as the Koalison Isalbar ti Pintas ti La Union (Coalition to Save the Beauty of La Union), which is composed of the Philippine Movement for Climate Justice, HELPS for Humanity, Kanlungan Center Foundation, and other concerned sectors protested against the power plant.
They raised concerns on the health and environmental hazards of the project during the public hearing held in December 2017. "It only consulted residents in the five barangay villages in and around the proposed 41-hectare site and excluded or ignored other towns and villages within the plant's immediate area of impact as shown by the Nitrogen Dioxide Modelling Exercise done by its own environmental consultants," the group said.
However, Luna Mayor Victor Marvin Marron assured that the power plant will boost the town's economy, tourism, and employment as local residents will be prioritized in hiring. It will also be environment-friendly as it will be equipped with a modern technology called "supercritical pulverized coal power plant" preventing its emission of smoke.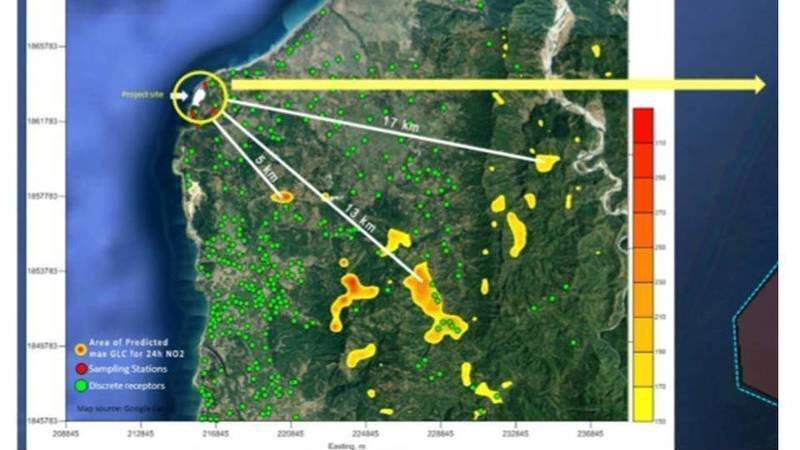 The power plant's nitrogen dioxide emission is predicted to screen the northern part of La Union and some parts of Benguet and Ilocos Sur, according to the environmental impact study done by GLEDC consultants. Nitrogen dioxide is one of the pollutants produced as a result of coal combustion.
Luna is a town in the Surfing Capital of the North popular for its natural geophysics and culture, yielding a high touristic value. Its pebble-rich shoreline has a centuries-old Spanish watchtower also called baluarte. The white beach and coral areas rich in marine life is the main source of livelihood of the townspeople as well as the irrigated fertile lands.
To express your opposition to the greedy plan, you can sign the petition set up by Greenpeace on Bataris and Change. It includes the environmental group's call to the following:
Deny GLEDC's application for an environmental compliance certificate; revoke if already issued
Pursue an alternative development agenda that is consistent with the Agri-Tourism Development Strategy of the Provincial Government of La Union
Identify and develop renewable energy sources to augment the country's power supply.
GBCP is a unit of GT Capital Holdings Inc. of tycoon George Ty. It is one of the leading independent power producers in the Visayas.
Featured image courtesy of Greenpeace Philippines
Read more:
487 trees to be cut down for a road-widening project in Taguig
Manila City gov't is planning to destroy its last park
The PH now has an additional 94 national parks under a new law
TAGS: coal-fired power plant Global Business Power Corporation Global Luzon Energy Development Corporation La Union luna surfing capital of the north