The official logo for 2019 SEA Games has officially become a meme
Even local businesses are joining in
Aug 21, 2018
On Aug. 20, Department of Foreign Affairs secretary Alan Peter Cayetano presented the official logo for the 2019 Southeast Asian Games in front of the Olympic Council of Asia in Jakarta, Indonesia.
The design features 11 intersecting circles that depict the "11 countries bound together in the shape of the Philippines to symbolize that wherever and whenever the games are played we are one and we win as one," Cayetano explained.
The 30th SEA Games committee went as far as to share the logo on their official Facebook page with an advanced, state of the art watermark to prevent any possibility of art theft.
However, the lack of thought and inept execution behind it could not escape criticism; several netizens went to social media to poke fun at the design and express their contempt—some light-hearted, and others referencing the political climate of the country.
So Team Philippines has designed this logo for the SEA Games 2019…

And Baymax says hello!!! pic.twitter.com/MiHANRn3Fw

— Mala-Caña Ang Palace (@Simply_Clinton) August 20, 2018
Philippine 2019 Sea Games logo inspiration pic.twitter.com/bYdIiLaMZr

— Jollibee Spicy Chicken Joy (@aiansalaysay) August 20, 2018
Brilliant… at the same time sad… pic.twitter.com/KxJCiPFAfF

— Mala-Caña Ang Palace (@Simply_Clinton) August 20, 2018
A few local business have even gotten in on the bandwagon and are coming up with witty designs of their own.
pwede na ba #Philippines2019 #30THSEAGAMES pic.twitter.com/yeloW3EZtm

— Angkas (@angkas) August 20, 2018
For reference, here are the past official logos for the SEA Games: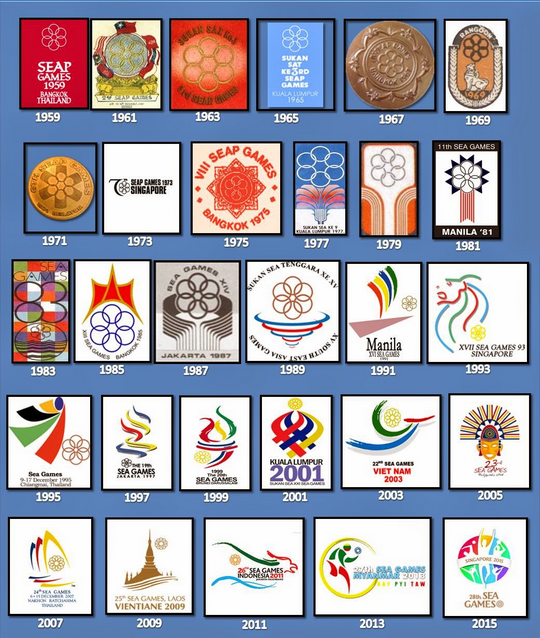 Unfortunately, it doesn't end with the logo—even the mascot designs are laughable, resembling molecule illustrations from your chemistry textbooks.
Everybody's been too busy pissing all over the logo, we seem to have forgiven these mascot designs for being so shitty.#SEAGames2019 pic.twitter.com/RI1Kqf8Mo0

— Copywriters of MNL (@WritersOfManila) August 21, 2018
Get more stories like this by subscribing to our weekly newsletter here.
Read more:
LOOK: Online outrage over Xiamen Air incident and delayed flights in NAIA
The PH film industry isn't doing as well as South Korea's. What gives?
DPWH road project could damage heritage bridge in Cavite
Why Poblacion's gentrification is problematic
Read more by Jessica Alberto:
LOOK: This photo series explores drag culture through floral narratives
Carlos Celdran was sentenced to prison for fighting for reproductive health
TAGS: 2019 SEA Games Alan Peter Cayetano logo design social media reactions twitter reactions