Only 30% of Boracay businesses are ready 2 months before reopening
Out of the 440 total of establishments closed down in April
Aug 21, 2018
After the closure of tourist beach destination Boracay for rehabilitation back in April, the Department of Interior and Local Government (DILG) says only 30% of 440 establishments are going to reopen on the island's relaunch on Oct. 26.
This is following some establishments' non-compliance to the government policy which requires them to be connected to the sewer system or, for hotels and resorts with 50 or more rooms, to have their own sewage treatment plant (STP).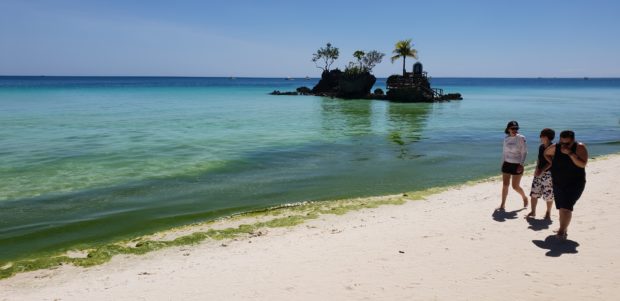 During a senate hearing headed by Senator Cynthia Villar, chairperson of the Senate Committee on Environment and Natural Resources, she said Boracay cannot reopen with only a few functional establishments.
The senator even poked fun at President Rodrigo Duterte by saying, "If I were [the] president, I will resign. I will be embarrassed before the people. I closed it for six months, but how many will comply?"
Duterte ordered the island's closure in April due to the rising chloroform count in its waters leading him to pronounce Boracay as a "cesspool." The Department of Environment and Natural Resources (DENR) blamed businesses with no proper sewer lines directly discharging their untreated wastewater to the sea, and those illegally connected to the drainage system.
Some establishments are complaining about the costs of putting up their own STPs which can go for at least P2 million each. The other option for smaller businesses who have less than 50 rooms is to team up with other small establishments and build a shared STP.
However, as one general manager of a hotel said in confidence to Nolisoli.ph, this may be difficult especially since they have to decide on which land the STP will be built at.
An Environment Compliance Certificate (ECC) from the DENR is required from businesses for them to reopen on Oct. 26. One of the prerequisites for obtaining an ECC is for them to put up their own STP or connect to a lateral line or to the sewer line of Boracay Water.
Get more stories like this by subscribing to our weekly newsletter here.
Read more:
Butanding in Boracay's not a measure for cleanup's success, Greenpeace clarifies
After closing down businesses, gov't eyes making Boracay lands arable "again"
Boracay's final days according to Instagram
TAGS: boracay boracay reopening DENR