You know it's Friday night in Barangay Poblacion, Makati City when 4,000 or so non-residents flock to its bars and restaurants, clog traffic on two-lane streets, and jack up noise levels beyond government-imposed standards.
The corner of Don Pedro and Alfonso Streets, a beer bottle's throw from Kalayaan Avenue, literally pulsates with the beat of loud music from resto-bar Alamat's outdoor sound system.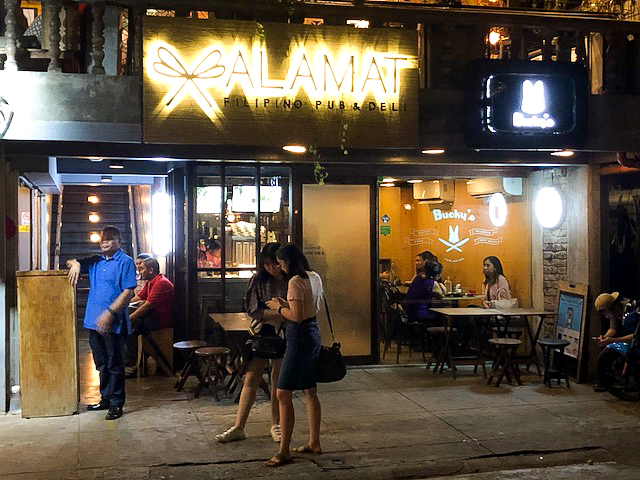 Residents of the house next door are not pleased.  There is a translucent fiberglass wall covering the second floor window—a desperate attempt to cancel out the noise.
Customers in the bar's open-air veranda are oblivious.  A hint of surreptitious cigarette smoke wafts in the air.
Gentrifying a residential neighborhood
Observers say they have seen this before—the beginnings of a phenomenon called gentrification that starts with creatives and other out-of-the-box thinkers settling in an area to take advantage of low (residential) rent.
They set up shop, attract aficionados of all sorts and pretty soon, more stable investors notice and begin taking over.  Eventually, locals who have lived there for years (generations even) are driven out because development forces real estate values to soar and the rent becomes impossible.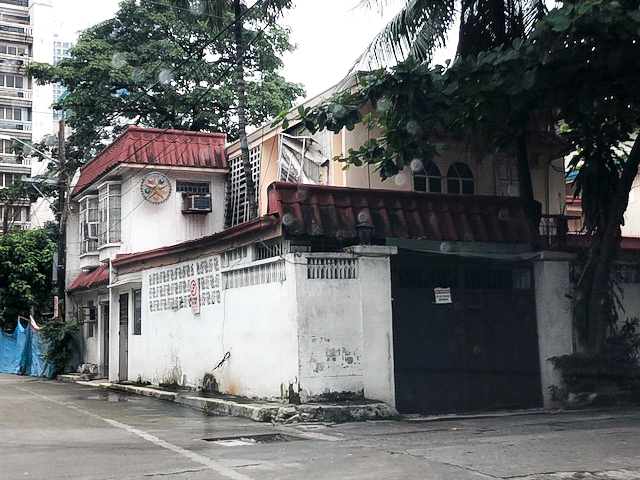 Textbook examples are Brooklyn in New York and King's Cross in London.
Back at the home front, Poblacion's closest neighbors—Rockwell Center to the north and Century City overlooking the Manila South Cemetery—were once quiet areas that have already succumbed to development.
Eastwood in the outskirts of Quezon City used to be a grassy area called Libis.
Nakpil Street in Manila's Malate district underwent a similar experience 20 years ago but development occurred outside the area. Its once-thriving nightlife now hosts more Korean bibimbap joints than bars.
Up north, old-timers talk of how the Monumento Circle cradling Andres Bonifacio's statue in Caloocan City was encircled by quaint little shops driven away by supermarket chains that can afford expensive lease.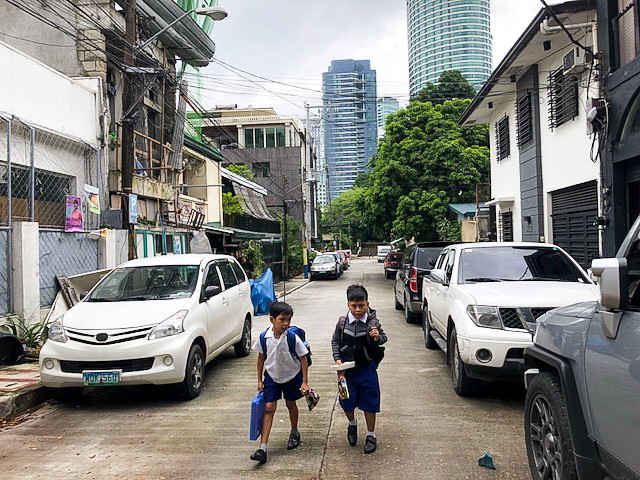 Once a "provincial" community
It would be unfair to say Makati City Hall is not concerned about Poblacion's identity crisis.
A Makati councilor and a bar owner watch how the 102-hectare barangay—flanked by Kalayaan and Jupiter Streets in the southwest, a portion of Bel Air Subdivision in the east and Rockwell Center—hobbles as it walks the tightrope between current status as a residential zone and moves to declare it a mixed-use area with commercial establishments.
The weekend parties in Poblacion started roughly four years ago with pioneers like Chupacabra and Tambai offering gritty atmosphere along with drinks and good chow. Restaurants with similar creative concepts followed, along with upgraded hostels that offer vibe and lodging.
The councilor who requested anonymity said the neighborhood "was taken by surprise" at its transformation from a "provincial" community taking decked in Christmas and Lenten rituals to the metro's latest hotspot.
"Poblacion is not supposed to be puntahan ng tao (frequented by people).  The place is quiet and residents are not the type who stay outside their homes," the local official pointed out.
That said, guests would immediately notice that parking is a problem because the narrow streets can only accommodate onward traffic at right and incoming vehicles from the left.
Any parked vehicle, whether owned by a resident or guest, automatically clogs the flow.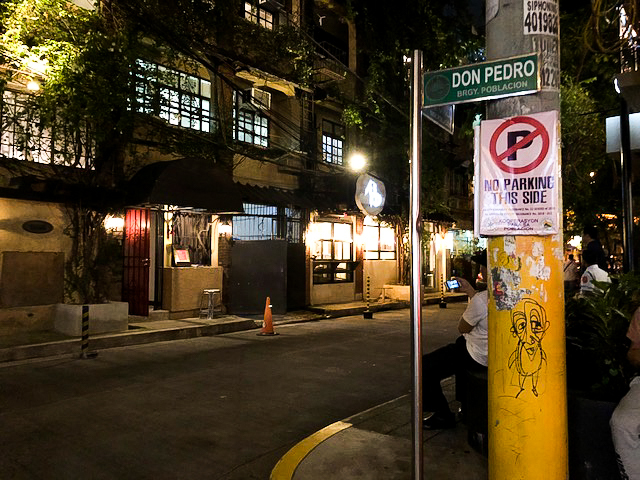 The bar owner, in turn, noted that areas within Poblacion that are not beside main thoroughfares like Kalayaan and Burgos Streets are listed as "R-2 Zones," meaning all structures are allowed to be "55 percent residential and 45 percent commercial."
Pressed further, the businessman who owns a set of bars and restaurants in the area, said the regulation allows a residential property "to have a business as long as it is not a major commercial establishment or chains like Starbucks and Jollibee.  That's why a hostel is legal in this area. That's also why some business establishments are actual houses."
A cursory look around Poblacion shows craft beer joints standing beside front yards with laundry lines. A new restaurant sign lends its brightness to a narrow esquinita leading to a warren of houses. There are dark abandoned homes with windows staring at customers across the street.
Noise Control
The Makati councilor said there are moves to declare Poblacion a mixed-use neighborhood to allow City Hall to craft more aggressive ordinances to regulate traffic, noise levels, and other concerns from the residents.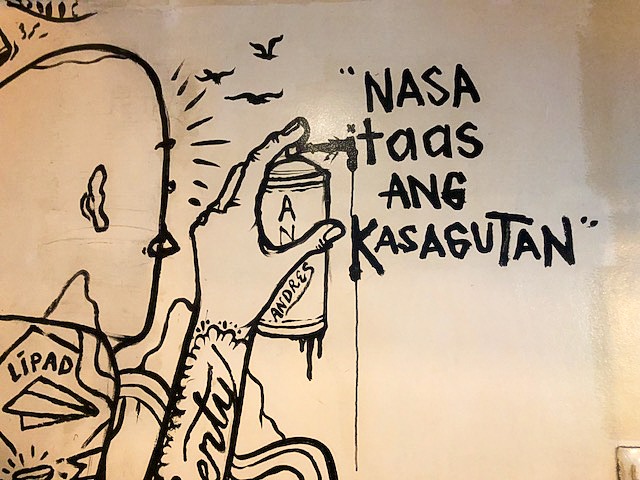 He mentioned that elevated noise levels are a nightly complaint.  It was the reason why City Hall recently suspended the operations of Kampai, a hipster magnet right across an Iglesia Ni Cristo (INC) church along Felipe Street.
"The place had people smoking, puking right there in front of the INC. Customers were scattered along the road and crowd control was dismal," the councilor said.
At present, Makati City observes "appropriate standards for community noise" that should not exceed 80 decibels as imposed by the Department of Environment and Natural Resources.
The law also puts acceptable noise levels at 60 decibels during daytime and 50 decibels when people are asleep but Poblacion's resto-bars crank up the volume at 110 decibels at least.
The councilor said the move to re-classify Poblacion should address the noise level dilemma. This requires the city council to pass an ordinance "because the national law is unrealistic. The decibel limit is too low."
The businessman noted, "it's been a year" since the Asian Development Bank submitted a report to City Hall warning of dangerous noise levels that could result to health problems for residents.
"There is a plan to install decibel readers along street corners.  If the noise limit is breached, the device sends a signal to barangay authorities and a warning is given to the offending establishment," he said.
"City Hall says they'll implement it but they need to address how to regulate (noise levels)," the businessman added.
Parking woes
Honking cars meanwhile, not only add to the noise.  Peace and order could be threatened by disputes over who takes the vacant parking space.
The councilor said there is an ongoing information campaign designating one-lane parking areas to ease the flow of traffic. This means one of the two lanes of each street would be assigned to parking while the other allows vehicles to pass through.
The businessman, however, is wary of this solution. If residents and visitors have to share a single lane, City Hall must make clear who between them gets priority.
"Otherwise, there will be arguments," he warned.
One barangay official who also requested anonymity wonders why City Hall continues to issue permits to operate if it is already concerned about Poblacion.
"On our level, we only issue a barangay clearance which is a requirement for the business permit.  But there are other requirements one needs to submit to City Hall before you can get a permit and operate an establishment," he explained.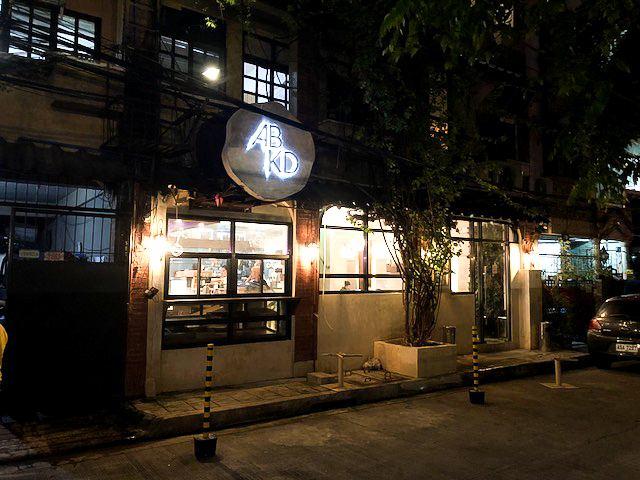 "It is City Hall that checks and inspects everything before the permit is issued.  Presumably, all businesses are legitimate because City Hall wouldn't give a permit if they were not," the barangay official added.
He noted, however, that there have been cases where an applicant for a clearance would tell the barangay that the business is a restaurant.  It would later get a permit and operate a resto-bar.
"Resto-bars are more problematic because of the noise level.  You can't tell authorities you have a restaurant and set up a bar," the official said.
Higher property values
If Poblacion's bubble continues to expand, developers would soon come over with surveyors. The businessman said he has heard of local investors "with foreign partners" already polishing their binoculars. "I have friends who have already taken advantage of the increasing real estate prices and have sold properties to interested parties," he said.
A square meter of land in Poblacion currently sells for P150,000. A similar patch in Bel-Air goes for P250,000, the businessman said.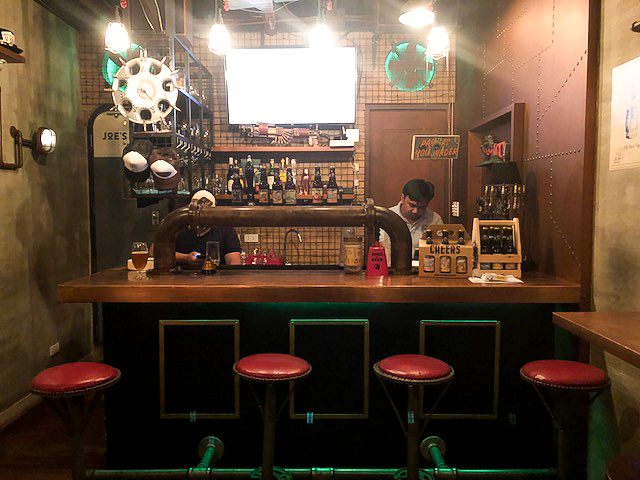 Soaring real estate is good news and bad news.  At some point, locals who cannot cope with the taxes could be forced to sell. The businessman is concerned about Poblacion losing its charm, especially if a land value crunch affects pioneer settlers who gallantly observe the annual cultural traditions and keep the neighborhood's folksiness alive.
"We have a Lenten tradition called Kalbaryo.  Neighborhood associations are all invested and participate.  We have kubols, about 40 of them, scattered throughout Poblacion. Depictions of biblical events.  We are so proud of it because no other neighborhood in Makati has it," the businessman said.
While he acknowledges that his establishments contribute to Poblacion's woes, the businessman insists "proper urban planning, keeping businesses homegrown and nothing too commercial" will help the area maintain its character and keep gentrification at bay.
"All these things we talked about have been concerns for the past three years.  I hope the solutions are forthcoming. There has to be some sort of fine line," he added.
Get more stories like this by subscribing to our weekly newsletter here.
Read more:
Poblacion's newest resident Yoi crosses from fusion dining to hip-hop sake bar
Siargao's best pizza is now in Poblacion
At this Poblacion pub, pescetarians can enjoy beer night, too
Writer: CATHY CAÑARES YAMSUAN