Viral spoofs of Ben Tulfo's accent on social media are proof that we've had enough of the onscreen swagger
#TulfoTwang is netizens looking the broadcaster in the eye and saying it to his face
Aug 23, 2018
"Look me in the eye…now say it to my face!"
Ben Tulfo obviously had no idea that the trademark one-liner he threw at Sen. Antonio Trillanes IV would soon be a punchline.
For several days now, male netizens have been posting on social media their imitation of the #TulfoTwang—the hashtag describing the semi-drunken baritone drawl he spoke with in a Senate hearing recently.
(State auditors claim conflict of interest because disbursements of government funds to his non-rating TV show on the government channel happened while elder sister Wanda Tulfo-Teo was secretary of the Department of Tourism. Brother and sister claim they had no clue their offices were transacting with one another.)
That netizens mixed in expletives Tulfo often uses in his Bitag program in their monologues only made their videos funnier.
Most of the spoofs are spot-on. They really look Tulfo in the eye and say it to his face.
As these videos continue to gather scores of likes, shares, and retweets, they also make many of us sigh with relief realizing that finally, Tulfo is getting his comeuppance.
But first a little history
For a greater part of this decade (and even during the one before it), Ben Tulfo had operated below the radar of traditional media. He was simply known as one of the younger brothers of Inquirer columnist and one-time police reporter Ramon Tulfo.
In time, Kuya Mon's younger brothers made their own names. Everyone took a cue from the columnist and developed themselves as hard-hitting reporters and commentators.
Youngest bro Erwin hit it big as a TV reporter. Raffy also became a TV household name and still has a show on a mainstream network.
Ben has always been less visible. But that did not stop him from developing into a bombastic character in his self-produced shows.
Described wholesale, brothers Mon, Ben, Raffy, and Erwin are total machos. They call spades as such, display anger when confronting inefficient minor officials, and have made "gago" and "tarantado" acceptable in local airwaves.
To be fair, the Tulfos really have a wide following especially among the disadvantaged. Taxi drivers, vendors, and the next-door neighbors are in awe of them.
Isumbong mo kay Tulfo, the radio program that Kuya Mon started and resurrected over the years, is literally considered a legitimate way to resolve personal and community conflicts.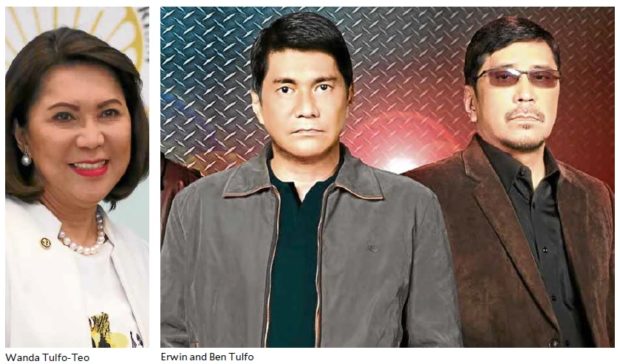 People troop to Ben Tulfo's Bitag Media Unlimited, Inc. because they are confident that Ben will give them an audience, call up their oppressor, and give the poor guy the time of day.
Truth is, the Tulfo brand fills a social need that frustrated citizens fail to get from petty bureaucrats. For many, the brothers are a sure-fire way to get results.
Somewhere along the way, however, it seemed the fraternal angas soared to new levels. It did not help that the Tulfo brothers' swagger fit perfectly with the braggadocio displayed by the President they swore loyalty to.
Sadly for the brothers, the Commission on Audit (COA) report indicating alleged irregularities in the public funds given by Ate Wanda's office to Ben Tulfo's program has made both of them fair game. That younger bro Erwin works as a Bitag talent apparently made it worse.
(Adding fuel was Kuya Mon's recent online tirade against emergency room doctors who allegedly refused to attend to a young girl his driver hit during a convoy. But this is another story.)
Sen. Trillanes wasted no time in hinting at Ben Tulfo's supposed guilt after the broadcaster said he will defy the COA order to return the money. "Ninakaw na n'ya, eh," the senator said.
It took several admonitions from blue ribbon chair Richard Gordon for Ben Tulfo to sit back and not pounce on Trillanes during that Senate hearing.
Gordon was firm in insisting Ben and Erwin were invited as witnesses and can only answer questions, not interrogate a senator.
Meanwhile, ordinary citizens who also can't pick up a Senate mic to give their two cents- who feel the need to put the brothers in their place—are now doing so creatively.
Videos found in #TulfoTwang are hilarious, cathartic, and as we last checked, not maligning anyone.
Ben and his brothers would just have to grit their teeth.
As Sen. Trillanes said during last week's hearing, the brothers should be able to "take it as good as they dish it."
Get more stories like this by subscribing to our weekly newsletter here.
Read more:
Only 30% of Boracay businesses are ready 2 months before reopening
Rather than rely on Pinoy resiliency, the government should focus on flood control
Why do government offices still close at lunch despite "no noon break" policy?
TAGS: #tulfotwang ben tulfo bitag Commission on Audit raffy tulfo ramon tulfo tulfo wanda tulfo-teo