Makati City is expecting to start the construction of its $3.7-billion (about P200 billion) subway system in December.
The city government isn't spending a single centavo on the project aside from contributing the land it currently owns, Mayor Abby Binay says at the weekly Kapihan sa Manila Bay forum last Aug. 22. It will be shouldered by a private consortium led by IRC Properties, Inc., the city has partnered with.
The 10-kilometer underground train line should be finished in 2023. The cars that can accommodate more than 700,000 passengers daily will be linking 10 air-conditioned stations in Ayala-EDSA, Ayala-Paseo de Roxas, Makati Fire Station, Makati City Hall, Rockwell, University of Makati, and Ospital ng Makati. These stations aren't final yet, though.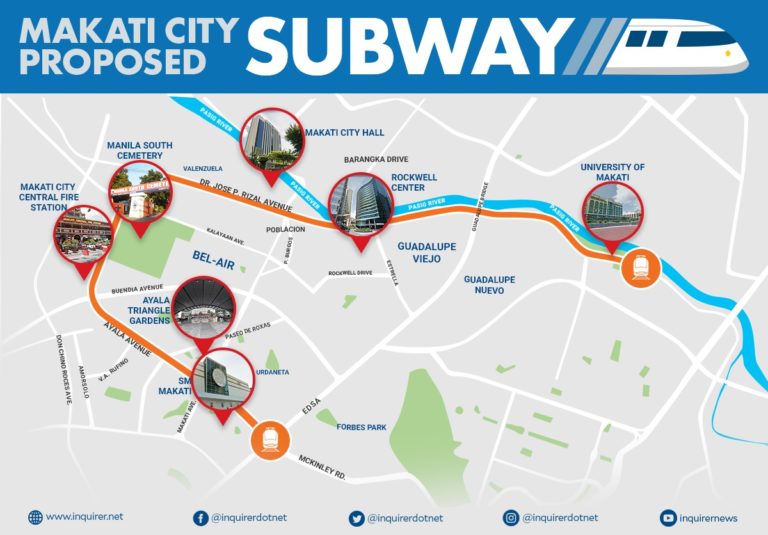 "The city of Makati will be a beneficiary of a project which is a 10-kilometer subway system that has 10 stops (stations) that will connect the central business district all the way to the second business district. Iko-connect niya 'yung Ospital ng Makati. That's for Phase 1," Binay says.
"May phasing sila, pero as far as phase 1 is concerned, it is a 10-kilometer subway system," she adds.
She also said that the construction and operation of the subway system will generate 6,000 new jobs by the time of its completion in five years.
Binay says the construction of the subway will not obstruct daily road operations, but just in case, let's brace for the worst for the business district.
This story is updated on Nov. 16, 2018
Get more stories like this by subscribing to our weekly newsletter here.
Header photo courtesy of Ed Lustan for Inquirer.net
Read more:
So instead of fixing the transpo system, the MRT charges people for overstaying
You can now ride a P2P bus from Bulacan to Quezon City