It's on the news, it's on our social media feeds, you hear it from someone you know. And every minute without us knowing, someone is being a victim of sexual exploitation. What's worse is that it's the children that are becoming the prime target of this global commercialized business.
And it's not just happening in dark alleys, brothels, or sketchy places but also online, and as experts warn, maybe even in the comfort of our homes.
What is exploitation and why should we be worried?
Commercial sexual exploitation of children (CSEC) is defined as engaging or forcing people under the age of 18 into prostitution and pornography in exchange for money or material payment. But as technology advances, predators are also taking to the internet to exploit children in a more obscure form of exploitation known as online sexual exploitation of children (OSEC).
According to a report by End Child Prostitution, Child Pornography and Trafficking of Children for Sexual Purposes (ECPAT) Philippines in 2011, an estimated 100,000 Filipino children are brought into prostitution each year.
Meanwhile, the United Nations Children's Emergency Fund (UNICEF) said that 8 out of 10 Filipino children are in danger of falling prey to sexual predators online. This is alarming especially because the Philippines has the most number of internet users in the world at 67 million, according to the latest data from We Are Social. More alarmingly, as more teenagers are finding their way to social networking sites such as Facebook, so are predators.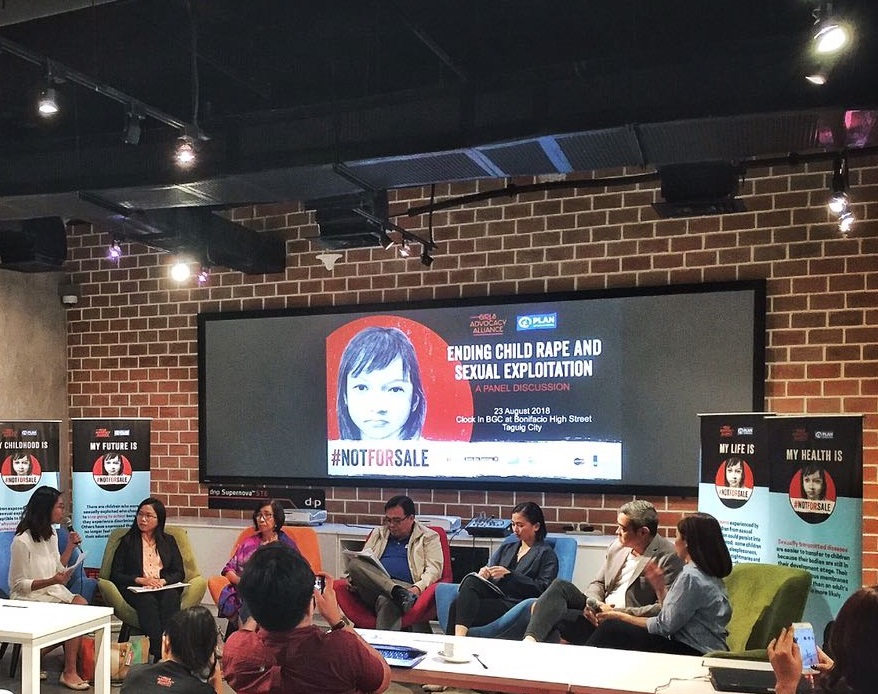 Plan International Philippines, a developmental and humanitarian organization, recently held a roundtable discussion with experts regarding the current state of children exploitation in the country.
Among the panelists who also shared stories and initiatives on how to put a stop to this growing problem are Ernesto Almocera, Jr., (Plan International Philippines), Atty. Stephanie Tan, (Children's Legal Bureau, Inc.), Patricia Ayson of Girls Got Game, psychologist Dr. Elizabeth Protacio-De Castro (Psychosocial Support and Children's Rights Resource Center and Child Rights Coalition of Asia), and media personality Anthony Pangilinan (Called to Rescue).
It starts at home
Dr. Protacio-De Castro said that it helps to reevaluate our view that exploitation only happens in brothels and in the streets. In reality, she said it can happen inside the house, in your child's bedroom, when they open Facebook, and even at school. As such, she suggests that intervention and prevention begin at home.
"Sometimes when I give advice to parents I feel like I am scaring them. But then again it may be good to scare them enough to do something," she said.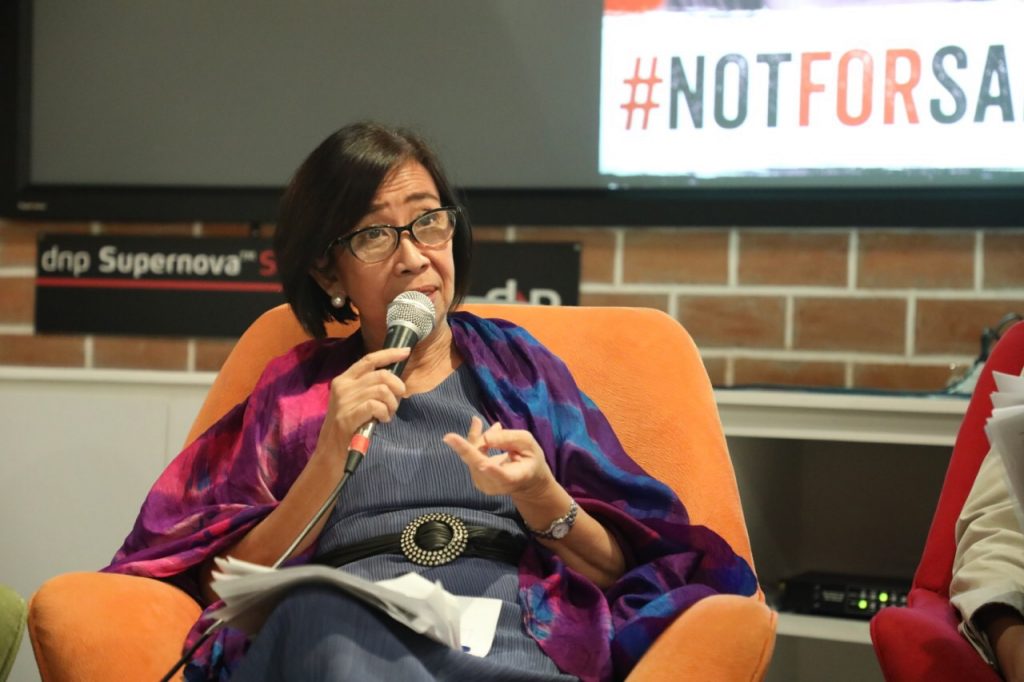 Sex education as a foundation
If there is something Dr. Protacio-De Castro gets asked a lot as a psychologist it's probably, "So how soon can we tell our children about sex and so on?" to which her answer is always: "As soon as they ask no matter what age."
However, she cautioned that your answers to the questions your children should not be just a bunch of guesses nor overly scientific facts. She suggests that these should be educated answers that are deemed age-appropriate so your child can understand them given their level of comprehension.
Otherwise, if parents don't set aside their fear of discussing the topic of sex with their children, they might consult with peers who often have a lot of misconceptions about sex.
"There are societal taboo and negativity attached to sex," said Dr. Protacio-de Castro. "But sex in itself is a beautiful activity if done in a proper way with all the understanding about it and this is what is lacking in our children."
Teach them about consent
The age of consent has recently become a hot topic in the country. We have the lowest age of consent at 12 in Asia, according to UNICEF, which means that sexual intercourse with children of this age is not considered statutory rape.
The Philippines has the lowest age of sexual consent in Asia and one of the lowest in the world. Tell our lawmakers to increase the age to determine statutory rape. SIGN THE PETITION HERE: https://t.co/lfJW52yrNy #ENDChildRape pic.twitter.com/b4Cap22ZMT

— UNICEF Philippines (@unicefphils) July 26, 2018
Although, some lawmakers and advocates have been pushing to have this raised, still, it's a long road to achieving this given the barriers in the law and justice system, the panelists agreed.
Dr. Protacio-De Castro said that for children to have the capacity to have consent they must be psychologically and developmentally prepared, and this is not happening at 12 years old.
In the meantime, given the faulty laws and the freedoms afforded to the youth, what she suggests is early intervention. "As elders, we, parents, and members of the family have a responsibility to teach and inform children about the consequences of their action, especially the case of sexual consent."
Strengthen their life skills
Another important aspect of parenting that Dr. Protacio-De Castro pointed out is to focus on strengthening your children's life skills.
"By life skills, I mean, in terms of self-assertion, the art of saying no; attitude towards relationships and partners, as well as with others," she said. "We have to equip them with abilities to surmount these problems on their own because, at the end of the day when we are not there, they will have to help themselves."
She also added that by strengthening their life skills, we are making them more resilient, a natural characteristic of children we often take for granted.
"It pays for them to be more resilient because enhancing resilience makes them happy, whole, human beings who can face the problems of life no matter what."
"We have to equip them with abilities to surmount these problems on their own because at the end of the day when we are not there they will have to help themselves."
Family values are crucial
The formation of the personality and characteristics of a child are highly dependent on what kind of family they have and how they are raised, this is what Dr. Protacio-De Castro always remind parents.
How you are as parents make a huge difference for your kids, but developing parenting skills can be especially difficult given that there are no clear-cut paths to becoming good parents—except maybe for a few minutes during marriage orientation at the church, joked Dr. Protacio-De Castro.
And while there is no one parenting style that suits all families, the least you can do is to find a middle ground, which psychologists call as "positive parenting."
But even that may prove insufficient. When worse comes to worse, she advised training also those who play an integral part in raising the family, caregivers, and helpers alive. So when tough times arise, you can count on them to become "psychological first-aid."
Communicate and listen in new ways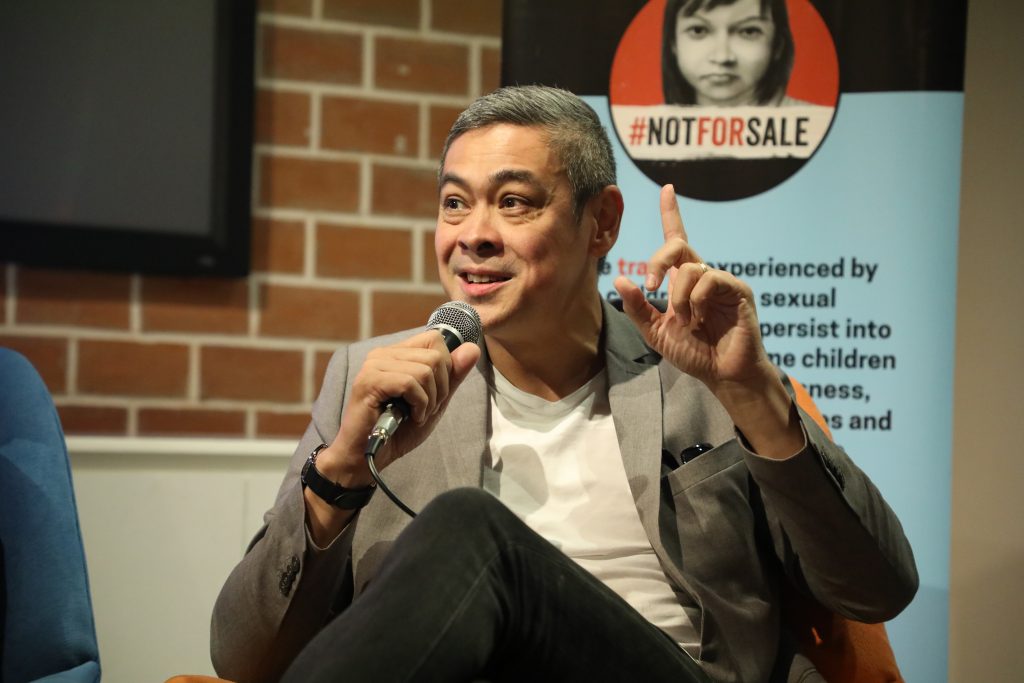 Also part of the panel was Anthony Pangilinan who, apart from being a media personality, also serves as the Officer in Charge in the Philippines of worldwide organization "Called to Rescue," a non-profit committed to helping prevent human trafficking through education and training.
Having been to many rescue operations and talks, he realized that it is not only the culture of silence that's keeping victims, and possibly your kids at home, in the dark. It's that they are afraid of being humiliated.
"They're not silent they are just scared of being humiliated. So you have to come to them and approach them their way," Pangilinan shared.
He noted that our obsession with the traditional way of communication (one-on-one, open forum, etc.) are causing us to miss out on their new ways of expressing themselves, which most of the time are through social media.
"Listen to them, look at the way they communicate, read between the lines when they post something," Pangilinan said. "'Di ba minsan alam mo na, meron ka nang nabasa, meron nang warning. Why didn't anyone call, pick up the phone or message the person? It's not that they are not communicating but they do just in new ways."
Get more stories like this by subscribing to our weekly newsletter here.
Photo courtesy of Unsplash
Read more:
How to teach your kids about consent
For girls who've survived sexual abuse, art helps them deal with painful, messy emotions
Is sex still considered taboo?
Read more by Christian San Jose:
What "Crazy Rich Asians" is not telling us about the income gap
Balangiga bells to return to Samar after 117 years
Why do government offices still close at lunch despite "no noon break" policy?
Writer: CHRISTIAN SAN JOSE