Filipino will no longer be a required university subject
The Supreme Court has finally reached a decision after almost three years of deliberation
Nov 12, 2018
The Supreme Court (SC) has ruled that the K-12 curriculum is constitutional.
While this means that the country's K-12 program is here to stay, making our educational system 'in par' with other countries, it also means that universities and colleges can now opt to exclude Filipino and Panitikan or literature subjects in their curriculum.
To give you a quick background, the Commission on Higher Education (CHED) introduced a new general education curriculum in 2013 that reduces the number of units to a minimum of 36. The curriculum, issued through a memorandum order, did not include Filipino and Panitikan as core subjects.
Because this was negatively received by the public and other relevant stakeholders, the SC issued a temporary restraining order (TRO) in 2015 that stops the new curriculum from taking effect, retaining Filipino subjects in universities. But just recently, the SC has decided to lift the TRO and thereby, enacting the new curriculum. These changes are said to avoid the duplication of Filipino subjects already taught in elementary and high school.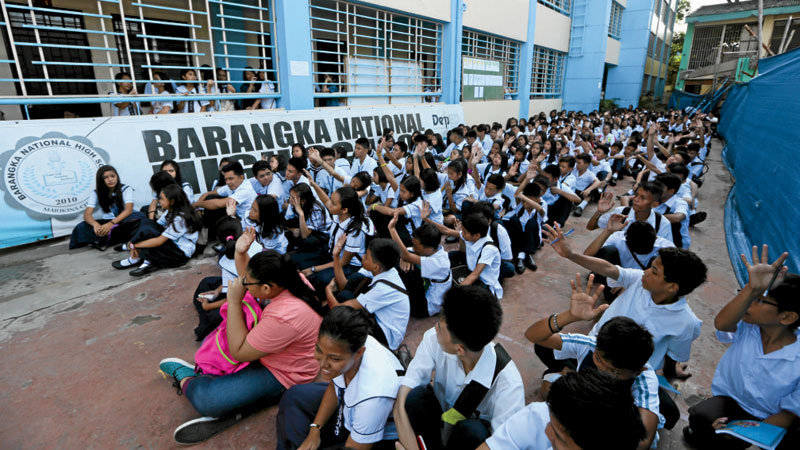 This was already a controversy even back in 2014. Filipino language advocates and various groups called the CHED memorandum as a violation to Section 6, Article XIV of the Constitution. The clause states that, "the Government shall take steps to initiate and sustain the use of Filipino as a medium of official communication and as language of instruction in the educational system."
Meanwhile, Tanggol Wika, a group of professors, students, and activists formed as a response to the 2013 memorandum, also slammed the curriculum as it violated a number of laws such as the Organic Act of the Komisyon sa Wikang Filipino/KWF/Commission on the Filipino Language, Education Act of 1982, and the Organic Act of the National Commission on Culture and the Arts/NCCA.
Dr. David San Juan, Tanggol Wika spokesperson and associate professor of De La Salle University-Manila, said in an interview with DZMM that the SC's decision will reduce the avenues for nationalism and cultural discourse. This would also inherently leave about 10,000 Filipino teachers jobless. The organization also pointed out that even highly-developed Asian countries have native language classes for tertiary students.
While the SC has expressed that universities can still continue to teach Filipino subjects, the non-requirement of the subject might eventually lead to the degradation of the language itself. As of writing, the faculty of the University of Santo Tomas has urged its administration to retain the subjects.
Let's hope that other universities will also follow suit and essentially, continue to instill the Filipino language and culture among college students.
Header image courtesy of Unsplash
Read more:
Why is it important to study Filipino even in college?
Writing a nation: Should we start using Baybayin again?
Saving the country's dying languages, one monument at a time
Read more by Jill Chua:
Metro Manila's garbage crisis has gotten worse this year
Country's first 'landport' will redefine how we commute
TAGS: CHED college culture filipino nolisoliph panitikan subject supreme court tanggol wika university