Sold for almost P4 million: Luna's deadly telegram, Bonifacio documents auctioned off last week
A mysterious buyer bought the prized telegram six times its original floor price
Dec 3, 2018
The historic telegram that is linked with General Antonio Luna's assassination was just sold for P3.74 million in a recent auction held by Leon Gallery—an amount six times the original floor price of P500,000 (Read: Aguinaldo's deadly telegram to Heneral Luna emerges in auction). 
According to a report, a lady who "sat at the far end of the room, who was on the phone bidding on behalf of a mystery buyer," won the telegram, as well as Acta de Naic for P4.2 million, a military agreement signed by Andres Bonifacio that established a government separate from the one formed at Tejeros.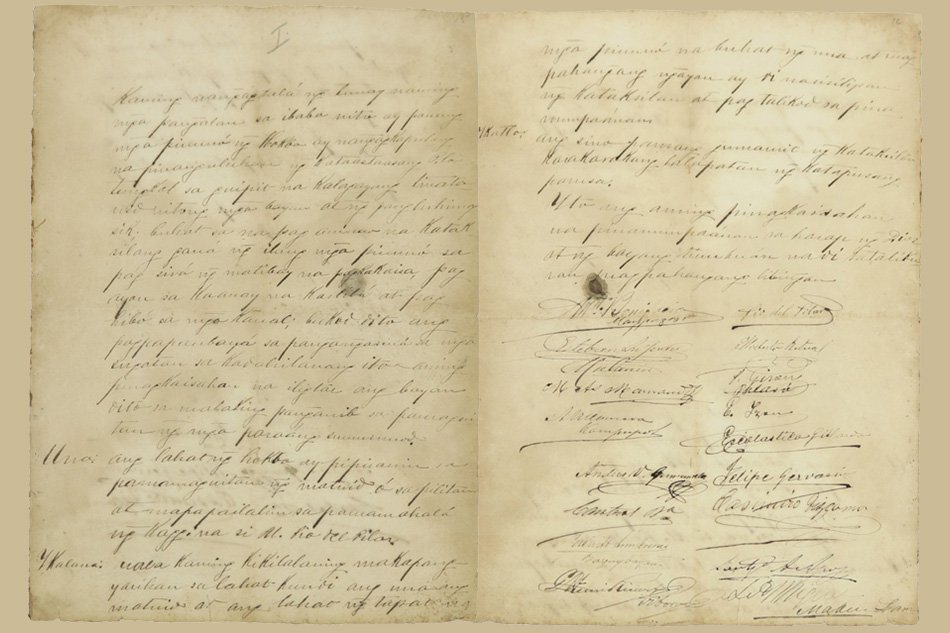 Another important document sold was Acta de Tejeros, a document by Bonifacio and his supporters which questioned the election of Emilio Aguinaldo as president, for P3.8 million.
"There was spirited bidding from three to four zealous Philippine history fans—fighting over the various papers as if they were Heneral Luna themselves. Each bidder had a very definite strategy. But like in any battle, only one can win," Leon Gallery curator Lisa Guerrero-Nakpil said.
When it was announced weeks before that the telegram will be up for sale, Guerrero-Nakpil said that the telegram, as well as Bonifacio documents and the Tinio Brigade dagger, has since been visited by society matrons and millennial students.
To give you a quick background, the telegram dated June 4, 1899 was sent by Emilio Aguinaldo summoning Luna to Cabanatuan to discuss "urgent matters." Historian Ambeth Ocampo says that this was just one out of the four telegrams sent to locate and trap Luna.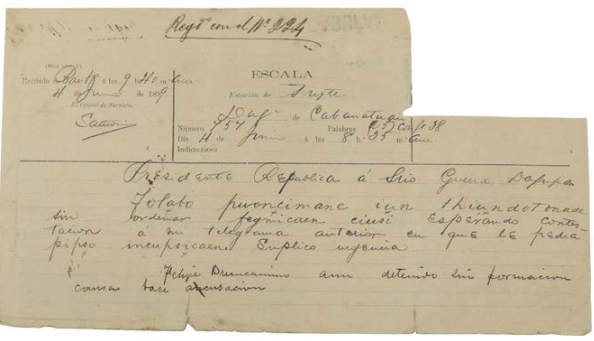 The telegram also features a clipped portion on the upper right corner, signifying that Luna received the telegram. However, historical accounts say that Aguinaldo never made it to the meeting as he was away for more important business.
According to Ocampo, Luna instead caught sight of Felipe Buencamino, whom he ordered arrested for treason, and Aguinaldo's bodyguards, whom he previously disarmed for insubordination, roaming around the Cabanatuan headquarters. This enraged Luna, threatening them to return with more soldiers and arresting them himself.
But before he could even finish his threat, Luna was already left bleeding on the ground, assassinated by Aguinaldo's men allegedly for "self-defense." Aguinaldo vehemently stood his ground, saying that he never sent the telegram and wasn't responsible for the general's death.
It was only recently when the mysterious telegram was unearthed in Luna's family belongings.

National Historical Commission of the Philippines acting Executive Director Ludovico Badoy has since called on to Leon Gallery to hold the auction of prized documents such as the telegram so the government can buy them instead. 
However, Leon Gallery owner and director Jaime Ponce de Leon declined the request. He remains hopeful that "these acts by the government won't become a deterrent to custodians of historical objects and documents, because things like these will never be found again, will never be seen."
He adds that the buyers of Leon Gallery have become better custodians of the valuable artifacts. One such example is the KKK flag sold last September for almost P10 million. According to de Leon, the flag was in a terrible condition when it was sold but the owner has since done all the "correct measures to get it back to its original state."
If the government can't do anything about it, let's just hope that these mysterious buyers would share the artifacts with the rest of the country, instead of keeping them in an enclosed glass in the confines of their home.
Header image courtesy of Leon Gallery.
Read more:
Aguinaldo's deadly telegram to Heneral Luna emerges in auction
A boceto of Juan Luna's "Spoliarium" was unearthed in Europe
"Heneral Luna" is coming to Netflix—here are other films we want to see, too
Read more by Jill Chua:
Filipino will no longer be a required university subject
How ready is DepEd to introduce foreign language classes?
TAGS: Aguinaldo auction deadly telegram gallery history Leon Gallery luna telegram