Aguinaldo's deadly telegram to Heneral Luna emerges in auction
Does this telegram, which has been missing for more than a century, prove that Aguinaldo was behind Antonio Luna's death?
Nov 20, 2018
"Aguinaldo could not have been responsible for Luna's death," wrote Filipino historian Teodoro Agoncillo in "Malolos: The Crisis of the Republic" (1960). He said the reason behind Heneral Antonio Luna's death relies on a telegram he allegedly received, which summons him to meet President Emilio Aguinaldo in Cabanatuan. "The telegram is missing, and no one has found a copy [of it]."
But recently unearthed from the Estate of Grace Luna de San Pedro, the daughter-in-law of Juan Luna, is a 7 x 12-inch telegram that reads: "PRESIDENT OF THE REPUBLIC TO THE SECRETARY OF WAR, DAGUPAN : Paging for an important meeting, therefore you are ordered to come here immediately. This is in response to your previous telegram about urgent matters to discuss. It is really an emergency."
The document was dated June 4, 1899–the day before Luna faced his death in the hands of the Kawit Brigade. It's the telegram historians have been looking for for more than a century. And it's about to be sold at a floor price of P500,000 in the year-end auction of Leon Gallery.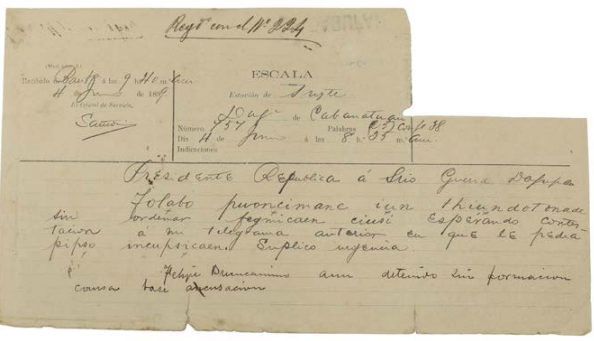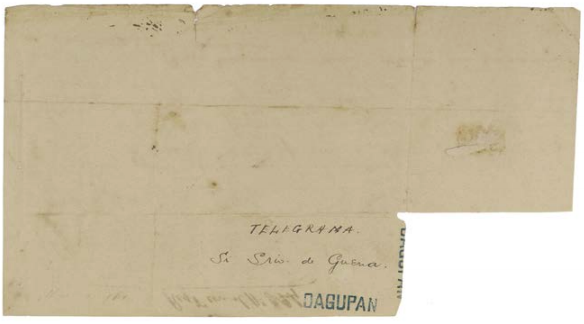 According to Lisa Guerrero Nakpil, auction curator, the telegram was addressed to Dagupan, received at the San Fernando, Pampanga Station at 8:35 a.m., and was delivered in Tarlac by horseback. It has a clipped portion on the upper right corner, which signifies that the recipient, Luna, has received the message.
Nakpil stated that according to artillery captain Eduardo Rusca, one of Luna's officers, the general received the telegram "between 6 and 7 p.m. while having supper at a government building in Tarlac."
Luna even wrote a response to the telegram, saying "Felipe Buencamino not yet detained based on my accusation."

If you have watched Jerrold Tarog's Heneral Luna (2015) or have read historical records during the Philippine-American War, you would know that Luna had previous disagreements with Buencamino. Historian Ambeth Ocampo even recalled in his previous opinion article that Luna "slapped Buencamino across the face, knocking him down." This was based on the historical account written by Agoncillo. "Luna would have continued his attack on Buencamino had not Aguinaldo intervened."
It was not the only telegram sent by Aguinaldo that summons Luna to go to Cabanatuan, however. Nakpil, citing Teodoro Cada's account (the telegram operator at that time), said four telegrams were sent "in quick succession and to various telegraph points [around Tarlac] to ensure the messages' certain delivery." In other words, Aguinaldo wanted to make sure that Luna would appear in Cabanatuan to face his death.
This small, handwritten telegram unexpectedly unearthed in the Luna family hoard plays an important role in our country's history. Luna was committed to protecting the people during the war with the "urgent matters" he wanted to discuss with the president. Aguinaldo, on the other hand, was committed to silencing Luna.
A piece like this should not be kept within the walls of private owners or exclusive galleries. It should be displayed on museums accessible by all members of the community. It should not face the same fate of the also historically important "personal flag" of Katipunan founder Andres Bonifacio, which was still sold by Leon Gallery during their September auction despite the appeals of the National Historical Commission of the Philippines. (Read: Bonifacio's flag was auctioned off for P9.3 million—should we have allowed it?)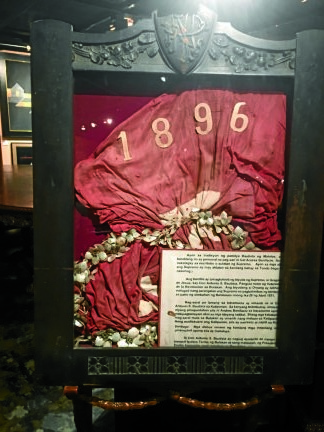 We finally have a proof of the claims we have been questioning for decades. But we may lose this again on Dec. 1, the day Leon Gallery will put this up for auction, to another private collection and forget it for another century. Like what we have said before, the cultural agencies of the government must be given the power to stop the sale of historical objects and enough funds to pay the individuals who want to sell the relic.
This is why it is high time for the Congress to create a Department of Culture. We can't let the words and mementos of our heroes be lost again.
Header image courtesy of Leon Gallery
Get more stories like this by subscribing to our weekly newsletter here.
Read more:
Congress has little time left to create a Department of Culture
Historical proof of Aguinaldo's betrayal now at Leon Gallery
"Heneral Luna" is coming to Netflix—here are other films we want to see, too
Read more by Amierielle Anne Bulan:
Legacy of Nat'l Artist Ramon Valera continues with his family's new bolero designs
Filipino Sign Language Act is now a law. Here's what we should expect
EXCELSIOR: Stan Lee, true superhero of Marvel Universe, dies at 95
TAGS: Aguinaldo art auction auction bonifacio flag heneral luna Leon Gallery Letter Philippine American War telegram Telegraph Year-end