Salcedo Auctions has another Juan Luna boceto on the block
It's a study of Luna's first award-winning work, "The Death of Cleopatra"
Feb 26, 2019
It has been six months since Salcedo Auctions sold for a stunning P63 million a boceto or study of Juan Luna's "Spoliarium," a 29 x 56-inch piece unearthed in Europe that caused an almost month-long drama in the Philippine visual arts scene.
This March, the Makati-based auction house is putting another boceto of another Luna masterpiece on the block: the award-winning  "La Muerte de Cleopatra" or "The Death of Cleopatra."
The 1881 painting bagged a Second Class Medal at the 1881 National Exposition of Fine Arts in Madrid, which is not only Luna's first art exposition but also the same contest where the 7×4-meter "Spoliarium" won three gold medals years later. It was also through the "Cleopatra" painting that Luna's talent was first recognized by the Spaniards who offered him a pension scholarship at Ayuntamiento de Manila.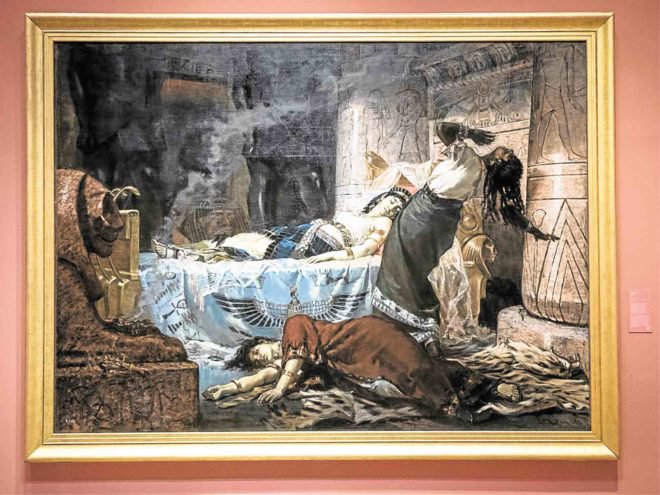 But unlike the "Spoliarium" which now hangs at the National Museum in Manila, the "Cleopatra" has never set its foot (or frame) in the country. It remained tucked in and not exhibited at Spain's Museo Nacional del Prado, until the National Gallery Singapore was able to loan it in early 2018 for an exhibit that highlights important artworks from the 19th century.
In 1988, however, a signed boceto of the "Cleopatra" was unearthed and authenticated by the National Museum and National Artist for Visual Arts Jose Joya. It was unveiled in a month-long retrospective exhibit of Luna and colleague Felix Resurreccion Hidalgo's works at the Metropolitan Museum of Manila.

After the commemorative exhibit, the study fell under the collection of Eleuterio "Teyet" Pascual, who Salcedo Auctions director Richie Lerma refers to as a widely recognized collector of Philippine art.
The "Cleopatra" boceto depicts the moment the Egyptian ruler's suicide was discovered by her two ladies in waiting, with one passed out on the floor and another on the verge of collapsing.
Inscripted on the lower left of the study is a dedication by Luna to his father.
The oil-on-canvas painting, according to Salcedo Auctions, was inspired by the 1874 Jean-Andre Rixens painting which also portrays the expired queen with two ladies in waiting. Their estimate price range of the boceto is withing P8 million to P10 million.
Untitled Luna and Hidalgo
Lerma said the auction house is also putting up for their sale a "previously unknown work of Luna" that came from the private collection of Doña Maria Nuñez Rodriguez whose father-in-law was a mayor of a Spanish town.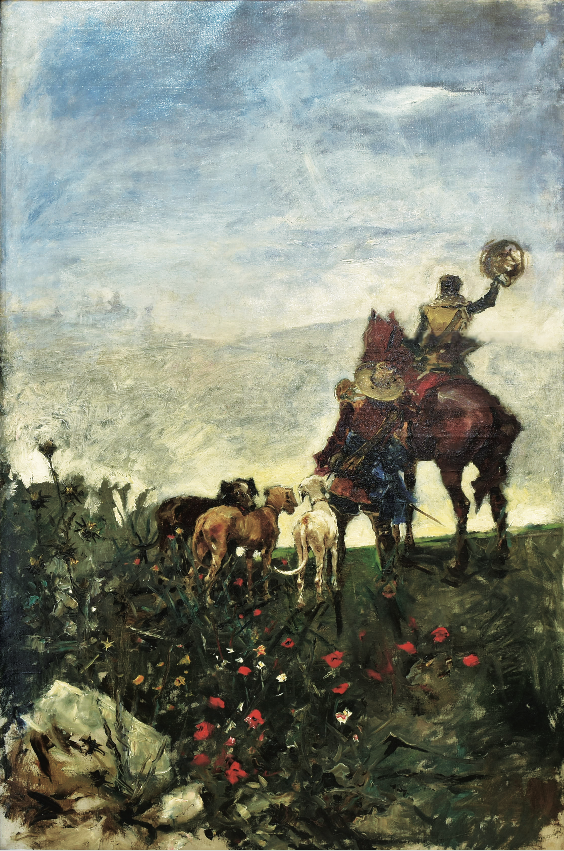 Now called "The Hunting Party," the painting shows Luna's familiar light brush strokes. It portrays three dogs following behind two men on top of a hill—one man's riding on horseback while the other's on the ground, possibly a servant. "The scene is that if an aristocratic pastime—a hunting party," he added.
Aside from this oil-on-canvas with an P8 million floor price estimate, the estate of Rodriguez owns another Luna piece called "Espana y Filipinas." It's not up for auction, but it used to hang diagonally across the untitled Hidalgo they're also bringing on the block.
The untitled 1880 work by Hidalgo, which Salcedo Auctions claims to be "closely linked to Hidalgo's 'Nude in Studio' painting" is estimated to be sold within the range of P7 million to P12 million. It shows a person draped by a silk-like blanket with orange and scarlet hues, leaning in a forest-like area.
"The [work] combines Neoclassical theatricality with a moral sense. One may see here in this mythological reconstruction of a nymph in a lush forest a seen cloaked by romance and enigma," he said.
Lerma added that the continuing admiration for exhibits showing works by Luna and Hidalgo is a proof of our enduring belief in the power of their art, no matter how many centuries have passed.
Get more stories like this by subscribing to our weekly newsletter here.
Read more:
Own one of Juan Luna's letters and other important artworks at this weekend auction
A boceto of Juan Luna's "Spoliarium" was unearthed in Europe
Is that Spoliarium boceto the real deal? Here's what a historian has to say
Read more by Amierielle Anne Bulan:
Aguinaldo's deadly telegram to Heneral Luna emerges in auction
Filipino-made app for fishermen catches grand prize in NASA challenge
This century-old "bahay na bato" in Iloilo now houses 13 galleries
TAGS: art auction Boceto Felix Hidalgo juan luna Neoclassical painting salcedo auctions