Have you ever had those moments when you're on a staycation, and you just don't want to go home? Times that you just wish you could stay and live in that hotel room forever?
Well, it may be possible.
Branded residences may no longer be a new concept—it is said to have started in the 1920s with New York's Sherry-Netherland Hotel and its serviced apartments—but its appeal remains to this day.
It may be about brand recall. This is especially evident in the country, where we place a high regard on brand names—to the point that we even call a generic class of items by a specific brand (common, if not dated, examples would be referring to toothpaste as Colgate, or Xerox for copiers).
Brand names carry with it prestige. So to have a home with a big name attached to it already adds to the premium. But that's not the only benefit of living in a branded residence. Unlike serviced residences—apartments or condominiums attached to hotels, or even units for long-term lease within hotels themselves—branded residences are separate from these establishments. Branded residences give its residents access to its connected establishments, but with more benefits. The connection to a well-established brand also comes with the assurance of quality in terms of service, materials used, and facilities. When applied to a home, this also adds a level of comfort and opulence.
All over the world, various brands have begun to take on the branded residence sector. Luxury design houses such as Bvlgari, Versace, Hermès, and Armani are some brands that have collaborated with developers. Interior design, furnishing, and overall fit-out of apartments or villas by these developers are done by the luxury brands, creating a unique, almost even curated living experience for residents.
The report "Live Branded: The Rise of Branded Residences," by List Sotheby's International Realty cites Bvlgari Residences as an example. "In addition to the privileged access to all services of Bvlgari Hotel, residents of Bvlgari Residences will enjoy the exclusive services of an art curator, personal shopper, personal trainer, wine sommelier, florist, and an image/public relations consultant." By these sheer services alone, we can tell that branded residences aren't just a notch higher than even the most exclusive subdivisions—they may even be a whole class on their own.
Fashion houses and hospitality brands aren't the only ones that collaborate with developers to create branded residences though. Automotives have also ventured into creating branded residences. For example, Porsche has recently opened the Porsche Design Tower in Miami and in Germany, where buyers can "enjoy elements of their favorite luxury auto brand(s), even when they are not on the road." The Porsche Design Tower in Miami, in particular, has a lift that is designed specifically to take a luxury car up to an apartment, doubling as a display "case" for the owner. A "car concierge" that takes care of the luxury cars' regular maintenance is also available at the development.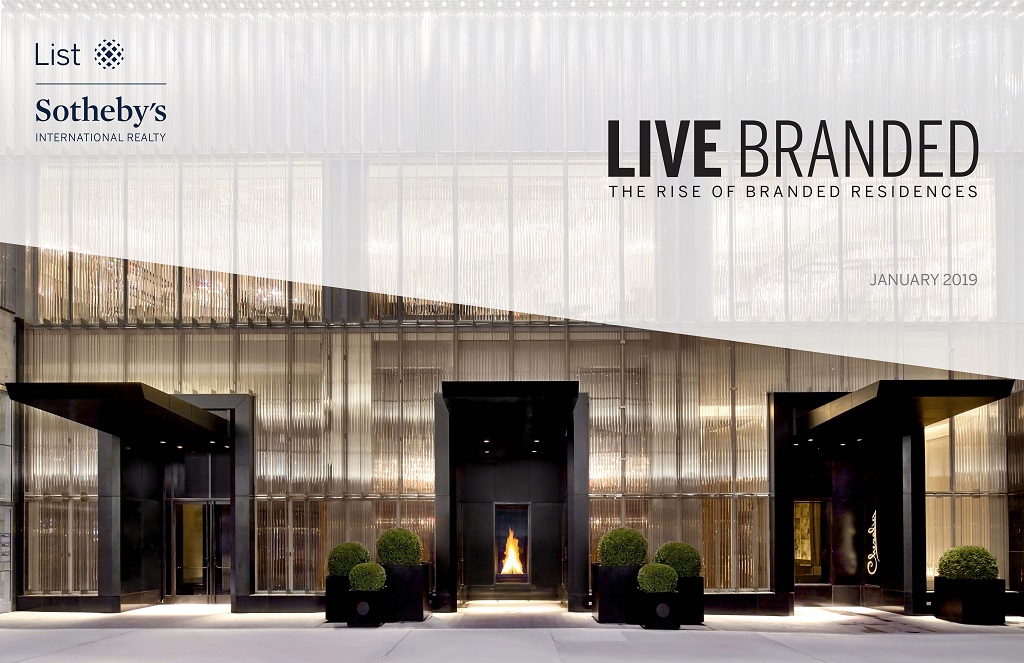 In the world, the US and Asia lead the branded residence market, taking 32 percent and 30 percent market shares respectively. The Philippines is also one of the first few countries in Asia to play home to branded residences. In 1993, luxury resort brand Aman opened Amanpulo in Palawan—it is, to this day, one of the foremost luxury resorts that comes to mind when Palawan is mentioned.
A little closer to home is The Milano Residences in Makati, developed by Century Properties with Versace Home. Completed in 2016, Milano Residences is the first project in Southeast Asia that was interior-designed by Versace Home. It features 340 apartments within its 52-story tower, which ranges from studio-types to one- to three-bedroom spaces.
Next year, fashion brand Armani will be opening the Century Spire, another branded residence in Manila.
Readers who are interested to download the "Live Branded—Rise of the Branded Residences" report can do so from website of List Sotheby's International Realty, here.
This article was written by LSIR SG with offices in the Philippines at Unit 802 Eco Tower, 32nd Street Corner 9th Avenue, Bonifacio Global City, Taguig. 556-0554
Header image courtesy of Eiji K/Unsplash.
Get more stories like this by subscribing to our weekly newsletter here.
IN PARTNERSHIP WITH LIST SOTHEBY'S INTERNATIONAL REALTY PHILIPPINES