If you had to think of one breakfast place in a snap, Kanto Freestyle Breakfast may come into mind. From its humble beginnings as a karinderia that's literally situated at a kanto or street corner, the breakfast chain has earned itself a cult following for its silog dishes.
They're paired with Kanto's famous "freestyle egg," which can be cooked in different ways: scrambled, sunny-side up, poached—you name it. Kanto has already established itself as a go-to breakfast place across the metro, but their newest branch in Greenhills hopes to take it up a notch.
Named as Kanto Freestyle Breakfast 65 Degrees, no one would actually think that "65 Degrees" meant something. But it really isn't as complicated as it sounds. Just think of it this way: This specific branch is introducing sous vide eggs or poached eggs that when broken, reveal a gooey and runny yolk. Sous vide eggs are ideally cooked at 65 degrees, hence, the name. But as Kanto's corporate communications officer Paul Corpuz explained, there's more to the name than just poached eggs.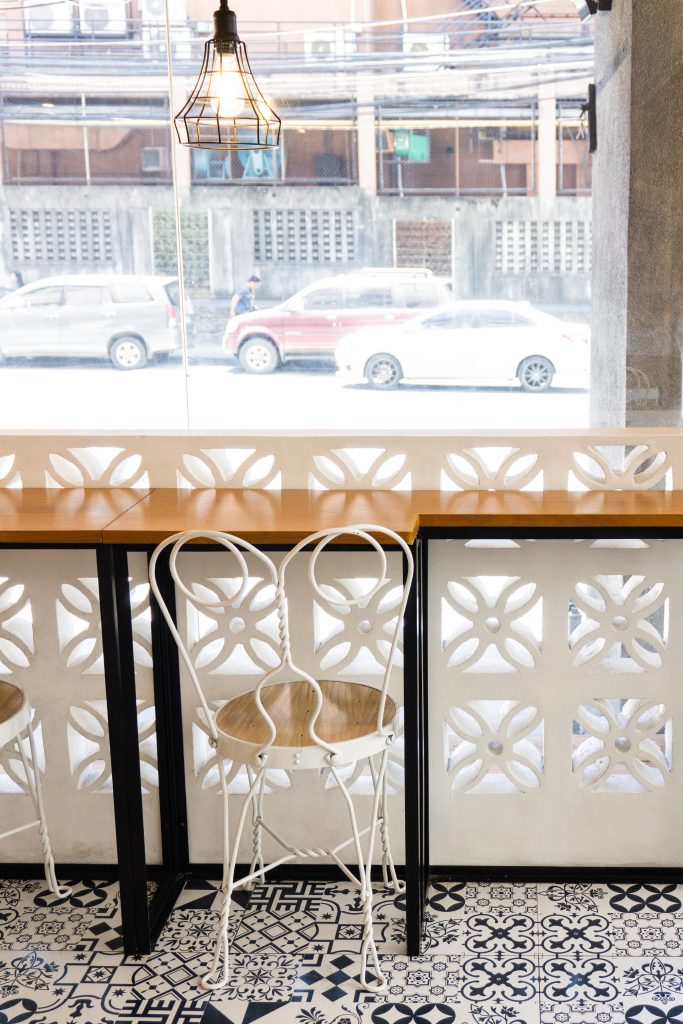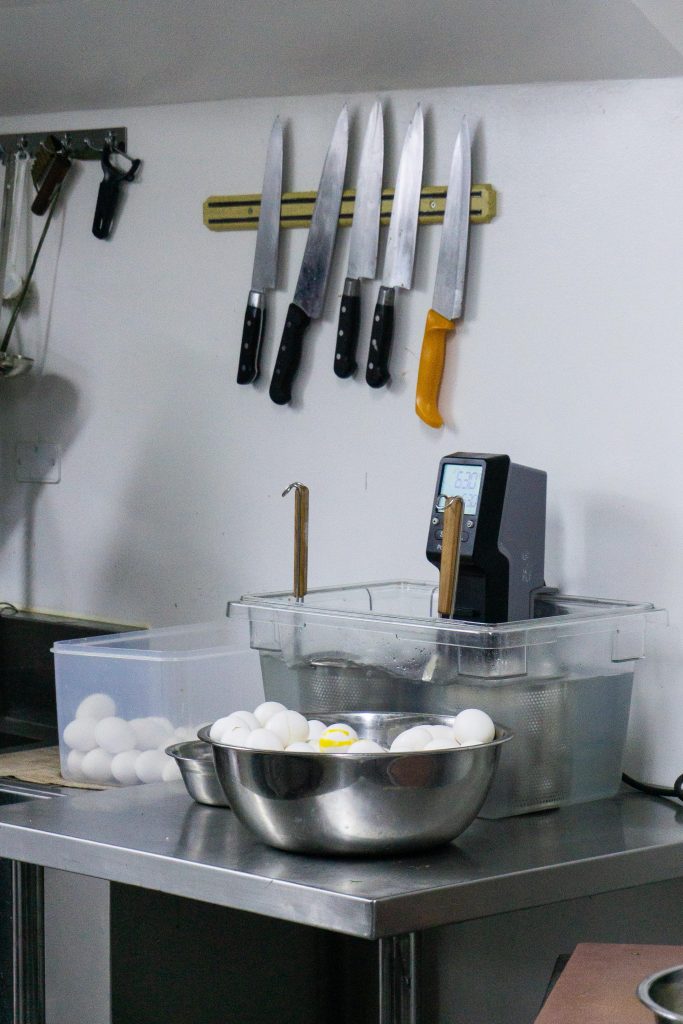 "It's more of a laboratory or innovation hub for our chef who makes the dishes," Corpuz said. "New dishes will be exclusive here because this is an innovation hub [but we will] eventually cascade them to the other seven branches," he explained. Under the "future faves" section, you will see new dishes such as roast beef pares, twice cooked crispy pork belly, among others—and you have chef and co-owner Archie Juanta to thank for.
Currently based in New Zealand, Juanta conceptualizes the dishes from his kitchen there. He brings his new recipes with him when he comes home to the Philippines once a year, which he then introduces at the 65 Degrees branch. Safe to say that a year from now, Kanto 65 Degrees will be having a new set of innovative dishes, and some dishes that have been solely available in the said branch will be available in the other branches. The 65 Degrees branch is also open 24/7.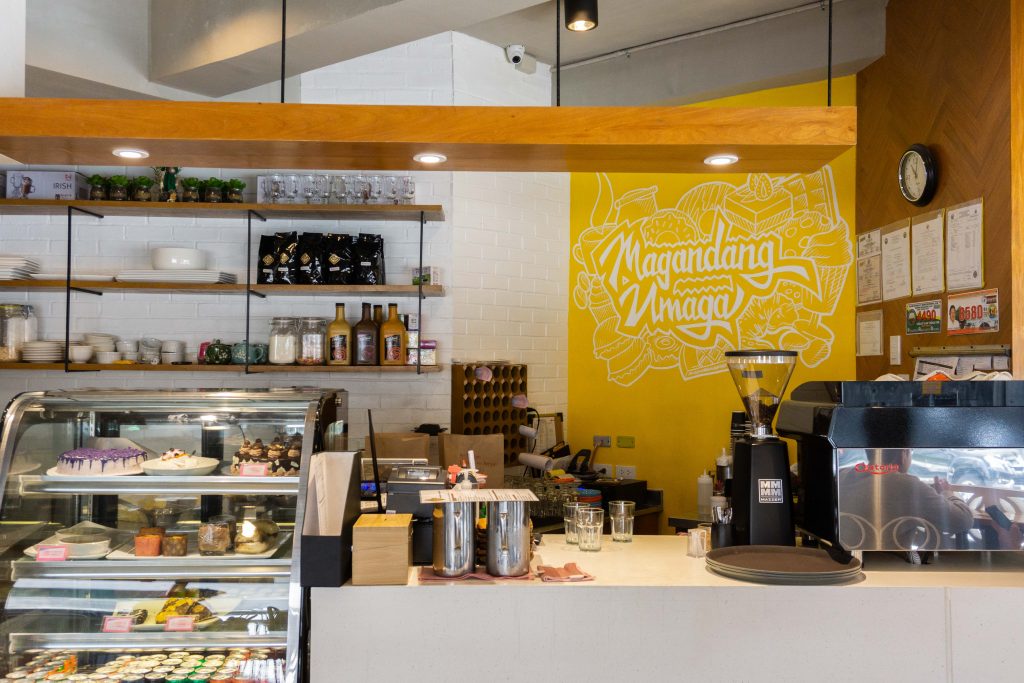 They also reinvented classics such as the hot pandesal with cream cheese pimiento, pesto butter, and kesong puti. In the 65 Degrees branch, three pieces of freshly baked pandesal is served with garlic confit, liver pâté, and pesto instead. The pandesal itself was soft and subtly sweet. But paired with a clove of garlic topped with pesto or liver pâté? It was simply bursting with flavor. It's exactly the kind of dish that you'd want to have on a Sunday morning or an afternoon meryenda.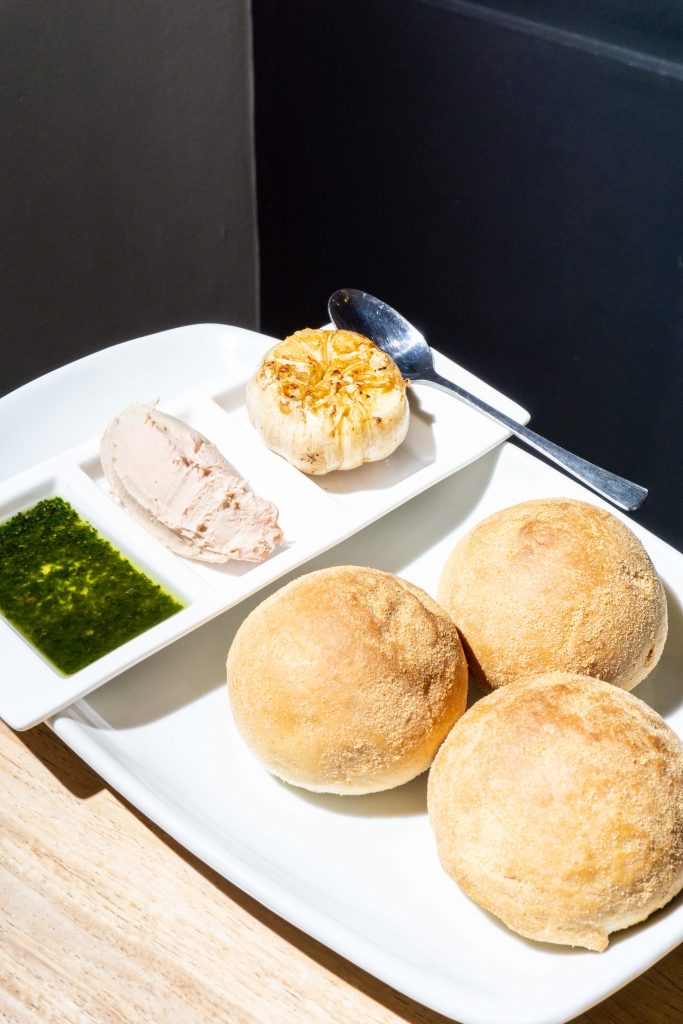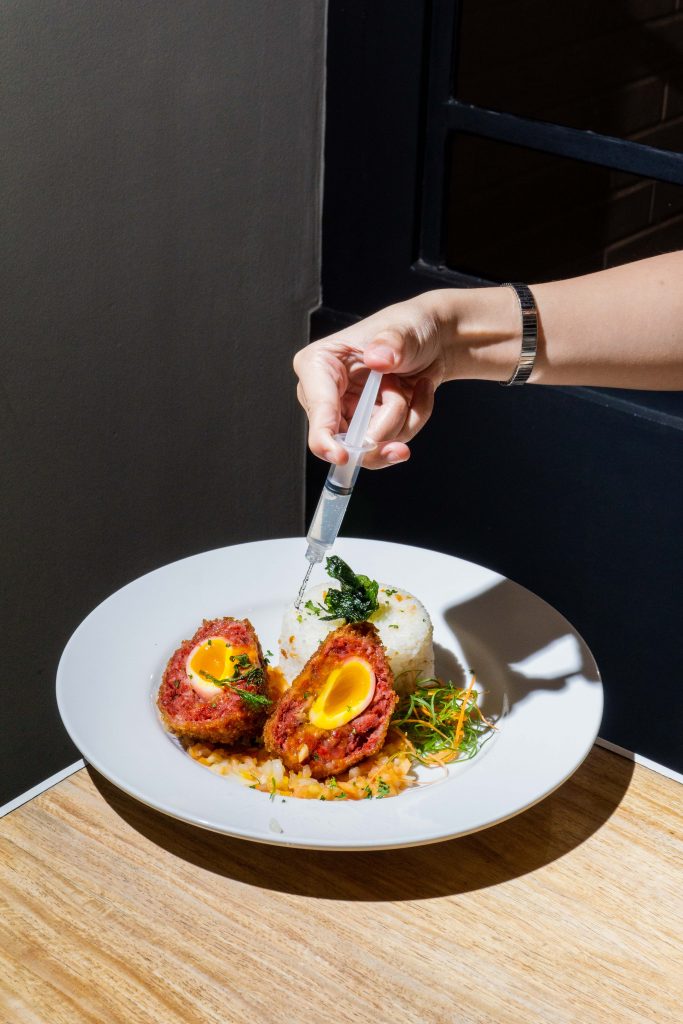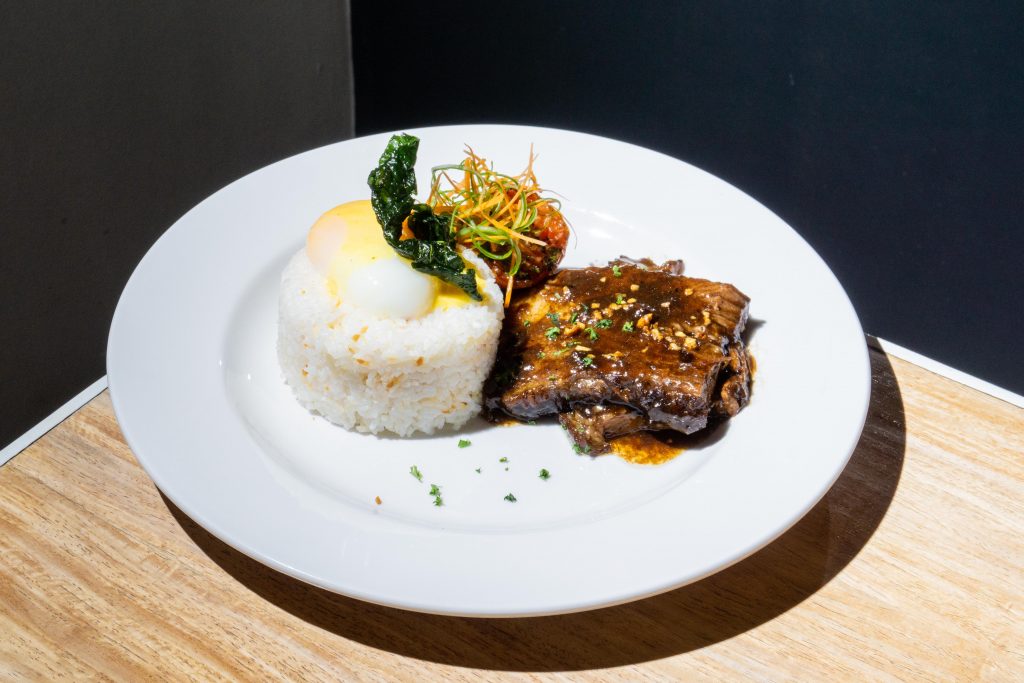 For the mains, get the Roast beef pares or the Kanto longganisa scotch egg. Instead of the usual pares stew, their version comes in two juicy slabs of beef. It's served with garlic rice topped with vegetable shreds, tomato halves, and the sous vide egg. The amount of servings this dish has makes a good choice for a well-packed brunch meal.
The latter, on the other hand, gives the spotlight to the longganisa, which is made in-house. The sous vide egg, which is cut to half, is already positioned at the center of each piece of longganisa. It's covered in bread crumbs, too, to give it an extra crunch. Each plate also comes with a syringe of their homemade sinamak or spiced vinegar from Iloilo and it instantly elevates the flavors of the longganisa.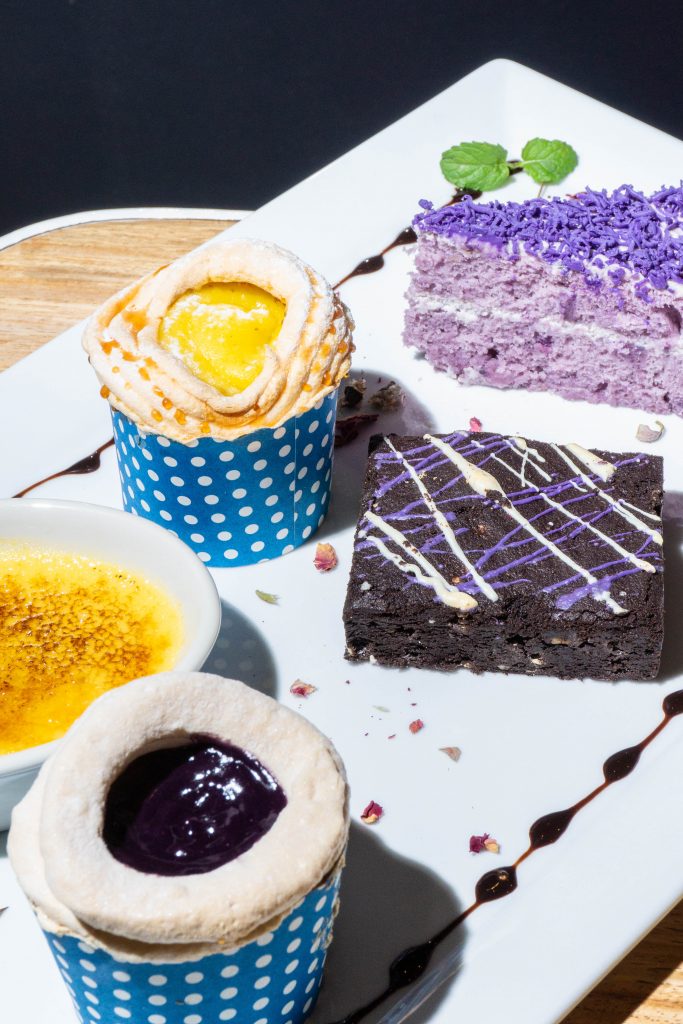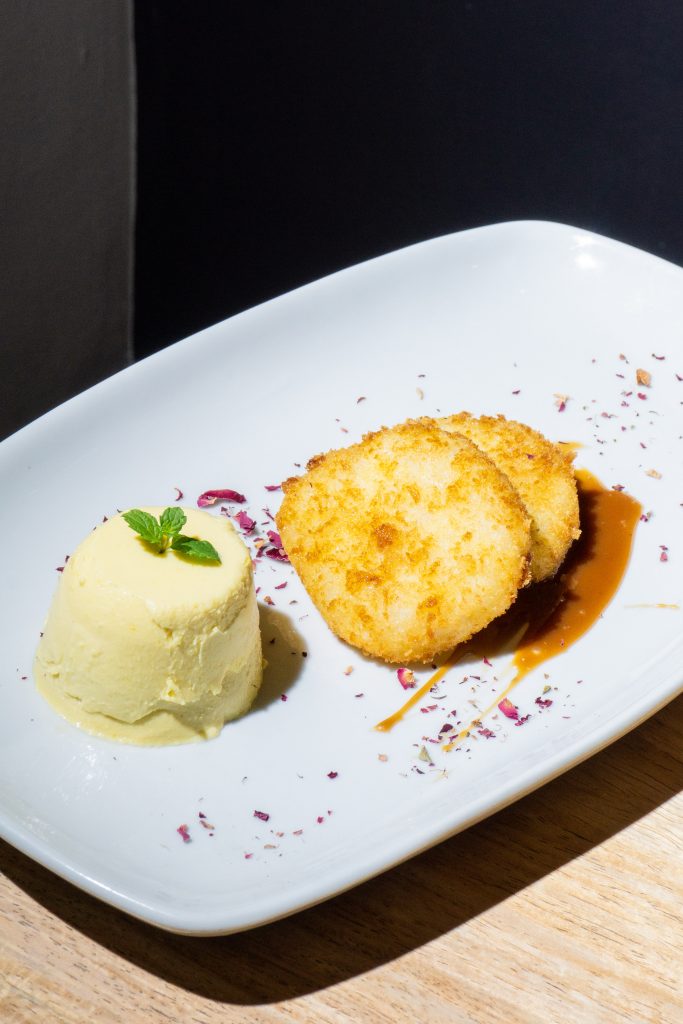 If you're sharing desserts with family or friends, you can have your chosen desserts plated in one huge platter. The 65 Degrees branch changes its dessert selection every week, so don't forget to ask your server.
During our visit, we were served with a slice of ube cake, ube-flavored and calamansi-flavored brazo de mercedes, ube crème brûlée, and walnut brownie. Our favorite was the crème brûlée, which had a blanket of lumpy ube bits underneath.
If you're looking for something more familiar yet unfamiliar at the same time, try their fried suman with latik, which is served alongside with their mango panna cotta. You can tell that this unlikely combination was well-thought of because the flavors complement each other well. The mango panna cotta just had the right amount of sweetness to make sure that the flavors of the latik wouldn't be left out.
Read more:
Here's where you can have an Italian pizza made the traditional way
A bibingka and bacon pairing is Refinery's newest answer to a well-packed brunch
The most ah-dorable brunch places you millennial titas will just die for
Read more by Jill Chua:
Your next after-lunch coffee break is in this food court
This café in Alabang is also an old school arcade
Writer: JILL CHUA
PHOTOGRAPHY TRICIA GUEVARA