You can sit with Jesus and his disciples at The Last Supper table at Futurist
Today x Future's more mature sibling Futurist is Poblacion's newest quirky spot
info
Futur:st

Bar chow/Asian

7 p.m. onwards

₱

P300-P500
A typical Thursday night going to Poblacion would usually take 45 minutes to an hour coming from our office that's barely 3 km away. But this is not that kind of night.
As soon as we enter our Grab, a Madonna song plays as if giving a prelude to the night we are going to have at Futurist—Cubao's famed night out spot, Today x Future's more mature, put-together sibling in the south.
In case you're wondering: This is in no way a definitive look into the nightlife surrounding Futurist but barely a quick sneak. If we wanted to do just that we would have come on a weekend when it is bustling with crowds. Again, this is not that kind of night.
Upon arriving at its Guerrero St. location, a quaint lot tucked between pubs on one side and residential on the other, one is confronted by a nondescript entryway. The complete opposite of what's inside: a geometric DJ booth, paintings struck with gold inside gilded frames, and a disco ball—that's just the first floor.
Upstairs it's as if a drunk interior designer put together an assortment of seemingly disconnected pieces. And yet somehow it works. Two massive 4-ft. tall Kiko Escora paintings—one depicting a couple caught in the throes of passion and another prominently displaying male genitalia—line the walls. Here tables are just as eccentric as the whole setup. You can eat on a table depicting The Last Supper in an intricate gold frame or on a table with a gold bezel with art encased it.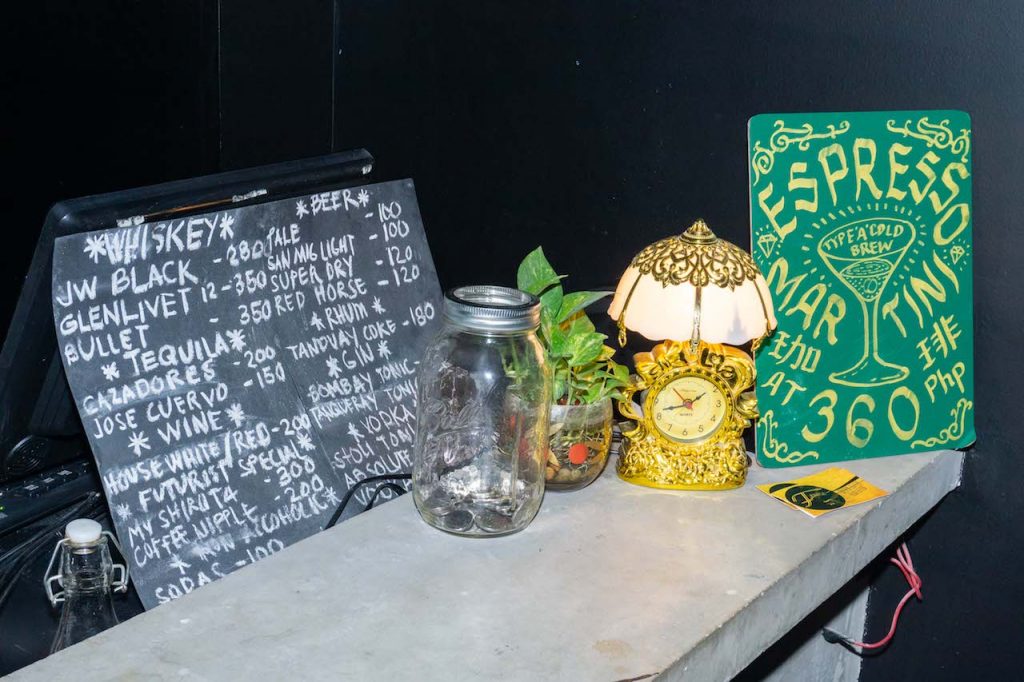 There we find Sam Nicole and Sharon Atillo, Futurist's music director and creative director lounging in a corner near the Escora painting of a couple.
Atillo tells us the place used to be a salon and spa called Chic Look. A coincidence, Nicole says because the spot where Today x Future which Atillo and Leah Castañeda own, now stands used to be a salon as well.
How they ended up in the bustling Poblacion, however, is no surprise. Apart from the countless requests from Future alums to open in Makati, Atillo also used to have a shop nearby so for her, it's actually a full circle moment.
As for how Futurist (or Futur:st) got its name Castañeda says it has something to do with their early days at Future and their reputation as a platform for up-and-coming artists.
"We realized that there was a word for what we've always been doing ever since we opened our first resto-bar in Cubao," she says. "Back then I guess we were the only place who would risk having a virtually unknown DJ play on our decks and unknown artists featured on our art wall."
Naturally, we start with alcohol. Nicole comes out of the small cube that is the kitchen at the second level with three drinks with quirky names to match: Breath of Khaleesi (ginger ale and cinnamon whiskey), Maybe Negroni aka "the fakest negroni ever," and My Shirota (Yakult, Korean soju, and rose syrup).
Next came the appetizers in the form of a thin crust pizza topped with sesame seeds and spinach and a curious cocoon-looking finger food called Pains of Being Pure at Heart, named after the American indie pop band. We learned a little later that it is actually deep-fried chicken hearts wrapped in chicken skin, quite brutal if you ask me but its crispness and flavor very well makes up for it.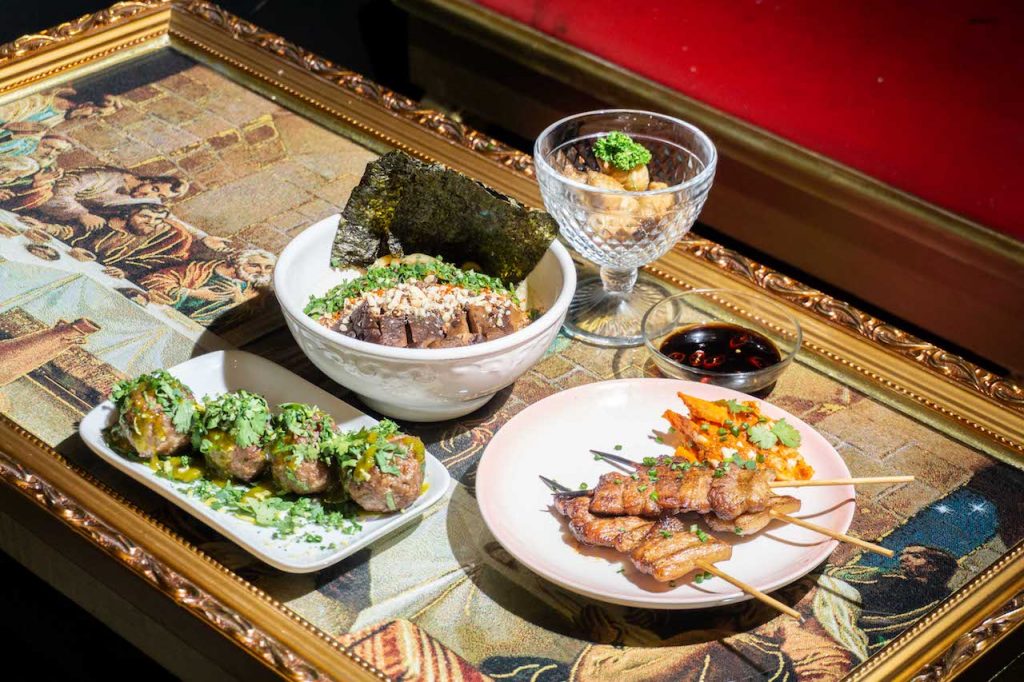 It is such a shame that the next dish is devoid of any cute name and simply called grilled pork belly, it's almost uncharacteristic of the place. But the fresh and tangy housemade kimchi that comes with it makes it forgivable. Bourdain's balls cheeky as it sounds is just meatballs with mango chutney. Its menu entry reads just "a homage to the legend himself" downplaying the fact that it may as well be the best one in the roster.
Barely half an hour after the first round of drinks, comes another. This time a set of shots all infused with coffee from Type A and EDSA BDG. And while I myself (and one other photographer) haven't had coffee in years, I couldn't resist. Because really who refuses a free round of shots?
For all the caffeine (not to mention alcohol) that we had, not an hour later we find ourselves in the curb. It's only 9 p.m. Nicole tells us the crowd doesn't come it until 10 when the DJ starts spinning, and this is even a dead night compared to weekends.
Pretty soon I'm inside another Grab again heading home. This is the latest I have gone on a night out in a while. I simply do not have the stamina I used to have as a stray college student in Katipunan. Perhaps such is the future of nightlife: in by 8 and out by 9. Then again it must be the coffee shots speaking.
Get more stories like this by subscribing to our weekly newsletter here.
Read more:
Why this Poblacion restaurant calls its grilled chicken anything but inasal
5 new Poblacion spots to try for your next night out
This Poblacion pregame spot lets you make all the noise you want
TAGS: coffee drinks Futurist nightlife Poblacion Today x Future
WHY GO?
The campy interiors is just the hook. Stay for the caffeinated drinks and maybe for the music.
MENU