EDSA shrine now an important cultural property
The shrine will now be able to receive gov't funding for its conservation
Apr 22, 2019
Sitting at the corner of EDSA and Ortigas Avenue, the Shrine of Mary, Queen of Peace or commonly known as the EDSA Shrine, has just been recognized by the National Commission for Culture and the Arts (NCCA) as an "important cultural property." This simply means that the shrine will be able to receive government funding for its conservation and restoration.
The declaration reads, "The church is uniquely designed in terms of function and form which can be easily be distinguished as Mañosa's work. It represents a modern take on Filipino architecture and adaptation of tropical architecture."
Designed by Francisco Mañosa, the declaration comes after the renowned architect was named as National Artist last February. It was meant to commemorate the 1986 People Power Revolution, with a "structural outline of a bahay kubo" as part of its original design.
However, Denise Mañosa, wife of the celebrated architect, revealed that the first design was disapproved because "an influential member of the committee preferred a Spanish design for the church." The architect was vehemently against it and was quoted to say that, "A Spanish colonial church commemorating a Philippine revolution on Philippine soil? Never!"
Mañosa had to do some modifications to the design; the result was "a promenade with the Blessed Virgin as the focal point, and an underground church inspired by the Cathedral of Brasilia."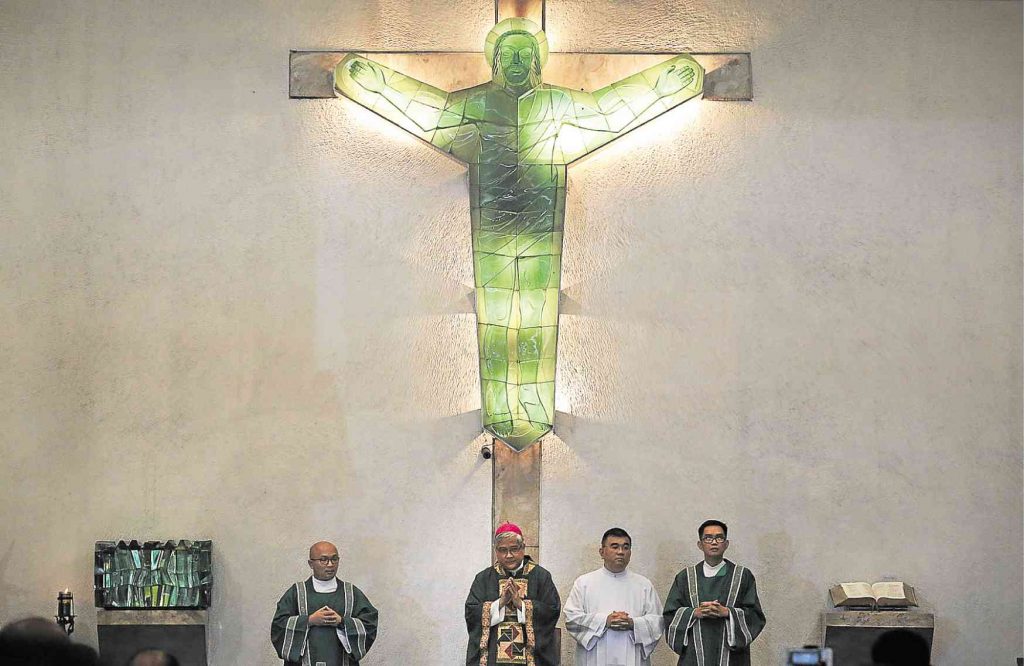 The shrine is notably recognized for its bronze statue of Our Lady of Queen of Peace, which was designed by artist Virginia Ty-Navarro. In the same article by Denise Mañosa, she also noted that consultants once predicted for the statue of the Blessed Virgin to break once a typhoon hit it. But since its completion, the image never shattered once.
But it's proven to be more than just a place of worship, as the religious structure also features works of prominent artists and sculptors. Some of these works include a floating glass sculpture of the Risen Christ by Ramon Orlina, a wall mural depicting San Lorenzo Ruiz's life by artist Ben Alano, and muted murals that illustrate the revolution painted by 15 artists from Angono, Rizal, to name a few.
Header image courtesy of Inquirer.net
Read more:
Who has the power to claim historical cultural property?
Before you accuse someone of cultural appropriation, make sure you've got your facts right
Remains of a former guardia civil outpost in Laguna now named as an important cultural property
Read more by Jill Chua:
Escolta's 83 year-old Capitol Theater is currently being demolished
248-year-old watchtower temporarily saved from demolition
TAGS: culture Edsa edsa shrine important cultural property NCAA nolisoliph people power revolution